Search By Model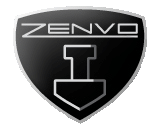 2016 Current Models
Hypercar
ST1
Zenvo or Zenvo Automotive is a Danish sports car company located near Viby on the Danish island of Zealand. It is managed by Jesper Jensen, the founder and financier, and Troels Vollertsen, the car performance expert. The brand is based on a combination of their names.[1]
History
Zenvo Automotive was founded in 2004. The prototype was completed in December 2008 and is in the final phase of testing before production begins in 2009.[2] The designation of the car is Zenvo ST1. Only 15 cars are to be built and will be sold to approved customers.[3]
Characteristics
The Zenvo is a high performance sports car. While power is available through its supercharger and turbo, it will still be drivable for everyday use. Its 7-litre V8 engine will achieve 1,104 hp (823 kW) at 6,900 rpm and 1,430 N·m (1,050 lb·ft) of torque at 4,500 rpm. Indeed, according to The Motor Report, recent tests returned a 0-100 km/h time of 3.2 seconds, while 0-200 km/h took only 8.9 seconds.[4]
Despite its power and large alloy wheels, the car is small, at just 15.3 ft (4.7 m) long, 6.7 ft (2.0 m) wide, and 3.9 ft (1.2 m) tall. It weighs just over 3,020 lb (1,370 kg) thanks to carbon fiber body panels.
Zenvo offers keyless entry, satellite navigation, power telescoping steering wheel, and leather electrically adjustable racing seats.[5]
Limited production
According to Jesper Jensen and Troels Vollertsen, the two-man team behind the ST1, some 250 Bugattis are produced each year. Though they are among the world's most expensive cars, exclusive customers will only buy them if they are unique. That explains why they have decided to keep the Zenvo series down to just 15 cars.[6]
Danish design
The Zenvo is entirely a result of Danish design. The carbon fibre body is made in Germany and many components such as gauges, gas tank, ABS brakes, anti-spinn, airbags and such come from US or German cars.[7] The car's aggressive lines were designed by Christian Brandt and Jesper Hermann who own the car design consultancy hermann&brandt.[8] Brandt, who was head of design on the project, has also worked for Alfa Romeo and Kleemann, an after-market tuning company for customising Mercedes-Benz cars located in Farum, Denmark.[9]
Cost
It is estimated that the basic cost of the car, without registration or tax, will be around 5.6 million Danish kroner or just over a million dollars. The cost of putting the car on the road in Denmark would be around 16 million kroner as a result of registration expenses. But Zenvo are aiming at the export market alone.[10]
Current Models
See Also
References
External Links
Community content is available under
CC-BY-SA
unless otherwise noted.