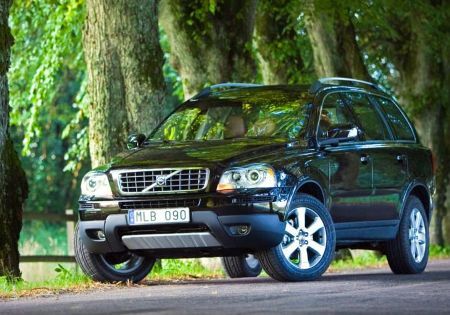 The Volvo XC90 is a mid-size luxury crossover SUV. It is based on the Volvo P2 platform, shared with the Volvo S80 and other larger Volvo cars. It is Volvo's top-selling vehicle in the United States accounting for roughly 25% of the company's sales there.
See Autopedia's comprehensive Volvo XC90 Review.
Recent Changes
The XC90 receives some very minor updates for 2010. [1]
A new Volvo V8 engine was added in 2005. This 4.4L Yamaha V8 engine produces 311-hp (232 kW) and 325 ft.lbs (441 Nm). The XC90 V8 will be priced at just over $45,000 and it is expected that more than 15,000 would be sold per year.
The XC90 will be updated for 2007 with a 3.2L SI6 straight-6 engine, a subtly-restyled front and rear, and a more luxurious interior. The 2007 Volvo XC90 debuted in April 2006 at the New York Auto Show.
Styles and Major Options
The 2006 Volvo XC90 comes in three different trims:
XC90 2.5T 208-hp

Climate Package - $675
Versatility Package for 2.5T - $2,100
Premium Package for 2.5T - $2,995
Convenience Package - $1,295
Pricing
Today's actual prices for the Volvo XC90 can be found at CarsDirect.
XC90 Trims

2.5T Front-wheel drive

2.5T All-wheel drive

V8 All-wheel drive

MSRP

$36,075

$37,850

$46,400

Invoice

$33,945

$35,471

$43,651
Gas Mileage
As seen on the FuelEconomy.gov website, the City/Highway MPG averages are as follows:
XC90 Specs

5 Cyl. 2.5L 5-Speed Automatic FWD

5 Cyl. 2.5L 5-Speed Automatic AWD

MPG

17/23

17/22

15/21
Reliability
RECALL ALERT:On November 23, 2007, Volvo issued a recall affecting 38,000 Europe-market diesel cars including the S60, V70, XC70 and XC90 models made in 2006 due to a fuel injector plants material fault that could cause the motor to catch fire. This recall is also part of a larger two-issue recall which in total affects 56,000 cars.[2]
RECALL ALERT:On December 22 2009, Volvo issued a recall affecting 136100 MY 2001 - 2005 S60, S80, V70, XC70, and XC90s operated in warm climates due to the possibility of crack developing in the fuel pump's flange when exposed to hot temperatures (and thermal cycling) combined with varying fuel quality. A compromised flange may leak fuel and/or result in a fire. Owners are instructed to bring their vehicles into the dealer for inspection. If the part is defective, Volvo will replaced it with modified flange at no charge. The recall campaign is scheduled to begin in January 2010. The recall also includes 5,253 MY 2010 XC60s on a separate issue, still revolving around the fuel system in which a fuel line rail cover designed to protect the fuel lines on the XC60 may be improperly attached, thus exposing the lines to damage. The damaged pieces may leak, possibly resulting in a fire. Owners of the affected models are asked to bring their vehicles to the dealer for inspection and/or a repair at no charge. The recall campaign is scheduled to begin in January 2010. The first issue is filed under NHTSA Recall Campaign ID 09V483000 PE09039 while the second issue is filed under NHTSA Recall Campaign ID 09V477000. [3]
Safety
Lightning

Headlamp Washers
Front Fog Lights in Spoiler
Daytime Running Lights (Halogen Semi-Sealed with Replaceable Bulb)
Rear Fog Lights with Auto-Off
Body

Collapsible Steering Column
Side-Impact Protection System (SIPS)
Rollover Protection System (ROPS)
Boron Steel Reinforced Passenger Compartment
Energy-Absorbing Interior
Airbags

Inflatable Side Curtains (IC)
Weight Sensor for Front Passenger Air Bag
Side Impact Air Bags for Driver and Front Passenger
Driver and Front Passenger Supplemental Restraint System - Dual-Threshold Air Bags
Seating

Padded Head Restraints
Whiplash Protection Seating System (WHIPS)
Integrated Center Booster Cushion, Second Row
ISOFIX Baby/Child Seat Attachment System
Seat Belts: 3-Point Inertia-Reel with Automatic Pretensioners for All Seating Postions; Front Belts include Force Limiters
Anti-Submarine Seats
Overhead-Mounted Seat Belt Reminder Lights
High Seating Position
Security

Rear Window Deactivation
Standard Warranty
Security System
Volvo On Call Roadside Assistance: Four Years
Homelink Remote Garage Door Opener
Safe Approach and Home Safe Lighting
Locks

Rear-Door Child-Safety Locks
Immobilizer, Encrypted Ignition Key
Electonic Key Integrated Remote Control with Central Power Door Locks
Compatibility

Front Cross-Member for SUV-to-Car Impact Compatibility
Pedestrian Protection
Photos
Colors
Exterior
Black
Black Sapphire Metallic
Ice White
Lunar Gold Metallic
Magic Blue Metallic
Ocean Blue Metallic
Ruby Red Metallic
Silver Metallic
Titanium Gray Metallic
White Pearlescent
Willow Green Metallic
Interior
Graphite
Light Taupe
Taupe
Taupe/Light Taupe - double-toned
Main Competitors
Hybrid Models
Volvo has made no announcements regarding a hybrid in their model line.
Unique Attributes
85% of the vehicle's components and materials used in the contruction of the vehicle can be recycled for future use.
Resale Values
XC90 Model Year

2006

2005

2004

2003

Resale Values

$36,075 - $49,860

$34,400 - $40,750

$30,650 - $34,375

$28,100 - $31,550
Criticisms
"Where it comes up short is in fuel economy, 15 m.p.g. city/20 m.p.g. highway with full-time all-wheel-drive." - Cars.com
"While around-town driving poses few problems, we found the engine tended to get out of breath while climbing grades, even though altitude doesn't affect for turbocharged motors nearly as much as naturally-aspirated ones." - Edmunds.com
Generations
First Generation/Origins (2003–present)
Designed with an eye on the aesthetic as much as the practical, the XC90's exterior elegance is matched oly by its brilliantly versatile seven-seater interior. The Volvo XC90 is offered in a 5-Cylinder and a 8-Cylinder variant.
Worldwide
The XC90 is produced at Volvo's Torslanda plant in Sweden.
Design quirks and oddities
The XC90 was designed under the directorship of Geza Loczi.
Jeremy Clarkson has a Volvo XC90
In Top Gear the XC90 lost in a race to the Audi Q7 in a Winter Olympic Special.
Awards
The XC90 won the "North American Truck of the Year" award
The XC90 also won the Motor Trend magazine's "Sport/Utility of the Year" for 2003.
See also
External Links
This page uses content from Wikipedia; see Volvo XC90, which includes these contributors.