Volvo S80
Volvo
aka
None
Production
1999 – present
Class
Executive luxury
Body Style
4-door, 5-seat sedan
Length
190.9 in (4851 mm)
Width
73.2 in (1861 mm)
Height
58.6 in (1490 mm)
Wheelbase
111.6 in (2835 mm)
Weight
I-5 : 1553 kg


I-6

 : 1581 kg
V8 : 1742 kg
Transmission
6-speed A/T Geartronic
6-speed Manual
Engine
2.5 litre B5254T6 Inline-5 w/ Light pressure turbo
3.2 litre B6324S

Inline-6


4.4 litre B8444S Yamaha V8
2.4 litre Turbo Diesel
Power
I-5 : 197 hp @ 4800 rpm, 221 lb-ft @ 1500-4500 rpm


I-6

 : 235 hp @ 6200 rpm, 236 lb-ft @ 3200 rpm
V8 : 311 hp @ 5950 rpm, 325 lb-ft @ 3950 rpm
2.4 litre I4 turbodiesel
Similar
Audi A6
Acura RL
Alfa Romeo 166
BMW 5 Series
Mercedes-Benz E-Class
Mercury Sable
Saab 9-5
Designer
Sylvia Gullsdorf under Steve Mattin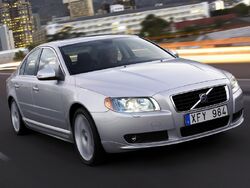 The Volvo S80 is a luxury car made by Volvo and introduced in 1999 as a replacement for the aging Volvo 960 sedan. Unlike almost all other Volvo models, it does not have a wagon version. However, the slightly smaller V70 wagon was spun off its platform. The Volvo S80 was built at the Torslanda Plant (Torslandaverken) in Gothenburg, Sweden. Unlike most Volvo models, it did not have a estate / station wagon version for its first generation. Now, the third generation V70 wagon is marketed as the estate version for the second generation S80 saloon. This is a part of a major product overhaul at Volvo, including a most luxurious large estate and saloon.
Recent Changes
For 2010, the S80 receives its first mid-cycle facelift inside and out. [1]
Styles and Major Options
Certain vehicles come in different trim levels or body styles. Features and major options should be mentioned here.
Pricing
Add more fields as necessary.
MODEL Trims
Trim1
Trim2
Trim3
Trim4
MSRP
$Price1
$Price2
$Price3
$Price4
Invoice
$Price1
$Price2
$Price3
$Price4
Gas Mileage
Add more fields as necessary.
As seen on the FuelEconomy.gov website, the City/Highway MPG averages are as follows:
Trim
Trim1
Trim2
Trim3
Trim4
MPG
c/h
c/h
c/h
c/h
Engine
| Year | Displacement | Engine | Power | Torque |
| --- | --- | --- | --- | --- |
| 2007–present | 4.4 L | Ford Yamaha V8 engine | 311 hp (232 kW) | 325 ft·lbf (441 N·m) |
| 2007–present | 3.2 L | I6 | 235 hp (175 kW) | 236 ft·lbf (320 N·m) |
Performance
Please make sure to write information of the vehicle's performance in a third-person point of view. This section should include information about the car's acceleration figures, handling, braking, etc.
If using information gathered from Road Test articles from a reputable automotive source, then please make sure to cite the quote.
Reliability
RECALL ALERT:On December 22 2009, Volvo issued a recall affecting 136100 MY 2001 - 2005 S60, S80, V70, XC70, and XC90s operated in warm climates due to the possibility of crack developing in the fuel pump's flange when exposed to hot temperatures (and thermal cycling) combined with varying fuel quality. A compromised flange may leak fuel and/or result in a fire. Owners are instructed to bring their vehicles into the dealer for inspection. If the part is defective, Volvo will replaced it with modified flange at no charge. The recall campaign is scheduled to begin in January 2010. The recall also includes 5,253 MY 2010 XC60s on a separate issue, still revolving around the fuel system in which a fuel line rail cover designed to protect the fuel lines on the XC60 may be improperly attached, thus exposing the lines to damage. The damaged pieces may leak, possibly resulting in a fire. Owners of the affected models are asked to bring their vehicles to the dealer for inspection and/or a repair at no charge. The recall campaign is scheduled to begin in January 2010. The first issue is filed under NHTSA Recall Campaign ID 09V483000 PE09039 while the second issue is filed under NHTSA Recall Campaign ID 09V477000. [3]
Safety

Photos
Add Photos of the vehicle here.
Please make sure not to use copyrighted photos.
Colors
List the colors that the particular <MODEL> is offered in.
Main Competitors
Create links to other <MAKE> <MODEL> pages in this section.
Hybrid Models
If there are hybrid versions of this vehicle manufactured, then please elaborate a little bit on it here.
Unique Attributes
If there are any features of this vehicle that sets it apart from other vehicles in its class, then mention those unique attributes here.
Interior
This section should include information on the interior's design, build quality, ergonomics, space (head and legroom, front and rear), features, stowage compartments and overall comfortability and livability. Add pictures wherever applicable and keep information in a third-person point of view.
Resale Values
Add more fields as necessary.
<MODEL> Year
Year X
Year X-2
Year X-3
Year X-4
Resale Value
$
$
$

$
Criticisms
Please make sure to keep critiques in a third-person point of view. If using criticisms from a reputable automotive source, then please make sure to cite the quote. This car has many little gremlins. Although by now (2008) most previous owners would have rectified the annoying problems. Fundamentaly the problems were with the electrical and control system. One could almost call a lot of the problems software bugs. Unfortunately they tend to be expensive to fix.
Known issues are
1. Master computer problems 2. ABS computer problems 3. Multiple light bulb failures

Annoying (But not a failure).
For a high end car, Volvo does not offer some features found on competitive cars.
1. Lights do not turn off automatically 2. Car does not lock itself automatically
Generations
Fill in as many as appropriate. Add more if necessary and pictures wherever applicable.
Please make sure NOT to use copyrighted pictures.
Current Generation: (2006–present)
On January 31, 2006, Volvo unveiled the first pictures of the second generation S80. This version has a new, sleeker design and is said to be focused on high levels of comfort, smooth driving capabilities, and safety features. The new S80 will feature a new 3.2 L straight-6 or 4.4 L V8 engine in combination with available all wheel drive. The car was unveiled at the Geneva Motor Show on February 28, and sales are expected to start in June 2006. It has been speculated that the second-generation S80 will have a wagon variant, likely badged as the V90. The new S80 is based on the European C/D architecture called Ford EUCD platform internally. This same architecture is used in a diverse set of vehicles, including Ford's S-MAX and Galaxy MPVs, and many components are shared with the small Volvo S40 and Ford Focus.[1]
Volvo's Personal Car Communicator remote control will also be a standard feature with the new S80. The unit is an automotive first. Before a driver gets to their car, they are able to review the security level and know whether they have set the alarm and if the car is locked. Additionally, there is a heartbeat sensor that warns if someone is hiding inside the car. The heartbeat sensor is rumored to also work with the SOS feature of Volvo's new telematics system.
First Generation/Origins (YYYY–YYYY)
The S80 is currently Volvo's flagship model, although there is some speculation that Volvo may release a larger sedan to compete with the Mercedes-Benz S-Class and Lexus LS segment of the market. The S80 is based on the Volvo P2 platform. At the time of its introduction in the United States, it came in two models - the 2.9 and the T6. The 2.9 has a 2.9 L I6 engine while the T6 was powered by a twin-turbocharged 2.8 L I6. For the 2004 model year, the S80 came in 2.5T, 2.5T AWD, 2.9, and T6 models. The 2.5T model has a 2.5 L I5 engine with a light-pressure turbocharger. The AWD version, of course, has all wheel drive. Prices for the S80 range from $36,000 USD for a base 2.5T, to $50,000 USD for a fully-loaded T6 model. Every single S80 has been built in the Gothenburg, Sweden plant. The very first Volvo S80 rolled off the assembly line on May 6, 1998. King Harald V of Norway uses a S80 Limousine as a representation vehicle.
Engines
| Year | Model | Displacement | Engine | Power | Torque |
| --- | --- | --- | --- | --- | --- |
| 1999–2004 | 2.9 | 2.9 L | I6 | 201 hp (150 kW) | 207 ft·lbf (281 N·m) |
| 1999–2005 | T6 | 2.8 L | twin-turbo I6 | 272 hp (200 kW) | 280 ft·lbf (380 N·m) |
| 2004–2006 | 2.5T | 2.5 L | LPT I5 | 208 hp (155 kW) | 236 ft·lbf (320 N·m) |
Worldwide
In the Chinese market, the S80 is available with a long-wheelbase option known as the S80L.
Design quirks and oddities
Refer to any pop-culture tidbits about the vehicle in this section.
Awards
2003 J.D. Power Initial Quality Study 3rd winner (Mid luxury)
See Also
References
External links