Volvo C30
Volvo
aka
Type aka here, not up there
Production
2006-Present
Class
Near-Luxury
Body Style
2-door, 4-seat hatchback
Length
167.4 in
Width
70.2 in
Height
57.0 in
Wheelbase
103.9 in
Weight
2970 lb (T5)
Transmission
6-speed Manual, 5-speed Automatic
Engine
Petrol:
1.6 litre I4
2.4 liter inline-5
2.5 litre turbocharged inline-5 (T5)

Diesel:
1.6 litre inline-4
2.4 litre inline-5
Power
Petrol:
100 hp (1.6 litre)
170 hp (2.4 litre)
220 hp (2.5 litre T5)
236 lb-ft of torque (2.5 litre T5)

Diesel:
109 hp (1.6 litre)
180 hp (2.4 litre)
Similar
Volkswagen Golf
MINI Cooper
BMW 1 Series
Audi A3
Designer
under Steve Mattin
The Volvo C30 is a compact near luxury coupe also considered a small family car produced by the Volvo division of Ford's Premier Automotive Group. The C30 is a 3-door, 4-seat hatchback powered by I4 and I5 engines. Despite the name, the car is the hatchback version of the S40/V50/C70 luxury vehicle range and therefore uses the same Ford C1 platform (called the P1 platform by Volvo) as its siblings, and shares the same sheetmetal ahead of the windscreen and dashboard.
The production car was officially unveiled at the 2006 Paris Motor Show.[1] In mid-2006, the C30 was approved for production launch in late 2006 in Europe. The C30 will also be introduced in the U.S. market as a 2008 model year, with the T5 as the single version.[2] It is being marketed as a premium hatchback specially designed for first-time Volvo buyers and the youth market, with the BMW 1 Series and Audi A3 as main rivals. Production is expected to be 65,000 units a year, 75% for sale in the European market.
See Autopedia's comprehensive Volvo C30 Review.
Recent Changes
The Frankfurt Motor Show will play host to the unveiling of the facelifted 2010 Volvo C30, according to an announcement from the automaker. Amongst the vehicles updates are a new exterior design more inline with the XC60, S80 facelift, and C70 facelift. This new exterior first debuted on the S60 concept shown off at the Detroit Auto Show this past January. The redesign features new body panels, new headlights, and a new bumper. A honeycomb grille makes its way onto the final version, as does a more contoured rear that now uses body colored panels instead of black plastic. Also available is the new color, Orange Flame Metallic (pictured), as well as a new look to the exhaust. White wheels will also be an available option. Inside, the new "Espresso/Blond color" combination is a possible choice for new customers, as is the Cranberry leather tone. Of this, Program Chief Maria Uggla says, "We know that a large proportion, almost half, of all C30 customers make detailed interior choices. They want to decide for themselves what their car should look like and are not interested in readymade packages. The new C30 gives them a range of fresh, modern style cues in terms of both colour and fabric to choose between." [3]
Volvo unveiled its ultra-efficient diesel 2009 DRIVe range at the 2008 Paris Motor Show. Among the cars involved are the C30, S40 and the V50. Each car will be powered by a 1.6 litre turbodiesel inline-4 attached to a 5-speed manual with longer gear ratios in 3rd, 4th and 5th to maximize efficiency. Besides the powertrain, Volvo also paid special attention to each car's aerodynamics in its pursuit of "green-ness". So all cars now sit 10 mm lower, the radiators have been covered to eliminate air turbulence, the wheels sport a unique alloy design fitted with Michelin's low rolling resistance rubber, the S40 and V50 is fitted with the T5's front spoiler while the C30 gets a redesigned rear bumper complemented by a diffuser and a new hatch-mounted spoiler. All of this effort means an EU combined cycle rating of 76 mpg and a CO2 emission of 120 g/km. The entire package will be available for €150 to €450. [4]
At the 2008 North American International Auto Show, Volvo unveiled the R-Design Package for its hip C30. Essentially a subtle factory-designed bodykit, the C30 R-Design features 10 special exterior colours like the Black Sapphire metallic, R-Design logos, color coordinated body kit, rear roof spoiler, silver matt finish front grille and side mirrors, five-spoke 17" alloy wheels (18" available optionally) and two-tone black and cream interior upholstery with contrast stitching and embossed R-Design logo.
A month before its September debut at the 2007 Frankfurt Motor Show, Volvo took the wraps off of its C30 Efficiency model.
Styles and Major Options
The C30 has a length of 4.25 meters, and will be offered with a wide variety of petrol and diesel engines. Petrol engines include a 100 hp 1.6 litre I4, a 170 hp 2.4 liter inline-5, and a 220 hp turbocharged 2.5 litre inline-5. Diesel engines will be a 109 hp 1.6 litre inline-4, and a 180 hp 2.4 litre inline-5. All models will be fitted with a manual gearbox, except for the inline-5 petrol versions, which will have an automatic transmission. Speculation suggesting that a 1.4 litre inline-4 petrol engine from the Ford Focus would be offered proved false and the smallest engine in the range will actually be the 1.6 litre engines.
An upgraded sound system is expected to include a digital 5×130 watt ICE Power amplifier from Alpine featuring Dolby Pro Logic II Surround, and 10 loudspeakers from Danish Dynaudio, appealing to the youth market.
Pricing
Add more fields as necessary.
MODEL Trims
T5
T5 R-Design
Trim3
Trim4
MSRP
$24,600
$26,950
$Price3
$Price4
Invoice
$Price1
$Price2
$Price3
$Price4
Gas Mileage
Add more fields as necessary.
As seen on the FuelEconomy.gov website, the City/Highway MPG averages are as follows:
Trim
Trim1
Trim2
Trim3
Trim4
MPG
c/h
c/h
c/h
c/h
Engine and Transmission
Specifications, details, graphs, pictures and other information regarding the powertrain is placed in this section.
Performance
Please make sure to write information of the vehicle's performance in a third-person point of view. This section should include information about the car's acceleration figures, handling, braking, etc.
If using information gathered from Road Test articles from a reputable automotive source, then please make sure to cite the quote.
Reliability
RECALL ALERT: On Jul 29, 2008, Volvo issued a recall affecting 1020 C1 platform Volvos: C30, S40, V50, and C70 due to a faulty power steering return line which may rupture and cause the loss of power steering.[5]
Safety
The C30 continues with the traditional level of safety that Volvos have garnered. It features many recently developed safety features, such as a method of overcoming the "blind spots" or "dead areas" in the driver's view to the rear. The C30 also features a four-wheel anti-lock braking system, electronic stability program, traction control and airbags all around for side impact and rollover protection.
As the Volvo C30 is compact, it has a unique patented front and rear structure using different grades of high strength Swedish steel to absorb and redistribute impact energy around the coupe. The seat belts have unique pretensioners to protect the occupants against unexpected accidents.
The car also uses Volvo's Intelligent Driver Information System (IDIS) which continuously monitors the the cars preemptive systems when handling through sharp curves, off-roading, and other hazardous conditions.
The C30 has been criticized because in an effort to make it more responsive in curves it has become unreliable on ice or snow where the rear end can easily lose its grip.[1]
Photos
2010 C30 R-Design
Colors
Main Competitors
Mini Coupe
Honda CR-Z
Peugeot RCZ
Hybrid Models
There is a hybrid version of the C30 but it's not confirmed for production yet.
Main Article: Volvo ReCharge Concept
Electric Models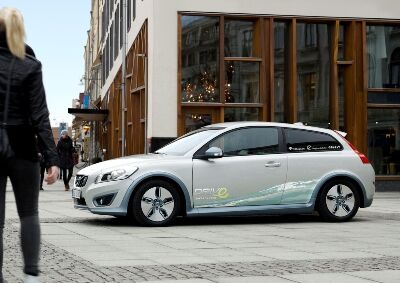 The 2010 Detroit Auto Show hosted the prototype launch of Volvo's all-electric C30, called the Volvo C30 BEV. Volvo announced that it will build 50 units and are due to start real-world tests in 2011. It is intended to have a range of 150 km. Utilizing a 40/82KW electric motor, the BEV C30 will produce 111 hp (82 kW), accelerate from 0-100 kmh in 10.5 seconds, have a top speed of 81 mph (130 km/h) and a recharging cycle of 8 hours via a standard 230 V, 16 ampere power socket. The Swedish Energy Agency is supporting the project by contributing SEK 150 million towards its funding.
Unique Attributes
The C30 is the latest and one of the three 3 door models that have been produced by Volvo along with the P1800ES and the 480. In contrast to the latter two, the C30 has been commercially successful.
Interior
This section should include information on the interior's design, build quality, ergonomics, space (head and legroom, front and rear), features, stowage compartments and overall comfort and livability. Add pictures wherever applicable and keep information in a third-person point of view.
Resale Values
Add more fields as necessary.
<MODEL> Year
Year X
Year X-2
Year X-3
Year X-4
Resale Value
$
$
$
$
Criticisms
"Not quite as involving to drive as its Ford and Mazda relatives" Motor Magazine
Worldwide
Design quirks and oddities
A C30 had appeared in a movie Twilight.
Awards
See also
References
External Links