December 11, 2010
Volvo Car Corporation, or Volvo Personvagnar, is an automobile maker that was founded in 1927 in the city of Gothenburg in Sweden. Volvo, which is Latin for "I roll," was formed as a spin-off from roller ball bearing maker SKF. Volvo Cars was owned by AB Volvo until 1999, when it was acquired by the Ford Motor Company and placed in its Ford Premier Automotive Group. Globally, Volvo is marketed as a premium car, with the intent to compete with Acura, Audi, BMW, Cadillac, Infiniti, Lexus, Mercedes-Benz and Saab. Volvo has 2,500 dealerships worldwide in 100 markets; 60% of sales come from Europe, 30% from North America, and the other 10% is from the rest of the world. As a premium car manufacturer, Volvo's flagship models tend to be luxurious, while their entry-level models do not.
Safety
Since the 1950s, Volvo cars have had a reputation for safety, starting in 1944 with the use of laminated glass in the PV model. The PV series cars were also among the first to have what Volvo called a 'safety body' (what is now called a unibody). The Volvo design team invented both the 'safety cage' and 'crumple zone' concept, where passengers are protected in a strong, encircling frame and the energy of a crash is absorbed by destruction of the hood or trunk of the car. Volvo also invented the easy-to-use three-point seatbelt; first introduced as an accessory in 1957 and made standard on all Volvo cars in 1959. All these safety features are now standard in all cars and are responsible for saving millions of lives.
Volvo also was the first company to produce cars with padded dashboards starting in late 1956 with their Amazon model. Additionally, Volvo developed the first rear-facing child seat in the late 1960s and introduced its own booster seat in 1978. In the mid-eighties, Volvo introduced the first central high-mounted stoplight (a brake light not shared with the rear taillights), which became federally mandated in the 1986 model year. Seatbelt and child seat innovation continued as shown in the 1991 960. The 960 introduced the first three-point seatbelt for the middle of the rear seat and a child safety cushion integrated in the middle armrest. Also in 1991 came the introduction of the Side Impact Protection System (SIPS) on the 940/960 and 850 models, which channeled the force of a side impact away from the doors and into the safety cage. In 1998, Volvo introduced its Whiplash Protection System (WHIPS), a safety device to prevent injury of front seat users during collisions. In 2004, Volvo introduced the BLIS system, which detects vehicles entering the Volvo's blind spot with a side view mirror mounted sensor and alerts the driver with a light. That year also saw Volvos sold in all markets equipped with side-marker lights and daytime-running lights (the latter having already been available in many markets for some time). Much of Volvo's safety technology now also goes into other Ford vehicles, such as the Aston Martin DB9.
By the mid-1990s there was little to distinguish Volvo from some other manufacturers (notably Renault) on safety when put through tests such as EuroNCAP as other manufacturers caught up when they realised the marketing potential of safety. The Volvo 745 had some severe problems with the C-pillar that could break in collisions even at relatively low speeds. The design was strengthened and the 740 was renamed as the Volvo 940. Also, the production of P1800 had to be stopped because it did not fulfill US safety standards. A US study showed that Volvo's safety have been slipping according to Russ Rader, a spokesman for the Insurance Institute for Highway Safety. A Volvo spokesperson denied that the company's vehicles are any less safe than the Institute's top-rated vehicles.
Acquisitions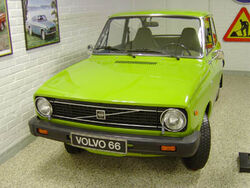 In the early 1970s, Volvo acquired the passenger car division of the Dutch company DAF, and marketed their small cars as Volvos before releasing the Dutch-built Volvo 340, which went on to be one of the biggest-selling cars in the UK market in the 1980s.
Volvo, as one of the largest truck manufacturers in the world, took the initiative to sell its automobile manufacturing in 1998 in order to fully focus its efforts on the market for commercial vehicles. Ford, on the other hand saw advantages in acquiring a profitable prestige mid-size European automobile manufacturer, well renowned for its safety aspects, as an addition to its Premier Automotive Group. The buyout of Volvo Cars was announced on January 28, 1998, and in the following year an acquisition was completed at a price of $6.45 billion USD.
As a result of the divestiture, the Volvo name is now utilized by two separate companies:
Volvo - a manufacturer of commercial vehicles, etc. owned by Swedish interests.
Volvo Cars - a manufacturer of automobiles owned by Ford Motor Company, in its

Premier Automotive Group

.
The Volvo™ trademark is now jointly owned (50/50) by Volvo and Ford. One of the main promotional activities for the trademark is the sailing contest Volvo Ocean Race, formerly the Whitbread Around the World Cup. There is also a Volvo Baltic Race, and Volvo likes to encourage its affluent image by sponsoring golf tournaments all over the world.
Car models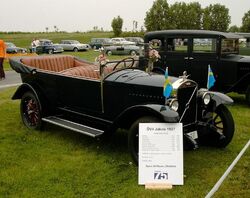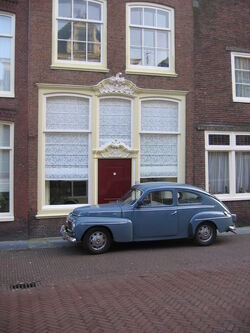 Early ages
Volvo ÖV 4, aka Jakob
Volvo PV (PV444 and PV544)

Volvo Snabbe

Volvo Trygge

Volvo Sugga

(civilian (PV801, PV802, PV810, PV821, PV822 and PV831) and military (TP21/P2104, P2104))

Volvo Laplander

(L-3304, L-3314, L-3314 and L-3315)

Volvo PV 36 Carioca

Volvo PV51

Volvo PV60

Volvo Duett

Volvo Amazon/

Volvo 122

Volvo C202

Volvo C3-series

(C303, C304 and C306)
Three-numbered Volvos
Starting with the 140 series in 1968, Volvo used a three number system for their cars. The first number was the series, the second number the number of cylinders and the third number the number of doors; so a 164 was a 1-series with a 6-cylinder engine and 4 doors; the 745 was a 4-cylinder wagon. However there were exceptions to this rule—the 780 for example was a two-door sport coupe with turbocharged I4 and V6 petrol engines and I6 diesel engines, but never an eight cylinder as the 8 would suggest. Similarly, the 760 often was equipped with a turbocharged I4 engine and the Volvo 360 only had four cylinders. Some 240GLT had a V6 engine. The company dropped the meaning of the final digit for later cars like the 740, but the digit continued to identify cars underhood on the identification plate.
Volvo 140

(

Volvo 142

,

Volvo 144

,

Volvo 145

)

Volvo 164

Volvo 240 (Volvo 242, 244, 245)
Volvo 260 (Volvo 262C, 264, 265)
Volvo 340 (Volvo 343, 345)

Volvo 440

Volvo 460

Volvo 940

Volvo 960
Models with current denomination
Today, the company uses a system of letters denoting body style followed by the series number. Although not official, it is fairly accepted that S stands for saloon or sedan, C stands for coupé or convertible and V stands for versatile or estate car. V has also been identified as meaning vagon, or wagon, and is used strictly for the station wagon line (In Sweden, they pronounce their W's like V's). XC stands for cross country originally added to a more rugged V70 model as the V70XC and indicates all wheel drive paired with a raised suspension to give it a mock SUV look. Volvo would later change the name to the XC70 in keeping with its car naming consistent with the XC90. So a V50 is an estate ("V") in the smaller 40/50 series.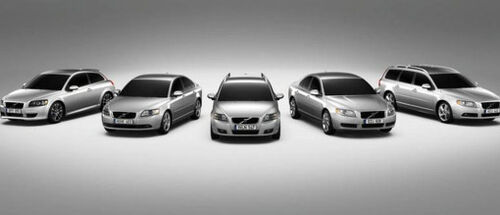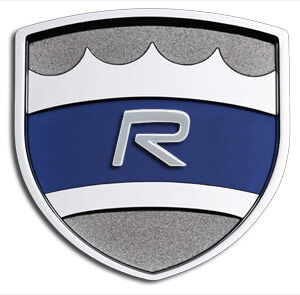 Pre-Ford
Small cars (Volvo P1 platform)
Large cars (Volvo P2 platform)
Cross Country
Concept cars
Volvo Venus Bilo

(1933)

Volvo Philip

(1952)

Volvo Margarete Rose

(1953)

Volvo Elisabeth I

(1953)

Volvo VESC

(1972)

Volvo 1800 ESC

(1972)

Volvo EC

(1977)

Volvo City Taxi

(1977)

Volvo Tundra

(1979)
Volvo VCC (1980)
Volvo LCP2000 (1983)

Volvo ECC

(1992)
Volvo SCC (2001)
Volvo YCC (2004)

Volvo T6

(2005)
Volvo XC60 (2007)
Engine types
B4B

and

B14A

- fitted into the Volvo PV and

Volvo Duett

from 1947 to 1956

B16

(A and B) - fitted into the PV, Duett and Volvo Amazon from 1957 to 1960

B18

and

B20

- 1.8 L/2.0 L OHV 8v fitted into all Volvo models from 1961 to 1974 (and 1975 U.S. Spec 240 models).

B19

,   B21,   and

B23

- fitted from 1975

B200

and

B230

- 2.0 L and 2.3 L, respectively, SOHC 8v fitted to 240, 360, 700, 940 series cars from 1985

B204

and

B234

- 2.0 L and 2.3 L DOHC 16 valve engines

B30

- fitted to all 164 models
Transmissions
Volvo AW70 transmission

Volvo AW71 transmission

Volvo AW72 transmission

Volvo M40 transmission

Volvo M400 transmission

Volvo M410 transmission

Volvo M41 transmission

Volvo M45 transmission

Volvo M46 transmission

Volvo M47 transmission

Volvo M50 transmission

Volvo M51 transmission

Volvo M56 transmission

Volvo M58 transmission

Volvo M59 transmission

Volvo M90 transmission

Volvo ZF4HP22 transmission
Sales
Volvo Cars sales during 2005 (2004).
By market
1. United States 123575 (139155)
2. Sweden 52696 (51464)
3. United Kingdom 38307 (40159)
4. Germany 35035 (38085)
5. Italy 20533 (19390)
6. Netherlands 18879 (19225)
7. Spain 18335 (15925)
8. Japan 13427 (13919)
9. Belgium 12638 (12929)
10. Canada 11651 (11651)

All markets: 443947 (456224)
By model
1. XC90 85994
2. V50 83202
3. S40 75136
4. V70 70156*
5. S60 62528

Almost 40% (27999) of the V70's manufactured during 2005, were sold in Sweden, where it has been the best selling car for several years.
See Also

Template:Volvo cars timeline
References
External links