Volkswagen Transporter
Volkswagen
aka
Type aka here, not up there
Production
1950 - present
Class
Van
Body Style
how many doors+how many seats+what type of body
Length
length - type here
Width
Width - type here
Height
Height - type here
Wheelbase
wheelbase - type here
Weight
Weight - you get the point
Transmission
transmission + drive
Engine
engine
Power
N/A hp @ N/A rpm
N/A lb-ft of torque @ N/A rpm
Similar
similar (competition)
Designer
Klaus Bischoff
The Volkswagen Transporter series, also referred to as the Volkswagen Group T platform series, refers to some generations of vans from Volkswagen Group, starting with the original Volkswagen Type 2.
See Autopedia's comprehensive Volkswagen Transporter Review.
Recent Changes
Edit
For 2011, Volkswagen added a new member in its Transporter lineup. The Transporter Rockton 4MOTION is a toughened version of the Transporter designed for off-road excursions. To increase its off-road capability, it comes equipped with a Haldex-based four-wheel drive system with a differential lock on the rear axle as standard as well as reinforced suspension and damping and increased ride height by 30 millimeters. VW also offer buyers two more optional packages, the Expedition and Protective. The Expedition adds 16-inch all-terrain tires on reinforced steel rims and a different transmission which " provides greater pulling power in off-road operation", plus individually sliding and removable seats trimmed in a special fabric inside while the Protective includes underbody protection plates for the engine and transmission, fuel tank, side sills, rear axle and exhaust system, a multi-function container with a desk and a mesh partition for the passenger space. All Transporter Rocktons are offered with a 2.0-liter turbo diesel engine in a choice of two outputs, with 140 hp or 180 hp. Prices in Germany for the standard model start from € 34,545 (plus VAT) and for the "Expedition" from €42,490 (net).
The 2009 Frankfurt Motor Show will play host to the unveiling of a facelifted and minor repackage of the T5 family', including the Transporter, Caravelle, Multivan and California. Aesthetically, the facelift focuses on the front fascia, reshaped to bring it into line with Volkswagen's current corporate face. Other updates include a range of common rail TDI engines, new rear-light clusters, more aerodynamic side mirrors, touchscreen navigation, USB connectivity, updated ESP, 4MOTION AWD and a hill-start assist feature. Plus, a manual gearbox can be optioned. Speaking of the new turbo diesels, the 2.0 TDI can be selected with four different power outputs:
All the engines have a particle filter and all will be attached, standard, to a 7-speed DSG dual clutch gearbox (unless the aforementioned Manual is specified). [1]
Styles and Major Options
Edit
Certain vehicles come in different trim levels or body styles. Features and major options should be mentioned here.
Add more fields as necessary.
MODEL Trims
Trim1
Trim2
Trim3
Trim4
MSRP
$Price1
$Price2
$Price3
$Price4
Invoice
$Price1
$Price2
$Price3
$Price4
Gas Mileage
Edit
Add more fields as necessary.
As seen on the FuelEconomy.gov website, the City/Highway MPG averages are as follows:
Trim
Trim1
Trim2
Trim3
Trim4
MPG
c/h
c/h
c/h
c/h
Engine and Transmission
Edit
Specifications, details, graphs, pictures and other information regarding the powertrain is placed in this section.
Performance
Edit
Please make sure to write information of the vehicle's performance in a third-person point of view. This section should include information about the car's acceleration figures, handling, braking, etc.
If using information gathered from Road Test articles from a reputable automotive source, then please make sure to cite the quote.
Reliability
Edit
Warranty options and scheduled maintenance information should be mentioned here.
This section should reference points on safety ratings and features of the vehicle.
Add Photos of the vehicle here.
Please make sure not to use copyrighted photos.
List the colors that the particular <MODEL> is offered in.
Main Competitors
Edit
Create links to other <MAKE> <MODEL> pages in this section.
Hybrid Models
Edit
If there are hybrid versions of this vehicle manufactured, then please elaborate a little bit on it here.
Unique Attributes
Edit
If there are any features of this vehicle that sets it apart from other vehicles in its class, then mention those unique attributes here.
This section should include information on the interior's design, build quality, ergonomics, space (head and legroom, front and rear), features, stowage compartments and overall comfort and livability. Add pictures wherever applicable and keep information in a third-person point of view.
Resale Values
Edit
Add more fields as necessary.
<MODEL> Year
Year X
Year X-2
Year X-3
Year X-4
Resale Value
$
$
$
$
Criticisms
Edit
Please make sure to keep critiques in a third-person point of view. If using criticisms from a reputable automotive source, then please make sure to cite the quote.
Generations
Edit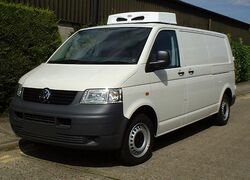 Fill in as many as appropriate. Add more if necessary and pictures wherever applicable.
Please make sure NOT to use copyrighted pictures.
Current Generation: (2003–present)
Edit
Fourth generation (1991-2003)
Edit
Third generation (1980-1991)
Edit
Second generation (1968-1991)
Edit
First Generation/Origins (1950-present)
Edit
Worldwide
Edit
If the vehicle is sold in other markets worldwide, then this is the section to mention that information. Also, mention if the <MODEL> goes by another name in these other markets.
Design quirks and oddities
Edit
Refer to any pop-culture tidbits about the vehicle in this section.
2009 Carsales Light Commercial Van People's Choice Award
External Links
Edit
Community content is available under
CC-BY-SA
unless otherwise noted.