Volkswagen Touareg
Volkswagen AG
aka
None
Production
2004 - present
Class
Mid-Size SUV
Body Style
5-Door, 5-seat Wagon
Length
4,754 mm (187.2 in) (First gen.)
188.8 in (4,796 mm) (Second gen.)
Width
1,928 mm (75.9 in) (First gen.)
76.4 in (1,941 mm) (Second gen.)
Height
1,726 mm (68.0 in) (First gen.)
67.3 in (1,709 mm) (Second gen.)
68.2 in (1,732 mm) Hybrid
Wheelbase
2,855 mm (112.4 in) (First gen.)
113.9 in (2,893 mm) (Second gen.)
Weight
N/A
Transmission
6-speed manual (First gen.)
6-speed automatic (First gen.)
8-speed Automatic, 4MOTION AWD (Second gen.)
Engine
3.0 litre TDI V6
4.2 litre TDI V8
3.3-liter supercharged TSI V6 + electric motor
Power
240 hp @ N/A rpm
405 lb-ft of torque @ N/A rpm

335 hp @ N/A rpm
590 lb-ft of torque @ N/A rpm

376 hp @ N/A rpm
428 lb-ft of torque @ N/A rpm
Similar
Mercury Mountaineer
Acura MDX
Lexus GX
Jeep Grand Cherokee
BMW X5
Mercedes-Benz ML-Class
Lincoln Aviator
Volvo XC90
Porsche Cayenne
Audi Q7
Designer

Klaus Bischoff

(Mk 2)
The Volkswagen Touareg is a luxury 4x4 (US: SUV) automobile manufactured by Volkswagen. It is the first of this class ever produced by this manufacturer.
The Touareg was co-developed with Porsche, who was also looking to add an SUV to their lineup, as a cost-sharing initiative. Porsche shares this chassis to underpin their Cayenne SUV, although there are numerous styling, equipment and technical differences between the two vehicles. Also, the Touareg replaced the Volkswagen Eurovan for North America as the company's truck.
See Autopedia's comprehensive Volkswagen Touareg Review.
Recent Changes
The 2010 Geneva Motor Show played host to the world debut of the Second-generation Touareg. The 200kg (440 lb) lighter body also previews the next generation Porsche Cayenne. Aesthetically, the new mid-size SUV borrows heavily from the Scirocco/Golf school of design but, at the same time, eschews the slab-sided-ness of the outgoing model in favor of a curvier and more sculpted, yet familiar, body. Inside, the new Touareg sports a cleaner, simpler and better integrated cabin while still retaining its signature wood trim surrounded by aluminium borders. The longer body also accomodates, what VW claims, is the largest panoramic sunroof in any SUV. Under the hood, VW offers three new engine choices in the forms of a 3.0 litre TDI V6 which develops 240 hp and 405 lb-ft of torque while sipping only 31.8mpg US (38.1mpg UK or 7.4lt/100km) and producing 195g/km of CO2, a 4.2 litre TDI V8 churning out 335 hp and a massive 590 lb-ft of torque while returning 25.8 mpg US (31mpg UK or 9.1 lt/100km) and 239g/km of CO2 and, the biggest news, a 3.3-liter supercharged V6 TSI mated to a 46 hp electric motor (see Hybrid Models section). All powertrains are mated to a standard 8-speed automatic transmission channeling power to all four wheels. Speaking of the AWD system, the base 4MOTION versions get a Torsen limited-slip differential (climbing ability: 31 degrees) and an "Off-road driving programme", which - at the press of a button - tunes the ABS, EDS and ASR for off-road duty, activates Hill Descent Assist and adjusts the automatic gearshift points. Optionally, instead of a Torsen differential, the V6 TDI can be ordered with an "Terrain Tech Packet" that is said to have an even more rugged transfer case designed for off-road duty. It includes reduction gearing and centre and rear differentials, each with up to 100 percent locking (climbing ability: 45 degrees). Like the first-gen model, this version also gets a rotary switch that allows the driver to adapt the car to specific duty conditions over five levels: 1. "On-Road"; 2. "Off-Road" (like "Off-road driving programme" plus automatic control of the mechanical locks); 3. Low (like "Off-road" plus activation of reduced gearing, higher shift points, no automatic upshift in manual mode); 4. Addition of centre differential lock; 5. Addition of rear differential lock. [1]
The 2007 Touareg cosmetically remains unchanged from 2006.
For 2008, Volkswagen unveils the high-performance Touareg R50 at the 2007 Australian International Motor Show.
Styles and Major Options
The following engines are available:
The twin-turbocharged diesel V10 engine pushes the Touareg from 0–62 mph (100 km/h) in 7.9 seconds, and on to 130 mph (209 km/h) maximum. The Diesel V10 was offered in the United States for a limited time in 2004 and 2005, but — emissions regulations forced it off the market for a temporary period. Volkswagen is working on fixing these issues, and will return the V10 to the US lineup in 2006.
The W12 version should reach 100 km/h (60 mph) in 5.9 seconds. Production of the W12 Touareg is limited to 500 units. Of these, 330 are slated for Saudi Arabia, with none going to the United States.
Pricing
Add more fields as necessary.
MODEL Trims
TDI
Hybrid
Trim3
Trim4
MSRP
$44,350
$60,565
$Price3
$Price4
Invoice
$Price1
$Price2
$Price3
$Price4
Gas Mileage
Add more fields as necessary.
As seen on the FuelEconomy.gov website, the City/Highway MPG averages are as follows:
Trim
3.0 litre TDI V6
4.2 litre TDI V8
3.3 litre TSI V6 Hybrid
MPG
31.8mpg US (38.1mpg UK or 7.4lt/100km)
25.8 mpg US (31mpg UK or 9.1 lt/100km)
28.7mpg US (34.4 mpg UK or 8.2lt/100km)
Engine and Transmission
Specifications, details, graphs, pictures and other information regarding the powertrain is placed in this section.
Performance
Please make sure to write information of the vehicle's performance in a third-person point of view. This section should include information about the car's acceleration figures, handling, braking, etc.
If using information gathered from Road Test articles from a reputable automotive source, then please make sure to cite the quote.
Reliability
RECALL ALERT: On February 18, 2008, Volkswagen announced a small recall involving 96 MY 2008 Touaregs. The problem stems from a fuel supply line that was changed during production which could lead to insufficient sealing of the fuel supply line connector. This condition could lead to a fuel leak which in turn could result into a fire in the presence of an ignition source. Volkswagen dealers will inspect and replace the fuel supply line, if necessary. [2]
Safety
NHTSA
The 2007 Touareg received very high ratings in safety tests carried out by the NHTSA. In front- and side-impact crash tests, the Touareg received 5-Star ratings across the board, and in tests for rollover, it received a 4-Star rating.
Some of the safety features found standard on all trims include:
Four wheel ABS and driveline traction control
Front and rear anti-roll bars
Driver/passenger front impact airbags
Seat mounted driver/passenger side impact airbags
Overhead side curtain airbags
Occupancy sensors
Side impact bars
Front and rear seatbelt pretensioners
EuroNCAP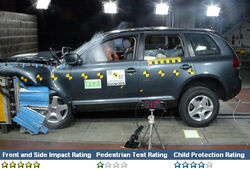 Photos
Colors
Colors will vary by trim, and a complete list is viewable at CarsDirect.com.
Available Colors

Exterior Color

Blue Silver

Anthracite / Kristal Gray

Anthracite / Kristal Gray

Anthracite / Kristal Gray

Reflex Silver

Anthracite / Kristal Gray

Anthracite / Kristal Gray / Teak

Anthracite / Kristal Gray / Teak

Black

Anthracite / Pure Beige

Anthracite / Pure Beige / Teak

Anthracite / Pure Beige / Teak

Wheat Beige

Anthracite / Pure Beige

Anthracite / Pure Beige / Teak

Anthracite / Pure Beige / Teak

Offroad Gray

Anthracite / Kristal Gray

Anthracite / Kristal Gray / Teak

Anthracite / Kristal Gray / Teak

Reed Green

Anthracite / Pure Beige

Anthracite / Pure Beige

Anthracite / Pure Beige

Calla White

Anthracite / Pure Beige

Anthracite / Pure Beige / Teak

Anthracite / Pure Beige / Teak
Main Competitors
Hybrid Models
The second-generation features a Hybrid option right off the bat. The powertrain is a 3.3-liter supercharged V6 TSI producing 330hp and 265 lb-ft of torque with a 46hp electric motor for a combined output of 376hp and 428 lb-ft. The Touareg Hybrid, that can be driven up to 50 km/h or 30 mph in purely electric mode, sprints from zero to 100km/h (62mph) in 6.5 seconds and returns a combined 8.2lt/100km which is equal to 34.4mpg UK and 28.7mpg US.
Unique Attributes
Volkswagen employees had set out an experiment to see if the Touareg V10 can tow a 155 ton Boeing 747. Set in an airfield outside London, the necessary modification to the car is an extra 4300 kgs added to ensure the power from the engine to be translated into propelling force. The Touareg managed to tow the Boeing 150 metres without any stress to all of the car's components.
Interior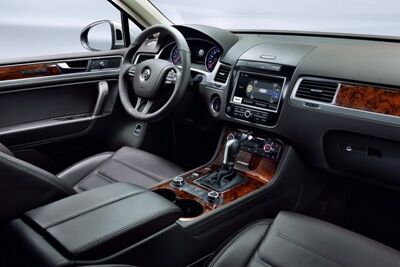 This section should include information on the interior's design, build quality, ergonomics, space (head and legroom, front and rear), features, stowage compartments and overall comfort and livability. Add pictures wherever applicable and keep information in a third-person point of view.
Exclusive Edition
Resale Values
Add more fields as necessary.
<MODEL> Year
Year X
Year X-2
Year X-3
Year X-4
Resale Value
$
$
$
$
Criticisms
"The brakes feel strong and responsive overall, but they have a tendency to be grabby, especially when trying to come to a stop smoothly." - Car and Driver
"If you're a regular Volkswagen buyer, the window sticker may shock you, and the Touareg does not offer a third-row seat." - Kelley Blue Book
Current Generation: (2011–present)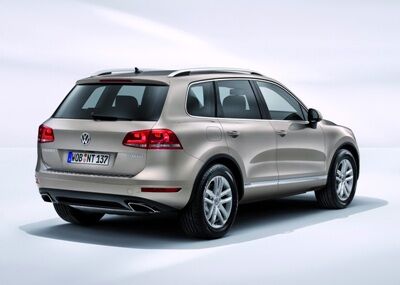 First Generation/Origins: (2004-2010)
Despite the misconception that the Touareg and Cayenne are "soft-roaders" with little or no off-road ability, Porsche/Volkswagen jointly did extensive off-road testing with test mules and both vehicles are in actuality extremely capable off-road, all that is really necessary are more aggressive tires. Volkswagen, for instance, entered a modified Touareg in the Paris Dakar.
Stanley the modified Touareg also won the 2005 DARPA Grand Challenge.
Both Touareg and Cayenne come standard with four wheel drive, a manually lockable center differential and a "low range" setting that can be activated with in-cabin controls. Options to make the vehicles more capable off-road include an available air suspension system which can raise the car's ride height on command and an interior switch allowing the rear differential to be manually locked along with the center unit. At maximum ride height, the air suspension system gives 10.7 in of ground clearance.
The Touareg name is derived from the French moniker for the nomadic Tuareg tribe. The name of the vehicle is frequently mispronounced; the proper pronunciation is TWAH-reg. Ironically it is a word that Germans find difficult to pronounce, finding it eas ier to say "Tour-egg".
Worldwide
The Touareg has become controversial in Australia. Former Australian Rugby Union captain, Phil Kearns was provided with a V8-powered Touareg as an ambassador for the vehicle. On October 22, 2005 an incident occurred in the driveway of the Kearns' family home whereby the 19-month old daughter of Kearns was struck by the vehicle in forward motion not reverse, leaving her with very serious injuries. Road safety advocates in Australia have pointed to the poor visibility from the drivers' seat of the Touareg, and of SUVs generally, as the cause of the accident. An Australian National Roads and Motorists Association (NRMA) study has revealed that a child needs to be 7.8 metres from the rear bumper of the vehicle in order to be observed by the driver. This fact has led to calls for reversing cameras to be made compulsory on all SUVs sold in Australia.
Design quirks and oddities
Environmental and health concerns
The V10 diesel version of the Touareg was named "meanest" or least-energy-efficient 2004 car by the American Council for an Energy Efficient Economy (ACEEE) for its fuel economy of 17 miles per US gallon city (7.3 km/L) and 23 mpg highway (9.8 km/L). This, along with the Touareg's emissions and their estimated impact on global warming and health, earned it the low "Green Score" of 9, as compared to the Honda Civic GX, which was the "greenest", at a score of 57. Within the context of the US SUV's that are significantly less efficient (e.g. Hummer) this accolade is not so damning.
Interestingly enough, diesel is the ecological option used around the world. In Europe, where ecology has a strong effect on politics, over 50% of the cars are diesel. The coalition government of the German Green Party and the SPD Social Democratic Party of Germany introduced highly restrictive environmental policies, that increased the use of diesel and biodiesel vehicles. Diesel engines are, on average, 40% more efficient than gasoline engines (spark-ignition engines). The increased fuel economy of the diesel over the petrol engine means that the diesel produces less carbon dioxide (CO2) per unit distance. Recently, advances in production and changes in the political climate have increased the availability and awareness of biodiesel, an alternative to petroleum-derived diesel fuel with a much lower net-sum emission of CO2, due to the absorption of CO2 by plants used to produce the fuel.
Awards
The Touareg was Car and Driver magazine's Best Luxury SUV for 2003, Motor Trend magazine's Sport/Utility of the Year for 2004, "Four Wheeler" magazine's Four Wheeler of the Year for 2005 & Overlander's 2003 4WDOTY.
The Touareg's V10 engine won 2003's International Engine of the Year.
Development, Success and Distribution
The Touareg was a joint project developed by Porsche and Volkswagen, initially called E1. The goal was to create an off-road vehicle that could handle as a sports car. The team, with over 300 people, was lead by Klaus-Gerhard Wolpert and was based in Weissach im Tal, Germany. The Volkswagen Touareg is built in Bratislava, Slovakia. The manufacturing plant shares production with Touareg-cousins Porsche Cayenne and Audi Q7. Due to the demand, and the exchange rates of Euro vs. Dollar, as well as different pricing and environmental policies in the USA, only V6 and V8 are available for the North American market. A very limited number of the 2004 V10 diesel engine units were sent and are currently highly priced, even on the used market.
See Also
External Links
News and References
Enthusiast Sites and Discussion Forums