Volkswagen Scirocco
Volkswagen
aka
Type aka here, not up there
Production
1974 - 1992
2009 - present
Class
Sport Compact
Body Style
2-door, 2+2/4-seat Hatchback
Length
150.5 in (3,823 mm)
Width
65.5 in (1,664 mm)
Height
58.8 in (1,494 mm)
Wheelbase
96.5 in (2,451 mm)
Weight
2,862 lb (1,298 kg)
Transmission
transmission + drive
Engine
Power
N/A hp @ N/A rpm
N/A lb-ft of torque @ N/A rpm
Similar
Ford Focus RS
Opel Astra GTC
Designer
Designer (lead designer if it was a team effort)
The nameplate Scirocco derives from the Italian word for the Sirocco wind — and the period in its history when Volkswagen named vehicles after prominent winds, including also Passat (after the German word for Trade wind), Golf (after Gulf Stream), Bora (after Bora) and Jetta (after Jet stream).
See Autopedia's comprehensive Volkswagen Scirocco Review.
Recent Changes
On May 19 2009, Volkswagen unveiled the 265 hp Scirocco R hot hatch. [1]
For the 2008

Essen Motor Show

, Volkswagen will unveil a special edition Scirocco dubbed the Scirocco Collector's Edition . the car will be distinguished by a special livery called "Oryx White" and 19-inch polished aluminum alloys. Inside the car gets a unique black and white styling motif. [2]
Styles and Major Options
Certain vehicles come in different trim levels or body styles. Features and major options should be mentioned here.
Pricing
Add more fields as necessary.
MODEL Trims
Trim1
Trim2
Trim3
Trim4
MSRP
$Price1
$Price2
$Price3
$Price4
Invoice
$Price1
$Price2
$Price3
$Price4
Gas Mileage
Add more fields as necessary.
As seen on the FuelEconomy.gov website, the City/Highway MPG averages are as follows:
Trim
Trim1
Trim2
Trim3
Trim4
MPG
c/h
c/h
c/h
c/h
Engine and Transmission
Engine(s)
First Generation:
1.1 L I4
1.5 L I4
1.6 L I4
1.7 L I4

Second Generation:
1.1 L I4
1.3 L I4
1.5 L I4
1.6 L I4
1.7 L I4
1.8 L I4
1.8 L DOHC 16-Valve I4

Third Generation:
1.4 L TSI 122 PS (90 kW; 120 hp)
1.4 L TSI 160 PS (118 kW; 158 hp)
VR6 TSI 200 PS (147 kW; 197 hp)
2.0 L TDI 140 PS (103 kW; 138 hp)

Performance
Please make sure to write information of the vehicle's performance in a third-person point of view. This section should include information about the car's acceleration figures, handling, braking, etc.
If using information gathered from Road Test articles from a reputable automotive source, then please make sure to cite the quote.
Reliability
Warranty options and scheduled maintainence information should be mentioned here.
Safety
This section should reference points on safety ratings and features of the vehicle.
Photos
First Gen 1974 - 1981
Second Gen 1981 - 1992
New Scirocco
Add Photos of the vehicle here.
Please make sure not to use copyrighted photos.
Colors
List the colors that the particular <MODEL> is offered in.
Main Competitors
Hybrid Models
If there are hybrid versions of this vehicle manufactured, then please elaborate a little bit on it here.
Unique Attributes
If there are any features of this vehicle that sets it apart from other vehicles in its class, then mention those unique attributes here.
Interior
This section should include information on the interior's design, build quality, ergonomics, space (head and legroom, front and rear), features, stowage compartments and overall comfortability and livability. Add pictures wherever applicable and keep information in a third-person point of view.
Resale Values
Add more fields as necessary.
<MODEL> Year
Year X
Year X-2
Year X-3
Year X-4
Resale Value
$
$
$
$
Criticisms
Please make sure to keep critiques in a third-person point of view. If using criticisms from a reputable automotive source, then please make sure to cite the quote.
Generations
Third Generation: (2008–present)
Promising to be sleeker, lighter & faster than the latest Golf GTI, the model will prove once and for all that the German brand is an unbeatable force when it comes to building world-class performance cars.
...the car has classic coupe proportions - it's 4256mm long, 1404mm high and 1810mm wide. That makes it longer and wider than the Golf GTI, while it sits lower to the ground too
...even though Volkswagen has focused heavily on style, the Scirocco remains relatively versatile. There's a 292 -litre boot, which can expand to 755 litres with the rear seats folded. What's more, under the skin the model promises cutting-edge technology to math its stunning, futuristic looks. In fact, it will be the most dynamically advanced production coupe VW has ever built.
Second generation (1981-1992)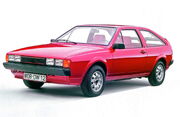 A heavily re-designed "Mark II" variant went on sale in 1982, although it remained on the A1 platform. One unique feature of the Mark II was the location of the rear spoiler midway up the glass on the rear hatch. A mid-cycle update occurred in 1984, which included minor changes over the 1982 model: removal of the outlined "SCIROCCO" script from the rear hatch (below the spoiler), a redesigned air conditioning compressor, and a different brake master cylinder with in-line proportioning valves and a brake light switch mounted to the pedal instead of on the master cylinder. Half way through the 1984 model year, a new space-saver spare wheel was added, that provided room for a larger fuel tank (with a second "transfer" fuel pump). Leather interior, power windows and mirrors, air conditioning, and a manual sunroof were options for all years. Engine power and torque steadily increased over the years. 1982 and 1983 models produced 74 hp (55 kW) and 90 ft·lbf (120 N·m) of torque. The engine code was EN. The 1984 models produced 90 hp (67 kW) and 100 ft·lbf (140 N·m) torque, the engine code was JH. In mid-1986 a 16-valve model with 123 hp (92 kW) and 120 ft·lbf (160 N·m) of torque was released in the United States and Canada, which included a full body skirt, larger rear spoiler, and tear-drop shaped wheel slots, and vinyl on the B-pillar, to distinguish it from Mark II 8-valve models. The 16V engine code was PL.
Although the 16-valve engine brought added performance to the range, it proved a somewhat questionable choice in the North American market, as later A2 Golf GTIs manufacturered in the USA were available with a more powerful 16-valve 2.0 L motor. This was, however, not questionable at the time since the 2.0 L 16V engine did not show up in North America until 1990, two years after the demise of the Scirocco. Still, the European 1.8 16V that was fitted into the Scirocco GTX 16V model developed 139 bhp (104 kW), surpassed only by the A3 generation 2.0 16v with 150 bhp (110 kW).
Like the first generation Scirocco, the car was assembled on behalf of Volkswagen by Karmann of Osnabrück.
Scirocco sales continued until 1988 in the United States, 1989 in Canada, and 1992 in Europe.
The Scirocco was replaced by the Corrado in the VW line-up.
First Generation/Origins (1974-1981)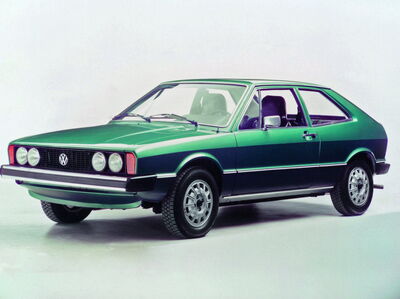 Volkswagen began work on the car during the early 1970s as the replacement for the aging Karmann Ghia coupe, and designated it the Type 53 internally. By hand-building the Golf/Rabbit and Jetta (which was not introduced until 1979, well after Scirocco was planned) to underpin the new Scirocco, although almost every part of the car was re-engineered in favour of a sportier drive, and the model's all-new styling, penned by Giorgetto Giugiaro, was sleeker and sportier than that of either the Golf or Jetta. The model went on sale in Europe in 1974 and in North America in 1975. Mark I models featured a range of four-cylinder engines with displacements from 1.1 to 1.6 L (1.7 L in North America (1975 1.5L(1471), 1976-77 1.6L, 1978 1.5L(1457), 1979-1981 1.6 USA models), all featuring a single-overhead camshaft and two valves per cylinder.
The car changed little before being replaced by the Mark 2 version in 1982 (Europe). However, air conditioning became available as an option on the domestic market in August 1975.[2] The possibility to retrofit the installation, together with a larger battery, was offered to existing owners.[2]
During the production of the Mark I, there were subtle changes to the body and trim. In 1977 (1976 was first year) the conventional two wiper system changes to a single wiper which parks on the passenger side of the windscreen. In 1978 the separate front side marker and turn signal, changed to a combination wrap-around orange lens. Other mid-life changes include chrome bumpers with rubberised end caps to a plastic one-piece wrap around bumper. In 1979 the one-pieces "flag" style outside mirrors transitioned to a two-piece shrouded mirror. There were also special variants throughout the Mark I production. Most distinguishable by paint schemes and trim, there were special versions called "Sidewinder", "Sidewinder II", "Champagne Edition", "Champagne Edition II" and the "S". The Champagne Edition II only came in white with black accents. On the NA models the 1980 "S" versions came in only three colours, Alpine White, Black and Mars Red with unique colour accents. This was followed by the 1981 "S" versions which only came in Cosmos Silver Metallic, Cirrus Gray Metallic and Mars Red without the colour accents.
Worldwide
If the vehicle is sold in other markets worldwide, then this is the section to mention that information. Also, mention if the <MODEL> goes by another name in these other markets.
Design quirks and oddities
The Scirocco was featured in Family Guy when Stewie found a key to a Scirocco in his grandparent's candy dish.
Awards
List out notable awards that the model has recieved while in production. Boldface the company or organization that gives out the award, and Italicize the name of the award.
See Also
External Links