Volkswagen Polo GTI
Volkswagen
aka
Volkswagen Polo
Production
1986-present
Class
Subcompact Hot Hatch
Body Style
3-door, 4-seat Hatchback
Length
length - type here
Width
Width - type here
Height
Height - type here
Wheelbase
wheelbase - type here
Weight
2632 lb (1194 kg)
Transmission
7-speed DSG dual-clutch
Engine
1.4 litre turbocharged + supercharged DI TSI Inline-4
Power
177 hp @ N/A rpm
N/A lb-ft of torque @ N/A rpm
Similar
similar (competition)
Designer
Designer (lead designer if it was a team effort)
The Volkswagen Polo GTI is a hot hatch version of the Volkswagen Polo supermini, produced by German automaker Volkswagen.
See Autopedia's comprehensive Volkswagen Polo GTI Review.
Recent Changes
Mention any minor facelifts or major changes made to the vehicle here.
Styles and Major Options
Certain vehicles come in different trim levels or body styles. Features and major options should be mentioned here.
Pricing
Add more fields as necessary.
MODEL Trims
Trim1
Trim2
Trim3
Trim4
MSRP
$Price1
$Price2
$Price3
$Price4
Invoice
$Price1
$Price2
$Price3
$Price4
Gas Mileage
Add more fields as necessary.
As seen on the FuelEconomy.gov website, the City/Highway MPG averages are as follows:
Trim
Trim1
Trim2
Trim3
Trim4
MPG
c/h
(5.9 l/100 km or 39.9 mpg EU cycle)
c/h
c/h
c/h
Engine and Transmission
Specifications, details, graphs, pictures and other information regarding the powertrain is placed in this section.
Performance
Please make sure to write information of the vehicle's performance in a third-person point of view. This section should include information about the car's acceleration figures, handling, braking, etc.
If using information gathered from Road Test articles from a reputable automotive source, then please make sure to cite the quote.
Reliability
Warranty options and scheduled maintenance information should be mentioned here.
Safety
This section should reference points on safety ratings and features of the vehicle.
Photos
Add Photos of the vehicle here.
Please make sure not to use copyrighted photos.
Colors
List the colors that the particular <MODEL> is offered in.
Main Competitors
Create links to other <MAKE> <MODEL> pages in this section.
Hybrid Models
If there are hybrid versions of this vehicle manufactured, then please elaborate a little bit on it here.
Unique Attributes
If there are any features of this vehicle that sets it apart from other vehicles in its class, then mention those unique attributes here.
Interior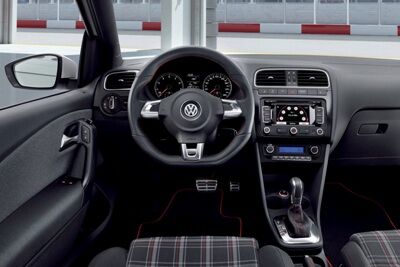 This section should include information on the interior's design, build quality, ergonomics, space (head and legroom, front and rear), features, stowage compartments and overall comfort and livability. Add pictures wherever applicable and keep information in a third-person point of view.
Resale Values
Add more fields as necessary.
<MODEL> Year
Year X
Year X-2
Year X-3
Year X-4
Resale Value
$
$
$
$
Criticisms
Please make sure to keep critiques in a third-person point of view. If using criticisms from a reputable automotive source, then please make sure to cite the quote.
Generations
Fill in as many as appropriate. Add more if necessary and pictures wherever applicable.
Please make sure NOT to use copyrighted pictures.
Current Generation: (2011–present)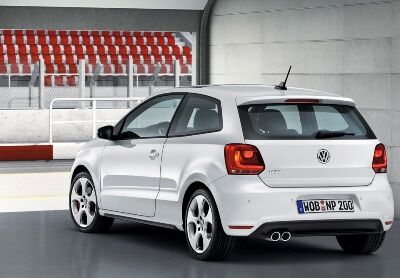 Volkswagen have confirmed that the Mk5 Polo will return in GTI form in 2010, shortly after making its debut at the 2009 Tokyo Motor Show. The new GTI boasts around 177 hp and is powered by VW's award winning direct injected 1.4 TSI engine (adapted from that used in the current Scirocco) which uses both a supercharger and turbocharger to provide torque throughout the rev range. The Mk5 Polo is also 7.5% lighter than its predecessor and with a 30 PS (22 kW; 30 hp) power hike over the previous generation Polo GTI can hit 62 mph (100kph) in 6.9 seconds. The Mk5 Polo will also include features not found on previous generation Polos such as touch screen satellite navigation and a 7 speed version of VW's DSG gearbox as standard.[1]The combined fuel efficiency goes from 29.8 miles per gallon to 39.9 mpg on the EU test cycle.

Third generation: Mk IV Polo GT (2002–2010)
With the introduction of the 2002 model Polo, the GTI model was discontinued and was given no direct replacement. There was however a GT model produced, featuring the same 1.9 TDI 130 PS engine found in the popular Škoda Fabia vRS.
Mk IVF Polo GTI
It was not until late 2005, after yet another Polo revamp that the GTI was reintroduced. This time it boasted a 1.8T 150 PS engine which had been used in everything from the Mk4 Volkswagen Golf GTI to the Audi A6. Despite the impressive figures this new model lacked the standard features of the Polo GTI III with xenon headlights not even on the options list and fully digital climate control only being an expensive option. Although faster than the 2000-2002 Polo GTI the newer model was also seen as being off the pace when compared to its rivals, most of which are now nudging 200 PS. In Europe this led to VW quickly beefing up the Polo further to create the Polo GTI Cup Edition, which was tuned to around 180 PS and featured more aggressive styling.
Second generation: Mk III Polo GTI (1994–2002)
After production of the G40 ended in 1994, Volkswagen decided to release the first GTI-branded Polo in a limited batch of just 3000. It was released in 1995 and available only in left hand drive. It featured a 1.6-litre 16-valve 120 PS (88 kW) engine and a host of extra features making it the highest spec car in its class. The GTI was not available in the UK at any stage during its limited production, this meant that as of 1994 the UK only had the 100bhp 1.4 16v as a model with any sporting intent. This was the case until 2000 when the Polo MK III model range was finally revamped and the first GTI-branded Polos arrived in the United Kingdom.
Mk IIIF Polo GTI
Between 2000 and 2002 VW offered two sporting models, the 16V and GTI. The 16V came with the 1.4 16V 100 PS (74 kW) engine and had options such as 15" Spa alloys and air conditioning. However more interest was in the GTI. Available only in hatchback form, the GTI was powered by a 1.6 16V 125 PS (92 kW) engine with variable valve timing, making it the most powerful Polo to come out the factory to date. External changes gave the car the looks to match its power. Deeper front bumpers with honeycomb mesh inserts, side skirts, fog lights, a honeycomb mesh grill and 15" BBS split rims suited the car well. There were also standard extras such as "Climatronic" fully automatic air conditioning, xenon headlights with headlight washer system, a six-disc CD autochanger, exclusive sports interior with leather steering wheel and gearstick, chrome inserts and driver aids such as ABS with EBD and an EDL (a system to aid traction). Leather and satellite navigation were also optional extras. The Polo GTI Mk IIIF however missed the new six-speed gearbox that was introduced in the smaller Volkswagen Lupo GTI.
First Generation/Origins: Mk II Polo G40 (1986-1994)
The Volkswagen Polo GTI can probably trace its roots back to the original hot Polo, this was the supercharged 1.3 L 115 PS (83 kW) G40. It was sold in the UK between 1990 -1994 in the form of the Mk IIF Polo but was available during the late 80's in limited numbers in Europe in the form of the Mk II 'Polo GT G40'. The car was expensive compared to its rivals of the time and therefore did not sell in vast numbers (Ford Fiesta XR2, Peugeot 205 GTI etc). This makes it highly collectible today and according to Top Gear, "a potential future classic". If kept in good condition this lightweight and small engined car will keep up with much larger rivals thanks to its supercharger. This is a technology that has recently found its way back into Volkswagen's range of cars, most noticeably the new Golf GT 1.4 TSI which boasts 170 PS from its small engine. It is likely that a TSI engine will find its way into a Polo GTI at some point in the future.

Worldwide
If the vehicle is sold in other markets worldwide, then this is the section to mention that information. Also, mention if the <MODEL> goes by another name in these other markets.
Design quirks and oddities
Refer to any pop-culture tidbits about the vehicle in this section.
Awards
List out notable awards that the model has received while in production. Boldface the company or organization that gives out the award, and Italicize the name of the award.
See Also
External Links
News and References
Enthusiast Sites and Discussion Forums
↑
"World Premiere I: The New Polo GTI Is Here!". Volkswagen media services. volkswagen-media-services.com. 19 February 2010. https://www.volkswagen-media-services.com/medias_publish/ms/content/en/pressemitteilungen/2010/02/19/world_premiere_i_.standard.gid-oeffentlichkeit.html

. Retrieved 20 February 2010

.