The Volkswagen Passat is a family car built by Volkswagen AG, produced in various forms since 1973. It falls between the Volkswagen Golf/Jetta and Phaeton in the current Volkswagen lineup, and is currently produced in Volkswagen's plant in Emden, Germany. While the first generation Passat was a compact car/small family car, the second generation grew in size, so models thereafter were designed as mid-size cars/large family cars.
The Passat has always been one of Volkswagen's most important models, falling in the middle of the sedan/saloon market segment. It was critical to Volkswagen on its introduction in 1973, as the sales of the aging Beetle were declining, and larger air-cooled rear-engined models like the Volkswagen Type 3 and 411 and 412 based on older technology were also failing to take hold in the market.
Following the Volkswagen Group's acquisition of Audi in 1964, Volkswagen was able to use newly gained engineering expertise to develop a modern front wheel drive car with a water-cooled engine, and thus the Passat and Golf (the latter being introduced in 1974) were the first of a new generation of Volkswagens. Indeed, the first Passat was designed together with the Audi 80/Fox and the two share the same platform. The new Passat allowed Volkswagen to compete more squarely with its European rivals than was possible with its product line of old-fashioned rear-engined models. As of 2006, the Passat is one of Volkswagen's best-selling and most-profitable models in nearly every market.
See Autopedia's comprehensive Volkswagen Passat Review.
Recent Changes
Starting 2011, Volkswagen will begin to offer Volkswagen RNS Navi Lock on the Golf, Passat and Passat CC to curb the recent rash of SatNav theft in the Netherlands. The system locks a large metal plate over the entire navigation system, theoretically obscuring the hardware and making it more difficult to steal in the process. The system costs €219.[1]
For 2011, VW introduced the seventh-generation (B7) Passat at the 2010 Paris Motor Show. It is essentially a facelifted B6 despite being tagged an all-new generation, bringing it into line with VW's Scirocco-inpired corporate fascia. VW claim, however that it is 4mm longer.[2]
Styles and Major Options
The Passat is available in either a sedan or a wagon, and both styles come in 3 trims: the 2.0T Value Edition, the 2.0T, and the 3.6. Several features are shared across all trims, but certain options are available for the 2.0T trims only through premium packages. Some standard highlights are as follows:
Volkswagen reintroduces the "Wolfsburg Edition" package for the 2008 model year.
For 2012, Volkswagen introduces the Volkswagen Passat Alltrack. [3]
2.0T Value Edition
2.0L
6-way Front Seat Controls
In-dash CD Player with MP3 capability
Power Locks, Windows, Trunk
2.0T
All Value Edition Features
Available XM/Sirius Satellite Radio packages
Available Premium Luxury packages
Available Cold Weather package
3.6
All Value Edition Features
All Available Premium Packages
4Motion All Wheel Drive
Standard 6-speed Tiptronic Automatic Transmission
17" Silver Alloy Wheels
In-dash 6-disc CD Changer
Pricing
Today's actual prices for the Volkswagen Passat can be found at CarsDirect.
Passat Trims

2.0T Value Edition

2.0T

3.6

MSRP

$22,950

$23,900

$39,100

Invoice

$21,118

$21,985

$29472
Reliability
RECALL ALERT: On April 5, 2008, Volkswagen issued a recall affecting 410,000 Passats built between 1999 and 2005 equipped with the 1.8-liter I4, 2.0-liter I4, 2.8-liter V6, and 4.0-liter W8. The recall is due to a three-fold reason. The first concerns a defective heat shield, specifically, the shield near the catalytic converter on some automatic-equipped units which may be damaged. The second issue concerns faulty fuel lines on cars with the 1.8-liter turbocharged engine. The third concerns some of the Passats equipped with all-wheel-drive which may have damaged fuel tank ventilation valves. [4]
RECALL ALERT: On November 11, 2008, hhe NHTSA has issued a recall affecting all 2009 Volkswagen Passat CCs, Passat and Passat Wagons (totaling 130 units) due to a damaged capacitor that could lead to steering malfunction. [5]
Safety
Photos
Passat Alltrack
Main Competitors
Hybrid Models
There are no current plans to develop a Passat hybrid as of yet.
Unique Attributes
When the B6 Passat (2005.5) was first released, the marketing department at Volkswagen was quite vocal about standard features that might be options on other vehicles and optional features that other manufacturers do not have available.
Some of the standard features on the Passat that might be considered unique are:
Self-draining umbrella holder in driver's side door
Anti-lock brakes that "tap" the discs imperceptably during rain to keep the discs dry
Hill Hold Assist which engages the brakes on a hill to prevent undesired rolling forward or back
Heated anti-fog sideview mirrors
Cooled glovebox
Automatic air-recirculation when in reverse
Speed adaptive power steering
Some optional features that are unique are:
Headlights that turn with the steering wheel
Windshield wipers that sense the rain
Right sideview mirror tilts down when in reverse (for parking)
Interior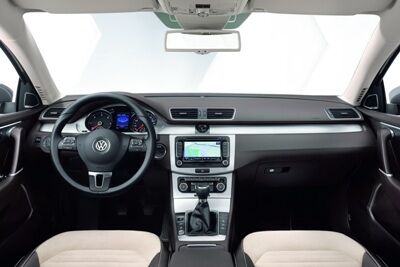 This section should include information on the interior's design, build quality, ergonomics, space (head and legroom, front and rear), features, stowage compartments and overall comfort and livability. Add pictures wherever applicable and keep information in a third-person point of view.
Resale Values
Although the latest generation of the Passat has only been on the market since 2005 and a 5-year analysis is not yet available, Kelley Blue Book predicts that it will retain its value resiliently as compared to similarly priced competitors.
Criticisms
"Seat-recline knobs nearly impossible to reach." - USA Today
"Stereo controls were on the small side and hard to operate without taking your eyes off of the road." - Edmunds.com
"If its driving dynamics or design distinctions don't make an impression on you, there's little reason to choose the Passat over benchmarks like the Honda Accord or Toyota Camry." - Kelley Blue Book
Current Generation: (2011–present)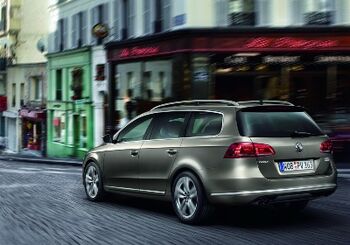 Previous Generations
Sixth generation (2005–2008)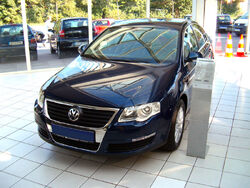 The latest Passat was first displayed at the Geneva Motor Show in March 2005 and launched in Europe in the summer of 2005. The new B6 Passat features a return to the transversely mounted engine and, unlike its predecessor, no longer shares its platform with the Audi A4. Instead, much of its platform (the B6 platform) is now based upon the Golf Mk V.
Style-wise, the car follows the latest design language first introduced on the Volkswagen Phaeton luxury car, although the consensus from the motoring press is that the Passat is not as pleasing as the previous model due to its proportions, caused by long front and rear overhangs and narrow track, and front detailing.
The bulletproof interior quality of the previous generation appears to have been lost, and although still of a very high standard, the Passat no longer matches its in-house rival, the Audi A4. Many believe the reason for this step back in quality, also seen in the Mk V Golf of 2003, is to allow daylight between the marketing and price positioning of Audi and Volkswagen products. The previous generation Volkswagens were generally viewed to be on par with their Audi cousins.
On the four wheel drive version, the transverse-engine platform dictated a switch from the Torsen center differential of the B5 to the Haldex multi-plate clutch. This change also changes the handling closer to a front wheel drive car, with understeer -- and better fuel economy. Unlike the Torsen, the Haldex can only respond after slippage has occurred. It does this with a jolt which may cause the remaining wheels with traction to lose their grip. The Haldex can direct power more unequally than the Torsen, which was limited to 66:34 or 34:66 in the B5 Passat. This may help with extraction from deep sand, although the Passat is far from being an off-road vehicle.
Fuel stratified injection is used in nearly every petrol version of the Passat, ranging from 1.6 to 3.2 L, but the multivalve 2.0 L TDI is the most sought out version in Europe. In the US market, it features a 200 hp (147 kW) 2.0 L turbocharged I4 as the base engine, or a 280 hp (206 kW) 3.6 L VR6 engine as the upgrade and six-speed manual and automatic transmissions.
Also new to this platform is the fact that the GL, GLS, and GLX trim levels are now substituted by the more simpler way of classifying by the engine (2.0T, 3.6L, TDI, etc.).
Fifth generation (1996–1999)
The all-new fourth-generation Passat (sometimes referred to as the 5th generation Passat) (B5 platform) was launched in 1996 in Europe and 1998 in North America, and was an entirely new car design from the ground up. It was significant in that it returned to sharing a platform with an Audi (the Mk I Audi A4 from 1994), again using the classic "overhung" longitudinally mounted engine with front wheel drive.
The Mk 4 Passat was a very significant car in its class. Not only was it the first step of VW moving its products upmarket to plug a gap between the mainstream machines and the premium cars, with SEAT and Škoda taking over as the "mainstream" brands, it also brought in a new level of interior quality and sophistication never seen before from a mainstream brand in the class. In fact, the quality of the Passat was on a par with its sister Audi A4 and it undoubtedly took some sales from its more costly premium in-house rival. The £16,000 starting price in the UK put it £1,000 above the equivalent Ford Mondeo, but the price difference showed when it came to luxury and upmarket feel. Rivals launched before 1996 now appeared cheap.
However, the advent of the Mk 4 Passat meant that most mainstream rivals in the class had to raise their game with interior quality to the point where there are now virtually no differences in quality levels between mainstream and premium cars in the class. The 2000 Ford Mondeo was the first car to show the effect the Mk 4 Passat had on the class. Only the budget brands in the class have not raised their game, but this is reflected in their prices. Volkswagen was about to play the same game in the class below with the Mk IV Volkswagen Golf in 1997.
Style-wise the Passat introduced a new design language, first seen on the Concept 1 concept car, for the latest generation of Volkswagens. This was evident with the Mk IV Golf, Bora/Mk IV Jetta and Mk IV Polo. The Passat also influenced the styling of many yet-to-be-launched rivals.
Dynamically, the most notable thing about the Passat was its good ride, which was as good as anything produced by Mercedes-Benz or BMW. The handling though was generally accepted to be some way off the standards of the Mk I Ford Mondeo and the Peugeot 406 which was launched in 1995. The interior was also luxurious and well equipped, with a long equipment list which included power windows, air conditioning, CD player, power mirrors, power sunroof and leather upholstery.
The car featured sophisticated 4-link front suspension, designed to eliminate torque steering. All wheel drive was later introduced as an option, using an expensive Torsen center differential which helps avoid loss of traction by using a 50:50 power distribution under normal conditions, and gave excellent superior handling on slick surfaces. The B5 Passat shared its platform with the Audi A4. Power came from entirely new 1.8 L, 2.0 L, 2.3 L and 2.8 L gasoline engines, including a 1.8 L turbocharged 4-cylinder, or 2.8 L V6. The 1.8 L engine in the Passat and Audi A4 has a lower oil capacity than transverse applications of the same engine, and suffers from oil sludge problems as a result. Two transmission options were available: a 5-speed manual transmission and a 5-speed automatic transmission.
Engines
Engine
Engine code(s)
Cylinders /
valves
Displace-
ment
Power
Torque
Years
1.6 L petrol
ADP / AHL
4 / 8
1,595 cc
74 kW (100 hp)
140 Nm
1996–1999
1.6 L petrol
ARM
4 / 8
1,595 cc
74 kW (100 hp)
145 Nm
1999–2000
1.8 L petrol
ADR / APT
4 / 20
1,781 cc
92 kW (125 hp)
168 Nm
1996–1999
1.8 L petrol Turbo
AEB / APU / ANB
4 / 20
1,781 cc
110 kW (150 hp)
210 Nm
1997–2000
2.0 L petrol
AUZ
4 / 8
1,984 cc
88 kW (120 hp)
175 Nm
1999–2000
2.3 L petrol
AGZ
5 / 10
2,324 cc
110 kW (150 hp)
205 Nm
1997–2000
2.8 L petrol
ACK / APR
6 / 30
2,771 cc
142 kW (193 hp)
280 Nm
1997–2000
1.9 L TDI diesel
AHU / AHH
4 / 8
1,896 cc
66 kW (90 hp)
210 Nm
1996–2000
1.9 L TDI diesel
AVB
4 / 8
1,896 cc
74 kW (100 hp)
250 Nm
1999–2000
1.9 L TDI diesel
AFN / AVG
4 / 8
1,896 cc
81 kW (110 hp)
235 Nm
1996–2000
1.9 L TDI diesel
AJM
4 / 8
1,896 cc
85 kW (115 hp)
285 Nm
1998–2000
1.9 L TDI diesel
ATJ
4 / 8
1,896 cc
85 kW (115 hp)
310 Nm
1998–2000
2.5 L TDI diesel
AFB
6 / 24
2,496 cc
110 kW (150 hp)
310 Nm
1998–2000
Fourth generation (2000-2005)
In mid-2000, the Passat received a facelift, involving a minor tweaking of the styling and some mechanical alteration, and the platform is now commonly known as the B5.5. Although some of the body panels remained unchanged, new projector-optic headlights and bumpers gave the car a fresher look. The Passat was still very much the comfortable, well-built and luxurious large saloon and estate which had been launched four years earlier. Traditional Volkswagen trademarks of build quality and reliability continued to boost the Passat's reputation.
The naturally aspirated 1.8 L gasoline engine was dropped, and a 4.0 L W8 engine producing 275 hp (202 kW) was introduced in 2001 in an upmarket version of the car that included all wheel drive standard, but this was a slow seller and the engine was retired in 2004.
In 2004, a powerful 2.0 L turbocharged diesel TDI engine producing 136 hp (100 kW) was added (making the Passat the only mid-sized diesel powered car sold in the US, and one of the most fuel-efficient). This variant, sold from 2004-2005, is relatively rare on the used market and examples in good condition command high resale prices for their fuel economy and ability to operate on increasingly inexpensive biofuels.
Engines
Engine
Engine code(s)
Cylinders /
valves
Displace-
ment
Power
Torque
Years
1.6 L petrol
ALZ
4 / 8
1,595 cc
75 kW (102 hp)
148 Nm
2000–2005
1.8 L petrol Turbo
AWT
4 / 20
1,781 cc
110 kW (150 hp)
210 Nm
2000–2005
2.0 L petrol
AZM
4 / 8
1,984 cc
85 kW (115 hp)
172 Nm
2000–2005
2.0 L petrol
ALT
4 / 20
1,984 cc
96 kW (130 hp)
195 Nm
2002–2005
2.3 L petrol
AZX
5 / 20
2,324 cc
125 kW (170 hp)
225 Nm
2000–2003
2.8 L petrol
AMX
6 / 30
2,771 cc
142 kW (193 hp)
280 Nm
2000–2005
4.0 L petrol
BDN
8 / 32
3,999 cc
202 kW (275 hp)
370 Nm
2001–2004
1.9 L TDI diesel
AVB
4 / 8
1,896 cc
74 kW (100 hp)
250 Nm
2000–2005
1.9 L TDI diesel
AWX
4 / 8
1,896 cc
96 kW (130 hp)
285 Nm
2001–2005
1.9 L TDI diesel
AVF
4 / 8
1,896 cc
96 kW (130 hp)
310 Nm
2001–2005
2.0 L TDI diesel
BGW
4 / 8
1,968 cc
100 kW (136 hp)
335 Nm
2003–2005
2.5 L TDI diesel
AKN
6 / 24
2,496 cc
110 kW (150 hp)
310 Nm
2000–2003
2.5 L TDI diesel
BDG
6 / 24
2,496 cc
120 kW (163 hp)
350 Nm
2003–2005
2.5 L TDI diesel
BDH / BAU
6 / 24
2,496 cc
132 kW (180 hp)
370 Nm
2003–2005
Mark 4 LWB
A long-wheelbase version was introduced in China in 2000 by Volkswagen's joint venture partner Shanghai Automotive, and this lengthened platform went on to underpin the Škoda Superb. Both have a 100 mm longer wheelbase and length than the standard B5 Passat. An updated version called the Passat Lingyu was released in 2005, which has the 2.0 L, 1.8 L Turbo and 2.8 L V6 gasoline engines.
Third generation (1988–1996)
The third generation Passat (introduced 1988 in Europe, 1990 in North America) was a completely new car. Its curvy looks were a world away from the boxy appearance of its predecessor and owed much to the 'Jelly Mould' style pioneered by Ford with the Sierra. The lack of a grille made the car's front end styling reminiscent of older, rear-engined Volkswagens such as the 411.
At the time it was the first Passat to be built on an independently designed platform, rather than sharing one with an Audi saloon. Instead, the car, although designated B3 in VW's platform nomenclature, was largely on the A Platform as used for the smaller Golf model. Only sedan and station wagon versions were available, without the fastback option of previous models. It was marketed under the Passat name in all markets, including North America.
The fuel injected engines were all new and gave better performance and refinement than the carburetor units previously used. They were mounted transversely, and the floorpan was engineered to accept VW's "Syncro" four-wheel drive system. Volkswagen's new 2.8 V6 VR6 engine (also used in the Golf and Corrado) was also made available in 1991, giving the top-of-the-range Passat a top speed of 224 km/h (139 mph). The Passat took over from the Jetta once again as Volkswagen's top-of-the-line model for North America.
1993 Mark 3
The Mk 3 Passat was heavily facelifted in 1993, and because of this it has sometimes been referred to as the Mk IV Passat while Volkswagen even renamed the platform B4. This version was available from 1995 to 1997 in North America.
Mechanically, the car was nearly identical to the original Mk 3, but aside from the windows, every external body panel was new. The most obvious exterior change was the reintroduction of a grille to match the style of the other same-generation Volkswagen models, such as the Mk 3 Golf, whose styling theme didn't follow the original Mk 3 Passat. The estate version, however, identified the link to the original Mk3. The interior design was also updated and improved, and safety equipment such as dual front airbags were added.
The car was available with a TDI diesel engine, an inline 4 cylinder 1.9 L turbo diesel, generating 210 N·m (155 ft·lbf) of torque at 1900 rpm, 90 hp (66 kW) at 3750 rpm. VW introduced the TDI engine to the North American market in the 1996 B4 Passat, with a U.S. EPA fuel efficiency rating for the sedan of 45 mpg highway (5.2 L/100 km). Combined with a 70 L (18.5 U.S. gallon) fuel tank, it had a 1300+ km (800+ mi) range on a single tank of fuel, nearly unheard of in the North American market. The TDI version is in high demand today and commands a high resale price in the U.S. due to its fuel economy and ability to operate on locally produced biofuels. The B4 TDI wagon (often known by the European moniker "Variant") is even rarer, fewer than 1000 having been imported to the US during its 1996 to 1997 lifespan. In addition to the extra cargo room, it is valued by many TDI enthusiasts for its greatly expanded range. The main tank is approximately the same size as other Mark 4 Passats, but filling its unusually capacious vent chamber allows the wagon to hold more than 100 liters (26.4 U.S. gallons) of diesel in an unmodified vehicle.
Second generation (1981–1988)
-----------------------The second generation Volkswagen Passat was a large family car launched in 1981. The platform, named B2, was slightly longer and the car's updated styling was instantly recognisable as Passat, with the most obvious difference being the rectangular headlights. The car was known as the Quantum in North America , where it was introduced in 1982, and Corsar in Mexico, where it was sold between 1985 and 1988.
As well as the Passat hatchback and estate there was also a sedan, which until the beginning of 1985 was sold as the Volkswagen Santana in Europe.
The range received a minor facelift in 1985, with the sedan, now known as the Passat, sharing the same front end as the hatchback and estate. The Passat sedan and estate were produced in South Africa until 1987.
The range of engines (still all inline 4 units in the US) was more extensive than that of the first generation Passat, and included a 2.0 petrol and a 1.6 diesel as well as all the engines previously available in the B1 model. European models featured also a straight-5 Audi engine that often was combined with the 4WD, called "syncro". Engines for the US market included the 1.8 petrol, 1.6 turbocharged diesel and the Audi 5 cylinder in 2.1 and later 2.2 liter displacement. The "Syncro" model was available in the US from 1986 through 1988 and only as a wagon (estate). The 1.6 liter turbocharged diesel versions were only availabe in the US from model year 1982 through 1985.
Brazilian and Chinese Santanas
In 1991, rather than tool up for the third generation Passat(B3), Volkswagen do Brasil, then in its Autolatina partnership with Ford do Brasil, retained the B2 shaped sedan and wagon & made structural changes to the grill, front and rear ends (including front & rear guards). These structural changes made it look like a modern B3 Passat which still commonly fools some car enthusiasts.
Under terms with Autolatina, the car was also sold as the Ford Versailles in Brazil and as the Ford Galaxy in Argentina. This range included a unique station wagon version called the Ford Royale, which unlike the Volkswagen version, had only two doors. Although such models were relatively popular in Brazil, and had been sold by Ford before, it was also alleged that Volkswagen did not want the Royale to be available as a four-door model, as this would have posed a competitive threat.
The Quantum in 2002 station wagon & Santana in 2006 have since been retired from Volkswagen do Brasil model line.
The Chinese Santana, with the European Passat B2 design, has been built by the Shanghai-Volkswagen joint-venture since 1986.
In 1991 the Volkswagen Santana 2000 was put into development with Volkswagen do Brasil and started mass production in 1995, it has since been replaced in 2004 by the Volkswagen Santana 3000 which was the 1st VW to be designed by Shanghai-Volkswagen. Both the original Santana and the Santana 3000 are still sold in China.
The Brazilian Santana and Chinese version were co-developed between the two companies, although the Chinese versions have a longer wheelbase.
First Generation/Origins
The original VW Passat was launched in 1973 (as a 1974 model). The body types offered originally were 2- and 4-door sedans and similar looking three- and five-door versions. Externally all four shared a modern fastback style design, styled by the Italian designer Giorgetto Giugiaro). All the versions sharing the same external design was unusual, since two of the models were traditional sedans with a separate trunk. A five-door station wagon was introduced in 1974. Passat was effectively a less expensive version of the Audi 80 (Fox) sedan which had been introduced a year earlier and which had a more conservative body style, so that the Audi and Volkswagen models had distinct body styles and image. In Europe, Passat was equipped with hexagonal or single round or double round headlights depending on specification.
In North America, the car was called the Dasher, and was only available with round DOT-spec lights. The three-door hatchback model was launched in North America in 1975.
VW Passat was one of the most modern European family cars at the time, and was intended as a replacement for the ageing Volkswagen Type 3, and as a contemporary rival for popular Ford Taunus (In the United Kingdom Cortina) and Opel Ascona (In the UK: Vauxhall Cavalier). The Passat was Wheels magazine's Car of the Year for 1974 and its sister model Audi 80 was nominated car of the year by the European motor press a year earlier. The platform was named B1.
The Passat used the 4 cylinder OHC 1.3 L, 1.5 L, and 1.6 L petrol engines, also used in the Audi 80—longitudinally mounted with front wheel drive, in Audi tradition, with either a 3-speed automatic or 4-speed manual transmission. It had a MacPherson strut front suspension with a solid axle/coil spring setup in back.
The SOHC 1.5 produced 75 hp (55 kW) and was enlarged to 1.6 L for 1975. The larger engine included tighter emissions controls, so power output dropped to 70 hp (52 kW). Bosch fuel injection on the 1.6 was introduced in 1976 and brought power up to 78 hp (57 kW).
The whole range received a facelift in 1977 (launched 1978 in North America), featuring an interior upgrade and subtly revised styling including repositioned indicators and quad (round) headlights on all models. This generation was sold in Brazil well into the 1980s and extensively exported to Iraq, where many are still on the road. It was also assembled in Nigeria.
1979 saw the introduction of the Golf/Rabbit's 1.5 L Diesel engine, which produced just 48 hp (35 kW) in the 1130 kg (2500 lb) car. 0–60 time for the Diesel was 19.4 seconds, 6.2 seconds slower than the gasoline (petrol) engine. Still, all gasoline engines were dropped for North America in 1981 in preparation for the next generation car the next year.
Worldwide
Although normally known as the Passat in European markets, it has been badged as a variety of other names including Dasher, Santana and Quantum in other markets.
In China, the Santana is their version of the Passat and is the best selling car in 2007.
Design quirks and oddities
In B5.5 models, the car's manual has its own storage compartment underneath the steering wheel. This allows the driver full use of the air-conditioned glove box.
There is a small fold-down flap above the rear-view mirror in B5 models. Some immediately think this to block out the sun, but wonder why it is such a small piece of plastic. In reality, this flap is meant to be folded down all the way, so that it rests on an angle. Its purpose is to block the light from overhead reading lights so that glare from the lights do not obstruct the driver's view in the rear-view mirror.
Awards
2001 Auto Express Used Car Honours 2001 - Best Family Used Car
2001 Diesel Car 2001 Awards - Overall Diesel Car of the Year & Best Family Car
2000 Used Car Buyer: Used Car of the Year Award - Best Overall Used Car & Best Family Car
2000 What Car? Used Car of the Year - Overall winner & Best Family Car
2000 Auto Express Used Car Honours - Best Family Car
2000 Auto Express New Car Honours - Best Family Car
2000 Fleet World Honours - Best Fleet Car
1999 Used Car Buyer Greatest Used Buy Awards - Most Sensible Car Award Overall & Best Family Car
1999 Auto Express New Car Honours - Best Family Car
1998 What Car? Car of the Year Awards - Best Family Car
1998 Top Gear Magazine Top Cars - Best Medium Car
1998 Which? Magazine Best Buy - Large family car market winner
See also
External Links