The Volkswagen Jetta is a small family car produced by German automaker Volkswagen Group for the Volkswagen Passenger Cars marque since 1979. Positioned to fill a saloon/sedan niche above the firm's Golf hatchback offering, it has been marketed over six generations variously as the Atlantic, Fox, Vento, Bora, City Jetta, Jetta City, GLI, Jetta, and Sagitar.
The Jetta was originally adapted by adding a conventional trunk to the Golf hatchback, and some distinctive styling (usually the front end, and sometimes slight interior changes). It has been offered in two- and four-door saloon (sedan), and five-door estate (station wagon) versions - all as five-seaters. As of 2005, over 6.6 million cars have been sold worldwide, over one-third in the United States alone. Since the original version in 1980, the car has grown in size and power with each successive generation. By mid 2011, almost 10 million Jettas have been produced and sold all over the world.
The [Jetta] nameplate is a reference to the Atlantic 'jet stream', reflecting the period in Volkswagen's history when it named its vehicles after prominent winds. These also included the Volkswagen Passat (after the German word for trade wind), Volkswagen Bora (after bora), and Volkswagen Scirocco (after sirocco).
See Autopedia's comprehensive Volkswagen Jetta Review.
Recent Changes
MY 2011 sees the unveiling of the sixth-generation Jetta. Sitting on an all-new platform and no longer a sedan variant of the Golf, the new Jetta is 3.5 inches longer. Inside, the cabin benefits from the increase in length while the dashboard features a driver-centric design similar to Audi's cabins. Both cloth and leather will be available, as well as a host of interior upgrades like navigation, Bluetooth connectivity and so on. Under the bonnet, the mid-size family hauler carries the drivetrain options from the previous year over with a selection between the 2.5-liter inline-five and 2.0-liter turbo-diesel four as well as a return of the 2.0-liter turbocharged four for the Jetta GLI. Both manual and automatic transmissions will be on hand, including Volkswagen's well-liked DSG on TDI and 2.0T models. No pricing is available yet but it is expected to start at around $16,000. [1] 2
The VW Jetta has been completely redesigned for 2006 and is offered in a variety of trims, from the popular Value Edition to the sporty 2.0T Edition.
Volkswagen fully revamped the 2006 Jetta with the addition of a Turbocharged GLI and a fuel-efficient TDI turbo diesel. The 2006 Jetta was introduced in mid 2005 and the lineup has expanded for 2006.
Styles and Major Options
The standard models include a new potent 2.5-liter five-cylinder engine with a large power curve and a turbulent sound. Available in the Jetta are four transmission options, 6-Speed Automatic, 5-Speed Manual, 6-Speed Manual, and a 6-Speed Semi-Automatic.
In some states clean-running Partial Zero Emissions Vehicles (PZEV), versions of this engine, are available. Fuel-efficient TDI models are available in 45 states featuring Volkswagen's renowned turbo diesel.
Trims
The Value Edition sedan comes with the following equipment:
10-speaker CD stereo with MP3 compatibility
15-inch wheels
Air-Conditioning

Cruise Control

Power Windows, mirrors and locks
The 2.5 comes standard with everything in the Value Edition and adds the following:
Upgraded interior trim
Alloy wheels
The TDI is equipped much like the 2.5
The 2.0T adds:
16-inch wheels
115-volt power outlet
Heated seats
The GLI trim includes:
17-inch wheels
A firmer suspension

Bi-xenon Headlamps

Color-keyed body cladding
Sport-bucket seats
Options include:
Leather Interior
Power Seats
Automatic

Climate Control

An In-Dash 6-Disc CD changer
18-inch wheels (available on the GLI only)
The new 2006 Jetta GLI features a turbocharged 2.0-liter engine with a broad power curve running 0-60 in 6.7 seconds.
Pricing
Trim

2.0T Styles

2.5 Styles

2.5 PZEV Styles

GLI Styles

TDI Styles

Value Edition Styles

Value Edition PZEV Styles

Transmission

Manual

$23,590

$20,290

$20,290

$23,790

$21,605

$17,900

$17,900

$24,665

$21,365

$21,365

$24,865

$22,680

$18,975

$18,975
Gas Mileage
According to FuelEconomy.gov the 2006 Volkswagen Jetta gets the following EPA estimates:
Jetta Specs

4-Cyl. 1.9L 5-Speed Manual

4-Cyl. 1.9L 6-Speed Automatic

4-Cyl. 2.0L 6-Speed Automatic

4-Cyl. 2.0L 6-Speed Manual

5-Cyl. 2.5L 5-Speed Manual

5-Cyl. 2.5L 5-Speed Automatic

MPG

36/41

35/42

25/31

23/32

22/30

22/30
Engine and Transmission
Volkswagen Jetta is available in both Petrol and Diesel Engine. The Petrol variant, Volkswagen Jetta 1.6 L, 1595 cc Trendline is packed with 5 Speed Manual Gearbox. The extra powerful engine of Volkswagen Jetta is very fuel efficient and a good performer. This impressive engine produces a Maximum Power of 102 PS at 5600 rpm and a Maximum Torque of 148 Nm at 3800 rpm.
The diesel variant comes in 2 models, Volkswagen Jetta 1.9L TDi Trendline is packed with 5 Speed Manual Gearbox whereas Volkswagen Jetta 1.9L TDi Comfortline is packed with 6 Speed Automatic DSG Gearbox. The diesel variants are fuel economical and offer a smooth drive without any vibration. The highly powerful diesel engine produces a Maximum Power of 105 PS at 4000 rpm and a Maximum Torque of 250 Nm at 1900 rpm. As per the details available at Volkswagen Jetta
Reliability
Safety
Autos.com has ranked the 2006 Volkswagen Jetta first in overall safety amongst 45 of the most popular Compact Cars.1
Standard safety features on all models include:
Rear side airbags are optional ($350).
Active safety features include:
Electronic Stability Control (ESP) is standard on all but the Value Edition ($280) and comes with hydraulic brake assist.
Below are some safety features:
3-point seat belts for all seating positions w/emergency locking retractors
4-wheel anti-lock braking system
Anti-intrusion side-impact door beams
Anti-slip regulation
Child safety rear door locks
Collapsible steering column
Daytime Running Lights
Driver & front passenger advanced airbags w/dual stage deployment
Driver & front passenger side-impact airbags
Dual-note horn
Emergency

trunk release

handle w/location reflector
Front & rear side curtain protection
Front seat belt height adjusters, pretensioners, load limiters
Lower anchors & tethers for children (LATCH)
Front Crash Test Ratings are 4/5. Side Test Crash Ratings are 5/5.
Photos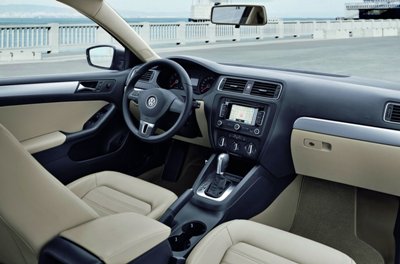 US-Spec
Euro-Spec
Colors
As always a wide variety of colors for the VW Jetta are available. Exterior and interior colors vary by trim but include the following selection:
Exterior Colors:"
Black
Blue Graphite
Campenella White
Platinum Gray
Reflex Silver
Wheat Beige
Arctic Blue Silver
Shadow Blue
North Sea Green
Spice Red
Interior Colors:
Anthracite
Black
Gray
Pure Beige
Currently, there are no hybrid models of the Jetta available, however, there are talks of a "Mild Hybrid Jetta" in the works.
Unique Attributes
The VW Jetta has always been classified as a "Fun-To-Drive" car. The 2006 Jetta is no different, as this compact sedan packs a punch and has the ability to comfortably seat four. Unfortunately, it looks too much like a Corolla to many people.
Resale Values
The Jetta has always been on the top of the list of resale values, always surpassing competition in it's class. Autos.com ranks the Volkswagen Jetta Third in Resale Value among the top 20 Compact Cars on the market today. This, however, is not always quite the case. The most recent body style has a much lower resale value than the previous body style
Criticisms
A few noteworthy critiques :
Taller drivers have complained about the lack of room up front.
The leather interior was a bit harder to some than the interior of comparable cars.
Obsolete Seat Adjustment Wheel - in order to move the passenger seat back, one must turn a knob located inconveniently on the side of the seat.
Windnoise was an issue for some passengers.
Also, it has been noted that Volkswagen could have spent more time perfecting the sound system.
The CD player in my Jetta has been replaced three times for faulty wiring
"I'd love to meet the man who styled the exterior, to find out if it was a joke. Mostly, I want to meet the man who didn't bother with the interior. The dash gives me an idea of what it might be like to be dead." Jeremy Clarkson, Top Gear
Generations
Current Generation (2011-present
Fifth generation (2006-2010)
The redesigned 2006 Jetta was introduced mid-2005 with the consumer in mind. As such, VW released five different versions of it. This year the Jetta line adds a turbocharged engine and available rear side airbags. Redesigned as a 2005.5 model, Jetta is 2.6 inches longer in wheelbase and 7 inches longer overall than the 1999-2005 version.
Five versions are offered. The Value Edition and 2.5 use a 150-hp 5-cyl engine. The TDI has a 100-hp turbodiesel 4-cyl. New for '06, the 2.0T and GLI have a 200-hp turbocharged 4-cyl.
A 5-speed manual transmission is standard for Value Edition, 2.5, and TDI; a 6-speed manual comes with 2.0T and GLI. Optional for Value Edition and 2.5 is a 6-speed automatic with manual shift gate. Optional for TDI, 2.0T, and GLI is a 6-speed Direct Shift Gearbox (DSG), basically a dual-clutch manual that can make faster shifts than a manual, but can be controlled like an automatic.
Value Edition has 15-inch wheels; 2.5, TDI, and 2.0T models have 16s. 17-inch wheels are standard on GLI, optional on 2.0T. Xenon headlights are standard on GLI, optional on 2.0T. A navigation system is available on all models excluding Value Edition. Heated front seats, dual-zone automatic climate control, wood trim, leather upholstery, satellite radio with your choice of xm or sirius, and sunroof are also available. The satellite radio option is a great choice as most manufactures don't give you a choice.
Interior and exterior styling on the GLI models are superb. Sport suspension, rear side airbags and 18-inch wheels with performance tires are exclusive GLI options.
Antilock 4-wheel disc brakes, traction control, front side airbags, head-protecting curtain side airbags, and split folding rear seatbacks are all standard. Antiskid system is an option for the Value Edition, but standard on other models.
Golf Variant (Jetta Wagon) Gallery
Volkswagen GLI Fahrenheit SCCA Official Pace Car
Fourth generation (1998–2005)
In 1998 (1999.5 debut in North America) the fourth generation of the VW Jetta came out and continued production until 2005. The Jetta had some of the same styling as the larger VW Passat. The body of the fourth generation VW Jetta includes a bulkier shape and curved rooflines. This VW Jetta was made in a variety of trim levels as well as in a wagon version. The Jetta was made in four different models. The GL being the base model, the GLS a slightly higher model, the GLX being the luxury model and the GLI being the sport model. The MKIV GLI was offered in two variations. The first was offered from 2002 to 2004 with the 2.8L 24v VR6, the second was offered from 2004.5 to 2005 with the 1.8T. The GLI 1.8t differentiated itself from other jettas by coming standard with a 6-speed transmission, brushed aluminum interior trim, perforated leather steering wheel, shifter, handbrake, Recaro sport cloth seats, a black headliner and trim pieces, darker tail lights and smoked headlights, 18" BBS RC wheels, as well as special front and rear valences and sideskirts.
According to the 2003 RACV Vehicle Security Rating, this generation Jetta (known as a Bora) topped the medium car category with the score of 90.5 points out of 120. The luxury variant of the Bora, the V6 4Motion came third as the most secure car in the luxury car category.
Third generation (1993–1999)
The third generation (A3) of Jetta debuted in North America in 1993 (debuted in 1991 in Europe known as the Vento) was overflowing with trim levels and features. The exterior carried on the boxy look from the previous generations but was now more refined and bigger. This generation Jetta was only available as a 4-door sedan (a wagon was available outside North America). Engine choices varied from a base 1.8L 4-cylinder (Canada-only), a 2.0L 4-cylinder, a 1.9L diesel and the venerable 2.8L VR6. In 1998, a limited run of Wolfsburg models were made that included some value add ons such as polished wheels, a leather steering wheel and shift knob in the manual transmission model. These cars were still listed as GL models though they had a Wolfsburg badge on the trunk lid.
Second generation (1985–1992)
The second generation (A2) of Jettas was the most successful for Volkswagen and was available from 1985 through 1992. Available as a 4-door sedan or 2-door coupe, the Jetta outsold the Golf by almost half in the US. The Jetta was at it's peak at this time and was named the best-selling European car in America. This version of the Jetta was also one of the first Volkswagen cars to be made in China for Chinese consumption. Production for North America later moved to Mexico. Visually, little changed during the life of the car, VW did spend time refining it inside and out. 1988 saw a minor refresh with new exterior mirrors, deletion of the quarter side window, a new grille and a new engine management system known as Digifant. Then in 1991, changes included new larger body-colored bumper covers, low side skirts, door-moldings and wheel changes.
First Generation/Origins (1980-1984)
The first generation (A1) Jetta appeared in the North American market in 1980. Available as a two-door coupe or a four-door sedan, it was basically a Rabbit with an enclosed trunk. Styling was penned at ItalDesign, by Giorgetto Giugiaro.
Powering the base and GL trims in 1980 was a standard 1.6 L four-cylinder engine producing 78 hp and 83 ft·lb of torque. In 1981, the engine was upgraded to a 1.7 L engine producing 74 hp and 90 ft·lb of torque. Additional engine choices were a 1.6 L diesel engine producing 50 hp, and in 1984, a GLI high-performance version was offered, powered by a 1.6 L engine and a close-ratio transmission from the Rabbit/Golf GTI, which made 110 hp and 105 ft·lb of torque.
Main Competitors
Worldwide
The Volkswagen Jetta is the sedan version of the compact car / small family car Volkswagen Golf, manufactured by Volkswagen since 1974. Until 2005, the name was only used in North America and South Africa, as it was dropped in Europe in 1991, when it was replaced by the Vento, which was in turn replaced by the Bora in 1998. Volkswagen marketing group's observation that the North American market edged more towards sedans rather than hatchbacks was valuable information, as they decided to develop the Jetta.
In South Africa, the Jetta remains more popular than the Golf. Looking back on the achievments of VW, you'll see they struck gold with the Jetta, as the Jetta became the best-selling European car in the United States. This is in addition to their strong sales of Jettas worldwide.
In Australia, the fourth generation was called the Bora. However, sales were slow and it was replaced with the Jetta nameplate.
Enthusiasts
The Volkswagen Jetta has created a huge street following. Especially with a surge in the aftermarket part industry enthusiasts have modified many Jetta's to their own taste. Pretty much everything on a Jetta can be modified and has been. Sites noted below are created by VW Entusiasts and some of these sites have even landed 120 million visits a month.
Awards
Named the 2006 Best Car for the Environment by AutoSite magazine
Winner of SmartMoney magazine's 2006 Best Premium Compact Car
2006 RACV Australia's Best Mid-size Car Over $28,000
2010 Drive Best Medium Car (Nominee)
See Also
External Links