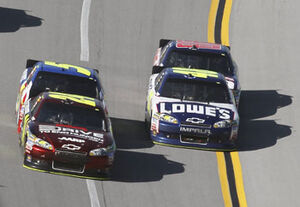 About Me
Hello, I am StarwDogAmerica. I am an avid gamer and enjoy all sorts of cars but manily focus on auto racing series such as NASCAR or IndyCar. My dream is to one day become a professional stock car driver in either NASCAR or ARCA or design games for some of the industries best companies.
Favorite Car Makes
Chevy Motor Company
Ford Motor Company
Ferrari Motor Company
Lamborghini Motor Company
Subaru Motor Company
Toyota Motor Company
My Favorite Cars
2014 Chevy SS NASCAR Stock Car (Gen 6)
2014 Ford Fusion NASCAR Stock Car (Gen 6)
2014 Toyota Camery NASCAR Stock Car (Gen 6)
2012 Dodge Charger NASCAR Stock Car (Gen 5)
NASCAR Career
I am interested in one day becoming a NASCAR Sprint Cup Series driver. Once completing high school, I will most likely enroll in a NASCAR Developmental Program and hope that I will one day live my dream. If NASCAR does not work out, then I will most likely attempt Rally Cross and compete in the X Games.
2013 NASCAR Camping World Truck Series Champion:  Matt Crafton 
2013 NASCAR Nationwide Series Champion: Austin Dillon
2013 NASCAR Sprint Cup Series Champion: Jimmie Johnson
Gaming Career
Aside from racing, I also enjoy gaming. I've been playing since I was about two and my first racing game was NASCAR 98 on the Playstation. Currently, I enjoy playing Forza Motorsport, DiRT, and NASCAR games on the Xbox 360. I'm also very active on Minecraft: Xbox 360 Edition.
Xbox LIVE Gamertag: AmericaRacing89
Xbox LIVE Gamerscore: 5000G
Gallery