Toyota Vitz
Toyota
aka
Toyota Yaris
Toyota Echo
Production
1999-present
Class
Subcompact
Body Style
3 dr, 5 dr Hatchback
Length
3885 mm
Width
1695 mm
Height
1500 mm
Wheelbase
2510 mm
Weight
2204 lb (1000 kg)
Transmission
5-speed Manual, FWD
CVT, FWD
Engine
engine
Power
N/A hp @ N/A rpm
N/A lb-ft of torque @ N/A rpm
Similar
similar (competition)
Designer
Designer (lead designer if it was a team effort)
The Toyota Vitz, a 3 and 5-door hatchback (sold in different markets as the Toyota Yaris and formerly as the Toyota Echo), is a line of subcompact cars first launched by Toyota in 1999, designed by Sotiris Kovos. In Europe, the Americas, Australia, New Zealand and South Africa, the Vitz is sold as the Yaris Liftback (or simply Yaris).
The first generation Vitz was known as the Echo Hatchback in Canada, Hong Kong, Australia, New Zealand and in the United States. In its second generation, the Vitz and Belta are marketed in US/Canada as the Yaris Hatchback and Yaris, respectively.
See Autopedia's comprehensive Toyota Vitz Review.
In late December 2010, Toyota launched the third-generation Vitz (aka Yaris worldwide). The new car rides on a 50mm longer wheelbase, is overall 100mm longer (3885mm total) and 30mm lower. It also shaves off 30kg or 66 pounds, with the car tipping the scales at 1,000kg or 2,204 pounds. Under the hood, three petrol engines will be offered: a 68 hp (51 kW /69 PS) 1.0-liter, a 93 hp (69 kW / 94 PS) 1.3-liter, and a 107 hp (80 kW / 108 PS) 1.5-liter. Detailed specifications haven't been released, but the 1.3-liter features Dual VVT-i (Dual Variable Valve Timing-intelligent) and stop/start technology which enables it to get a class-leading fuel economy rating of 3.8 L/100km (62 mpg US). A continuously variable transmission (CVT) will be standard on most models (in Japan), but a five-speed manual is also available. Stylistically, the Vitz is more sculptured and edgier, borrowing numerous styling cues from the Prius as well as the recently introduced Verso-S, with Toyota claiming a coefficient drag value of 0.285.[1]
Certain vehicles come in different trim levels or body styles. Features and major options should be mentioned here.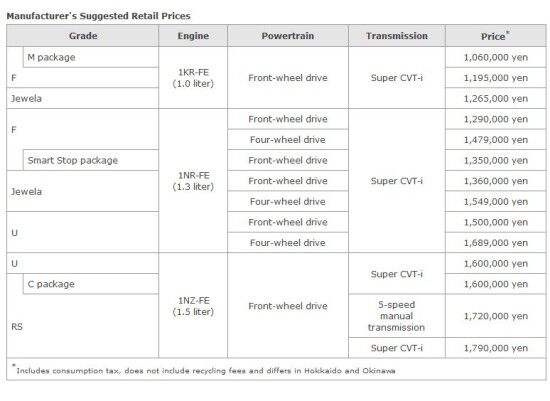 Add more fields as necessary.
As seen on the FuelEconomy.gov website, the City/Highway MPG averages are as follows:
Trim
Trim1
Trim2
Trim3
Trim4
MPG
c/h
c/h
c/h
c/h
Specifications, details, graphs, pictures and other information regarding the powertrain is placed in this section.
Please make sure to write information of the vehicle's performance in a third-person point of view. This section should include information about the car's acceleration figures, handling, braking, etc.
If using information gathered from Road Test articles from a reputable automotive source, then please make sure to cite the quote.
Warranty options and scheduled maintainence information should be mentioned here.
This section should reference points on safety ratings and features of the vehicle.
Add Photos of the vehicle here.
Please make sure not to use copyrighted photos.
If there are hybrid versions of this vehicle manufactured, then please elaborate a little bit on it here.
If there are any features of this vehicle that sets it apart from other vehicles in its class, then mention those unique attributes here.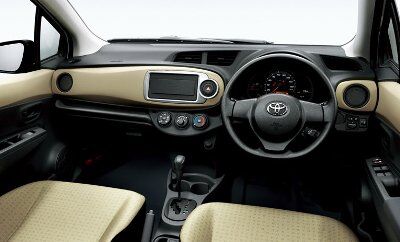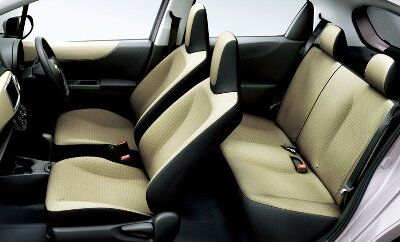 This section should include information on the interior's design, build quality, ergonomics, space (head and legroom, front and rear), features, stowage compartments and overall comfortability and livability. Add pictures wherever applicable and keep information in a third-person point of view.
Add more fields as necessary.
<MODEL> Year
Year X
Year X-2
Year X-3
Year X-4
Resale Value
$
$
$
$
Please make sure to keep critiques in a third-person point of view. If using criticisms from a reputable automotive source, then please make sure to cite the quote.
Fill in as many as appropriate. Add more if necessary and pictures wherever applicable.
Please make sure NOT to use copyrighted pictures.
Current Generation: (2012–present)
[
edit
|
edit source
]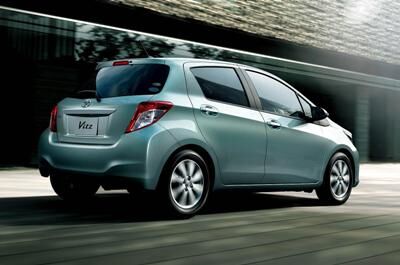 The 3rd generation Vitz was launched on December 22, 2010 in Yokohama, Japan. Launch in Europe and other countries will follow by end of 2011. [1]
Yaris has been built and marketed in China by GAC-Toyota since July 2008. Two engine options have been provided: the 1.3L and 1.6L VVT-i. To boost sales, GAC-Toyota developed a 2011 model specifically for the Chinese market, which has an extended body and a new grille.[2]
The Yaris is also available in Malaysia, powered by the 1NZ-FE engine with 4-cylinder DOHC with VVT-i. It comes in 2 trim levels: 1.5 G and 1.5 S, both with 4-speed automatic transmission with Super ECT and Gate Shifter, featuring an output of 80 kW (109 PS; 107 hp) at 6000 rpm, and a torque of 141 N·m (104 lb·ft) at 4200 rpm.
The 1.5S variant comes with 15" solid disc brakes for the front wheels, front and rear bumper spoilers, side skirt and rear spoiler, amber Optitron meter, a black center cluster, with a steering wheel, gearshift and knob in leather.
The Yaris was launched in Indonesia in 2006. It is powered by the 1.5 liter 1NZ-FE engine matched to 4-speed super ECT automatic or 5-speed Manual transmission. Initially, the Yaris was offered in E, S, and S Limited trim levels. The manual only S and automatic only S Limited came with front, side and rear spoilers. The Yaris received minor changes for 2009 model year with new bumpers, grille, tail lights, and revised interior. The new base model J was added into the line up. The mid-level E got aero-style mudguards and roof spoiler, while full body kits are remained on the S and S Limited. The S Limited TRD Sportivo with extreme body kits and lowered springs was offered in the small numbers. Prepared by Toyota Team Indonesia, the slightly modified Yaris is raced in the Indonesian Touring Car Championship, and often achieved good results.
Second Generation XP90 (2005-2011)
[
edit
|
edit source
]
Toyota redesigned the Vitz in early 2005, going on sale in Japan that February. The Toyota Belta sedan, shares underpinnings with the Vitz. However, while the Vitz was designed at Toyota's European ED2 design studios, the Belta was designed at their Japanese design studios. While the outgoing Vitz hatchback and Platz sedan look and feel virtually alike, the redesigned Vitz and Belta are more subtly related. The two cars share a frame and the drivetrain components however the sheet metal is different.
The European, Australian, Canadian, Mexican, Venezuelan and Puerto Rican markets saw the second generation Vitz near the end of 2005. In the Australian and North American markets, the car was sold as the "Yaris" for the first time. The production Yaris for the US market was unveiled at the Los Angeles Auto Show in January 2006.
The new Yaris is built in Japan, France, and Thailand, and it is the first for Arab countries.
The previous 4-cylinder 1.0 VVT-i engine was replaced by the 3-cylinder engine also found in the Toyota Aygo. The 1.3 liter engine was revised to offer slightly more power, and the 1.4 D-4D got a 15 PS (11 kW; 15 hp) boost to 90 PS (66 kW; 89 hp), the former engine allowing it to achieve exceptional fuel economy. The Yaris became the first car in its class to offer nine airbags.
For model year 2007 on Japanese models only, G-BOOK, a subscription telematics service, is offered as an option.
It has continued to prove popular in Europe, particularly in Britain, where it competes with models such as the Ford Fiesta, Vauxhall Corsa, Citroen C2 and the Peugeot 207. It also has been very popular in Pakistan.
In January 2009, Toyota recalled 1.28 million vehicles worldwide based on the Yaris platform, such as the Vitz, Belta and the Ractis. The recall is based on a seat belt defect that, in severe front-end collisions, could cause a foam pad in the vehicle to ignite.[3]
The Canadian Yaris hatchback is available in 3 and 5-door models, running on the Toyota NZ engine, a 1.5 L 4-cylinder VVT-i engine rated 106 bhp (79 kW) and 103 lb·ft (140 N·m). The 2006 Yaris with the 1.5 liter engine can achieve fuel economy ratings of 40 miles per US gallon (5.9 L/100 km; 48 mpg-imp) during highway driving and 34 mpg-US (6.9 L/100 km; 41 mpg-imp) during city driving. 3-door CE and 5-door LE versions come with 14 in (355.6 mm) wheels, while RS models are equipped with 15 in (381 mm) alloys with standard anti-lock braking system (ABS) and electronic brakeforce distribution (EBD). In addition, 2008 RS models include new front and back skirts.
The US Yaris is similar to the Canadian variant, and is the successor to the previous North American Toyota Echo. In the US, the 3-door Vitz shares the Yaris name with the Toyota Belta sedan.
The 3-door model is called the 'Yaris Liftback', while the 5-door model will be sold starting with the 2009 model year in the United States and competes with the similarly-equipped Scion xD. The 2008 model year US Yaris comes standard with the 1.5 liter VVT-i engine producing 106 hp (79 kW) and 103 lb·ft (140 N·m) and five-speed manual transmission C54, the four-speed automatic U340E being optional. Fuel economy is rated at 29 mpg-US (8.1 L/100 km; 35 mpg-imp) in the city and 36 mpg-US (6.5 L/100 km; 43 mpg-imp) on the highway with the manual transmission.[4] While front airbags are standard, as mandated by the law, ABS and side airbags are available only as an option.[5]
In Canada, the CE, LE, and RS packages are replaced by the more modular convenience, power, and all-weather guard packages.
For the 2009 year, the Yaris 5-door liftbacks join the lineup of the existing 4-door sedans and 3-door liftbacks because of the increased demand for fuel efficient subcompact cars. In addition to the new 5-door liftback, all 2009 Yaris models come standard with anti-lock brakes (ABS), front seat-mounted side airbags and front and rear curtain side airbags. For 2009, Toyota also added cruise control as an option on liftback models, and has added a few more colour choices.[6]
The Yaris has been praised by the automotive press for its extremely high fuel economy, but criticized for its excessive body roll (due to a soft suspension and high ride height) and the initial lack of a manual transmission on 5-door models.
The 2010 model has a 5-speed manual option for the 5-door. It also has the Star Safety System - Vehicle Stability Control (VSC) + Traction Control (TRAC), Anti-lock Brake System (ABS) with Electronic Brake-force Distribution (EBD) and Brake Assist.
The Toyota Yaris RS was launched in 2007. It was first seen at the Geneva Motor Show and is powered by the new 130 bhp (97 kW) 1.8 2ZR-FE DOHC L dual VVT-i straight-4 gasoline engine, which can reach 100 km/h (62 mph) in under 10 seconds. The RS features 17 inch alloy wheels, a mesh grille, a redesigned rear bumper, deep side skirts and a tail spoiler. It also features redesigned headlights and taillights. As in the previous T-Sport, there are extra rear lights on the bumper. Essentially, it is a JDM Vitz RS fitted with a 2ZR-FE engine.
2005 EuroNCAP crash test (5-door):[7]
National Highway Traffic Safety Administration (NHTSA) crash test (5-door):[8]
National Highway Traffic Safety Administration (NHTSA) crash test (3-door):[9]
First Generation/Origins XP10 (1999–2005)
[
edit
|
edit source
]
The Toyota Yaris went on sale in Europe and Israel early in 1999. After the launch of the European Yaris hatchback in May 1999, a slightly modified version went on sale in Canada for the 2004 model year as the Echo hatchback, but not in the United States, where the Toyota Echo sedan and coupe were the lone models. The Toyota Yaris was voted European Car of the Year in 2000, defeating the innovative Fiat Multipla and Opel/Vauxhall Zafira by a narrow and large margin. The Yaris was also awarded the 2000 Semperit Irish Car of the Year.
Instead of conventional instruments, the Yaris and Echo hatchbacks utilized digital instruments which were mounted in a "pod" in the center of the dashboard. The Canadian Echo hatchback (and the Yaris T Sport) had a conventional speedometer but it was still mounted in the center of the dashboard.
The European Yaris was initially available with petrol-powered 4-cylinder 1.0 L or 1.3 L engines with Toyota's VVT-i technology, with the warm hatch 1.5 L T Sport following in 2001. After March 2002, a 1.4 L D4-D diesel engine offering 75 hp was also included in the lineup. This diesel engine is also licensed to BMW for use in their MINI One D model. The use of sophisticated engine management systems was said to give the equivalent of 1.4 litre performance from a 1.0 litre engine while maintaining low fuel consumption and emissions.
On most European and Israeli markets, the Yaris was a stronger seller than the Starlet that it replaced.
2000 EuroNCAP crash test scores:[11]
Adult Occupant: 4/5, 29 points
Pedestrian (pre-2002 rating): 2/4, 13 points
The Japanese Vitz RS (European Yaris T-Sport) was introduced in 2001 and was powered by a 1.5 L (108 hp) engine, shared with the Echo, Vios, as well as the Scion xA. The 1.5 L T Sport was more fun to drive than the base models because of a sportier suspension and extra power compared to the 1.3 L (90 hp) and 1.0 L (67 hp) models. Later, the Vitz RS was modified by TRD (Toyota Racing Developments), and was fitted with a turbo-charger. A limited run was produced with a power output of around 120 kW (163 PS; 161 bhp) and a 0–100 km/h (0-62 mph) time of just 7 seconds. Note that there is also a 1.3L JDM Vitz RS with the 2NZ-FE engine 7–10 km/litre in city 12–13 km/litre which shares brakes, body kit, headlights, suspension and interior with the 1.5 L Vitz RS 5.5-9.5 km/litre in city 10-12.8 km/litre on highway.
The Echo sold in very high volumes in Canada, where smaller cars are much more popular than in the US. Sales were so high that Toyota introduced the 3 and 5-door hatchback models to the Canadian Toyota lineup for the 2004 model year. They were sold as the 'Echo hatchback' and look almost identical to the European Yaris, but with minor changes (e.g. larger bumpers) to meet Canadian safety requirements.
The Echo was also very popular in Australia. First introduced in late 1999 to replace the aging Starlet, the Echo was available as a 3 or 5-door hatchback, fitted only with the 1.3l VVT-i engine. An Echo Sportivo variant, fitted with the 1.5l VVT-i engine, was made available for a limited time in Australia. The Sportivo was very similar to the European Yaris T-Sport.
An unusual addition to the Yaris range came in late 1999 with the Yaris Verso, or Echo Verso in some markets, a small MPV which used the same running gear as the conventional hatchback, but was designed to have an even more practical interior.
In Japan, the model bore the name of 'Funcargo'. The model was replaced by the Ractis in 2004, but this is a Japan-only model due to the disappointing sales of the Yaris Verso in Europe.
The Toyota Vitz is sold in Australia and New Zealand as a Toyota Echo until 2005 when the nameplate was changed to Yaris. The first generation Echo was offered in either a 3 door or a 5 door hatchback and a sedan (known as the Platz) with a 1.3 litre and 1.5 litre engine choices through a 5 speed Manual or 4 speed Automatic.
In Europe, the Vitz is sold as a Yaris.
Design quirks and oddities
[
edit
|
edit source
]
Refer to any pop-culture tidbits about the vehicle in this section.
1999 CarsGUIDE Car Of The Year
Community content is available under
CC-BY-SA
unless otherwise noted.