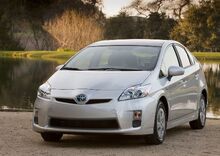 Overview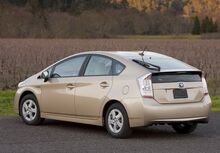 The Toyota Prius is a midsize family hatchback manufactured by Toyota since 1997, currently in its 5th generation. It was initially offered as a 4-door saloon, but moved to a liftback design for the second generation in 2003. It was the first mass-produced hybrid automobile, with the G21 team of 1,000 engineers reportadly producing over 80 designs before landing on the first prototype that doubled fuel efficiency and later became the Prius Concept. It was first sold exclusively in Japan starting in 1997, and entered the worldwide market in 2001. By the end of 2003, nearly 160,000 units had been produced for sale in Japan, Europe, and North America, and, as of January 2017, cumulative sales of the Prius family globally totalled in excess of 6 million units, with the Prius liftback being the best selling Hybrid Electric Vehicle (HEV) of all time, with global sales surpassing 4 million units. In Latin, prius means "before" or "first", relating to it being the first mass produced HEV. The Prius (2000 to 2003 model years) is certified as a Super Ultra Low Emission Vehicle (SULEV) by the California Air Resources Board (CARB). With the 2004 model, the Prius was redesigned as a midsize hatchback, and certified as an Advanced Technology Partial Zero Emission Vehicle (AT-PZEV). The Prius has won numerous awards including Car of the Year awards for Europe, Japan and North America. The release of the first-gen Prius can be considered as the point at which the car industry began its transition away from fossil fuels with the increasing ease and availability of EV technology, technology which has now saturated the entire market, from full size luxury SUVs like the Volvo XC90 T8 to the latest modern super and hypercars, like the McLaren P1 and the new Maserati MC20.
The 1st generation Prius was rated at 32% vehicle efficiency. The 2nd generation improved to 37% efficiency and earned up to 52 mpgs. The 3rd got 60 mpgs in the city and the 4th generation has targeted 40km/l or 94 mpgs with Lithium Ion batteries. The 5th generation is available as a plug-in (PHEV) that can travel an estimated 20 miles on electricity alone.
See Autopedia's comprehensive Toyota Prius Review; and Prius mileage tips.
Recent Changes
At the 2010 SEMA, Toyota unveiled a limited edition sport package for the Prius called the PLUS Performance Package. Developed by

Toyota Racing Development

(TRD), the package consists of an aerodynamic kit including a uniquely styled rear diffuser, front and rear bumper spoilers and side skirts while not affecting the car's 0.25 coefficient of drag as well as sportier suspension with beefier tire and alloy wheel combos to improve handling. [1]
For 2011, Toyota celebrated the 10th anniversary of the Prius' presence in the UK market with the 1,000 unit limited edition Generation "X" Special Edition. Available only in a choice of two paint finishes - White Pearl or Astral Black, the Gen X builds on the T Spirit model by adding other niceties such as new front, rear and side skirts, 17-inch smoked-finish alloys and dark-tinted privacy glass plus the black leather upholstery embossed with the 10th anniversary logo. Pricing starts at £26,150. [2]
Styles and Major Options
Standard Equipment
1.5L Inline-4 cylinder VVT-i gasoline engine with 76 horsepower and 82 lb-ft of torque
650V electric motors with 140 horsepower and 296 lb-ft of torque
Nickel Metal Hydride

Battery Technology

pack with a maximum output of 40 horsepower (30 kW)
Continuously variable transmission (CVT)
Automatic Climate Control that can run with the engine off
Electrically assisted rack-and-pinion steering
Traction Control,

Brake Assist

Split-folding rear seat

Remote entry

Push button starting
Liquid crystal multi-information display panel with energy monitoring, climate control, outside temperature and audio status modes
Central instrument display with digital speedometer, fuel gauge, shift-lever indicator and odometer with twin tripmeters and warning lights
Use of wheel spats and underbody pans resulting in a low coefficient of aerodynamic drag (Cd) of 0.26
AM/FM CD with six speakers S
Package #1 -GY- $650 Includes driver and front passenger front seat-mounted side and front and rear side curtain airbags.
Package #2 -HE- $825 Includes AM/FM CD with six speakers, auxiliary audio jack and MP3/WMA playback capability, Smart Key System, and backup camera
Package #3 -HF- $1,475 Includes driver and front passenger front seat-mounted side and front and rear side curtain airbags, AM/FM CD with six speakers, auxiliary audio jack and MP3/WMA playback capability, Smart Key System, and backup camera
Package #4 -HG- $1,825 Includes driver and front passenger front seat-mounted side and front and rear side curtain airbags, AM/FM CD with six speakers, auxiliary audio jack and MP3/WMA playback capability, Smart Key System, backup camera and Vehicle Stability Control (VSC)
Package #5 -HI- $3,205 Includes driver and front passenger front seat-mounted side and front and rear side curtain airbags, anti-theft system and auto-dimming rearview mirror with HomeLink® universal transceiver, Smart Key System, backup camera, Vehicle Stability Control (VSC), and JBL® AM/FM 6-disc in-dash CD changer with nine speakers in seven locations, auxiliary audio jack, MP3/WMA playback capability and hands-free phone capability via Bluetooth® wireless technology
Package #6 -HK- $3,830 Includes driver and front passenger front seat-mounted side and front and rear side curtain airbags, anti-theft system and auto-dimming rearview mirror with HomeLink® universal transceiver, Smart Key System, backup camera, Vehicle Stability Control (VSC), High Intensity Discharge (HID) headlamps and integrated fog lamps, and JBL® AM/FM 6-disc in-dash CD changer with nine speakers in seven locations, auxiliary audio jack, MP3/WMA playback capability and hands-free phone capability via Bluetooth® wireless technology
Package #7 -NL- $5,730 Includes driver and front passenger front seat-mounted side and front and rear side curtain airbags, anti-theft system and auto-dimming rearview mirror with HomeLink® universal transceiver, Smart Key System, backup camera, Vehicle Stability Control (VSC), High Intensity Discharge (HID) headlamps and integrated fog lamps, JBL® AM/FM 6-disc in-dash CD changer with nine speakers in seven locations, auxiliary audio jack, MP3/WMA playback capability and hands-free phone capability via Bluetooth® wireless technology, and voice-activated DVD navigation system
Package #8 -NW- $6,890 Includes driver and front passenger front seat-mounted side and front and rear side curtain airbags, anti-theft system and auto-dimming rearview mirror with HomeLink® universal transceiver, Smart Key System, backup camera, Vehicle Stability Control (VSC), High Intensity Discharge (HID) headlamps and integrated fog lamps, JBL® AM/FM 6-disc in-dash CD changer with nine speakers in seven locations, auxiliary audio jack, MP3/WMA playback capability and hands-free phone capability via Bluetooth® wireless technology, voice-activated DVD navigation system, and leather-trimmed seats and steering wheel
Australasian specifications
Base model
i-Tech
15 inch alloy wheels
Climate control air conditioning
Cruise control
Leather seats
Parking sensors
Pricing
2006 Base MSRP Pricing (excludes delivery charge of $580). The U.S. Federal Income Tax Credit is $3,150 for vehicles purchased prior to September 30, 2006. For vehicles purchased between October 1, 2006 and March 31, 2007 the credit is $1575 (50%), and for vehicles purchased between April 1, 2007 and September 30, 2007 the credit is $787.50 (25%). There is currently no credit on vehicles purchased on or after October 1, 2007 as it is phased out due to sales volume.
Trim

Base FWD

Base FWD w/Package 1

Base FWD w/Package 2

Base FWD w/Package 3

Base FWD w/Package 4

Base FWD w/Package 6

Base FWD w/Package 7

Base FWD w/Package 8

Price

MSRP

$21,725

$22,375

$23,200

$23,550

$24,930

$25,555

$27,455

$28,615

Invoice

$20,006

$20,565

$20,665

$21,244

$21,525

$22,583

$23,083

$25,626
Gas Mileage
According to 692 drivers at GreenHybrid, the current generation of Prius averages 47.6 MPG. The official EPA numbers are 51 MPG Highway and 60 MPG in the city. Most people can't achieve the EPA numbers due to the Testing Methodology which doesn't use real world conditions to test fuel economy.
The Prius mileage is extremely temperature-dependent. For ambient temperature below 40 F the mileage falls to an average of 39 miles/Gallon, whereas for T > 60 F, the mileage for the same car is 48 Miles/Gallon. Could this be explainable by "winter additives" added to the gasoline in the winter? Probably not! The efficiency of Li-Ion batteries is temperature dependent, with efficiency dropping as temperature drops.
Trim
4-cylinder CVT
Engine
1.5L DOHC
MPG (City/Highway)
60/51
Engine and Transmission
Specifications, details, graphs, pictures and other information regarding the powertrain is placed in this section.
Performance
Please make sure to write information of the vehicle's performance in a third-person point of view. This section should include information about the car's acceleration figures, handling, braking, etc.
If using information gathered from Road Test articles from a reputable automotive source, then please make sure to cite the quote.
Reliability
RECALL ALERT: The Toyota Prius is involved in a recall in 2010 affecting 2.2 million Toyotas worldwide due to the accelerator pedal's tendency to jam against the carpeting causing unintended acceleration. However, the Prius is also involved in a separate issue relating to the software managing the throttle pedal which causes the ca to accelerate unintentionally as well. The scandal has severely tarnished Toyota's reputation in the United States and has prompted several very public apologies from Toyota CEO, Akio Toyoda.
Overall, the Prius is more reliable than an estimated 90% of vehicles on the road. The latest generation of Prius has two recalls, one for a faulty steering component that was present in 1,000,000 Toyota Vehicles from 2004 to 2006, and one for a rare software glitch that could cause the gas motor to stop functioning. In August 2004, Toyota began a Special Service Campaign (SSC 40G), affecting most previous generation Prius cars manufactured between 2001 and mid-2003. This repair involves re-sealing terminals on the high-voltage battery to avoid minor electrolyte leakage. Repairs will be performed free of charge on affected automobiles. In May 2006, Toyota announced the recall of up to 320,000 Priuses because of a crack which can develop in the steering shaft if the Prius is frequently steered at full lock, or if the front tires strike the curb. The fault can affect Priuses made in 2004 through to November 2005.
RECALL ALERT: On Nov. 30, 2010, Toyota announced a recall affecting approximately 378,000 MY 2004-MY 2007 U.S-spec Prius hybrids due to a potential water pump problem that can cause the cars to overheat. Toyota dealers will replace the water-pump for free, as long as customers arrange for service before November 30, 2013. Clients who have had their water-pumps replaced because of this condition are going to be reimbursed. For detailed information customers can call the Toyota Customer Experience Center at 1-888-270-9371.[8]
Manufacturer's warranty:
Basic: 36 months/36,000 miles (all components other than normal wear and maintenance items).
Hybrid - Related Component Coverage: Hybrid related components, including the HV battery, battery control module, hybrid control module and inverter with converter, are covered for 8 years/100,000 miles. The HV battery may have longer coverage under emissions warranty. Refer to applicable Owner's Warranty Information booklet for details.
Powertrain: 60 months/60,000 miles (engine, transmission/transaxle, front-wheel drive, rear-wheel drive, seatbelts and airbags).Information taken from: Toyota's Prius FAQ
Safety
Driver and front-passenger Advanced Airbag System
Anti-Lock Brakes (ABS) with Electronic Brake-force Distribution (

EBD

) and

Brake Assist

Traction Control (TRAC)
Engine immobilizer
Rear-seat Child Restraint System (CRS) lower anchors and top tether brackets (LATCH)
3-point front outboard seatbelts
Front seatbelt pretensioners with force limiters
Optional Equipment
Direct Tire Pressure Monitor System
Vehicle Stability Control (VSC)
The 2006 Prius got 4/5 stars accross the board in NHTSA tests. In the "European New Car Assessment Programme" the Prius scored an impressive 5 of 5 stars for Adult safety and a solid 4 of 5 stars in child safety. See EURONCAP Site for testing details.
Photos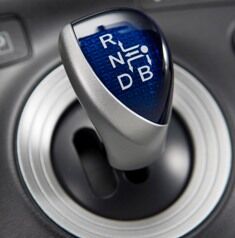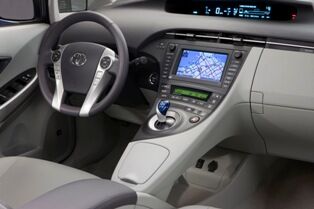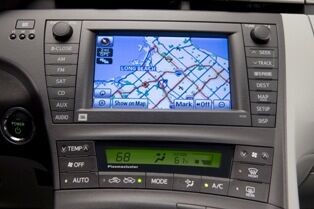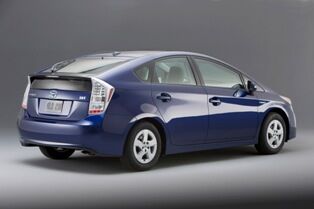 Colors
Super White Super White
Driftwood Pearl Driftwood Pearl
Magnetic Grey Magnetic Grey
Classic Silver Metallic Classic Silver Metallic
Barcelona Red Metallic Barcelona Red Metallic
Silver Pine Mica Silver Pine Mica
Seaside Pearl Seaside Pearl
Black Black
Dark Grey Dark Grey Fabric
Bisque Bisque Fabric
Dark Grey Dark Grey Leather
Bisque Bisque Leather
Main Competitors
Chevrolet Malibu Hybrid

Saturn Aura Green Line

Nissan Altima Hybrid
Unique Attributes
If there are any features of this vehicle that sets it apart from other vehicles in its class, then mention those unique attributes here.

Interior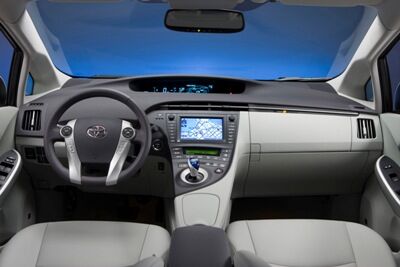 This section should include information on the interior's design, build quality, ergonomics, space (head and legroom, front and rear), features, stowage compartments and overall comfortability and livability.
Resale Values
Add more fields as necessary.
<MODEL> Year
Year X
Year X-2
Year X-3
Year X-4
Resale Value
$
$
$
$
Resale Values
The Prius was recently rated No. 1 among hundreds of vehicles for resale value. Kelley Blue Book offers a range of resale value information, with mileage and equipment levels factored in.
Criticisms
The Prius has been criticized for its aesthetics and handling characteristics. In addition to this, manufacturing the electric components, aluminium parts, and the NiMH battery pack requires a significant amount of energy. Toyota's life cycle assessment shows that the amount of energy required to manufacture a Prius is higher than that of a similar gasoline powered vehicle, although the energy saving during its operational life pays back this initial energy overhead [9] according to Toyota. A disputed life cycle assessment by CNW Marketing/Research [10] claims to show that Prius uses more energy than the average car, and also more energy than several larger cars such as the Hummer H3. The Prius still uses regular gasoline, unlike alternative-fuel vehicles. When compared to plug-in hybrid electric vehicles, the fuel and emissions saving of the Prius is modest, but when compared to vehicles with comparable interior room the savings are significant, in some cases producing nearly double the kilometres per unit of fuel when compared to mid-level conventional vehicles. In either case the high sales volume of Prius relative to any alternative fuel vehicle or plug-in vehicle means that the Prius has caused more gas to be saved. A more relevant observation may be its comparison against compact cars, which can be considerably cheaper to purchase (in some cases around half of the initial cost), while still achieving comparable highway performance.
Some drivers complain that they do not get anywhere close to the EPA fuel economy estimate. Although most vehicles do not achieve EPA estimates unless driven under the same strict EPA conditions, critics claim that the discrepancy of the EPA estimate and actual fuel economy is larger for the Prius than other vehicles. Since the Prius needs to run its engine longer for warming-up, its fuel efficiency is lower in cold conditions. In 2006, EPA announced a new way to calculate more realistic fuel economy for all vehicles in 2008. By the European method, the combined fuel economy of the Prius is 4.3 L/100 km or 55 mpg (US) [11]. By Japanese 10.15-mode fuel economy, the Prius achieves 3.03 L/100 km or 78 mpg (US) [12].
The Prius is exempt from London's congestion charge because it has an electric motor. This has drawn the criticism that the Prius' real-world mileage is similar to diesel-powered vehicles of similar size that are not exempt from the congestion charge.
Generations
Fill in as many as appropriate. Add more if necessary and pictures wherever applicable.
Please make sure NOT to use copyrighted pictures.
Current Generatiom: (2015-Present)
The fourth generation Prius was first shown during September 2015 in Las Vegas, and was released for retail customers in Japan in December 2015. The launch in North American market is scheduled for January 2016, and February in Europe. Toyota expects to sell 12,000 fourth generation Prius cars a month in Japan, and to reach annual sales between 300,000 and 350,000 units.
In August 2013, Toyota Managing Officer Satoshi Ogiso, who was chief engineer for the Prius line, announced some of the improvements and key features of the next generation Prius. The next Prius is the first vehicle to use the Toyota New Global Architecture (TNGA) modular platform, which provides a lower center of gravity and increased structural rigidity. These features, along with other improvements allow for gains in ride-and-handling, agility and aerodynamics. The improved aerodynamics contribute to an all-new exterior design, which includes a roomier interior. Ogiso also explained that the next-generation Prius plug-in hybrid, the Prius Prime, was developed in parallel with the standard Prius model. The next-generation Prius was designed to deliver significantly improved fuel economy in a more compact package that is lighter in weight and lower in cost. These objectives were achieved through the development of a new generation of powertrains with significant advances in battery, electric motor and gasoline engine technologies. The next Prius features improved batteries with higher energy density; smaller electric motors, with higher power density than the previous Prius motors; and the gasoline engine features a thermal efficiencygreater than 40% (third-generation Prius is 38.5%). The Prius fuel economy has improved on average by about 10% each generation, and Toyota has set the challenge to continue to improve at this rate. Under the Japanese test, Toyota expects the fourth generation Prius to achieve a fuel economy rating of 40.8 km/l (115 mpg-imp; 96 mpg-US). The 2016model year Prius has an official EPA fuel economy rating of 54 mpg-US(4.4 L/100 km; 65 mpg-imp) for city, 50 mpg-US (4.7 L/100 km; 60 mpg-imp) for highway, and 52 mpg-US (4.5 L/100 km; 62 mpg-imp) for combined driving. The new Eco version available in mid-grade level two trim, which features lithium-ion batteries, has an official EPA rating of 58 mpg-US (4.1 L/100 km; 70 mpg-imp) city, 53 mpg-US (4.4 L/100 km; 64 mpg-imp) highway, and 56 mpg-US(4.2 L/100 km; 67 mpg-imp) combined. This improved efficiency is largely due to the reduced weight of the Eco, which has a lighter battery and does not carry a spare tire. In terms of fuel economy, the 2016 Prius Eco with a combined city/highway fuel economy of 56 mpg-US (4.2 L/100 km; 67 mpg-imp), passed the 2000 first generation Honda Insight (53 mpg-US (4.4 L/100 km; 64 mpg-imp)) as the most fuel efficient car available in the US without plug-in capability. However the Honda Insight still achieves highway rating of 61 mpg-US (3.9 L/100 km; 73 mpg-imp) which is higher than the Prius highway rating of 53 mpg-US(4.4 L/100 km; 64 mpg-imp). As of March 2016, only three plug-in hybridmodels available in the market have a higher combined fuel economy than the Prius Eco in terms of their combined EV mode/Hybrid fuel economy, the BMW i3 REx (88 MPG-e), the Chevrolet Volt (77 MPG-e), and first generation Toyota Prius Plug-in Hybrid (56 MPG-e). The new Prius is 2.4 in (6.1 cm) longer, 0.6 in (1.5 cm) wider and 0.8 in (2.0 cm) lower, at the rear a double wishbone independent suspension replaces its predecessors torsion beam. The front uses standard LED headlamps. Toyota has claimed that the fourth-generation Prius would have a drag coefficient of Cd=0.24, better than the 0.25 claimed for the third-generation model.
Fourth Generation: (2010-2015)
Toyota debuted the new Prius (2010 US model year) at the January 2009 North American International Auto Show, and sales began in Japan on 18 May 2009. Toyota cut the price of the Prius from ¥2.331 million to ¥2.05 million to better compete with the Honda Insight, leading some to wonder whether increased sales of the Prius might come at the expense of sales of other vehicles with higher margins. Competition from lower priced hybrids, such as the Honda Insight, also made it difficult for Toyota to capitalize on the Prius's success. As of June 2013, Toyota has sold about 1,688,000 third-generation Priuses worldwide.
At its introduction in 2009, it won the Car of the Year Japan Award for the second time.
Its new body design is more aerodynamic, with a reduced drag coefficient of Cd=0.25. This figure is disputed by General Motors which found the value for the model with 17-inch wheels to be around 0.30 based on tests in GM, Ford, and Chrysler wind tunnels. Car & Driver measured the 3rd Generation Prius at 0.26 in a privately arranged 5-way wind-tunnel test of comparable cars. An underbody rear fin helps stabilize the vehicle at higher speeds.
The estimated fuel-efficiency rating, using the US EPA combined cycle, is 50 mpg-US (4.7 L/100 km; 60 mpg-imp). The Prius was the most efficient car powered by liquid fuel available in the US in 2009, based on the official rating. Only the first-generation Honda Insight (2000–2006) equipped with a manual transmission attained a lower fuel consumption rate. The official UK fuel efficiency data for the Prius T3 is Urban 72.4 mpg-imp (3.90 L/100 km; 60.3 mpg-US), Extra Urban 76.4 mpg-imp (3.70 L/100 km; 63.6 mpg-US), Combined 72.4 mpg-imp (3.90 L/100 km; 60.3 mpg-US).
The 1.8-liter gasoline engine (previously 1.5 liters) generates 98 hp (73 kW), and with the added power of the electric motor generates a total of 134 hp (100 kW) (previously 110 hp or 82 kW). The larger engine displacement allows for increased torque, reducing engine speeds (RPM), which improves fuel economy at highway speeds. Thanks to its electric water pump, the Prius engine is the first consumer automotive production engine that requires no accessory belts, which also further improves its fuel economy. The electric motors and other components of the hybrid powertrain are also smaller and more efficient than the industry average. Toyota estimates the new inverter, motor and transaxle are 20 percent lighter.
In constructing the Prius, Toyota used a new range of plant-derived ecologicalbioplastics, made out of cellulose derived from wood or grass instead of petroleum. The two principal crops used are kenaf and ramie. Kenaf is a member of the hibiscus family, a relative to cotton and okra; ramie, commonly known as China grass, is a member of the nettle family and one of the strongest natural fibres, with a density and absorbency comparable to flax. Toyota says this is a particularly timely breakthrough for plant-based eco-plastics because 2009 is the United Nations' International Year of Natural Fibres, which spotlights kenaf and ramie among others.
2011 facelift
To create the third-generation Prius for 2010, Toyota engineers revisited just about everything to eke out further efficiencies. A new front-drive platform underpinned the car, although the wheelbase remained unchanged and overall length grew by a lone centimetre. Weight-saving aluminum was employed in the hood, rear hatch, front axle and brake calipers (disc brakes were finally assigned to all four wheels).
In December 2013, Consumer Reports named the Prius as the "Best Value", for the second year in a row.
High trim levels in the third generation Prius include features like softex trim seats (that look and feel just like leather but are lighter in weight), headlight washers, parking sensors, premium JBL speaker system and electrically operated lumbar support adjustment for the driver's seat.
In mid-2011 (for the 2012 model year), the third-generation Prius Liftback received modest style and equipment changes. The exterior changes include updated headlamps, revised tail lamps, plus a distinctive front fascia and bumper, and the deletion of the "Super White" color option in the United States. Prospective American Prius buyers wanting a white exterior must either choose the "Blizzard Pearl" color (a metallic off-white) for an additional $220, or choose another make or model. The Prius can be equipped with an updatedinfotainment system featuring the optional Toyota Entune suite of connectivity features. Other updates include a 6.1-inch touch-screen, an AM/FM CD player unit, a USB port for iPod connectivity, an auxiliary input jack, a Bluetoothhands-free phone capability and streaming audio. The Prius also includes an optional solar panel on the roof of the car, solely to power a ventilation fan while the car is parked, to keep the interior cooler in sunny conditions.
In the US market, only the Prius Two, Three, Four and Five were offered. The premium Prius Five model's Advanced Technology Package includes the Premium HDD Navigation System, plus the Head-up Display, Dynamic Radar Cruise Control, Pre-Collision System and Lane Keep Assist. The Pre-Collision System retracts the front seatbelts and applies the brakes in certain conditions when it determines that a crash is unavoidable. Lane Keep Assist can help the driver stay within the lane. The US 2012 model year includes Toyota'sVehicle Proximity Notification System (VPNS), which emits an artificial engine noise to alert pedestrians, the blind, and others of the vehicle's presence due to significant noise reduction typical of a hybrid vehicle traveling at low speeds inall-electric mode
Previous Generations
Third Generation: (2004-2009)
The Prius 2004 model was a complete redesign of the previous generations of Prius. The new model is based on the new (third generation) Hybrid Synergy Drive (HSD), replacing the earlier Toyota Hybrid System (THS) technology. The first generation (1997 to 2003) could not run its air conditioning unless the engine was running. In contrast, the 2004 model introduced an all-electric compressor for cooling. This not only allowed the use of air conditioning without the engine running when the car is complete still, it also allowed more extensive use of the "stealth mode" (operation on electric motor only).
The drag coefficient (Cd) of 0.26 was now the second-lowest in the industry, after the smaller Honda Insight at 0.25. EPA ratings improved 10-15% up to 60 MPG and vehicle efficiency was improved to 37%!!!
Regenerative braking was greatly improved, relying so little upon the friction-type brakes (except for panic stops) that some Toyota technicians quipped that the original brake pads might well last for the life of the car.
The 2004 Prius emerged as a midsize car with more room than the previous compact, redesigned as a "five-door" model (four doors plus a rear hatch). In general the car remained conveniently narrow on the outside, rather flat sided, and relatively tall (several inches taller than a Camry). The profile was much more continuous, with a short sloping nose transitioning to a highly sloped windshield and an arcing roofline ending in a cut-off Kammback. The additional height allowed a more erect seating position and a higher eye point, giving a better view of the road to the driver. There was also a surprising amount of additional rear-seat leg room, resembling that available in a much larger vehicle. Fold down rear seats with a 60/40 split made for easy carriage of most parcels.
With a smaller and lower voltage NiMH battery and a boost converter to step the voltage up to 500 V, the 2004 model was more powerful (2 seconds faster in 0 to 96 km/h acceleration) and is 15% more fuel efficient than the previous generation Prius.
The multi-function-display (MFD) shows fuel consumption bars for each five minute segment of driving and this can encourage economical driving. The display also indicates instantaneous fuel consumption, which is useful for detecting when the vehicle has switched from electric-only to electric + ICE. At this time it can usually be advantageous to accelerate quickly rather than lug the vehicle, in an attempt to get to a more favorable location or speed range for electric-only mode.
A Smart Key System (SKS) option eliminates the traditional ignition key. The "smart key," which resembles a conventional keyless entry remote, has buttons to remotely lock and unlock the door, as well as trigger the alarm system. It is not necessary to use any of the buttons to utilize the SKS system. Approaching to within one metre of the car while in-possession of the key (even inside a pocket or purse) causes the interior dome lights to fade in (if the switches are at the DOOR position). When the person with the key in their possession touches either of the front doors, or the rear hatchback door, that door is immediately unlocked and can be opened. There are three settings in which the Smart Key System (SKS) can operate with: driver's door unlocking mode, single door unlocking mode, and all doors unlocking mode. Once inside, the car may be started by pushing the "POWER" button while depressing the brake pedal, with the fob still safely tucked away inside your pocket or purse. To stop the car, push the "POWER" button again. Once parked, the car can be locked by a pushing a black button on the exterior door handle. The SKS system will detect keys left inside the vehicle when powered-off, and will not allow the vehicle to be locked in this situation.
There is no conventional ignition switch which needs to be turned to start the Prius, that function having been replaced by a simple round "POWER" button on the dashboard. With the SKS models, the driver only needs to sit down inside the vehicle (with the fob in their possession), press the brake with their foot and push the "POWER" button to start the vehicle. On cars which are not equipped with SKS, the driver uses the lock/unlock buttons on the fob, and puts the remote fob into a slot in the dash to allow the car to start.
The vehicle is classified as a SULEV (Super Ultra Low Emissions Vehicle), 90% cleaner than conventional gasoline-only automobiles. It comes with an Advanced Technology Partial Zero Emission Vehicle (AT-PZEV) certification by CARB (California Air Resources Board).
As an interesting side note, an option package offered in Japan and Europe gives the Prius the ability to perform parallel and reverse parking assisted by the on-board computer — the first time such a capability has been offered on a production vehicle. Eighty percent of the Prius buyers in Japan have chosen this option. The system is not intelligent though, particularly lacking machine vision which would allow avoidance of obstructions or pedestrians, so it is very limited. From an article on CNN's web site.
When the vehicle is turned-on with the "start" button, it is ready to drive immediately with the electric motor, before the internal combustion engine is started to heat-up the emissions control system (including the catalytic converter). The delay between starting the car and starting the internal combustion engine is approximately seven seconds. The Asian and European versions of this vehicle provide a button labeled "EV" that maintains electric vehicle mode after startup, under most low-load driving conditions. The North American model does not have the "EV" button, although the "EV" mode is still supported internally by the Prius high-voltage management computer. While some have speculated that EV mode was not included on North American models in the interest of retaining the warranted battery life of 100,000 miles (160,000 km) in the US—150,000 miles (240,000 km) in California and several other states—engineers note that EV mode is automatically overridden when the battery requires recharging from the internal combustion engine. The Prius is designed to protect the battery from extreme discharge as well as over-charge and will utilize the engine as-necessary to maintain the optimum conditions for a long battery life. In addition to information at online discussion groups, the PRIUS+ Project offers instructions for do-it-yourselfers who wish to enable the button, and after-market components provider Coastal Electronic Technologies offers a kit.
Passengers of the Prius can use their Bluetooth-enabled cellphone via the car's audio system without taking the phone out of their pocket.
Second Generation (2001-2003)
The second generation Prius, the NHW11, made a big splash in the US among ecologically minded drivers. While not as high performance as the newer generation of Prius, the NHW11 was the first commerically available hybrid car that looked and felt like a typical compact car (its main competitor, the Honda Insight, was a smaller 2-seat hatchback that didn't look anything like a typical compact car). It was powered by the Toyota Hybrid System (as opposed to the newer model's second generation Hybrid Synergy Drive), and it had a Toyota efficiency rating of 32% and EPA mileage rating of 52 MPG in the city and 45 MPG on the highway.

First Generation/Origins (1997-2001)
The first Prius model, code NHW10, was only sold in Japan. Some private owners have imported some into the United Kingdom, Australia, and New Zealand. The original Prius did not catch on well. A fairly high price, anemic performance and modest gains in economy hindered demand. Lower fuel prices then didn't help either.
The late David Hermance, the "American Father of the Prius" added power and fun to turn the car into phenomenon. Subsequent Prius versions have offered more colors, more options, increased power and reduced battery weight. Gas mileage, fun, style and image have helped Toyota of America answer consumers, and earn the bulk of sales that helped the unique car cross the chasm.
Awards
Motor Trend Car of the Year 2004 (January 2004 issue)
Car and Driver magazine's Ten Best list for 2004.
North American Car of the Year 2004.
International Engine of the Year 2004.
2003 J.D. Power Initial Quality Study winner (Compact)
Tips and Tricks
How to turn off the "Maintenance Required" light
Before turning the car on press and hold the trip meter button. Continue pressing it while you put your foot on the brake and hit the power button. Once the power is on, the odometer will show five dashes instead of numbers. Continue to press the trip meter until all the dashes go away.
How to turn off the backup beep
Press the Power button to turn on the Prius.
Set the Trip/ODO display to ODO (Odometer). If it is already on ODO and you have an 05 model, jump to step 5, otherwise you may still have to cycle through Trip A, Trip B then back to ODO.
Turn off the Prius
depress brake and press the Power button again to turn on the Prius. keep foot on the brake.
As soon as (or within 6 seconds of)the "Ready" light is illuminated, press and hold the Trip/ODO button for at least 10 seconds
Still holding the Trip/ODO button, shift the gear selector from P to R and back to P.
Release the Trip/ODO button.
The Trip/ODO display should now read "b on" or "b off". Use the Trip/ODO button to toggle between the two options. "b on" means the audible reverse beep is on. "b off" means the audible reverse beep is off.
Press the Power button to turn off the Prius.
How to turn off the Seat Belt Beep
The driver and passenger seatbelt reminder beep can be disabled or enabled using similar steps to turning off the backup beep. Instead of shifting from P to R to P in step 6, simply buckle then unbuckle the appropriate seatbelt while continuing to depress the Trip/ODO button. There is one caveat to this procedure. No one can sit in the passenger seat while attempting to complete this task. (My experience suggests you *have* to put something on the passenger seat to disable the passenger side seat belt for the 2007 Prius! May be someone more knowledgeable should edit this section)
Notable facts
Drivers of the Toyota Prius, or other hybrid engine automobiles are allowed to drive by themselves in Carpool (High Occupancy Vehicle) lanes in some US states such as Virginia (requires a special "Clean Fuel Vehicle" license plate at $10 per year), California (requires $8 one-time fee for a decal, 85k limit), Florida (requires $5 per year decal), and New York.
Los Angeles city and San Jose*, California allow free parking at meters for hybrid vehicles within the posted time limits, including the Prius. *For hybrids purchased in a San Jose dealership.
Prius drivers in London, UK, are exempt from the £8 ($14) daily London congestion charge|congestion charge (requires £10 per year registration).
The NHW20 Prius fuel tank holds 45 litres (11.9 US gal), although the internal bladder in American models limits the fill, giving a range of up to 600 miles (1,000 km). The fuel tank capacity for a European NHW11 without the bladder is 50 litres.
Starting with the 2004 model, Toyota is now producing the Prius on a standard mass production assembly line, resulting in one being produced every minute instead of one every 8 to 10 minutes. The use of a standard assembly line has dropped the manufacturing cost significantly, allowing Toyota to deliver a substantially upgraded model, which in turn has generated publicity and popularity. The limiting factor in Prius (and Lexus RX400h) production now appears to be third party component availability, particularly batteries.
The battery pack of the 2004 Prius is guaranteed for 100,000 miles (160,000 km) or 8 years, although Toyota has stated that they expect it to last 15 years. The warranty is extended to 150,000 miles (240,000 km) or 10 years for Prius in California and several other states that adopted the Californian emission control standards.
In May 2005, Finnish anti-virus firm F-Secure Corp. has tested a Prius for Bluetooth vulnerabilities in the on-board mobile telephony and computer systems and found the car has performed "admirably"[13].
On June 1, 2005, the National Highway Traffic Safety Administration of the US started an investigation on the 33 reported cases of engine stalling when the Prius travels at highway speed. The cars were still operable under battery power with substantial loss of power when the internal combustion engine failed to run. Toyota believes it was due to a computer programming error that was fixed in a recall (SSC-40D) issued back in September, 2004. The investigation needs to verify if all the reported cases occurred to the cars that did not receive the software fix. Some supporters argued that 33 cases (of which some were duplicate reports and/or valid out-of-gas conditions) among 75000+ cars sold was not an alarming percentage figure compared to the millions other auto makers have recalled. Besides, the Prius is safer than any other car with a failed engine, as the Prius can still run with its electric motor until it can stop at a safe location.
A few celebrities including Leonardo DiCaprio and Cameron Diaz were known to be Prius owners. Christian Slater had placed an order for a Lexus Hybrid.
In Clarkson: The Good, The Bad & The Ugly, Jeremy Clarkson said that the Prius is one of his least favourite cars as the second generation model (the one he was driving) appealed in no levels at all. He pointed out that the styling wasn't pretty, it didn't offer much performance, he also pointed out on the car's dodgy quality to keep the overall weight down and he believes that it's better to buy a diesel Golf because it's more environmentally friendly. The Prius ended up shot by a redneck.
A third generation Prius appeared in Weird Al Yankovich's film clip White & Nerdy.
The third generation Prius entered the 2009 Global Green Challenge.
Main Article:Toyota Prius in popular culture.
See Also
External Links
Toyota websites
Miscellaneous and news
Enthusiast sites
Notes
This page uses content from Wikipedia; see Toyota Prius, which includes these contributors.