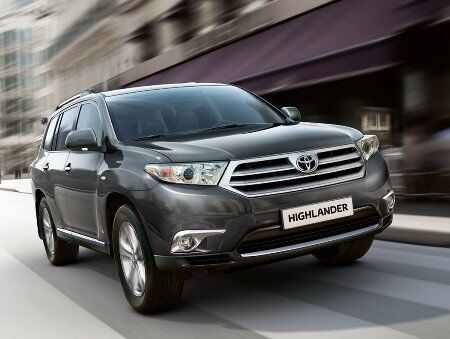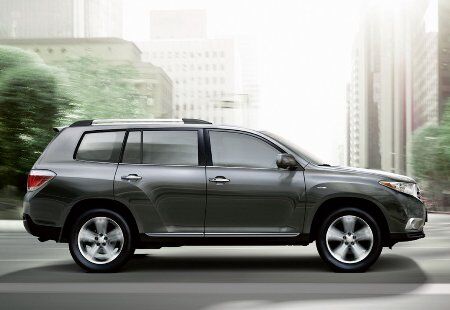 The Toyota Highlander known as the Kluger in Japan, is a crossover vehicle that shares the same platform with the Toyota Camry. First introduced as a 2001 model in North America to fill in the segment between the Toyota RAV4 and the Toyota 4Runner, it comes in 5 and 7-seater configurations and is available in three trims: Base, Sport, and Limited. The Sport model was first added for 2006.
The Highlander is available with two engines: 3.5L V6 and 3.3L Hybrid. A 4-cylinder was available until the 2006 model year, but has been dropped since then. V6-powered models come equipped with a 5-speed automatic transmission, while Hybrids use a continuously variable transmission.
Since 2004, the Highlander is available with optional third row seating. To accommodate the optional third row seating a depression had to be made in the trunk floor. On models without third row seating, the depression in the floor was made into a storage compartment. Prior to 2004 the spare tire was accessible from inside the vehicle where the third row seats are located, but beginning in 2004 the spare tire was relocated underneath the vehicle.
The Highlander is available with front-wheel drive or full-time four-wheel drive. Hybrid models are available with a part-time four-wheel drive system which Toyota refers to as 4WD-i.
See Autopedia's comprehensive Toyota Highlander Review.
Recent Changes
The 2010 Moscow Motor Show played host to the unveiling of the first mid-cycle facelift for the Highlander. [1]
The Toyota Highlander was completely redesigned for 2008. Larger on the inside and outside, it is available with a 3.5L V6 engine only. The Hybrid remains powered by the previous generation's 3.3l V6.
Changes to the 2006 model include the introduction of the Hybrid version. Also a new Sport trim is available.
For 2004 the Highlander received a new V6 borrowed from the Lexus RX330. The new 3.3L V6 makes 230-HP, 10 more than it's predecessor. The new 2.4L engine gets a 5-HP increase to 160. All 2004 Highlanders get four-wheel anti-lock disc brakes as well as a tire pressure monitoring system. A new option is the navigation system and the

rear DVD entertainment system

. There is also an available 3rd row seat and curtain airbags.
For 2003 a full-size spare tire was standard. Limited models come with automatic

climate control

, power driver seat, and alloy wheels.
For 2002 Toyota added a standard rear-seat armrest, cabin air filtration, and a redesigned center console. Models were differentiated by Base and Limited.
Engines:
Styles and Major Options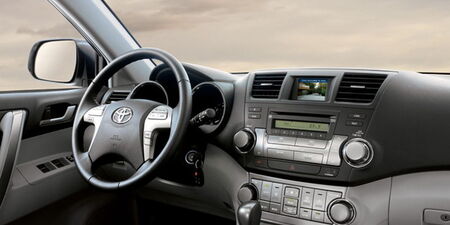 The Highlander comes in the Base, Limited, Sport, and Hybrid versions. The Base, Sport, and Limited are available in 2WD and 4WD, powered by a 3.5 V6 engine. The Hybrid uses Toyota's Hybrid Synergy Drive technology coupled with an Electronically Controlled Continuously Variable Transmission (CVT) for optimum fuel economy. Options include leather seats, power sunroof, DVD navigation system, rear seat entertainment, side curtain airbags, and heated front seats.[2]

Pricing
Today's actual prices for the Toyota Highlander can be found at CarsDirect or here.
MODEL Trims
Base FWD
Base AWD
Sport FWD
Sport AWD
Limited FWD
Limited AWD
MSRP
$27,500
$28,950
$30,150
$31,600
$32,900
$34,350
Invoice
$24,475
$25,765
$26,833
$28,124
$29,281
$30,571
Gas Mileage
Add more fields as necessary.
As seen on the FuelEconomy.gov website, the City/Highway MPG averages are as follows:
Trim
FWD
4WD
Hybrid
MPG
18/24
17/23
27/25
Engine and Transmission
Specifications, details, graphs, pictures and other information regarding the powertrain is placed in this section.
Performance
Please make sure to write information of the vehicle's performance in a third-person point of view. This section should include information about the car's acceleration figures, handling, braking, etc.
If using information gathered from Road Test articles from a reputable automotive source, then please make sure to cite the quote.
Reliability
The Highlander Hybrid comes in first for fuel economy and the Highlander comes in fifth.
RECALL ALERT: Toyota Australia will be recalling 17,582 Klugers built between May 2003 to November 2005 for brake fluid. If the car uses brake fluid that doesn't contain polymers or a small amount, the brake fluid will dry the rear brake seal and gradually leak fluid. [3]
Safety
All Highlanders come with:
traction control
anti-lock brake system
driver and front passenger air bags
front and rear energy-absorbing crumple zones
side-impact door beams
child protector rear door locks
3-point shoulder belts in all seating positions
child restraint system top tether anchors for all rear seating positions
Photos
Colors
Exterior colors on the Toyota Highlander include:
Blizzard Pearl
Classic Silver Metallic
Sandy Beach Metallic
Salsa Red Pearl
Cypress Pearl
Blue Streak Metallic
Waveline Pearl
Black
Interior trims on the Toyota Highlander include:
Ivory - fabric or leather
Ash - fabric or leather
Main Competitors
Australian market
Toyota introduced the Highlander Hybrid in July 2005 as a 2006 model. It uses Toyota's Hybrid Synergy Drive Technology, similar to the one in the Prius.
The 2008 Highlander Hybrid starts at $34,200.[4]
Unique Attributes
Criticisms
"An unnecessarily ride height and soft suspension spoil the fun." CARSguide
Interior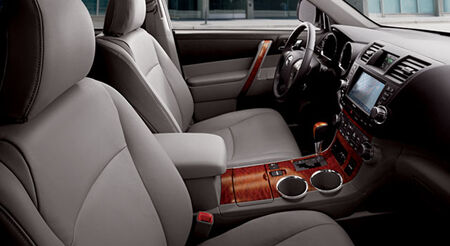 This section should include information on the interior's design, build quality, ergonomics, space (head and legroom, front and rear), features, stowage compartments and overall comfortability and livability. Add pictures wherever applicable and keep information in a third-person point of view.
Resale Values
Add more fields as necessary.
<MODEL> Year
2006
2005
2004
2003
2002
2001
Resale Value
$24,530 - $33,860
$24,700 - $27,975
$21,025 - $25,575
$19,450 - $23,800
$17,725 - $21,850
$15,975 - $20,075
Worldwide
The Highlander is called the Kluger outside of the U.S.
Beyond 2010, Toyota Australia would add the Toyota Kluger to produce in its Altona Plant. Currently, the plant builds Camrys and Aurions.
Design quirks and oddities
The Toyota navigation system has a "safety feature" which disables data entry when the car is in motion.
Awards
The Highlander was named the "Best Eco-Friendly" (2006) for the Hybrid version by MotorWeek
"Best Overall Value" (2005) by IntelliChoice
Named "Best Midsized SUV" by Consumer Reports (2002)
Recieved "Initial Quality Study Award" J.D. Power and Associates (2002)
Car and Driver's "Best Large SUV" (2001)
See Also
External Links