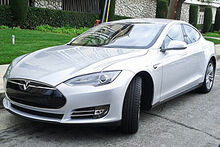 The Tesla Model S is a full-sized electric five-door, luxury liftback, produced by Tesla Motors. Since its introduction in June 2012 it has achieved rapidly growing sales, particularly in Norway and California. It scored a perfect 5.0 NHTSA safety rating. The US Environmental Protection Agency (EPA) official range for the Model S Performance model equipped with an 85 kWh battery pack is 265 miles (426 km), topping the Tesla Roadster to lead the electric car market. EPA rates its energy consumption at 237.5 Wh per kilometer (38 kWh/100 mi) for a combined fuel economy of 89 miles per gallon gasoline equivalent (2.64 L/100 km).
Global cumulative sales of the Model S passed the 25,000 unit mark in December 2013. The Model S became the first electric car to top the monthly new car sales ranking in any country, twice leading in Norway, in September and again in December 2013. As of September 2014, almost 47,000 units had been sold worldwide.
The Tesla Model S won awards such as the 2013 World Green Car of the Year, 2013 Motor Trend Car of the Year, Automobile Magazine's 2013 Car of the Year, Time Magazine Best 25 Inventions of the Year 2012 award and Consumer Reports' top-scoring car ever.
History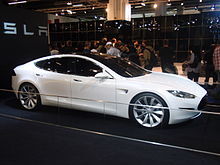 The Model S was styled by Franz von Holzhausen, who previously worked for Mazda North American Operations. The car was codenamed WhiteStar during research and preliminary development.
The Model S was announced in a press release on June 30, 2008. The prototype vehicle was displayed at a press conference on March 26, 2009.
In February 2008 it was reported that Tesla Motors was planning to offer a range-extended version of its Model S. This version would have included a gasoline engine to extend the driving range of the vehicle, but it was removed in later revisions. At the GoingGreen conference in September 2008 Tesla's CEO, Elon Musk, announced that Tesla was developing only electric cars.
Construction of an assembly factory in Albuquerque, New Mexico (a central location for shipping) was supposed to begin in April 2007, but was cancelled. A factory to be built in San Jose, California was also announced. In May 2010 Tesla announced it would produce the Model S at the former NUMMI assembly plant in Fremont, California, now known as the Tesla Factory. This third plan was implemented.
Production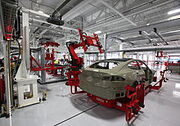 Tesla manufactures the Model S at the Tesla Factory in Fremont, California. For the European market, Tesla assembles and distributes from its European Distribution Center in Tilburg, the Netherlands. Cars are built and tested in Fremont, California. The battery pack, the electric motor and parts are disassembled and shipped separately to Tilburg, where the cars are reassembled. The center occupies a 18,900 m2 (203,000 sq ft) industrial building that also serves as a workshop and spare parts warehouse.
The first ten customers received their cars at the Fremont factory on June 22, 2012 at the official launch. Production grew from 15-20 cars completed/week (August), to over 200 by November 5. and 400 by late December.
In late December Tesla revised their 2012 delivery projections down to 2,500 cars.
Deliveries reached 6,892 units in the last three months of 2013.[36] In December 2013, California announced it would give Tesla a US$34.7 million tax break to expand production by an estimated 35,000 vehicles annually from its Fremont, California plant.