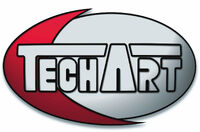 TechArt Automobildesign GmbH is a German-based tuner specialized in existing Porsches, for which they offer extensive tuning packages.
History
The company was founded in 1987 by Thomas Behringer, with its headquarters located in Leonberg, Germany. Behringer wished to create cars which would blend artistic perfection with technologically advanced features. The company is recognized as an independent manufacturer.
On May 10, 2008 the TechArt GT Street RS (based on a Porsche 997 GT2), driven by Jörg Hardt, ran the fastest time at the annual Tuner Grand Prix, beating out Porsche tuner Cargraphic, which had won the past three consecutive years. While not official, it is widely accepted that the winner of the Tuner GP is Europe's best tuner.
See Also
External links