The Swallow Sidecar Company was founded in Blackpool, England on the 4th September 1922 by the two friends William Walmsley and the 21 year old William Lyons, who had served his apprenticeship with Crossley Motors in Manchester.
William Walmsley had previously been manufacturing motorcycle sidecars and bolting them to reconditioned motorbikes. Lyons had recognised the commercial potential of these products and together they went into production with a £1000 loan and a small team of employees.[1]
In 1926 they diversified into the car coachwork business, changing the company name to Swallow Sidecar and Coachbuilding Company. Lyons had recognised the potential of the popular, but basic Austin 7. Having sourced an Austin chassis from a dealer in Bolton, Lancashire, he commissioned the talented coachbuilder Cyril Holland to produce a more fashionable body for the car. These Austin Seven Swallows proved popular at a time of economic hardship for many, being inexpensive at only £175 yet resembling more expensive cars of the period.
The increase in business, together with a shortage of skilled labour in Blackpool, made it necessary to be nearer the centre of the British car industry. In 1928 they moved into an old ammunition factory in Holbrook Lane, Coventry.
In 1929 the company was sufficiently confident to go to the expense of taking a stand at the London Motor Show where three new Swallow models appeared based on the Standard, Swift and Fiat chassis.
For the 1931 show the company launched the SS1 and the smaller SSII, this time using a chassis produced exclusively for them by the Standard Motor Company. Meanwhile a model of rather more sporting pretensions was introduced with the Swallow version of the Wolseley Hornet, and in 1932 the even more sporty Hornet Special. [2]
In 1934 the company was renamed as SS Cars Ltd (eventually becoming Jaguar Cars Ltd in 1945). At the same time Walmsley, who did not share the same ambitions as Lyons, retired from the company.
Sidecar production was now by Swallow Coachbuilding Co. (1935) Ltd. of Albion Road, Birmingham, 11. [3]
At the end of 1945, the Helliwell Group, an aircraft maintenance firm, bought the name and goodwill of the now defunct Swallow side car manufacturer, Swallow Coachbuilding Company (1935) Ltd, from SS Cars Limited. Sidecars produced at Helliwells' Walsall Airport works were built in the same way as the originals and used the same patented trademark.[4] They closed shop in the late 1950s.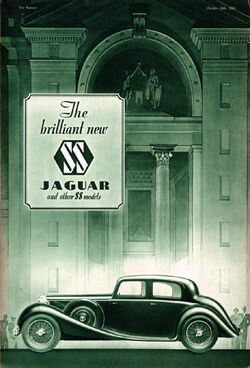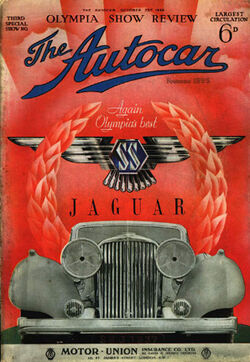 External Links
Edit
Community content is available under
CC-BY-SA
unless otherwise noted.