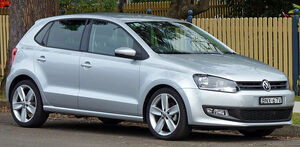 A subcompact car is an automobile in a North American vehicle size class, encompassing vehicles smaller than compact cars (usually not exceeding 165 inches (4,191 mm) in length). According to the United States Environmental Protection Agency (EPA), a passenger car is classified as subcompact if it has between 85 cubic feet (2,407 L) and 99 cu ft (2,803 L) of interior volume.
Many contemporary subcompacts sold in North America fall into the supermini category (as defined by EuroNCAP) in Europe.
History
In North America, the term "subcompact" came into popular use in the early 1970s. Previously, cars in this size were variously categorized, including "small automobile" and "economy car."[1]
This type of car was first seen in 1939 with the Crosley, and then popularized in the 1950s with the introduction of the Nash Metropolitan, as well as a number of imported models, notably the Volkswagen Beetle and various small British cars.
The subcompact market segment expanded in the 1970s with the introduction of new domestic-built models produced by North American automakers in response to the growing popularity of small imported cars from Europe and Japan. The AMC Gremlin was described at its introduction as the first domestic-built American subcompact car.[2][3][4] The Chevrolet Vega and Ford Pinto were introduced six months later.
As of 2009, numerous models of subcompacts are sold, including the Chevrolet Aveo, Honda Fit, Hyundai Accent, Kia Rio, Nissan Versa, Scion xD, and Toyota Yaris.
Examples of subcompact cars
See also
References
External links