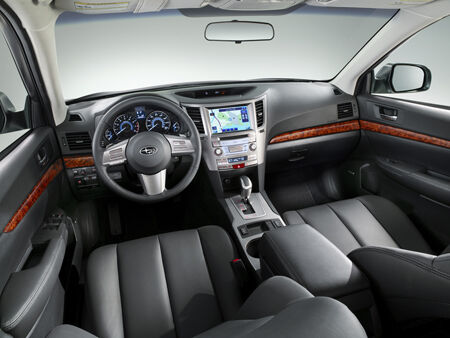 The first Subaru Legacy Outback was introduced in the United States in 1996. It was a Legacy station wagon with all-wheel drive, body-cladding, off-road tires and slightly higher ground clearance. It was marketed using Subaru's trademarked phrase: "The World's First Sport Utility Wagon." All Outbacks are built in Lafayette, Indiana.
See Autopedia's comprehensive Subaru Outback Review.
Recent Changes
The 2009 New York Auto Show played host to the unveiling of the third-generation Subaru Outback. The new car was designed under

Osamu Namba

. [1]
The Outback was completely redesigned for the 2005 model year, and it remains largely unchanged for 2007. The base 3.0 R and 3.0 R VDC Limited trims have been removed from the lineup, but the L.L. Bean Edition and all 2.5 trims remain, with a slight horsepower upgrade in the 4-cyl. engine from 168hp to 175hp and a slight downgrade in the 6-cyl. from 250hp to 245hp.
for 2008, Subaru launched the limited edition Subaru Legacy Outback Urban Selection, which, essentially, is a Legacy with a limited edition red hue, silver side mirrors and roof rails, along with leather and Alcantara-trimmed seats.
Styles and Major Options
The 2007 Subaru Outback comes in three body styles and several trims speficic to each body style. The three styles are the sedan, wagon, and sport wagon, which is a shorter version of the wagon. While the Outback Sport wagon is only available in trim, the wagon comes in 2.5, 2.5i, 2.5 XT Limited, and 3.0 R L.L. Bean versions. In addition, the sedan is available in two trims, the 2.5i Limited and the 3.0 R L.L. Bean Edition. Features and options will differ according to trim level, and the only differences between the sedan and wagon versions, in terms of trim, are the dimensions associated with each respective body style. Some of the features available include:
Outback Sport
16" silver alloy wheels
Sport front seats
Metal-look dashboard inserts
Roof rack
Cargo concealed storage
2.5i Basic Wagon
16" silver styled steel wheels
Premium cloth interior
Cargo tie-downs
AM/FM/CD/Satellite-ready stereo
2.5i Wagon
17" silver alloy wheels
Driver/front passenger heated seats
Premium cloth interior
Roof rack
Roll-up cargo cover
2.5 XT Limited
Stability Control
17" silver alloy wheels
Power heated sports seats
Leather interior
Express open/close sunroof
3.0 R L.L. Bean edition
17" silver alloy wheels
8-way power heated front seats
Leather interior
Express open/close sunroof
Automatic air conditioning
AM/FM/6CD in-dash changer with MP3 capability
MOMO steering wheel
Pricing
Today's actual prices for the Subaru Outback can be found at CarsDirect.
Outback Trims

2.5i Limited
Sedan

3.0 R L.L. Bean Edition
Sedan

2.5i Basic
Wagon

2.5i
Wagon

2.5i Limited
Wagon

2.5 XT Limited
Wagon

3.0 R L.L. Bean Edition
Wagon

Outback Sport
Wagon

MSRP

$26,395

$30,295

$21,995

$23,595

$27,395

$30,995

$31,495

$19,195

Invoice

$24,712

$28,258

$20,720

$22,188

$25,620

$28,795

$29,350

$price
Gas Mileage
As seen on the FuelEconomy.gov website, the City/Highway MPG averages are as follows:
Trim

4-cyl. Sedan
auto

6-cyl. Sedan
auto

4-cyl. Wagon
manual

4-cyl. Wagon
auto

4-cyl. Wagon Limited
manual

4-cyl. Wagon Limited
auto

6-cyl. Wagon
auto

MPG

22/28

19/26

23/28

22/28

21/27

20/26

19/26
Reliability
The latest generation of the Outback was only introduced in 2005, so long-term reliability data is not yet available. However, the 2003 and 2004 models, which belong to the previous generation, received an overall Green rating in every category from Automotive Information Systems.
Safety
The Outback has received excellent safety ratings from the NHTSA, based on its various tests. While the sedan body style received 5-Star ratings across the board, the Outback wagon earned 5-Star ratings in all crash tests and a 4-Star rating for rollover. Some of the standard safety features on the Outback include:
4-wheel anti-lock brakes
Driver/passenger front-impact airbags
Driver/passenger seat-mounted side-impact airbags
1st/2nd row overhead side curtain airbags
Occupancy sensors
Side impact bars
Front and rear anti-roll bars
Photos
Colors
Colors will vary by trim and body style, and a full list is available at CarsDirect.com. Some of the possible combinations are:
Exterior
Brilliant Silver Metallic
Champagne Gold Opal
Newport Blue Pearl
Satin White Pearl
Willow Green Opal/Moss Green Metallic
Interior
Charcoal Gray
Dark Charcoal
Taupe
Warm Ivory
Main Competitors
Hybrid Models
Unique Attributes
Resale Values
According to Kelley Blue Book, "competitive vehicles such as the Volvo XC70 and the Volkswagen Passat 4Motion cost more than the Outback yet don't retain the same strong resale value. The Dodge Magnum SXT with all-wheel drive is priced similarly to the Outback 3.0 R, but it, too, lags behind the Outback's high resale values."
Criticisms
"Doesn't offer a lot of sex appeal" - New Car Test Drive
"Still not powerful enough." - USA Today
"If you need an off-road vehicle that can also tow heavy loads and seat seven, the Outback is no match for a truck-based, V8-powered SUV." - Kelley Blue Book
"Rear-seat passengers will find knee and toe space to be a bit tight." - Edmunds.com
"Some audio switches remain undersized and tough to use while driving." - Consumer Guide
"Brakes feel mushy." - AutoWeek
"Not-so great for a sports sedan; frumpy looks." - motioncars.com
Current Generation: (2010–present)
Second Generation (2004-2009)
In 2003, with the debut of the fourth-generation Legacy at the 60th Frankfurt Auto Show, the Outback name is now being used worldwide with the launch of the second-generation Outback wagon. Models equipped with a 3.0 L H6 were introduced at the 2004 Chicago Auto Show.
First Generation/Origins (1999-2003)
Subaru of America executives created the Outback because the SUV craze had at that point reached a fevered pitch with customers demanding SUVs and shunning Subaru's station wagons (even when equipped with all-wheel drive) based on image concerns, leaving dealers clamoring for a SUV-like product to sell.
The Outback turned out to be a success, handily outselling its Legacy progenitor. Clever ads featured Australian "Crocodile Dundee" star Paul Hogan using the Outback in adventurous situations where it was portrayed besting its competitors, notably the Ford Explorer.
An Outback Sport, based on the Subaru Impreza five-door hatchback was introduced in 1998.
The Outback SUS (for "Sport Utility Sedan") was launched with a limited production test run sold in New England in 1999 and based on its success, was rolled out nationwide the following year.
In 2000, Outback became its own model and added a sedan, as well as an available horizontal six-cylinder engine.
In the highest trim level (VDC, for Vehicle Dynamics Control), a 200 W McIntosh stereo system was standard from 2001 to 2003. These were the only vehicles ever factory-equipped with McIntosh stereo equipment.
2019 Subaru Outback Rumors
The Outback is Subaru's top of the line model, so it's imperative that the automaker stays up with the latest. A slate of modifications for the 2019 Subaru Outback model year, appearing at the New York Auto Show, keeps the Outback pleasant and new.
Subaru hasn't yet declared how much the 2019 Subaru Outback will cost, yet said models should begin landing in dealerships around August. The 2018 Subaru Outback ran $25,520 to begin and could venture into the upper-$30,000 with the optional 6-cylinder engine and more inside conveniences.
Subaru's endeavors to direct the Outback more upscale and sumptuous have prodded new rivalry. The Audi Allroad, Volvo V90 Cross Country, and Buick Regal TourX now go up against the Subaru.
The EPA hasn't yet declared last appraisals for the Subaru Outback, however they ought to a great extent take after the 2017's evaluations, which were 25 mpg city, 32 roadway, 28 joined for the 2.5-liter level 4, and 20/27/22 mpg for the level 6.
All models of the 2019 Subaru Outback have a standard rearview camera and all yet the base offer propelled safety features that should enable the car to qualify as a Top Safety Pick+ by the IIHS. Subaru's suite of cutting edge safety features, which it calls EyeSight, utilizes front aligned cameras set behind the windshield to help control or stop the car in an emergency.
At the point when furnished with EyeSight, the Subaru Outback features forward crash cautioning with automatic emergency braking at speeds up to 30 mph, dynamic lane control, adaptive cruise control, blind side screens, rear cross-traffic alert, and automatic high pillars. New for 2019 are available adaptive headlights that assistance guide lights around corners and rear automatic emergency braking.
Worldwide
Other companies followed suit with similar raised four wheel drive station wagons as stop-gaps before their own SUVs were launched, or if they did not envisage introducing one. These included the Audi A6 Allroad, Volvo XC70, Alfa Romeo 156 CrossWagon and the Holden Adventra.
The Outback was available in Japan from 1995 as the Subaru Legacy Grandwagon.
Design quirks and oddities
The phrase "The World's First Sport Utility Wagon" may be trademarked, but it is not entirely accurate. In 1979, American Motors launched the AMC Concord-based AMC Eagle, which was similar, but had suffered poor sales and was discontinued in 1988.
Awards
2009 Motor Trend Sport/utility of The Year
See also
External links
This page uses content from Wikipedia; see Subaru Outback, which includes these contributors.