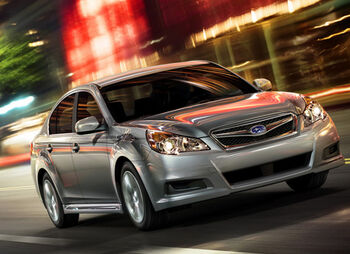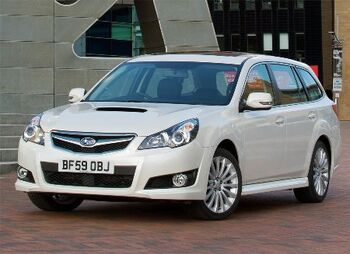 The Subaru Legacy is a mid-size sedan that was introduced by Subaru in February 1989 as a larger, more upscale companion to the Subaru Leone/Loyale. It came with a 2.0 L engine and was available with all wheel drive, which later became standard worldwide. In Australia, where it is sold as the Subaru Liberty (due to Australia's Legacy Clubs rejecting use of their name), it was Wheels magazine's Car of the Year for 1994 and again for 1998.
In the Pacific Northwest, the Rocky Mountain region and New England, the Legacy has gained considerable popularity as an icon of the outdoor lifestyle. The Legacy (and the Outback especially) typifies the outdoor lifestyle market in the US; this is an image of Subaru that differs greatly from that which the rest of the world has of it. The rise of the performance-oriented Impreza has done much to change the brand image in recent years, emphasizing performance and safety as well as utility.
On March 14, 2005, Subaru sold its three-millionth Legacy worldwide.
See Autopedia's comprehensive Subaru Legacy Review.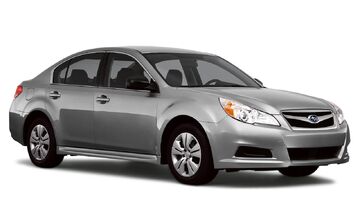 Recent Changes
Edit
On May 20 2009, Subaru unveiled the JDM only Legacy Touring. The AWD wagon is powered by a variety of 2.5 and 3.6 liter boxer engines producing anywhere between 170 to 265 hp. As a family hauler, it will come equipped with a host of electronic toys including radar based cruise control, GPS navigation, keyless entry with push button starting, and automatic windshield wipers. On Oct 2009, Subaru also unveiled the Legacy Tourer 2.0D forthe UK market.[1][2]
JDM
UKDM
The Legacy is all new for the 2010 model year. Although it is not set to officially debut until the 2009 New York Auto Show, the new Legacy will feature a new 3.6-liter Boxer 6 engine, styling from the Legacy Concept, more space, and more toys such as Subaru's new Lineartronic CVT. The new car was designed under Osamu Namba.[3]
For 2008, the Subaru Legacy Touring Wagon and B4 Sedan get reworked by Subaru's in house performance modification division STI.
Styles and Major Options
Edit
For 2007, the Legacy is available in either a sedan or a wagon. In addition, there are four trim levels offered: the 2.5i SE, 2.5i Limited, 2.5 GT Limited, and 2.5 GT spec.B. While the sedan is available in any of these trims, there is no 2.5 GT spec.B version of the wagon. The 2.5i models are powered by a 2.5L 175hp 4-cyl. engine, and while the 2.5i SE is available in a choice between a 5-speed manual transmission and a 4-speed automatic, the 2.5i Limited is only available in a 4-speed automatic/SPORTSHIFT manual transmission. GT trims are powered by a more powerful 2.5L 243hp 4-cyl. engine. As with all Subaru models, the Legacy comes equipped with all wheel drive.
From the 2.5i SE to the 2.5 GT spec.B, each trim level adds more standard features. Some of the standout items on each trim include:
2.5i SE
17" silver alloy wheels
Premium cloth seating
Carpeted floor trim
6-speaker AM/FM/CD audio system w/MP3 capability
Exterior temperature guage and trip computer
Power windows, locks and mirrors
2.5i Limited
Adds to or replaces i SE features with:
Driver/front passenger heated seats
Leather seating, shift knob, and steering wheel
Express open/close sunroof
Dual zone front air conditioning
2.5 GT Limited
Adds to or replaces i Limited features with:
Sports seating
Power front seats w/heated driver's side
6-speaker AM/FM/in-dash 6CD changer audio
MOMO leather steering wheel
Lip wing
2.5 GT spec.B
Adds to or replaces GT Limited features with:
Stability control
Sport suspension
Bilstein shocks
18" silver alloy wheels
Navigation system
Legacy Trims

2.5i SE
Sedan

2.5i Limited
Sedan

2.5 GT Limited
Sedan

2.5 GT spec.B
Sedan

2.5i SE
Wagon

2.5i Limited
Wagon

2.5 GT Limited
Wagon

MSRP

$20,495

$24,095

$28,295

$33,995

$21,495

$25,295

$30,895

Invoice

$19,365

$22,615

$26,438

$31,534

$20,277

$23,708

$28,807
Gas Mileage
Edit
As seen on the FuelEconomy.gov website, the City/Highway MPG averages are as follows:
Trim

2.5i SE
manual

2.5i SE
auto

2.5i Limited
auto

2.5 GT Limited
manual

2.5 GT Limited
auto

2.5 GT spec.B.
manual

MPG

22/29

23/30

23/30

20/27

19/25

19/26
Reliability
Edit
The 2007 Legacy received high marks on safety tests carried out by the NHTSA. Although no tests for side-impact were performed, the Legacy received a 5-Star rating for front-impact crash tests and a 4-Star rating for rollover. Some of the standard safety features on the Legacy include:
Front and rear anti-roll bars
Four wheel anti-lock brakes
Driver/passenger front impact airbags
Driver/passenger seat mounted side impact airbags
1st/2nd row overhead mounted airbags
Occupancy sensor8
Side impact bars
The fourth generation Subaru Liberty is the first car in its class to receive a 5 star rating from the Australasian New Car Assessment Program (ANCAP). [4]
Previous generations
Colors for the Legacy will vary by trim, and a full list is viewable at CarsDirect.com. Some of the available combinations include:
Exterior
Brilliant Silver Metallic
Diamond Gray Metallic
Newport Blue Pearl
Obsidian Black Pearl
Regal Blue Pearl
Interior
Charcoal Gray
Dark Charcoal
Warm Ivory
Main Competitors
Edit
Hybrid Models
Edit
There are currently no hybrid models of the Legacy in production.
Unique Attributes
Edit
The Legacy is the only vehicle that currently offers symmetrical all wheel drive as standard equipment.
Resale Values
Edit
According to Kelley Blue Book, the Legacy is expected to "hold its value as well as its best-performing competitors."
Criticisms
Edit
"Doesn't offer a lot of sex appeal." - New Car Test Drive
"Still not powerful enough" - USA Today
"Rear-seat passengers will find knee and toe space to be a bit tight." - Edmunds.com
"If you don't live in an area where slick roads are a regular concern, the premium price of all-wheel drive might seem unwarranted." - Kelley Blue Book
"Brakes feel mushy." - AutoWeek
"Some clunky interior bits, poor seat support." - motioncars.com
Generations
Edit
Current Generation: (2010–Present)
Edit
Previous Generations
Edit
Fourth generation (2005-2009)
Edit
The North American market launch of the 2005 model brought back the turbocharged Legacy to the region, much to the delight of the model's fans.

Length: 4665 mm
Width: 1730 mm
Height: - mm
Wheelbase: 2670 mm
Third generation (2000-2004)
Edit
Length: 4605 mm
Width: 1955 mm
Wheelbase: 2650 mm
Second generation (1995-1999)
Edit
All turbo models in North America ceased production with the introduction of the second generation Legacy, starting in 1995. The North American Outback model, with the help of clever marketing, halted declining sales and was instrumental in attracting investment interest from General Motors. GT models, first offered as a wagon trim package in 1994, became a full-blown upgrade in 1996, using the new DOHC 2.5 L engine. GT models continue to the present model, with Limited editions available, offering leather trim and a sunroof.
On April 23, 1998, a Subaru Legacy set a new world speed record for mass-produced turbocharged station wagons (1600 cc–2000 cc class), clocking 270.532 km/h over one kilometer on Highway 10 in La Junta, Colorado. This record was previously set by a Generation II Subaru Legacy in 1993 at 249.981 km/h.
First Generation/Origins (1990-1994)
Edit
In North America, the Legacy was introduced in 1990, with a 2.2 L engine driving front and all-wheel drive powertrains as options. Both sedan and wagon models were available. In 1991, a turbocharged sedan model became available, though its engine differed somewhat from that of other market offerings. A turbocharged wagon debuted in 1992 as a special edition.
The original Legacy speed record was set between January 2nd and 21st, 1989, with a Japanese-spec RS turbo sedan at the Arizona Test Center outside of Phoenix, Arizona. It broke the 100,000km FIA World Land Endurance Record by maintaining an average speed of 138.780 mph (223.345 km/h) for 447 hours, 44 minutes and 9.887 seconds, or 18 1/2 days. Pit stops were made every two hours with a driver change and refueling, while tire changes were made at 96 hour intervals, or every 13,400 miles driven.
Legacy chronology
Edit
| | |
| --- | --- |
| November 1988 | Production of the Legacy starts at the Gunma Yajima Plant |
| January 1989 | The Legacy sets a new FIA-certified 100,000-kilometer world speed record with an average speed of 223.345 km/h. |
| February 1989 | Introduction in Japan |
| April 1989 | Introduction in U.S. |
| September 1989 | Introduction in Europe |
| September 1989 | Production starts at SIA |
| October 1989 | 200 PS turbocharged GT launched in Japan |
| April 1990 | Legacy enters the World Rally Championship (WRC) |
| August 1993 | Legacy wins New Zealand Rally in WRC |
| September 1993 | The second-generation Legacy ( Station Wagon) sets an FIA-certified world speed record for 1 km in the mass-produced, unmodified station wagon division at the Bonneville Speedway near Salt Lake City, Utah, with an average speed of 249.981 km/h. |
| October 1993 | The second-generation Legacy debuts in Japan |
| October 1994 | 250T version with a 2.5 L flat-4 added in Japan |
| June 1995 | Production of the Outback starts at SIA |
| July 1995 | Engine assembly begins at SIA |
| June 1996 | GT-B introduced in Japan, with a 280 PS engine and Bilstein twin-tube shock absorber (inverted-type) |
| January 1997 | Cumulative production in Japan reaches the 1-million mark |
| April 1998 | The third-generation Legacy (Station Wagon) sets a new FIA-certified world speed record for 1 km with an average speed of 270.532 km/h. |
| June 1998 | All-new, third-generation Legacy introduced in Japan |
| December 1998 | B4 Sedan debuts in Japan |
| December 1998 | Awarded RJC New Car of the Year for 1998-99 in Japan |
| February 2000 | B4 Blitzen version introduced in Japan |
| May 2000 | Lancaster 6 with a 3.0 L flat-6 engine introduced in Japan |
| June 2002 | SIA celebrates the 1-million-unit milestone in its production of Subaru vehicles. |
| January 2003 | SIA is made a wholly owned subsidiary of FHI |
| May 2003 | The fourth-generation Legacy launched in Japan |
| November 2003 | Awarded the Car of the Year for 2003-2004 in Japan |
| December 2003 | Sales surpasses the 1-million mark in Japan |
| March 2005 | Production surpasses the 3-million mark worldwide |
Production numbers
Edit
Japan
SIA
Total
First-generation Legacy
620,444
204,168
824,612
Second-generation Legacy
495,471
466,354
961,825
Third-generation Legacy
434,624
467,447
902,071
Fourth-generation Legacy
204,776
106,716
311,492
Total
1,755,315
1,244,685
3,000,000
Production numbers as of March 14, 2005
Chassis codes
Edit
Generation I: BC - Sedan, BF - Wagon
Generation II: BD - Sedan, BG - Wagon
Generation III: BE - Sedan, BH - Wagon
Generation IV: BL - Sedan, BP - Wagon
(other similar chassis codes exist for VIN numbers in the North American market. BF may be shown as BJ on some Legacy wagons, for example. These chassis codes are almost universally recognized for the models they represent worldwide.)
The EJ-series engine was introduced first in the Legacy. It offers many important improvements over the previous engines, such as five main bearings instead of three. All Legacy engines are horizontally-opposed flat engines with at least one overhead cam per side. The great thing about the EJ series is its versatility - any EJ style engine will fit any subaru made between 1990 and 2006.
1.6 L & 1.8 L world-market four-cylinder engines exist. Some are likely to be carbureted, or feature a single central fuel injector.
2.0 L & 2.2 L fours were available in normally aspirated, fuel injected form in most markets. This is the most commonly used legacy engine. The 2.0L quad cam 16v version produces 123kW of power.
2.0 L turbocharged and intercooled fours have been a staple of the Legacy in world markets. Single and twin turbo models existed only in world markets, never available in North America. Twin turbos were used until 2003 when a single twin-scroll titanium turbocharger sourced from IHI and Mitsubishi- for automatic transmission models (and very similar to that used in the Mitsubishi Lancer Evo VII onwards) was adopted by Subaru.
2.2 L turbocharged four-cylinder engines were available in the North American Legacy between 1991 and 1994. This was a unique version not equipped with an intercooler while featuring a single overhead camshaft. It has many resemblances to the RA-version engines in world markets.
2.5 L, DOHC, normally aspirated and fuel injected four-cylinder engines were available in the US market beginning in 1996. A revised version, with a single overhead camshaft, was available in North American models beginning in 2000. Some hybrid versions have been known to exist in Outback models during the 1998–99 years. World markets received versions of this engine with variable valve timing as early as 2001.
2.5 L, DOHC, turbocharged and intercooled four-cylinder engines are available in North American market GT models, beginning in 2005. This engine shares many parts with other versions of the Impreza WRX STi, Forester XT and Baja Turbo, as well as the Outback XT which are available only in the North American market.
3.0 L, DOHC, normally-aspirated flat-6s became available in the Japanese market in 2000 and the North American market in 2001. This was a complete redesign, and shares only peripheral parts with earlier flat- or boxer-six engines. This engine is optionally available in the North American market Outback. An updated 3.0 L six, known as the EZ30R, features variable valve timing called AVCS. This version entered the North American market with the introduction of the 2005 Outback.
Performance models
Edit
Subaru has produced high performance versions of the Legacy with a Bilstein suspension and tuned turbocharged engines equivalent to the homologized rally version WRX STI (generating 205 kW on manufacturer's figures for the 2.0 L equivalent engine with manual transmission). Recent 3.0 L engines move close to the 2.0 L turbo output and share the Bilstein suspension. 2.0 L-engined turbocharged models with the Bilstein suspension were named either the GT-B (for wagons), or Spec B, or RSK-B4 (for sedans). The new 2003 model moved many models to simply B4 or even GT in some countries. The Spec B badge still exists in the UK, where the 3.0R stands as the premier MY06 model.
In North America, early sporty models were known simply as the Sport Sedan and Touring Wagon. Later models were given the GT and GT Limited nomenclature. The 2006 Legacy model brought forth a limited run of 500 Spec B models. This model features an improved suspension, navigation, larger wheels, and other driving and aerodynamic improvements over the GT model.
The new 2007 Legacy Spec B will be mass produced, unlike the limited production of 500 units from the '06 model within the US.
Motorsports
Edit
World Rally Championship
Edit
The Legacy was campaigned by Subaru in the WRC, with the help of Prodrive, beginning in 1990. It wasn't considered a truly competitive model at first, but showed promise under the command of Markku Alen, who in 1991 managed a third-place finish at the Swedish Rally. 1992 debuted the combination of experienced Group B, Pikes Peak International Hillclimb, and WRC driver Ari Vatanen, paired with the up-and-coming Scotish driver Colin McRae for Subaru's WRC effort. Two second place finishes, one by each driver, strengthened the commitment of Subaru to WRC, the Legacy, and their drivers.
1993 became a breakout year for Subaru as Colin McRae and Ari Vatanen pushed the Legacy to a third place finish at the Swedish Rally and a one-two placing after the first leg of the Acropolis Rally. Prodrive boss David Richards was eager to prove the potential of the new Impreza WRC car, but was charged with gaining a victory in the Legacy before the Impreza could debut. At Round 8, Subaru finally struck gold when McRae managed to hold back Francois Delecour in his Ford Escort for the win. This would be the last WRC event for the Legacy, as the Impreza debuted at the following event, where it placed second in the hands of Vatanen.
Richard Burns was successful in numerous events with the car during 1992 before joining the World Rally team to drive the Impreza in 1993. Alister McRae, Per Eklund, Possum Bourne and Hannu Mikkola also competed in the Legacy during its WRC participation.
The Legacy remains an ever-present competitor in rallies around the world. SCCA ProRally and Rally America participation from many teams has been impressive. The Legacy and the Impreza have many interchangeable parts which makes for a very competent and reliable entry.
Worldwide
Edit
Models have typically been released into Japan and selected World markets such as New Zealand and Chile in advance of the Continental European and North American markets, perhaps because all three are right-hand drive markets.
Generation I: 1989–1992
Generation II: 1993–1997
Generation III: 1998–2003
Generation IV: 2003–present
The first generation Legacy was also sold in Japan by Isuzu as the Aska CX, from 1990 to 1994.
In Japan, the Legacy has a reputation for being an affordable, quick, and nimble car. Subaru is trying to follow the success of the Impreza worldwide with the Legacy, offering turbocharged models in Japan and the Americas. The latest Legacy model has never had a turbocharged version released in Europe due to emission problems.
Design quirks and oddities
Edit
The exterior of the second-generation Legacy was designed by Olivier Boulay, who was hired by Subaru on a short-term basis. He would go on to participate in the design of the Maybach 57 and 62 and influence several Mitsubishi projects.
The Legacy has many different trim levels in the Japanese market, with an assortment of different names (i.e. Brighton, Lancaster, Outback, and VZ to name a couple). Perhaps the most dubious one of all would be the 1993 Subaru Touring Bruce, named due to Bruce Willis lending himself to a home market advertising campaign.
1990 NRMA Best Medium Car
1991 NRMA Best Medium Car
1991 RACWA Best Medium Car
1991 RACT Best Medium Car
1991 RACQ Best Medium Car
1991 Wheels Magazine Quality Rating Award
1992 NRMA Most Reliable Car
1992 RACV Most Reliable Car
2004 Japanese Car Of The Year
2004 RACV Australia's Best Mid-size Car Over $28,000
2005 RACV Australia's Best Luxury Car Under $57,000
2007 National Motor Vehicle Theft Reduction Council Secure By Design award
2009 Car of the Year Philippines Car of The Year & Mid-Sized Car of the Year [5]
External links
Edit
News & References
Enthusiast Sites & Discussion Forums
Blogs
References
Edit
Legacy Makes 3 Million [6] Subaru New-Zealand
Japan: Subaru Legacy Touring Wagon, B4 Sedan get "tuned by STI" treatment [7]
Community content is available under
CC-BY-SA
unless otherwise noted.