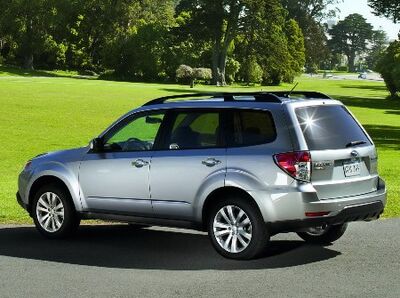 The Subaru Forester, released in the US in 1998, is a lightweight, small crossover SUV (or arguably a station wagon) based on the Subaru Impreza. Subaru advertising employed the slogan "SUV tough, Car Easy" to appeal to the SUV-oriented market; and to this end, the Forester has features associated with SUVs such as a large, boxy cargo area and more ground clearance than other Subaru models (although it employs a car-like unibody chassis, rather than the body-on-frame construction associated with trucks and larger SUVs).
See Autopedia's comprehensive Subaru Forester Review.
Recent Changes
For 2011, Subaru launched the JDM-only Forester tS. Based on the Forester S-Edition, the tS has been upgraded with a raft of STi parts including a modified suspension that sits 15 mm lower than usual, 17-inch alloys, a front spoiler and the customary tS logos. Inside there are STI sport seats wrapped in a combination of leather and Alcantara as well as a sports steering wheel and a modified instrument panel. Japanese customers will get to choose between four exterior colors and will have to pay 3,450,00 Yen (US $42,227 or €30,646) for the base model. Subaru said it plans to produce a total of 300 examples of the Forester tS. [1]
For the 2009 model year, the Subaru Forester is an all-new generation. Officially unveiled at the end of 2007, the new third-generation Forester rides on an all-new platform featuring a 3.6-inch longer wheelbase (103.0 in) equipped with Symmetrical All-Wheel Drive (as standard) driven by a choice of a naturally aspirated and turbocharged / intercooled 2.5-liter Boxer engines. The Forester will be on sale in the US market by spring 2008. The new car was designed under

Osamu Namba

.[1][2]
Several elements of the Forester were redesigned for 2006, including the headlights, taillights, grill and dashboard. In addition, its 2.5L engine was boosted from 165hp to 173hp and its turbocharged engine has increased from 210hp to 230hp. In addition, one of its trim lines, the XS, has been removed from production.
Styles and Major Options
For 2009, the Subaru Forester is available in four trims: the Forester 2.5 X, Forester 2.5 X Limited, Forester 2.5 XT, and Forester 2.5 XT Limited. All trims come equipped with Subaru's standard Symmetrical All Wheel Drive. Forester 2.5 X models are powered by a 2.5-liter flat-4 producing 170 hp @ 6,000 rpm and 170 lb-ft of torque @ 4,400 rpm.[3]
Pricing
Today's actual prices for the Subaru Forester can be found at CarsDirect.
Forester Trims

2.5 X

2.5 X Limited

2.5 XT

2.5 XT Limited

MSRP

$19,995

$25,995

$26,195

$28,195

Invoice

$18,913

$24,330

$24,557

$26,384
Gas Mileage
As seen on the FuelEconomy.gov website, the City/Highway MPG averages are as follows:
Trim

2.5L

2.5L Turbo

MPG

20/26

19/24
Reliability
While there have been complaints of transmission problems with vehicles with the turbo/5-speed combination, most have been fairly reliable. Interior build quality has been known to show wear early on, with Car and Driver's long term test car showing premature interior wear and squeaks and rattles at 40,000 miles. While the car will appear and sound worn, there will be know repairs needed causing its reliabilty rating to stay high. Long term durability is impeccable, as revealed at www.Edmunds.com, and www.Carsurvey.org
Safety
The Forester has received superb marks in crash tests performed by the NHTSA, scoring 5/5 stars in every category but Rollover Rating, for which it earned 4/5 stars. The following safety features are also standard on every trim:
4-Wheel Anti-Lock Brakes (ABS)
Electronic Brake-force Distribution
Electronic Stability Control
Daytime Running Lights
Driver/Passenger Front Airbags
Seat-Mounted Side Impact Airbags
Side-curtain Airbags
Side Impact Bars
Photos

Third Generation Development Prototypes
Colors
Colors for the Forester can be found at CarsDirect.com.
Main Competitors
Hybrid Models
There are no plans for hybrid models of the Forester.
Unique Attributes
Resale Values
Kelley Blue Book estimates that the Forester will have have a better resale value than the Ford Escape or Mazda Tribute, yet still trail behind the Honda CR-V in this category. Automotive Lease Group rates the Forester's resale value at 3 stars out of 5, which is equivelant to a D-.
Criticisms
"...the three rear headrests block your [the driver's rearward] vision." - The Detroit News
"Because the Forester delivers a choppier ride than some rivals with more vibration, it might not appeal to those who favor an always-gentle road experience." - Kelley Blue Book
"Refinement is roughly on par with the competitive Ford Escape and Mazda Tribute, but it falls short of Honda's CR-V." - Kelley Blue Book
"Like the Impreza, it looks somewhat blander than before." - motioncars.com
Current Generation: (2009–present)
Previous Generations
Second Generation (2003-2008)
In 2003, a turbocharged Forester, the XT, was released alongside the naturally-aspirated X and XS in the United States as a 2004 model, however the same model had been available since the late 1990s elsewhere in the world. The XT model features a 2.5 L turbocharged engine mated with the same Mitsubishi TD04 turbocharger used in the Subaru Impreza WRX. In fact, the engine in the 2004 to 2005 Forester XT is identical to the American market Subaru Impreza WRX STi except for using the smaller TD04 turbocharger from the WRX, a smaller intercooler, different exhaust system, and different engine management programming.
The 2003 Forester also features weight-saving refinements such as an aluminum hood, perforated rails, and a hydro-formed front frame.
In 2006, the turbocharged engine (powering the Forester XT) that won the International Engine of the Year is also being used in the Subaru Impreza WRX, as well as the re-badged Saab 9-2X.
Diesel version
Subaru released a diesel version of the Forester for the European market and a now Australian market in 2010.
The Forester offers hill-start assist, full-size spare wheel, self-levelling rear suspension and climate control air conditioning.
See Autopedia's comprehensive Subaru Forester Diesel Review.
Worldwide
Up until recently, the Forester was also sold in India as a Chevrolet alongside other Chevrolet models sold there. This model featured a naturally aspirated 2.0 L flat-4 engine rated at 120hp. However, since General Motors no longer holds an ownership stake in Subaru's parent company, Fuji Heavy Industries, this arrangement is in question.
Australia
The Forester has three main models available in Australia:
X - naturally-aspirated 2.5 L flat-4, 121 kW (162 hp)
XS - naturally-aspirated 2.5 L flat-4, 121 kW (162 hp)
XT - turbocharged 2.5 L flat-4, 169 kW (226 hp)
The difference between the X and the XS is the styling of the car through its accessories. Both the XS and the XT come with the option of having a "Luxury Pack" fitted - allowing for leather seats and a sunroof. Besides the difference in engine between the X or XS when compared to the XT, there are other minor styling differences like the addition of a MOMO steering wheel as standard on the XT model.
Currently, the Forester is Australia's best-selling SUV.
Design quirks and oddities
According to the Australian Used Car Safety Rating, the 1997-2002 Subaru Forester is the safest car which has the highest crash protection and the lowest aggressivity.UCSR Results for 1997-2002 Subaru Forester.
According to the What Women Want survey conducted by the RACV in 2003, the Forester is the most popular choice amongst women buying a Subaru.
Awards
Winner Australia's Best Recreational Four Wheel Drive in 2000
Winner Australia's Best Recreational Four Wheel Drive in 2001
Winner Australia's Best Recreational Four Wheel Drive in 2002
Winner Australia's Best Recreational Four Wheel Drive in 2006
Car and Driver's Best Small SUV 2004
Car and Driver's Best Small SUV 2005
Car and Driver's Best Small SUV 2006
2009 Carsales Compact SUV People's Choice Award
References
See also
External links