Search By Model
(insert logo here)
Defunct
The Stutz Motor Company, later reborn as Stutz Motor Car of America, was a producer of luxury cars. Production began in 1911 and continued through 1935. The marque reappeared in 1968 and lasted through the 1980s. Throughout its history, Stutz was known as a producer of exclusive cars for the rich and famous.
Stutz Motor Company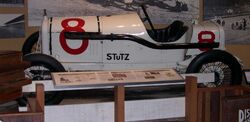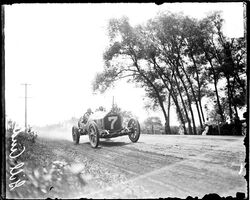 The company was founded as the Ideal Motor Car Company in Indianapolis, Indiana in 1911. Ideal entered a car in the Indianapolis 500 that year and placed 11th, earning it the slogan, "the car that made good in a day". The next year, the founder, Harry C. Stutz, renamed the company Stutz Motor Company and began selling high-performance roadsters like the famous Stutz Bearcat.
Stutz was forced to raise money to fund his automobile production, eventually selling the company in 1919 after a falling out with the companies major stockholder Allen Ryan, who then went bankrupt. In 1922, three Stutz investors, one of whom was Charles M. Schwab, gained control of the company. The new owners brought in Frederick Ewan Moskowics, formerly of Daimler Benz, Marmon, and Franklin, in 1923. Moskowics quickly refocused the company as a developer of safety cars, a recurring theme in the auto industry. In the case of Stutz, the car featured safety glass, a low center of gravity for better handling, and a hill-holding transmission called "Noback". One notable advance was the 1931 DOHC 32-valve V8, one of the earliest multi-valve engines.
In 1927, a Stutz set a world record for speed, averaging 68 mph (109.5 km/h) for 24 hours. The following year, a Stutz finished second at the 24 Hours of Le Mans, the best result for an American car until 1966. Stutz set another speed record at Daytona, reaching 106.53 mph (171.3 km/h), and the company placed fifth at Le Mans in 1929.
Production ended in 1935 after 35,000 Stutz cars had been manufactured. The former Indianapolis factory is today known as the Stutz Business Center and is home to more than eighty artists, sculptors, photographers, designers, architects, and craftsmen.
Stutz Motor Car of America
Virgil Exner had more luck with the Stutz name. In August, 1968, New York banker James O'Donnell raised funds and incorporated Stutz Motor Car of America. A prototype of Exner's Stutz Blackhawk was produced by Ghia, and the car debuted in 1970.
This incarnation of Stutz had some success, selling Blackhawks and derived models for more than a decade. Production of most models ended in 1987, though there was still some activity through 1995.
Trivia
The movie Never Die Alone prominently features a Stutz Blackhawk, driven by Earl "DMX" Simmons and David Arquette.
Gallery
Stutz Models
Stutz Motor Company
Stutz Motor Car of America
References
Community content is available under
CC-BY-SA
unless otherwise noted.