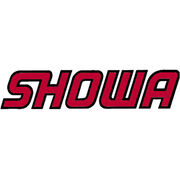 Showa Corporation (TYO: 7274) is a manufacturer of high-performance automotive, motorcycle and outboard suspension systems based in Gyoda, Saitama in Japan.
Founded in October 1938 in Japan's drive to develop its military capability in preparation for World War II, Showa supplied aircraft suspension and landing systems to various aircraft manufacturers. Banned from developing or manufacturing aircraft systems after the war, Showa entered the car components industry, using its aircraft knowledge to develop specialist suspension solutions for motorcycles made by the new company Honda.
The relationship between Showa and Honda developed over the years, with Honda Racing Corporation accounting for more than 50% of Showa's business.
Showa has overseas facilities in United States, Canada, Brazil, Spain, Wales, Indonesia, Thailand, Taiwan, India, China and Vietnam.
External links