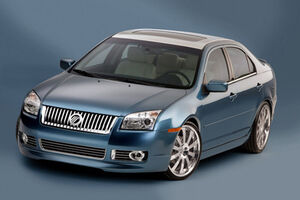 A sedan car, American English terminology (saloon in British English), is one of the most common body styles of the modern automobile. At its most basic, the sedan is a passenger car with a separate hood (bonnet in British English), covering the engine in the front, and a separate trunk (boot in British English), for luggage at the rear—the archetypical "3-box" car.
Historically, the usage of the term sedan has changed over time. Several versions of the body style exist, including four-door, two-door and fastback models.
Description
A sedan seats four or more and has a fixed roof that is full-height up to the rear window. Most commonly it is a four-door; two-door is rarer but they do occur (more so historically). In the U.S., this term has been used to denote a car with fixed window frames, as opposed to the hardtop style where the sash, if any, winds down with the glass. As hardtops have become rarer, this distinction is no longer so important.
Types of sedan
Two-door sedan
A two-door sedan is defined by the SAE as any two-door model with rear accommodation greater than or equal to 33 cubic feet (0.934 m³) in volume (a calculation made by multiplying the legroom, shoulder room, and headroom). By this standard, the Chevrolet Monte Carlo, Ferrari 612 Scaglietti, and Mercedes-Benz CL-Class coupes are all two-door sedans. Only a few sources, however (including the magazine Car and Driver), use the two-door sedan label in this manner.
In the popular vernacular, a two-door sedan is defined by appearance and not by volume—vehicles with a so-called formal roofline are called two-door sedans, while those with the more common sloping backlight are called coupes. This has led to the so-called four-door coupe, which is a sedan with classic coupe-like proportions. The designation was first applied by Rover to a variant of its P5 from 1962 until 1973. It has more recently been adopted by DaimlerChrysler for the Mercedes-Benz CLS-Class, which the Mercedes marketing department has erroneously called the first four-door coupe. Other companies are leaping into the segment as well, but the term four-door coupe is entirely aesthetical, and not the product of any formal definition. To make matters even more clouded, the Mazda RX-8 meets the volume requirement to be called a sedan, but it has vestigial rear-hinged rear doors, making it a 2+2-door sedan.
Hardtop and fastback sedans
Sometimes a particular fastback or hardtop car body style is referred to as a sedan. Both have the classic trunk (boot) at the rear of the vehicle. Classically a sedan will have a frame around the door windows, while the hardtop has frameless door glass. The hardtop design can be considered separately (i.e., a vehicle can be simply called a four-door hardtop), or it can be called a hardtop sedan. During the 1970s, hardtop sedans were often sold as sport sedans by American manufacturers. The more contemporary four-door sedans with B-pillars were called pillared hardtops or pillared sedans during this period. The sport sedan term has since been appropriated for other uses. A fastback sedan is simply a four-door sedan with a sloping rear deck, but still a separate trunk. An example is the 1978–80 Buick Century. In a way, the discussion is entirely academic, since no fastback or hardtop four-door sedans are built today.
Hatchback sedan
Hatchback (a.k.a. liftback) sedans are often described as well. Here, the car has fastback profile but instead of a trunk lid, the entire back of the vehicle lifts up (using a liftgate or hatch). A vehicle with four passenger doors and a liftgate at the rear can be called a four-door hatchback, four-door hatchback sedan, or five-door sedan. There can also be two-door hatchback sedans (three-door sedans), by the same technical explanation for two-door sedans. An example of this type is the Volkswagen GTI.
Sometimes, hatchback sedans can sometimes offer efficient sedan practicality and hatchback practicality both. Apart from the hatchback lid that allows you to store tall items, it comes with a detachable boot lid like you get in a normal sedan for efficient loads. This concept is seen in cars such as the Skoda Superb coined the 'Twindoor' and the BMW 5 Series Gran Turismo.
Small sedans
Sedan bodystyles on smaller cars are now less popular after the hatchback revolution during the 1970s (Except in the US, where sedans retain popularity), although many hatchbacks also form the basis of sedans. The first major Europe an manufacturer to phase out sedans in favour of hatchbacks was Renault, who invented the hatchback (Renault 4) in 1965. The 3-box sedan bodystyle is still used on almost all large and luxury cars, excluding the Renault Vel Satis—which has not been especially successful.
Terminology
Origin
The word sedan is possibly derived from a southern Italian dialect derivative of Italian sede "chair" (the first sedan was said to have been introduced from Naples). The derivation from the town of Sedan in France, where it was said to have been made or first used, lacks historical evidence, according to OED. The word sedan was later used to refer to a litter or windowed box containing a passenger seat carried by two or more bearers.
International terminology
In North American English, the term sedan is used.
In British English the configuration is called a saloon and has its engine under the bonnet at the front, and a boot for luggage at the rear. The British English term is sometimes used by British car manufacturers in the United States: the Rolls-Royce Park Ward was sold as a saloon in the United States, while the smaller Silver Seraph was called a sedan.
In Australia and New Zealand, the American term is now used, albeit with the British terms of boot and bonnet being retained. In other languages, sedans are known as Limousine (German), Berline (French), Berlina (Spanish and Italian), although these terms also may include hatchbacks. These terms, besides sedan, derive from types of horse-drawn carriages.