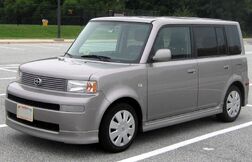 The Scion xB is a small wagon from Toyota's "youth brand", Scion. The xB first debuted in Japan, where it is known as the Toyota bB. It is based on the Toyota Yaris platform and gets excellent gas mileage.
Recent Changes
Edit
LA Show 2010: Scion Unveils New xB RS 8.0 Special. Limited to 2,000 units, pricing is set at $18,405 for the manual and $19,355 for the automatic. [1]
For 2011, the xB receives its first mid-cycle facelift. Besides the fascia nip and tuck, the interior also gets upgrades in the form of front seats with more bolstering, new center console w/ even more clever storage solutions, a sliding armrest, and tilt and telescope adjustments for the steering wheel. Going back outside, the 2011 xB will be offered with two new colours: Army Rock and Elusive Blue. Prices start at $16,000 for the manual and $16,950 for the slushbox.[2]
For 2008 the xB has got a complete overhaul adding 600 Pounds and a 2.4L I-4 with 158 bhp besides revised styling.
The Scion xB was introduced in 2004 and has undergone few exterior changes since then. For 2006, the audio system has received the most noticeable upgrade, with the inclusion of a Pioneer stereo and iPod connectivity.
For the 2009 Detroit Auto Show, Scion has unveiled another limited edition "Release Series" xB dubbed the Release Series 6.0. Only 2500 copies will be made of the 6.0 which adds an additional $1,743 to the xB's list price. What you get is a unique paint called "Absolutely Red", redesigned front grille and wheel covers, Pioneer Audio Visual Navigation system, red accents on various trim pieces and seat fabric and four-color interior lighting. [3]
Styles and Major Options
Edit
Scion has made a reputation of its customizability, and the xB is no different. Although only one base model exists, available options are plentiful for mixing and matching. The engine is a 1.5L 103hp I-4, and front wheel drive and a 5-speed manual transmission are both standard. There is an option for a 4-speed automatic transmission. Toyota/scion dealerships offered a number of factory installed (warrantied) options, which included suspension, a supercharger, and body add ons. Some of the standard features on the base model include the following:
15" black steel wheels
4-way sports seats
Cloth interior, door trim, and headliner
Metal-look dashboard insert
Manual front air conditioning
6-speaker Pioneer AM/FM/MP3/CD audio system
First aid kit
Power locks, windows, mirrors
Add more fields as necessary.
MODEL Trims
Manual
Auto
Trim3
Trim4
MSRP
$16000
$16950
$Price3
$Price4
Invoice
$Price1
$Price2
$Price3
$Price4
Gas Mileage
Edit
Add more fields as necessary.
As seen on the FuelEconomy.gov website, the City/Highway MPG averages are as follows:
Trim
Manual
Auto
Trim3
Trim4
MPG
30/33
30/34
c/h
c/h
Engine and Transmission
Edit
Specifications, details, graphs, pictures and other information regarding the powertrain is placed in this section.
Performance
Edit
Please make sure to write information of the vehicle's performance in a third-person point of view. This section should include information about the car's acceleration figures, handling, braking, etc.
If using information gathered from Road Test articles from a reputable automotive source, then please make sure to cite the quote.
Reliability
Edit
Although the xB has only been out for a few years, the 2004 xB received an overall Green rating from Automotive Information Systems, indicating that it experienced minimal problems in all categories. And Consumer Reports gave both the 2004 and 2008 xBs overall well above average ratings in the New Car Issue.
The NHTSA website categorizes crash test results for all Scion vehicles under Toyota and lists four stars for both the driver and passenger in the frontal impact test for the xB. In the side impact test, it lists three stars for the front seat and four for the rear for the 2006 xB. Earlier year models were not tested. According to Autos.com, the xB ranks 8th in the Compact Car category for safety. Unfortunately, this ranking is compromised by the fact that, due to several ties at higher ranks, the xB is actually listed behind a total of 31 other vehicles.
Standard safety features include:
Front and rear anti-roll bars
Four wheel anti-lock brakes
Driver/Passenger front-impact airbags
Side impact bars
Front seatbelt pretensioners
A full list of colors for the Scion xB is viewable at CarsDirect.com. Some of the available combinations are:
Exterior
Black Cherry Pearl
Black Sand Pearl
Camouflage Metallic
Envy Green
Polar White
Salsa Red Pearl
Shadow Mica
Thunder Cloud Metallic
Army Rock
Elusive Blue
Interior
Main Competitors
Edit
Release series vehicles
Edit
xB RS 1.0 only available in Hot Lava Orange with 2100 units produced (504 units w/5spd, 1596 units w/automatic).
xB RS 2.0 only available in Solar Yellow with 2500 units produced).
xB RS 3.0 only available in Envy Green with 2200 units produced)
xB RS 4.0 only available in Maziora Torched Penny (polarized goldish-brown) with 2500 units produced).
xB RS 5.0 only available in Gold Rush Mica with 2500 units produced (First RS Scion other than the tC to have a sunroof).
Hybrid Models
Edit
There are currently no hybrid models of the xB in production.
Unique Attributes
Edit
If there are any features of this vehicle that sets it apart from other vehicles in its class, then mention those unique attributes here.
This section should include information on the interior's design, build quality, ergonomics, space (head and legroom, front and rear), features, stowage compartments and overall comfort and livability. Add pictures wherever applicable and keep information in a third-person point of view.
Resale Values
Edit
According to Kelley Blue Book, "the xB is expected to retain a good portion of its value, with a projected 66-percent residual value at 24 months and an impressive 51-percent residual at 48 months."
<MODEL> Year
Year X
Year X-2
Year X-3
Year X-4
Resale Value
$
$
$
$
Criticisms
Edit
"The automatic transmission downshifted constantly on hilly terrain, upshifting soon after, then downshifting again for more power. Like an old VW microbus, acceleration is a relative term." - Cars.com
"About the only reason not to like the xB is if its styling turns you off." - Kelley Blue Book
Second generation: (2007-2015)
Edit
The second-generation Scion xB is styled as a 5-door hatchback of the t2B concept unveiled at the 2006 New York Auto Show. Toyota unveiled the production xB at the 2007 Chicago Auto Show. The new xB is less boxy in shape and larger than its predecessor. The 2008 model year xB is 2.8-inch (71 mm) wider, 12-inch (300 mm) longer - including 4-inch (100 mm) longer wheel to wheel - and over 600 pounds (270 kg) heavier than the first-generation xB.
The first-generation Scion xB was very similar to its original bB inspiration, but the second-generation xB was based on American buyers' "wants" relative to the first-generation, combined with the new styling of the 2005 bB. Unfortunately, as noted below, the sales of the Scion xB plummeted after the switch from the compact first-generation to the much larger second-generation xB2.
The Scion xB is produced by Kanto Auto Works, Ltd. based in Japan. Due to the 2011 Japanese earthquake, production was suspended from 14 March 2011 to 18 April 2011, affecting several Toyota vehicles, including the Scion xB and Scion xD. Plants affected by the disaster included the Toyota Motor Hokkaido Plant, the Toyota Motor Tohoku Plant, and the Central Motor Corporation Miyagi Plant, which produces the Toyota Yaris.
The second-generation xB is equipped with a 2.4 L straight-4 Toyota 2AZ-FEengine rated at 158 hp (118 kW) and 162 lb·ft (220 N·m), shared with the first-generation tC and the Toyota Camry, which at 22 mpg-US (11 L/100 km; 26 mpg-imp) city / 28 mpg-US (8.4 L/100 km; 34 mpg-imp) hwy has a higher fuel consumption than the previous model's 1.5 L engine (26 mpg-US(9.0 L/100 km; 31 mpg-imp) city / 31 mpg-US (7.6 L/100 km; 37 mpg-imp) hwy). A five-speed manual and a sequential-shift four-speed automatic are the only factory options aside from the color and stereo.
A choice of three new head units is available on all 2008 Scions. All sound systems feature six speakers and standard iPod connectivity. The base head unit has MP3, WMA, and AAC CD compatibility and Scion's SSP equalizer presets. The base unit can also be set to any of three Scion model presets (xB, xD, or tC) and includes an "Automatic Sound Levelizer" feature that automatically increases the volume as the vehicle speed and ambient noise increases. The Premium head unit features a small LCD that can display pictures and movies downloaded from Pioneer's website in addition to the features on the base unit. A navigation system is also available. The SNS 100 system can play DVD movies in addition to GPS functionality and the features of the base system, aside from the backlit color choices.
In 2011, for the 2012 model year, a new radio with bluetooth became standard.
All xBs come standard with four-wheel anti-lock brakes, brake assist,electronic brakeforce distribution, Vehicle Stability Control driver and front passenger dual stage airbags, front seat-mounted side torso airbags, front and rear side curtain airbags, and a first-aid kit.
In 2013, the xB was chosen by cars.com as a Top 10 Best Base Model.
SafetyEdit
Edit
The second-generation Scion xB has won the Top Safety Pick award by the Insurance Institute for Highway Safety (IIHS) for six years in a row. It received an overall "Good" score in the Insurance Institute for Highway Safety frontal offset crash test, and another "Good" overall score in the side impact crash test, with all nine measured categories also rated "Good".And a "Good" score in the roof strength test.
Car and Driver magazine rated the 2008 xB as one of the top ten safe vehicles under US$25,000.
Release series vehicles
Edit
2008 model year
xB RS 5.0 only available in Gold Rush Mica with 2500 units produced (second RS Scion other than the tC to have a sunroof)
2009 model year
xB RS 6.0 only available in Absolutely Red with 2500 units produced The RS 6.0 added $1,743 to the MSRP.
2010 model year
xB RS 7.0 with a four-piece DAMD body kit, only available in Murasaki (Purple), with 2000 units produced The RS 7.0 added $3000 to the base MSRP.
2011 model year
xB RS 8.0 with a four-piece Kenstyle body kit, only available in Voodoo Blue, with 2000 units produced The RS 8.0 added $2,405 to the MSRP.
2012 model year
xB RS 9.0 only available in Hot Lava with 1500 units produced. The RS 9.0 added $1,810 to the MSRP.
2013 model year
xB 10 Series only available in Silver Ignition with 2100 units produced. Scion 10 Series models were built to celebrate the 10th anniversary of the Scion brand. The xB model includes unique Silver Ignition exterior color, illuminating exterior Scion badges (front and rear), Pioneer touch screen audio system, solar-charged illuminating shift knob, individually numbered interior badge, graphite finish 16" alloy wheels, and jack-knife keys. The 10 Series added $2,410 to the MSRP.
2014 model year
xB RS 10.0 only available in Electric Quartz with 1500 units produced. Equipped with green Scion logo projection on the rear bumper, green Release Series logo and matching number projected on the front floor mats, wireless charging bin, green interior pattern, backup camera, Piano Black inserts and Tungsten wheel covers
Scion RIDE
Edit
It is a 1:18 Ridemakerz model based on the second-generation Scion xB. The body was available in Cannonball Black, Comet Blue and Wasabi Green.
The 7:8 full-sized concept and the toy were unveiled in 2007 SEMA show.
Toyota Corolla Rumion (E150N, 2007–)
Edit
A differently styled version for the Japanese market.
Toyota Rukus (2010–)
Edit
A differently styled version for the australian market, with the 2.4l 2AZ-FE engine and a four-speed semi-automatic gearbox, released June 2010.
2011 model year update
Edit
Scion announced in March 2010 that the 2011 model, on sale late March 2010, is being given a refresh. Two new colors are available, and there are minor changes to the exterior body, including a revised front and rear bumper, new front grill, and new headlights and tail lights. The interior changes include a revised gauge cluster, center console and new driver and front passenger seats with new materials. The MSRP rises US$150 to US$16,000 for the manual andUS$16,950 for the automatic transmission. In addition, the Scion xB went on sale in Canada for the first time along with the entire Scion lineup.
2013 model year update
Edit
For the 2013 model year, Scion made a few enhancements including remodeled front and rear bumpers and a few interior upgrades including the optional BeSpoke radio. New colors are Absolutely Red and Nautical Blue Metallic (Absolutely Red was available in 2009 as RS 6.0). Stingray Metallic and Elusive Blue Metallic colors were dropped (Stingray Metallic was a very expensive color and Toyota no longer offers it on any model). Sales of the 2013 model began in February 2013.
2014 model year update
Edit
Sales for the 2014 model began in December 2013. No major changes for this model year. All models now come with a standard Scion 6.1-inch display touch screen audio system.
2015 model year update
Edit
Sales for the 2015 model began in December 2014.  For the new model year, Scion added a standard backup camera to the xB as well as continuing the updates for 2014.
Discontinuation and replacement
Edit
There will be no 2016 model year for the Scion xB, and along with the Toyota Matrix, it was replaced by the second generation Toyota Auris-based Scion iM, which launched in April 2015 as the 2016 model year. The Japanese-market Toyota Corolla Rumion was discontinued on December 28, 2015 and the Australian-market Toyota Rukus was discontinued in October 2015.
Previous Generation: (2004 – 2006)
Edit
The xB was one of two models in the lineup of Toyota's US-exclusive Scion division present at the brand's 2004 launch (the other was the xA, based on the Toyota iSt). Both cars featured the 1NZ-FE engine, rated at 108 hp (81 kW) at 6,000 rpm and 105 lb-ft of torque at 4,200 rpm. Although Toyota expected the xA to sell better than the xB, the reverse was true, with the xB outselling its brother 2 to 1, possibly due to the xB's radical styling and its unique combination of van-like cargo and passenger space with a very compact size.
Worldwide
Edit
Differences between the xB and the bB
Edit
Besides the obvious change from right to left-hand drive, the front passenger area has changed significantly. The bB has a front bench seat and a column-mounted shifter for the automatic transmission. The xB, on the other hand, has 2 front bucket seats and a shifter mounted on the floor.
The available drivetrains also differ. The bB is available with either the 1.3 L 2NZ-FE engine or the 1.5 L 1NZ-FE, mated exclusively to a 4-speed automatic transmission, with available all-wheel drive. The xB is only available with the 1NZ-FE, but offers both a 4-speed automatic or a 5-speed manual transmission. All-wheel drive is not offered on the xB.
Toyota Corolla Rumion
Edit
In the Japanese Domestic Market, the Scion xB is know as the Toyota Corolla Rumion. It is similar to the xB save for a different front end design.[4]
Design quirks and oddities
Edit
The Transformer Alternator/Binaltech toy Skids transforms into a Scion xB. In Japan, he was repainted into Broadblaster (Blaster).
External links
Edit
Community content is available under
CC-BY-SA
unless otherwise noted.