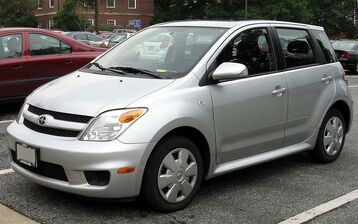 Scion xA is the American market name given to the Toyota iSt, a subcompact car based on, and very similar to the 1999 to 2005 Toyota Vitz hatchback, which served as the basement for Toyota Belta sedan sold in the US as the Toyota Echo.
Compared to the Echo, the xA features stiffer suspension, rear stabilizer bar, bigger brakes, more aggressive wheels/tires, and slightly more aggressive final-drive ratios. It also weighs 275 pounds more. It comes better-equipped than the Echo (i.e. standard anti-lock brakes, tachometer, power windows/locks, and a Pioneer MP3 stereo system). The xA has proved to be the slowest-selling Scion due to lack of appeal when compared to the xB. For the 2006 model year, Toyota/Scion has given the xA a "refreshed" look.
See Autopedia's comprehensive Scion xA Review.
Recent Changes
Edit
Some of the revisions included on the 2006 xA include revised front bumper, side skirts, and rear bumper. It also includes turn signal indicators on the side mirrors, audio controls located on the steering wheel, and it is the first production vehicle to offer an optional iPod input with headunit display. Other small changes to the xA for 2006 include a more refined, user-friendly headunit and more exterior colors.
Styles and Major Options
Edit
Technical Data:
Edit
Engine:

108 hp (81 kW) @ 6000 rpm (revised to 103 SAE net horsepower in 2006)
105 ft·lbf (142 Nm) of torque @ 4200 rpm (revised to 101 ft·lbf in 2006)

Cargo volume: 11.7 ft³ (331 L)
Add more fields as necessary.
MODEL Trims

Trim1

Trim2

Trim3

Trim4

MSRP

$Price1

$Price2

$Price3

$Price4

Invoice

$Price1

$Price2

$Price3

$Price4
Gas Mileage
Edit
EPA fuel economy ratings 2004: 32/38 mpg for both manual and automatic transmission.
EPA fuel economy ratings 2005/2006: 32/37 mpg with manual transmission, 31/38 mpg with automatic transmission.
Reliability
Edit
Warranty options and scheduled maintainence information should be mentioned here.
This section should reference points on safety ratings and features of the vehicle.
Add Photos of the vehicle here.
Please make sure not to use copyrighted photos.
List the colors that the particular <MODEL> is offered in.
Main Competitors
Edit
Create links to other <MAKE> <MODEL> pages in this section.
Hybrid Models
Edit
If there are hybrid versions of this vehicle manufactured, then please elaborate a little bit on it here.
Unique Attributes
Edit
If there are any features of this vehicle that sets it apart from other vehicles in its class, then mention those unique attributes here.
Resale Values
Edit
Add more fields as necessary.
<MODEL> Year

Year X

Year X-2

Year X-3

Year X-4

Resale Value

$

$

$

$
Criticisms
Edit
Please make sure to keep critiques in a third-person point of view. If using criticisms from a reputable automotive source, then please make sure to cite the quote.
Generations
Edit
Fill in as many as appropriate. Add more if necessary and pictures wherever applicable.
Please make sure NOT to use copyrighted pictures.
Current Generation: (YYYY–present)
Edit
Fifth generation (YYYY–YYYY)
Edit
Fourth generation (YYYY–YYYY)
Edit
Third generation (YYYY–YYYY)
Edit
Second generation (YYYY–YYYY)
Edit
First Generation/Origins (YYYY–YYYY)
Edit
Worldwide
Edit
If the vehicle is sold in other markets worldwide, then this is the section to mention that information. Also, mention if the <MODEL> goes by another name in these other markets.
Design quirks and oddities
Edit
Refer to any pop-culture tidbits about the vehicle in this section.
List out notable awards that the model has recieved while in production. Boldface the company or orgainization that gives out the award, and Italicize the name of the award.
External Links
Edit
This page uses content from Wikipedia; see Scion xA, which includes these contributors.
Community content is available under
CC-BY-SA
unless otherwise noted.