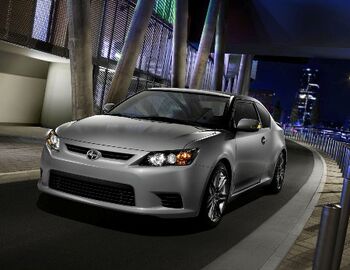 The Scion tC is a compact sports coupe which was initially introduced by Toyota in 2004 as a concept vehicle under its recently created Scion brand name. Significantly more powerful than its sister vehicles, the xA and xB, the tC offers some extra punch under the hood and promises to appeal to those a bit put off by the xA's size or the xB's funky style.
See Autopedia's comprehensive Scion tC Review.
Recent Changes
For 2011, the aging tC will be updated with an all-new model debuting at the 2010 New York Auto Show. The compact two-seater will fid motive power in the form of an all-new 2.5-liter inline four-cylinder engine with dual VVT-i that generates 180 horsepower and 173 lb-ft of torque, an increase of 19HP and 11 lbs.-ft of torque over the previous model, mated to a revised six-speed manual gearbox or a new six-speed automatic with sequential-shift that sends power to the front wheels. The car also rides on a new platform and gets a revised electronic power-steering and retuned suspension featuring MacPherson struts up front and double-wishbones at the back. It also rides lower than the previous model and comes standard with larger 16-inch disc brakes on all corners.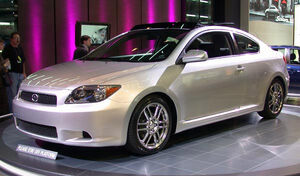 Cosmetically, very little has changed in the Scion tC since its 2005 debut. In 2006, the audio components received a nice upgrade when controls were placed on the steering wheel and a new head unit with iPod connectivity became available (which became standard on later models). In addition, Toyota Racing Development (TRD) has made an optional supercharger available for the tC which boosts its horsepower from 161hp to a whopping 200hp; however the TRD supercharger has since been discontinued as a dealer option.
2006: Steering wheel-mounted audio controls and auxiliary jack are standard. Head unit with iPod capability is optional.
2007: Several minor upgrades to 2AZ-FE engine. Compression raised from 9.6:1 to 9.8:1, intake cam duration and lift increased, piston oil squirters added, rev limiter raised to 6600rpm. Rating changes from 160 to 161hp with no change in torque rating, however dyno testing indicates an increase of approximately 5hp. "Spec" package is offered, characterized by steel wheels, fixed moonroof, and fewer interior amenities, at a discounted price.
2008: all tCs get projector headlights and updated taillights, front grill inserts, and standard iPod connectivity. The interior gets a few minor updates (including a standard leather-wrapped steering wheel) and the hatch now has an electric release. Seat-mounted side airbags and side curtain airbags are standard. Navigation is available as an option.
2009: seat fabric is updated. Spec package is discontinued.
Styles and Major Options
In keeping with Scion's simple, Pure Price philosophy, the tC is available in one standard trim: the 2-door coupe.
Specifications
Engine: Double overhead cam (DOHC) 16-valve VVT-i 2.4 L 4-cylinder
Power:
160-hp (119 kW) @ 5700 rpm (161hp from 2007+)
Torque: 163 ft·lbs (221 N·m) @ 4000 rpm
Transmission: 5-speed manual or available 4-speed electronically controlled automatic transmission
Highway fuel economy: 29 mi/gal (automatic); 27 mi/gal (manual)
City fuel economy: 21 mi/gal (automatic); 20 mi/gal (manual)
Fuel tank: 14.5 gal (54.9L)
Brakes: 4-wheel anti-lock braking system employing disc brakes on both the front and rear
Curb weight: 2,970 lb (1,347 kg) (automatic); 2,905 lb (1,318 kg) (manual)
Displacement: 2382 CC
Features
The Scion tC features a number of standard features, including:
Interior: Air Conditioning, Cruise Control, Tachometer, Tilt Steering, Steering Wheel Mountedl;kPressure Monitor, AM/FM/CD Pioneer audio system with 6 speakers and MP3 playback, A second-row reclining/folding seat and a panoramic moonroof/sunroof.
Exterior: 17-inch alloy wheels, power windows, power exterior mirrors, and intermittent windshield wipers.
Safety: Power Door Locks, Vehicle Anti-Theft, an Anti-lock braking system, Driver & Passenger Airbags, as well as a driver knee airbag, and Keyless Entry.
Pricing
Add more fields as necessary.
MODEL Trims
Trim1
Trim2
Trim3
Trim4
MSRP
$Price1
$Price2
$Price3
$Price4
Invoice
$Price1
$Price2
$Price3
$Price4
Gas Mileage
Add more fields as necessary.
As seen on the FuelEconomy.gov website, the City/Highway MPG averages are as follows:
Trim
Trim1
Trim2
Trim3
Trim4
MPG
c/h
c/h
c/h
c/h
Most owners find that the EPA currently underrates the tC significantly, reporting 24-28mpg in mixed driving and 32mpg or better on the highway.
Engine and Transmission
Specifications, details, graphs, pictures and other information regarding the powertrain is placed in this section.
Performance
Please make sure to write information of the vehicle's performance in a third-person point of view. This section should include information about the car's acceleration figures, handling, braking, etc.
If using information gathered from Road Test articles from a reputable automotive source, then please make sure to cite the quote.
Reliability
Cars.com has rated the tC a 5/5 in Reliability, and J.D. Power dubbed it "Highest Ranked Sporty Car in Initial Quality" when it debuted in 2005. Since then the brand has actually outperformed the Toyota brand in reliability.
Safety
NHTSA 2006 crash test ratings [1]
Side Impact Rating - Front: 4 out of 5 stars
Side Impact Rating - Rear: 4 out of 5
Frontal Crash Test - Driver: 5 out of 5
Frontal Crash Test - Passenger: 4 out of 5
Overall Rating: 4 out of 5
Photos

teaser
Colors
Azure Pearl
Black Cherry Pearl
Black Sand Pearl
Flint Mica
Nautical Blue
Classic Silver Metallic
Super White
Main Competitors
Hybrid Models
Scion currently does not produce any hybrid vehicles, and there are no plans to release a hybrid version of the tC.
Unique Attributes
The tC comes standard with a panoramic sunroof, which spans the entire width of the car. The front half of the sunroof tilts and slides, however the rear half is fixed. Both sunroof panels have retractable covers

Interior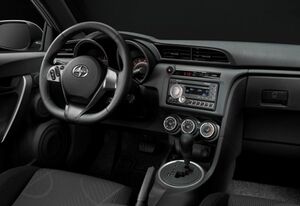 Resale Values
According to Kelley Blue Book, the 2006 Scion tC was predicted to retain an incredible 68% of its value after 24 months and 57% at 48 months. The 2007 model is expected to have the same kind of resale value.
<MODEL> Year
Year X
Year X-2
Year X-3
Year X-4
Resale Value
$
$
$
$
Criticisms
Cargo space is modest when the back seats are not folded down, and rear passengers taller than 6 feet may feel a bit cramped as well. Other items to consider are a relatively wide turning radius and side mirrors that do not fold in.
In early 2006, a recall was issued for some 2005 and 2006 tCs due to the possibility of the glass wind deflector being shattered by debris. Owners were requested to bring in their vehicles to have a shatter resistant film installed.
One man told the head of scion at the time before the tC should have been a new AE86, and it should have been RWD! We here at Autopedia agree.
Generations
Current Generation (2011–2016)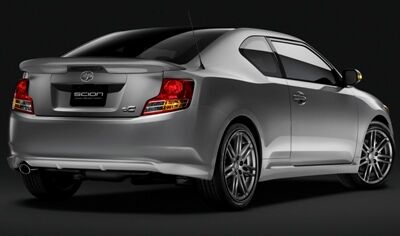 First Generation/Origins (2005–2010)
The Scion tC was designed to appeal to the Generation Y market and get them locked into the Toyota brand before any other car manufacturer could have a chance. They hoped to do so by making standard features numerous and optional features extremely easy to add. The Scion lineup in general, including the tC, was designed to replace the Toyota Celica, supplanting it with a sportier selection that would be more attractive to younger buyers.
The Scion tC uses the chassis of the Avensis which is sold in the European market, and the Camry's 2.4L 2AZ-FE I4 engine. Its low price (base MSRP of $17,770 for the 2010 model, incl. all delivery fees) is a major feature, as well as the pure pricing marketing style that Toyota has adopted.
The name tC does not fit in with its stablemates the xA and xB because the name "xC" has already been taken by Volvo for its XC70 and XC90 models. According to Scion, "tC" stands for "Touring Coupe," although rumors exist that tC stands for any number of things, including Toyota Celica.
Limited Editions
Beginning in late spring 2004, Scion launched the Release Series (RS) line, limited quantities of their current vehicles pre-packaged with individual numbered badging, exclusive accessories, and other special features. Limited edition vehicles from a marketing standpoint were used to create a buzz for the brandname, with their exterior colors tending to be loud or bright hues (i.e. orange, yellow, red, blue, green). Because of the growing popularity of the Scion product line and the scarce production runs (most dealers only get 2-3 of each RS model), these limited edition vehicles quickly sell out. Preordering is available at each dealership on a first-come, first-served basis. To the customer's benefit, Scion's "Pure Price" MSRP bounds dealerships against market-demand vehicle mark-up. Naturally, resale values of Release Series vehicles command a premium because of their packaged options and scarcity.
tC RS 1.0 only available in Absolutely Red with 2500 units produced
tC RS 2.0 only available in Blue Blitz Mica with 2600 units produced
tC RS 3.0 only available in Blizzard Pearl with 2500 units produced
tC RS 4.0 only available in Galactic Gray Mica with 2300 units produced
tC RS 5.0 only available in Black with 2000 units produced
Worldwide
Scion's xA and xB models were originally marketed in Japan under the Toyota brand name, but the tC was developed expressly for the US market.
Design quirks and oddities
Refer to any pop-culture tidbits about the vehicle in this section.
Awards
2005 - J.D. Power Highest Ranked Sporty Car in Initial Quality
See also
External Links
News & References
Enthusiast Sites and Discussion Forums