Saab 9-3
Saab
aka
"Sport Combi"
Production
1990-2011
Class
Sport Luxury
Body Style
4-Door Sedan
2-Door Convertible
4-Door Station Wagon
Length
182.4 in. - 183.2 in.
Width
69.0 in. - 69.4 in.
Height
56.4 in. - 60.6 in
Wheelbase
105.0 in.
Weight
4,170 lbs. - 4,570 lbs.
Transmission
5-spd Sentronic
6-spd Manual
6-spd Sentronic
Engine
2.0L I4
2.8L V6
Power
2.0L I4 210 HP
2.8L V6 250 HP
Similar
Mercury Milan
Lincoln MKZ
Toyota Camry Solara
BMW 3 Series
Platforn
GM Epsilon Platform
The Saab 9-3 is a compact executive car produced by the automaker Saab in Trollhättan, Sweden, although the convertible (cabriolet) version is made under license in Austria. It shares platforms with the Opel Vectra and the Cadillac BLS, although is only similar enough to the Cadillac BLS in order to be made on the same assembly line in Sweden.
The car is badged as a 93, although Saab consistently advertises it as the 9-3. The name is pronounced "nine three". The 9-3 was introduced in 1998 and was replaced by a newly developed 9-3 in the 2003 model year. The Saab 93, pronounced "ninety three" was a car produced by Saab from 1955 to 1960.
See Autopedia's comprehensive <MODEL> Review.
Recent Changes
For 2010, the 9-3 Cabriolet receives sporting credentials thanks to Hirsch Performance. The 9-3 Cabriolet Hirsch Edition, available only for the German market, squeezes 300 hp and 400Nm of torque from its 2.8 litre V6. It has also been fitted with lowered sport suspension to make full use of it as well as bigger 345mm brakes to stop and keep all that new found power under control when necessary. [4]
For 2008, Saab revives the 9-3 Convertible "Yellow Edition" for the third time. It is based on the 210 hp 2.0T. It is painted in Lynx Yellow livery and features 17-inch alloys, rear spoiler, premium audio system, XM radio and OnStar. The collectible will MSRP for $42,830, including destination charges. [5]
Styles and Major Options
Certain vehicles come in different trim levels or body styles. Features and major options should be mentioned here.
Pricing
Add more fields as necessary.
MODEL Trims
Trim1
Trim2
Trim3
Trim4
MSRP
$Price1
$Price2
$Price3
$Price4
Invoice
$Price1
$Price2
$Price3
$Price4
Gas Mileage
Add more fields as necessary.
As seen on the FuelEconomy.gov website, the City/Highway MPG averages are as follows:
Trim
Trim1
Trim2
Trim3
Trim4
MPG
c/h
c/h
c/h
c/h
Engine
Reliability
Warranty options and scheduled maintainence information should be mentioned here.
Safety
In 2008, the entire Saab 9-3 lineup was awarded the Top Safety Pick Award by the IIHS for the mid-sized category.[6]

Photos
Add Photos of the vehicle here.
Please make sure not to use copyrighted photos.
Colors
List the colors that the particular <MODEL> is offered in.
Main Competitors
Create links to other <MAKE> <MODEL> pages in this section.
Hybrid Models
Electric Models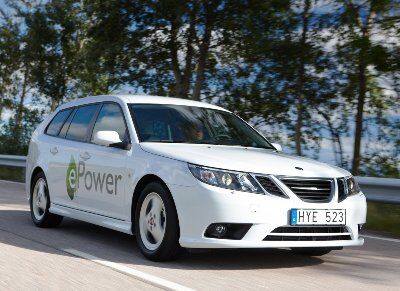 Saab is launching its first ever full electric vehicle in the form of the 9-3 ePower slated to debut at the 2010 Paris Motor Show. The car is motivated by a 184HP electric motor driving the front wheels through a single-speed transmission. Energy is provided by a compact 35.5 kWh lithium-ion battery pack located in a modified floor-pan, in a space occupied by the exhaust system and fuel tank on the standard 9-3 SportWagon. Acceleration to 60 mph (100 kph) takes respectable 9.5 seconds and will continue on to a top speed of 150km/h or 93mph. The projected driving range on a full charge is approximately 200 kilometers or about 124 miles.
Unique Attributes
If there are any features of this vehicle that sets it apart from other vehicles in its class, then mention those unique attributes here.
Interior
This section should include information on the interior's design, build quality, ergonomics, space (head and legroom, front and rear), features, stowage compartments and overall comfortability and livability. Add pictures wherever applicable and keep information in a third-person point of view.
Resale Values
Add more fields as necessary.
<MODEL> Year
Year X
Year X-2
Year X-3
Year X-4
Resale Value
$
$
$
$
Criticisms
Please make sure to keep critiques in a third-person point of view. If using criticisms from a reputable automotive source, then please make sure to cite the quote.
Generations
Fill in as many as appropriate. Add more if necessary and pictures wherever applicable.
Please make sure NOT to use copyrighted pictures.
Current Generation: (2008–present)
The 9-3 will be replaced by a new model based on GM's Epsilon 2 platform, shared with the 2008 9-5. This vehicle will be built in Rüsselsheim, Germany rather than Sweden.
Second Generation (2003-2008)
The second-generation model was launched at the Detroit Auto Show in early 2003. All variants feature either a 1.8t or 2.0t (both 2L engines, but with different turbo pressure) straight-4 gasoline engine derived from General Motors' Ecotec family, or a turbocharged 2.8 L High-Feature V6 (starting in 2006). There are two different versions of the turbocharged I4, with the amount of turbo boost determining the power output.
Power in the 9-3 is delivered through the front wheels only. It is available as a four-door sedan, a wagon (introduced 2004, known as the Sport Combi), and a two-door convertible. It is the safest car in its class, including innovations such as Saab Active Head Restraints (SAHR II) to reduce whiplash and ReAxs, passive rear wheel steering to reduce understeering and passive toe-in under heavy braking. Out of these models, the convertible (manufactured by Magna Steyr in Austria beginning in 2003) is the best known, and is the best-selling in its class in many markets.
The 9-3 and the Opel Vectra were the first of General Motors's global Epsilon platform, which has now been lengthened to accommodate three new cousins, the Chevrolet Malibu/Malibu Maxx and the Pontiac G6.
A special "20 Years Edition Aero Convertible" for the American market was unveiled at the Los Angeles Auto Show in January 2006 to celebrate 20 years since the introduction of the 900 convertible.
First Generation/Origins (1999–2003)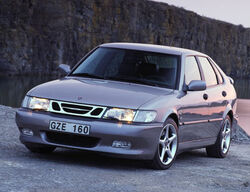 The original 9-3 was a rebadged, improved last-generation Saab 900. Launched in 1998 for the 1999 model year, it featured slightly sleeker styling with some models sporting a black rear spoiler and removed Saab's trademark centrally-mounted "snow flap". It was available as a three or five-door hatchback, and as a two-door convertible. This was the last small Saab to use the company's H engine.
Viggen
A high-powered, no longer in production version of the 9-3 was the Viggen, named after the Saab Viggen aircraft. It came with a turbocharged 2.3 L engine giving 168kW (225hp) in MY1999 and 172kW (230hp) in MY2000+. 0-100 km/h is done in 6.4 seconds and the top speed is 249 km/h.
Engines
A total of 326,370 were made.
Worldwide
If the vehicle is sold in other markets worldwide, then this is the section to mention that information. Also, mention if the <MODEL> goes by another name in these other markets.
Design quirks and oddities
In the What Women Want survey conducted by the RACV in 2003, the 9-3 convertible is the most popular choice among women buying a Saab.
Awards
2004
Best Pick in side-impact crash tests, American IIHS (Insurance Institute for Highway Safety), USA. The Sport Sedan repeats the "Best Pick" rating from last year's IIHS frontal offset crash test and is now the first car with standard safety equipment to receive a double "Best Pick" honour.
Received highest rating, "Good" in the IIHS & Thatcham studies into the safety of car seats and head restraints, Insurance Institute for Highway Safety USA, Thatcham, Great Britain.
Awarded Compact Executive Car of the Year, Auto Trader, Great Britain
Voted Top Small Executive Car, Top Gear Magazine's New Car Buyer's Guide, Great Britain
Awarded one of "10 best Cars of the Year", Hong Kong Car and Driver, Hong Kong
Awarded Best European Intermediate/middle sedan, Car Plus Award, Hong Kong
Recommended buy, US Consumer Reports magazine, USA
Awarded maximum five star rating in EuroNCAP collision test, Saab 9-3 Convertible, EuroNCAP
Named UK's Most Secure Open-Top Car, British Insurance Car Security Awards, Great Britain
Prestigious Sporting Open Top award, The Institute of Vehicle Engineers (IVehE), Great Britain
2002
Awarded maximum five star rating in EuroNCAP collision test, Saab 9-3 Sports Sedan, EuroNCAP
Best Family Sedan, Saab 9-3 Sport Sedan, PBS's MotorWeek television, USA
Prestige Car of the Year, Saab 9-3 Sport Sedan, Brisbane Courier Mail, Australia
Best Buy, Saab 9-3 Sport Sedan, Expressen, Sweden
Best New Car, Saab 9-3 Arc Sport Sedan ($30,000 - $40,000 range), Kiplinger's Personal Finance magazine, USA
1999
Among the Top Ten Cars of 1999. Fortune Magazine, USA
1998
One of the Top Ten Cars - Fortune Magazine, USA
Among Top Ten Family Cars - Consumer's Review, USA
See Also
External links
Related Links