Jurassic World: Dominion Dominates Fandom Wikis - The Loop
Play Sound
Search By Model


Defunct since 2012
Saab Automobile AB, better known as Saab, was a Swedish car manufacturer owned by the Dutch automobile manufacturer Swedish Automobile NV, formerly Spyker Cars NV. It was the exclusive automobile royal warrant holder as appointed by H.M., the King of Sweden. Since its inception, Saab has become known for turbocharging, "quirkiness", safety and "green" technology.
Once an exclusively Swedish automobile maker, Saab Automobile now manufactures cars in Japan, the USA and Sweden. Until 1990 the company was owned by SAAB, an acronym for "Svenska Aeroplan AB" (The Swedish Aeroplane Company), which also included SAAB Aerospace and truck manufacturer Scania. General Motors bought half of Saab Automobile in 1990, with an option to acquire the entire company within a decade. Before exercising that option GM shared its ownership of Saab Automobile with Investor AB, the main owner of Saab.
Company history
Saab was originally created as a division of the Swedish Aeroplane Company (Svensk Aeroplan Aktiebolag in Swedish). The company had been established in 1937 for the express purpose of building aircraft for the Swedish Air Force. With World War II nearing its end, the company began looking for new markets in which to expand.
Svenska Aeroplan Aktie Bolaget (1947–1969)
In 1944, Project 92 began, with the goal of creating the first Saab passenger car. Five years later, the Saab 92 began production. The design highlighted the company's roots in aviation. Notably, the car's drag coefficient of 0.30 was the lowest of any production car at the time.
In 1955 the SAAB 92 was reworked and became the SAAB 93. The engine was upgraded from two to three cylinders but unusually remained a two stroke. The car received a facelift, including the first Saab with the brand's trademark trapezoidal grille. A wagon variant, the 95, was added in 1959 and would remain in production for the next twenty years. The decade also saw Saab's first foray into true performance cars with the Saab 94, the first of four Saab Sonetts.
Saab-Scania (1969–1989)
In 1969, Saab partnered with Swedish Truck Manufacturer Scania.
The need for a larger model saw the birth of the Saab 99 in 1969. The 99 was the final Saab designed by Sixten Sason, who had designed all their earlier models. Its design, a clean break from all earlier Saabs, would mark the brand's styling for the next twenty years. The 99 was also important in that it marked Saab's first turbocharged model.
In 1970, the 500,000th Saab was built. Six years later the 1,000,000th would follow.
Saab signed an agreement with Fiat in 1978 to sell a rebadged Lancia Delta as the Saab 600 and jointly develop a new car platform. The agreement yielded the Alfa Romeo 164, Fiat Croma, Lancia Thema and Saab 9000, all riding atop the Type Four chassis.
1974, saw the introduction of the Combi-Coupe, what continued to live on in the 99, 900, 9000, NG900 & 9-3 as the hatchback which was ended in 2002.
General Motors ownership (1989–2009)
On December 1989 General Motors announced it had bought 50% of Saab on that year for US $600 million with an option to acquire the remaining shares within a decade. Despite this, losses continued and the Malmö plant was closed in 1991. At this point, Saab Automobile AB was created.
GM's involvement spurred the launch of the "new generation" Saab 900 in 1994. The new car used the same platform as the Opel Vectra and polarized Saab aficionados, but thanks to its sales, the company declared a profit in 1995 for the first time in seven years. In 2000, GM purchased the remaining shares of Saab, making the company a wholly-owned subsidiary.
In March 2005, it was announced that GM would move the production of the next-generation Saab 9-5 from Trollhättan to the Opel plant in Rüsselsheim, Germany in 2009. The Trollhättan factory now produces European Cadillacs. The next-generation Saab 9-3 is scheduled to be produced at Trollhättan.
Current models are the 9-3 and 9-5, both of which are manufactured in Trollhättan, Sweden and the Saab 9-7X SUV, and has been discontinued since 2008, manufactured in Moraine, Ohio. The Saab 9-2X, a rebadged Subaru Impreza that was manufactured in Japan, was discontinued after the 2006 model year.
A new crossover SUV, dubbed the 9-4X, will share a platform with the new Cadillac BRX and is expected to go on sale in 2010. It will be built in North America.
Criticism of GM's management of Saab
In 1990 GM purchased half of Saab (and bought the other half ten years later) in what is now seen as an impulse buy. Saab loyalists have long criticised GM's badge engineering of Saab products. This criticism reached a fever-pitch with the introduction of the Subaru-derived 9-2X (derisively called the "Saabaru" by American critics) and the Chevrolet-derived 9-7X SUV. The 9-2X sold very poorly, with Saab barely managing to sell a few thousand of them. Likewise, the 9-7X SUV has garnered slow sales when compared to competing brands.
The Saab brand overall has not been a money-maker for GM, with total losses 1990-2005 exceeding US $2 billion, showing black digits only two of these years. The losses are all the more daunting because Saab, in 2005, posted record unit sales in Europe, its core market. These losses led GM's most vocal investor, Kirk Kerkorian's Tracinda Corporation, to renew its call for GM to cut its losses and dump the Swedish brand. However, there did not seem to be any parties interested in acquiring the brand. In late March, 2006, it was reported that Mr. Kerkorian reversed his position and now is a supporter of the Saab brand (he had also voiced criticism of GM's Hummer brand).
2009 Sale
In December 2008, General Motors Corporation announced that Saab is "under review", which may also include the possible sale of the Swedish carmaker.[1][2] 27 parties reportedly expressed interest in buying the company, among them BMW, Renault, the Hyundai-Kia group, Tata Motors, Geely Automotive, Fiat and Magna International.[3][4][5][6][7] Saab is currently holding talks with three selected bidders, which are reportedly the Renco Group, Koenigsegg with financial backing from Norwegian investors, and Merbanco, a group of Wyoming-based private investors.[8]
On 11 February 2009, Saab Automobile announced the Saab 9-3X – a new addition to the 9-3 range with all road capabilities.
On 17 February 2009, Saab's parent company GM announced that it believed Saab could apply for administration within 10 days unless it received substantial aid from the Swedish government. GM had requested 5 billion Swedish Kronor (US$565 million, €449 million) in state aid to help keep the company going until the start of 2010, however the Swedish government has appeared reluctant to provide this aid, and the Swedish Industry Minister was quoted in the press to have stated "The Swedish state and taxpayers in Sweden will not own car factories. Sometimes you get the impression that this is a small, small company but it is the world's biggest automaker so we have a right to make demands."[9]
On February 20, 2009 Saab duly entered administration which is seen as the equivalent of US Chapter 11 bankruptcy at the district court of Vänersborg. Saab's managing director Jan-Åke Jonsson said that this was "the best way to create a truly independent entity that is ready for investment".[10][11] The Swedish Prime Minister Fredrik Reinfeldt said on 18 February 2009 that the U.S. company's demands amounted to a "trap" set to pressure the government into granting financial aid.[12] The Swedish trade minister, Maud Olofsson suggested the company had a brighter future moving to production of wind power turbines than continuing to produce cars in an already oversupplied market.
The Saab "wordmark" has now been launched as a replacement for the Saab-Griffin logo that has been used for the past twenty years.
On June 11, 2009 a letter of intent was signed by Koenigsegg and a group of Norwegian investors to purchase Saab.[13] This was followed 5 days later, on June 16, 2009, with GM and Koenigsegg releasing a memorandum confirming that a tentative agreement has been reached between the two parties, securing the sale of mismanaged subsidiary to a consortium led by the Swedish supercar maker. The purchase will be partly funded by a $600 million commitment from the European Investment Bank (EIB) guaranteed by the Swedish government. As part of the agreement, GM will continue to provide support in the form of providing platform and powertrain technology during a defined, though not yet disclosed, time period.
End of the Road
Following the collapse of talks with Koenigsegg, GM has indicated that it would eliminate the brand in 2010 if it failed to find a buyer by the end of 2009.[14] A number of buyers have expressed interest in the brand, including Beijing Automotive Industry Holding Corp, a Chinese-based company, and Netherlands-based boutique automaker Spyker. The latter company, along with its largest shareholder, Convers, has confirmed that it is in talks with GM to buy Saab before any liquidation is consummated. Any purchase of the ailing automaker would be in stark contrast to Spyker's current business model, which focuses exclusively on hand-made luxury vehicles, primarily for the U.S. market.[14] The Swedish government has remained willing to guarantee any loans made to keep Saab afloat, provided the purchasing party retain manufacturing within Sweden.[14] As of December 14, 2009 Beijing auto has negotiated the right to the powertrain technology of Saab giving them better technology than what GM currently uses.
On December 18, 2009, General Motors announced it was unsuccessful in finding a buyer for Saab. As a result, GM announced that the brand would be "wound down" to extinction. As of this writing, GM has not yet elucidated on the fate of the production-ready 2010 Saab 9-5 and the almost ready Saab 9-4X CUV. GM extended the sale of Saab to Spyker, and in early 2010, Spyker was confirmed the buyer of Saab.
On 19 December 2011, with no alternatives left after General Motors threatened to cut of deliveries, Saab officially filed for bankruptcy after a three-year fight for survival, bringing a 64-year-long chapter in Swedish industrial history to an end. Youngman has expressed interest in buying the company and continue production.
Competition history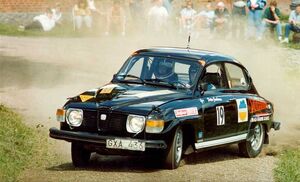 Some of the early cars such as the two-strokers, V4s and Saab 99 were quite successful in rally sport, notably the 96 in the 1960s RAC Rally and Monte Carlo Rally, driven by Erik Carlsson.
In 1950 two Saab 92s (chassis numbers 7 and 8) enter the Monte Carlo Rally. The two cars are manned by Rolf Mellde and K G Svedberg in one and Greta Molander and Margaretha von Essen in th second. Greta Molander comes in 55th overall, 5th in her class and 2nd in the Ladies Class. In Rikspokalen in November Rolf Mellde wins and Saab becomes the best marque team with Mellde, Svedberg and Greta Molander, who also wins the Ladies Class.
1952 Greta Molander and Helga Lundberg win the Ladies Cup in the Monte Carlo Rally.
1953 Rolf Mellde wins the Swedish Rally Championship.
1955 he lands on the roof, but still manages to win Rikspokalen in a Saab 92.
1956 Bob Wehman and Louis Braun win the Great American Mountain Rally (GAMR). Rolf Mellde comes in sixth and another Saab 93 in seventh place.
1959 two Saab 93 are entered in the 24 Hours at Le Mans. The one driven by Sture Nottorp and Gunnar Bengtsson come in 12th overall and second in its class. The same year Erik Carlsson wins the Midnight Sun Rally.
1960 Erik Carlsson wins the RAC Rally and Saab start competing in Formula Junior with the Saab Formula Junior.
1961 Erik Carlsson enters the Monte Carlo Rally in a Saab 95 and finishes fourth, and wins the RAC rally for the second successive year.
1962 Erik Carlsson and Gunnar Häggbom win the Monte Carlo Rally, and completes a hat-trick of RAC rally wins.
1963 Erik Carlsson again wins the Monte Carlo Rally, this time with Gunnar Palm as co-driver. They also finish second in the Spa-Sofia-Liège Marathon de la Route.
1968 Simo Lampinen wins the RAC Rally in a Saab 96V4.
1971 Stig Blomqvist wins the Swedish and RAC Rallies in a Saab 96V4. Erik Carlsson retires from rallying and become Saab ambassador.
1976 Stig Blomqvist wins the Belgian Boucles de Spa Rally in a Saab 99 EMS.
1977 Stig Blomqvist wins the Swedish Rally in a Saab 99 EMS.
1979 Stig Blomqvist wins the Swedish Rally in a Saab 99 Turbo. The first time a turbocharged car wins a World Championship rally.
1980 Saab withdraws from all competition activities because of the high cost, because it has become impossible to win with standard cars and being a small manufacturer SAAB could not afford to build special a "Homologation Special" like the Ford RS200 and Lancia Stratos and also because competition cars had evolves so they had too little in common with production cars to be of value to their development. Some people from the competition department branch out and start Trollspeed aimed at producing competition upgrades for Saabs.
2000 Saab returned to competition by sponsoring

Swede Team Motor

who compete with a Saab 9-3 Aero SportSedan, a Saab 9-3 Combi Coupe and a 1964 two-stroke Saab 96. The return to competition was to attract students to the auto-mechanic educations. The students get to work on the race cars before, during and after races to expand the students' knowledge and quality awareness.
Other highlights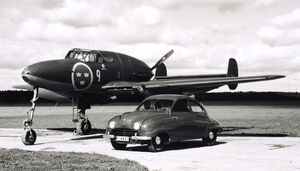 In 1958, the GT 750 was the first car fitted with headrests as standard.
In 1962, Saab became the first volume maker to offer diagonally-split dual brake circuits.
In 1970, Saab introduced a 'world-first' - headlamp wipers and washers.
In 1971, heated front seats were also introduced that year, the first time in the world that they were fitted as standard.
In 1971, Saab developed the impact-absorbing, self-repairing bumper.
In 1972 Saab introduced the concept of side-impact protection bars.
In 1977, Saab was the first manufacturer to put turbochargers in mass production cars.
In 1978, another 'world-first' was the passenger compartment air filter.
In 1980, Saab introduced

Automatic Performance Control

(APC).
In 1983 they introduced the 16-valve turbocharged engine and introduced asbestos-free brake pads.
In 1985 SAAB pioneered direct ignition, which eliminates the distributor and spark plug wires.
In 1986, the Saab 9000 became the first front-wheel drive car to offer ABS.
In 1990, the 'light-pressure turbo was introduced.
In 1991, Saab is the first manufacturer to offer CFC-free air-conditioning.
In 1992, Saab unveil the 'Trionic' ignition, with a 32-bit micro-processor.
In 1993 came the 'Sensonic' clutch and the 'Black Panel'.
In 1993, Saab developed 'Safeseat' rear passenger protection.
In 1996, Saab introduce the SAHR (Saab Active Head Restraint) for the seats.
In 1997, Saab fit ventilated front seats to the 9-5, another world-first in a passenger car.
Trivia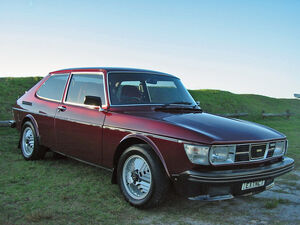 Saab cars are subjected to the moose test (aka elk test).
The first Saab, Saab 92, was hand-hammered into shape by using a support that consisted of an oak stump placed on top of a pile of horse-dung. Using the horse-dung support, the craftsman could get the correct response.
In order to increase production volume, Saab helped Valmet to start a car factory in Uusikaupunki (Nystad), Finland. Since 2003, Saab no longer manufactures any cars in Finland as the production of the 9-3 Convertible was moved to Graz, Austria.
A common feature of Saab car types is the use of the number 9 in the model numbers. Current models are the 9-3 and 9-5, both which are manufactured in Trollhättan, Sweden, and the 9-2X and 9-7X, which are manufactured by Subaru and General Motors. The exception to this naming rule is the Saab 600, which was a rebadged Lancia Delta.
All modern Saabs (except the 9000 and 9-2X) instead have a floor-mounted ignition. Saab believes this is a safer position in case of an accident. The driver's knee often jerks upward in a collision; the compact and dense ignition module on the steering column of many other cars has shattered many kneecaps. Second, the floor-mounted position yields more space, allowing modern Saabs to have a metal bar that rotates over and up into the ignition when the key is turned to the "Lock" position. This makes Saabs very challenging to hotwire. Last of all, the ignition is located on the floor because, in the airplanes that inspired Saab automobiles, the throttle controls were all located down on the floor. Originally Saabs also had the key located on the right side of the steering column, but when they changed from a column shifter to a floor shifter, the ignition key followed along, except in the Sonett III and 9000.
In 1986 the

Saab Long Run

took place. Three standard Saab 9000 Turbos set 2 world records and 21 international records at the Talladega Superspeedway in Talladega, Alabama, USA. 100,000 km (62,137 miles) were covered with an average speed of 213.299 km/h (132.537 mph) and 50,000 miles (80,467 km) with an average speed of 213.686 km/h (132.778 mph).
Ten years later, in 1996, three standard Saab 900 (NG) Turbos driven by factory test drivers and two standard naturally aspirated Saab 900s driven by journalists set new world records on the same speedway.
In 1987, Saab created a TV advertisement called "Saab suite" (subtitled Ballet in 3 acts for 8 SAAB 9000 Turbos). In the film, stunt drivers show incredible driving with stock cars, such as one-wheeled burnouts, bumper-to-bumper driving through a slalom, cars slaloming from opposite directions on the same course, two-wheel driving, sliding in full speed, and jumping over passing cars—all on a closed airport runway with classical music playing in the background.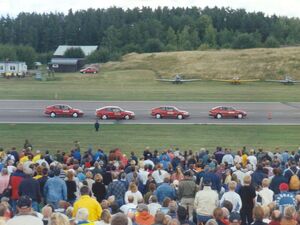 To commemorate its 40th anniversary, Saab formed a Performance Team in 1987, which laid on exhibitions of automobile acrobatics and formation driving. Initially this was done with Saab 9000s, as above, then later models, such as the Saab 900 were used. All of the team's members have previously competed in rallies, but what's unusual is that all 5 Performance Team members hold regular jobs at Saab: there are two engineers, a quality controller, a technician and the head of Saab's photo studio. The picture shows these vehicles on display at the Diamond Jubilee celebrations of the Saab Aircraft Company, at Linköping, in 1997.
Dating back to 1937, Svenska Aeroplan AB (SAAB) created airplanes, introducing their first car, the Saab 92001, in 1947. Currently, Saab AB is separate from Saab Automobile (which is owned by General Motors), and is probably best known for its Saab 37 Viggen (the Viggen badge would be shared by a 9-3). This has led to the current ad campaign, "Born From Jets," evoking the days when Saab produced both aircraft and automobiles.
Historical models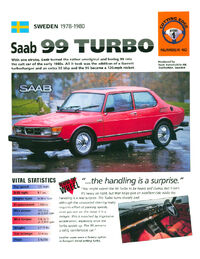 Current models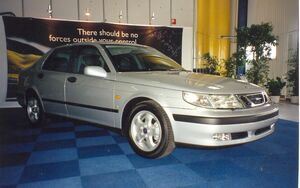 Experimental vehicles and prototypes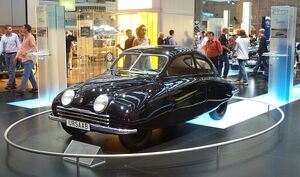 SAAB in popular culture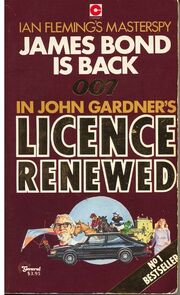 SAABs are notable for having inspired several popular songs:
"Driving in my Saab" by Sonic Surf City.
On Mark Wahlberg's album Music for the People he poses with a Saab 9000
The Australian band 78 Saab.
"Me and my old 96" by Twang Gang.
"Saab 99" by Hjalle & Heavy
SAAB cars can also been seen in several popular movies (see also IMCDB):
Bamse (aka The Teddy Bear) (1968) - Saab Sonett II V4
Throw Momma from the Train (1987) - Saab 96
Back to the Future Part II (1989) - Saab EV-1 seen in the background in the scenes in the future
Who's Harry Crumb? (1989) - classic Saab 900
Crazy People (1990) - Saab 99 (supposedly a 1976 99 GLE)
Straight out of Brooklyn (1990) Saab 900 - during robbery
Final Analysis (1992) - classic Saab 900 cabrio
Mr. Jones (1993) - classic Saab 900 cabrio driven by the female main character
I Love Trouble (1994) - classic Saab 900 cabrio
Reality Bites (1994) - classic Saab 900 cabrio
The Arrival (1996) - Saab 95 V4
A Time to Kill (1996) - classic Saab 900 cabrio
Beautiful Girls (1996) - Saab 9000
Rowing Through (1996) - Saab 96
As Good as It Gets (1997) - Saab 900 Cabrio
The Boxer (1997) - Saab 99
Grosse Pointe Blank (1997) - Saab 900 cabrio
Volcano (1997) - Saab 900
City of Angels (1998) - classic Saab 900
Deep Impact (1998) - classic Saab 900 driven by main character (a 9000 can also be seen in the background)
Inside Man (1998) - classic Saab 900
Martha, Meet Frank, Daniel and Laurence (aka The Very Thought of You) (1998) - Saab 96 V4
Moving (1998) - A silver Saab 900 turbo was Richard Pryor's pride and joy
Under solen (Under the Sun) (1998) - Saab 92
High Fidelity (2000) - classic Saab 900 cabrio
What Lies Beneath (2000) - classic Saab 900 crashed by wife
Woman Wanted (2000) - classic Saab 900
Bandits (2001) - Saab 9-5 Estate
Swordfish (2001) - Saab 9-3 convertible driven by Hugh Jackman.
Polonaise (2002) - Saab 99 GL
The Sweetest Thing (2002) - SAAB 9-5 Estate
Sweet Home Alabama (2002) - Saab 9-3 Cabrio driven by main character
The Transporter (2002) - classic Saab 900
Black Cadillac (2003) - burgundy classic Saab 900S driven by main characters who after a wild night in a bar, find their Saab being chased by a mysterious black 1957 Cadillac Eldorado.
Gothika (2003) - SAAB 9-5 Estate crashed by Halle Berry's character.
Highwaymen (2003) - classic Saab 900 driven by one of the main characters
Love Actually (2003) - Jamie (Colin Firth) drove a navy Saab 900s in France in numerous trips with his love interest (later wife) Aurélia.
The Bourne Supremacy (2004) - Saab 9-3 Cabrio
Secret Window (2004) - Saab 9-3
Sideways (2004) - classic Saab 900 cabrio
Taking Lives (2004) - SAAB 9-3 Cabrio and several 900s (in the background)
SAAB cars can also been seen in several TV series:
Tru Calling - Tru drives a red 1987 Saab 900
Seinfeld - Jerry Seinfeld drives a black 1995-96 Saab 900SE convertible in the American sitcom, which made prominent appearances in numerous episodes.
SAAB cars are also mentioned in several novels:
Angels and Demons - Robert Langdon drives a Saab 900S
Detective Inspector John Rebus, in a detective series by Ian Rankin, drives a Saab.
The Saab 900 Turbo was James Bond's vehicle of choice in many of the John Gardner Bond novels of the 1980s, beginning with Licence Renewed. In the second novel, For Special Services, the 900 was dubbed the "Silver Beast" [1]. The car is Bond's private vehicle that he had outfitted with various gadgets by the real-life company Communication Control Systems, Ltd. (CCS). In conjunction with the release of Licence Renewed, Saab had a real "Silver Beast" created that was virtually identical to the specifications in the book. The car is currently located at the Saab Museum in Trollhättan, Sweden.
In Paul Auster's novel The Music of Chance the main character drives a Saab 900.
In Louis Begley's novel About Schmidt the main character drives a Saab and crashes it into a tree.
In an essay originally published in In These Times in November, 2004 entitled Have I Got A Car For You, writer Kurt Vonnegut recounts his experiences as the owner/operator of a Saab dealership in West Barnstable, Massachusetts and humorously claims that his criticism of Swedish engineering is the reason he was never awarded a Nobel Prize in Literature. The essay also appeared in the 2005 anthology "A Man Without A Country."
A Hewlett-Packard CPU-support chip features a Saab 900 Turbo 16 Cabriolet.[2][3]
See also
Saab, airplanes.

Talbot Horizon

- This vehicle replaced the Saab 96 on the Valmet line and used many of the same parts, especially in the interior

Saab Turbo Mobil Challenge

Barber Saab Pro Series
References
External links