SEAT Ibiza
SEAT
aka
Ibiza SportCoupé
Production
1985 - Present
Class
Supermini
Body Style
how many doors+how many seats+what type of body
Length
3994 mm
Width
2470 mm
Height
Height - type here
Wheelbase
wheelbase - type here
Weight
1027 - 1210kg
Transmission
transmission + drive
Engine
DOHC
Power
N/A hp @ N/A rpm
N/A lb-ft of torque @ N/A rpm
Similar
similar (competition)
Designer
Giorgetto Giugiaro
The SEAT Ibiza is a supermini car manufactured by the Volkswagen Group and sold under the SEAT brand. The Ibiza is based on the same chassis as the Volkswagen Polo, itself a modified version of the Volkswagen Golf chassis. The SEAT Ibiza was originally designed by Giorgetto Giugiaro, who also designed the VW Golf amongst many others.
See Autopedia's comprehensive SEAT Ibiza Review.
On May 31 st, 2010, SEAT announced another limited edition called the Ibiza SC for Germany. Limited to 300 units, it features a paint called "Lumina Orange", 17-inch alloy wheels finished in black and shod in beefier sport tires, an aerodynamic kit with a new front bumper, side skirts, roof spoiler and unique rear bumper housing faux air vents on both corners, a diffuser and two tail pipes mounted centrally. Additionally, the car's rooftop and exterior mirrors are finished in black. Inside, the air-vent rings, gearbox knob, door panel trims as well as the seams on the thick-rimmed steering wheel and sport seats continue the two-tone color theme. The aluminum pedal set and additional standard features such as rain sensors and park assist system complete the package. Despite the sportier aesthetic touches motive power comes from the not-so sporty 105hp 1.6 litre four banger. The new Ibiza SC Sport Limited is priced at €20,620 or at today's exchange rates, about US$25,500 (including taxes).
The 2010 Geneva Motor Show played host to the launch of the third variant to the Ibiza family, the Ibiza Sport Tourer.[1]
For MY2009, SEAT has released a new Ibiza variant that will take its place as the flagship of the Ibiza range. The Ibiza Cupra has a 180 hp 1.4 litre TSI four-pot mated to a VAG 7-speed DSG. The 1.4 is very efficient, at 180 hp, it produces as much power as the previous generation's 1.8 did. It will only be available in the 3-door model and to differentiate from the rest of the lineup will get a racy bodykit along with some subtle styling tweaks which includes a very unique grille design. It will also come equipped as standard ESP, ABS, TCS + EBA, driver and passenger )
Right at the heels of the new 5-door Ibiza's unveil, SEAT expands the new gen lineup with the inclusion of the 3-door Ibiza SportCoupé.
For 2009, The Ibiza jumps to a new generation model. The new five-door hatch grows in size over the previous model, it is 4.05 m long (vs the current model's 3.97 m) and boasts 292 litres trunk space (w/ rear seats in place). It also grows under the hood. Initially, it will be offered with three petrol burners, all mated to a 5-speed manual or an optional 7-speed DSG automatic/sequential manual: a 70 hp 1.2 litre Inline-3, an 85 hp 1.4 litre Four-Pot and a 102 hp 1.6 litre I-4. So far there are no reports or confirmations of a diesel range but top contenders include VW's 1.4 TSI and TFSI turbo powerplants. [2]
MY2009, New SEAT Ibiza generation - new Ibiza Ecomotive model. As before, it is SEAT's lowest emitting model. Carbon footprint is still a scant 99 g/km from the 80 hp 1.4 TDI with the modified ECU software and Diesel Particulate Filter (DPF) to aid its enviro-friendly credentials. Consumption is expected to be low, however, as of this writing, SEAT hasn't yet released any official figures. [3]
Certain vehicles come in different trim levels or body styles. Features and major options should be mentioned here.
Add more fields as necessary.
MODEL Trims
Trim1
Trim2
Trim3
Trim4
MSRP
$Price1
$Price2
$Price3
$Price4
Invoice
$Price1
$Price2
$Price3
$Price4
Add more fields as necessary.
As seen on the FuelEconomy.gov website, the City/Highway MPG averages are as follows:
Trim
Trim1
Trim2
Trim3
Trim4
MPG
c/h
c/h
c/h
c/h
Specifications, details, graphs, pictures and other information regarding the powertrain is placed in this section.
Please make sure to write information of the vehicle's performance in a third-person point of view. This section should include information about the car's acceleration figures, handling, braking, etc.
If using information gathered from Road Test articles from a reputable automotive source, then please make sure to cite the quote.
Warranty options and scheduled maintainence information should be mentioned here.
This section should reference points on safety ratings and features of the vehicle.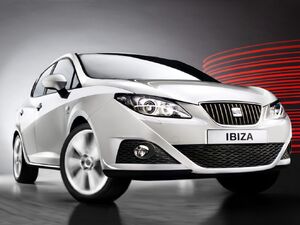 Ibiza Bocanegra
Add Photos of the vehicle here.
Please make sure not to use copyrighted photos.
List the colors that the particular <MODEL> is offered in.
If there are hybrid versions of this vehicle manufactured, then please elaborate a little bit on it here.
If there are any features of this vehicle that sets it apart from other vehicles in its class, then mention those unique attributes here.
This section should include information on the interior's design, build quality, ergonomics, space (head and legroom, front and rear), features, stowage compartments and overall comfortability and livability. Add pictures wherever applicable and keep information in a third-person point of view.
Add more fields as necessary.
<MODEL> Year
Year X
Year X-2
Year X-3
Year X-4
Resale Value
$
$
$
$
Please make sure to keep critiques in a third-person point of view. If using criticisms from a reputable automotive source, then please make sure to cite the quote.
Fill in as many as appropriate. Add more if necessary and pictures wherever applicable.
Please make sure NOT to use copyrighted pictures.
Current Generation: (2002–present)
[
edit
|
edit source
]
The 2002 Ibiza (or Mk.3 Ibiza, or Mk.4 Ibiza in UK) is the second model to be produced under VW management and is a much more focused car. Strongly built around a sporty, performance image and designed by Italian Walter de'Silva, the model line up contains a selection of hot hatch variants, topping out with the FR and Cupra amongst the rest of a strong product line. The performance end of the range is helped by the lack of fast Polo variants, especially the cancelling of the Polo GTI. The much improved, aggressive styling has boosted this model ahead of the family-friendly styling of the Polo in the hot hatch market. It is also the largest Ibiza to date, with room for five adults, and a spacious, if rather short, boot. The standard trim level on this model is noticeably higher than previous models.
This is regarded by some magazines to be the best supermini, with What Car? calling it their best supermini for three years in a row.
The 2006 model made slight aesthetical changes to the body both on interior and exterior, but keeping it very similar to the 2002 original model. SEAT launched a new advertising campaign to follow the new model with the slogan "The rituals are different, the spirit is the same". It depicts 4 individuals each on a different colored SEAT Ibiza, performing different activities inside their car before actually starting it. The campaign sends a message that all people are different, but inside we all have a "sporty spirit".
Second generation (1993-2002)
[
edit
|
edit source
]
The Mk. 2 was the first Ibiza to be produced under Volkswagen Group management and used the underpinnings of the Mk. 3 VW Polo (actually, the underpinnings of the VW Golf II). It suffered a little from brand identity issues on release. Originally seen as cheap VW, the launch of the Cupra models and rallying success gave it a much stronger sporty image, which aligned with VW's acquisition of Škoda as a budget brand.
The Ibiza's 1.0 L, 1.4 L, 1.6 L, 1.8 L petrol and 1.9 L Diesel (turbo or non turbo) engines would also be used in the next generation Polo. The Ibiza's running gear was also used in the SEAT Córdoba saloon, estate and coupe.
Under Volkswagen's ownership, Seat was marketed as a sporty and youthful brand whose cars were sold at competitive prices. The original Ibiza's problems with bad build quality and unreliability were rectified, as the Ibiza proved itself to be one of the best built and most reliable small cars in Europe.
The Ibiza was also produced in South Africa as the VW Polo Playa and also in Argentina.
In the autumn of 1999 the Ibiza received a facelift which saw its exterior styling updated and the interior completely restyled. Even though it was approaching its seven year of production, the Ibiza's looks were kept fresh by this impressive makeover.
By the time production of the second generation Ibiza/Córdoba ceased during 2002, the range had established itself as one of the most popular small cars in Europe of the past decade.
First Generation/Origins (1985-1993)
[
edit
|
edit source
]
The Mk. 1 was based on the Fiat 127/Ritmo/Regata, and used a powertrain which had been developed in collaboration with Porsche. This was the first SEAT which did not share any external body panels with any Fiat model, having been designed by Giorgetto Giugiaro. This version, while it established the now classic Ibiza shape, was advertised as having 'Italian styling and German engines'. In terms of size, it was larger than most Ford Fiesta and Austin/MG Metro sized cars, but smaller than most cars in the Ford Escort and Volkswagen Golf sector. Styling was fairly imaginative and interior space was good, but the Ibiza was let down by suspect build quality, heavy steering and doubtful reliability.
In 1999 the design was bought by Chinese car firm Nanjing and was redeveloped into the Nanjing Yuejin Eagle and 2004 Soyat.
If the vehicle is sold in other markets worldwide, then this is the section to mention that information. Also, mention if the <MODEL> goes by another name in these other markets.
Design quirks and oddities
[
edit
|
edit source
]
Refer to any pop-culture tidbits about the vehicle in this section.
List out notable awards that the model has recieved while in production. Boldface the company or organization that gives out the award, and Italicize the name of the award.
Community content is available under
CC-BY-SA
unless otherwise noted.