Jurassic World: Dominion Dominates Fandom Wikis - The Loop
Play Sound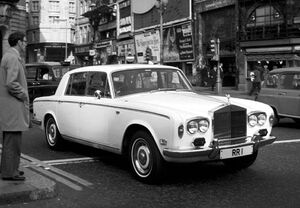 The Rolls-Royce Silver Shadow, produced from 1965 to 1980, is one of Great Britain's most iconic vehicles and boasts the largest production volume of any Rolls-Royce.
The Shadow was the car maker's response to claims that it was falling behind the times and had lost contact with modern developments.
Overview
Following a tradition of luxury, the standard wheelbase Silver Shadow measured 5.17 metres in length, weighed 4,700 pounds, and had a base price of $19,700 in the first year of production.
The Silver Shadow was produced from 1965 to 1976, and the Silver Shadow II from 1977 to 1980.
Design and Engineering
The design was a major departure from its predecessor, the Silver Cloud, and aside from a more modern appearance, the Silver Shadow introduced many new features such as disc rather than drum brakes, monocoque construction, and independent rear suspension, rather than the outdated live axle design of previous cars.
The Shadow featured a 172 hp 6.2 L V8 from 1965 to 1969, and a 189 hp 6.75 L V8 from 1970 to 1980. Both powerplants were coupled to a General Motors-sourced Turbo Hydramatic 400 transmission, except on pre-1970 right-hand-drive models, which used the same 4-speed automatic gearbox as the Silver Cloud.
The car's most innovative feature was a high-pressure hydraulic system licensed from Citroën, with dual-circuit braking and hydraulic self-levelling suspension. At first, both the front and rear of the car were controlled by the system; the front levelling was deleted in 1969 as it had been determined that the rear levelling did almost all the work. With this arrangement, Rolls-Royce achieved a high degree of ride quality.
Variants
Silver Shadow II
In 1977, the model was renamed the Silver Shadow II in recognition of several major changes, most notably rack and pinion steering and modifications to the front suspension which improved handling markedly.
Externally (starting with the late 1976 Shadows), the bumpers were changed from chrome to alloy and rubber.
Long Wheelbase
A long wheelbase variant, some 4 inches longer to provide additional rear seat legroom, was available from 1969 and 1980. Some long wheelbase models were fitted with a privacy glass divider and are now highly sought after by collectors.
Silver Wraith II
Initially, the long wheelbase model did not have a separate name, but in 1977, with the introduction of the Silver Shadow II, the longer car was dubbed the Silver Wraith II.
The Wraith II is identified by all of the alterations found on the Silver Shadow II and additionally an Everflex covered roof, a smaller rear opera-style window, and different wheel covers. Some Silver Wraith IIs were also fitted with electric divisions which took up the extra four inches of leg room in the rear. Vehicles fitted with the division are now considered highly desirable.
Corniche and Camargue
A two-door fixed-head coupe or FHC model was introduced in 1965, followed by a convertible in 1967. In 1971 these cars were given the separate identity of Corniche, and eventually went on to outlive the Shadow, their production lasting until 1982 for the coupe and 1996 for the convertible.
Another coupe variant on the Shadow platform was the Camargue, with bodywork designed by the Italian firm Pininfarina, production running from 1975 to 1986.
Bentley Models
A Bentley version of the Shadow, known as the Bentley T (and Bentley T II from 1977), was also made. It was mechanically identical and differed only in the badging and design of the radiator shell.
The long wheelbase version of the Bentley T did not have a separate identity and was simply called T long wheelbase or T II long wheelbase.
All two-door cars were also available as Bentleys, however, only one Bentley Carmargue was ever produced.
Reliability
RECALL ALERT: On Nov. 11, 2008, Bentley issued a recall affecting all US-market Rolls-Royce Silver Shadow II, Silver Wraith II, Corniche, Silver Spirit and Silver Spurs, which was all built during Rolls-Royce's 67-year ownership of Bentley and, therefore, shared lots of componentry, due to a defective hose assembly which could lead to a fuel leak. Concerned owners can contact 1-617-488-8500 for more information.[1]
Production statistics
The Silver Shadow was the most successful model ever produced by Rolls-Royce, with a total of more than 38,000 cars built (including all editions and Bentley variants), a remarkable number for such an expensive automobile. In comparison, its predecessor had a production run of 15,362 cars between 1955 and 1966.
Model
Rolls-Royce
Bentley
Shadow I,
T I
16,717
1,703
Shadow I long wheelbase,
T I long wheelbase
2,776
9
Shadow II,
T II
8,425
558
Wraith II,
T II long wheelbase
2,145
10
Coupe FHC
607
115
Coupe Convertible
505
41
Corniche FHC
1,108
63
Corniche Convertible
3,239
77
Camargue
525
1
Gallery
See Also
External Links