Renault Mégane
Renault
aka
None
Production
1995 - present
Class
C-Segment Family Hatchback
Body Style
3 dr - 5 dr Hatchback
4 dr Sedan(Sport Saloon)
Convertible (CC)
5 dr Wagon(Sport Tourer)
Length
4295 mm
Width
1808 mm
Height
Height - type here
Wheelbase
2641m
Weight
Transmission
5 speed Manual
6 speed Manual
4 speed Automatic, FWD
Engine
1.4 litre 4 cylinder 16VPetrol
1.6 litre 4 cylinder VVT Petrol (Authentique)
2.0 litre 4 cylinder Petrol (Expression, Dynamique, Privilege)
1.9 litre 4 cylinder Turbo Diesel (dCi)
2.0 litre 4 cylinder Turbo (Renaultsport)
Power
N/A hp (83 kW) @ N/A rpm
N/A lb-ft (152 Nm) of torque @ N/A rpm

N/A hp (98 kW) @ N/A rpm
N/A lb-ft (191 Nm) of torque @ N/A rpm

N/A hp (96 kW) @ N/A rpm
N/A lb-ft (300 Nm) of torque @ N/A rpm

N/A hp (165 kW) @ N/A rpm
N/A lb-ft (300 Nm) of torque @ N/A rpm
Similar
Citroen C4
Peugeot 307
Peugeot 308
Designer

Patrick le Quement
The Renault Megane is a small family hatchback produced by Renault.
.
Recent Changes
On June 27, 2009, Renault launched the World Series by Renault Clio and Megane in celebration of the successes of its Formula One drivers Fernando Alonso, Heikki Kovalainen and Robert Kubica.[1]
Another worldwide debut at the 2009 Geneva Motor Show was the Megane RS 250 hot hatch. The RS comes ready to slay names like GTI, ST, VXR and GTA with a 2.0 litre turbocharged four-pot producing 250hp at 5,500rpm and peak torque of 340Nm from 3,000rpm and controlled via a six-speed manual.[2][3]
At the 2009 Geneva Motor Show, Renault unveiled the 5-door Megane Sport Tourer wagon. The Sport Tourer's length is 263 mm longer than the hatch at 4,558 mm and the wheelbase has also been stretched to 2,702 mm, a growth of 62 mm. It also gets Renault's new TCe 130 engine, a 1.4 liter power plant with a "low inertia" turbocharger pumping out a substantial 130 hp and 190 Nm of torque. [4]
Hot on the heels of the 2009 Megane, Renault launched the Megane Coupe (3-door Hatch) at the 2008 Paris Motor Show.[5]
The third generation Renault Megane is set to be unveiled at the 2008 Paris Motor Show. The new car will be larger and more spaceous than the outgoing model as its overall length grows to 4.3 m and its wheelbase to 2.64 m.[6][7][8]
Styles and Major Options
Certain vehicles come in different trim levels or body styles. Features and major options should be mentioned here.
Pricing
Add more fields as necessary.
MODEL Trims
Trim1
Trim2
Trim3
Trim4
MSRP
$Price1
$Price2
$Price3
$Price4
Invoice
$Price1
$Price2
$Price3
$Price4
Gas Mileage
Add more fields as necessary.
As seen on the FuelEconomy.gov website, the City/Highway MPG averages are as follows:
Trim
Trim1
Trim2
Trim3
Trim4
MPG
c/h
c/h
c/h
c/h
Engine and Transmission
Specifications, details, graphs, pictures and other information regarding the powertrain is placed in this section.
Performance
Please make sure to write information of the vehicle's performance in a third-person point of view. This section should include information about the car's acceleration figures, handling, braking, etc.
If using information gathered from Road Test articles from a reputable automotive source, then please make sure to cite the quote.
Reliability
Warranty options and scheduled maintainence information should be mentioned here.
Safety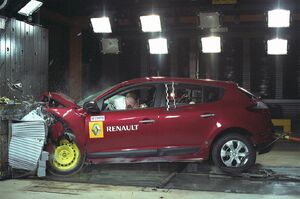 The Renault Megane is the the first car in its class to achieve a 5 star EuroNCAP safety rating. It also scored 2 stars out of 4 for pedestrian safety.[9] [10]
Front seatbelt pretensioners
Front seatbelt load limiters
Driver's airbag
Front passenger airbag
Side body airbags
Side head airbags
Top Gear
Because the Megane was the first small family hatchback to score 5 stars by EuroNCAP, Top Gear wanted to prove its safety. In Series 2, Episode 7, the Megane, roadtested by Richard Hammond was sacrificed by crashing into a stationary Mk 1 Mondeo at over 30 mph driven by Lee, the stuntman. After the crash, Lee was all good and he did not sustain any injuries unlike in other car crashes. [11]
Photos
Megane RS
Megane Coupe
Megane Coupe-Cabriolet
Megane
Add Photos of the vehicle here.
Please make sure not to use copyrighted photos.
Colors
Metallic
Antique Green
Eclipse
Extreme Blue
Mercury
Midnight Blue
Oyster Grey
Pearl Black
Quartz
Ruby red
Stone
Mineral Blue
Oporto Red
Sapphire Blue
Tempest
Flame Red
Non metallic
Capsicum Red
Glacier White
Pacific Blue
Ultra Blue
Ultra Red
Deep Black
Liquid Yellow
Main Competitors
Hybrid Models
If there are hybrid versions of this vehicle manufactured, then please elaborate a little bit on it here.
Unique Attributes
If there are any features of this vehicle that sets it apart from other vehicles in its class, then mention those unique attributes here.
Interior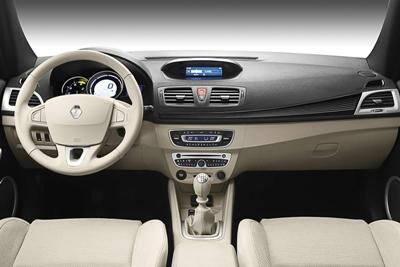 This section should include information on the interior's design, build quality, ergonomics, space (head and legroom, front and rear), features, stowage compartments and overall comfortability and livability. Add pictures wherever applicable and keep information in a third-person point of view.
Resale Values
Add more fields as necessary.
<MODEL> Year
Year X
Year X-2
Year X-3
Year X-4
Resale Value
$
$
$
$
Criticisms
According to the Which? Car Owner's Satsifaction survey, the 1996-2003 Megane is described as "a piece of rubbish".
Generations
Fill in as many as appropriate. Add more if necessary and pictures wherever applicable.
Please make sure NOT to use copyrighted pictures.
Current Generation: (2009–present)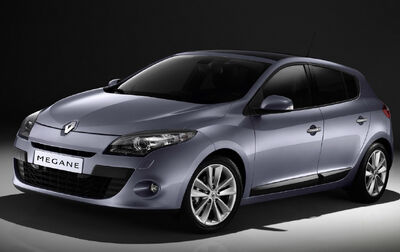 Second generation (2002–2008)
Megane CC
The Megane CC is a foldable hardtop convertible version.
Megane R26
The Megane is another Renaultsport Megane released. On the exterior, the R26 can be recognised with decals of checkered flag "F1 Team" on the bumpers, the doors and the roof. In the inside, you find alloy sports pedals and a red steering wheel marker as well as Recaro bucket seats, a chilled glovebox and a numbered plaque beneath the handbrake reinforces the F1 connection. It's 2 litre intercooled turbocharged engine produces 168 kW @ 5500 rpm and 310 Nm of torque @ 3000 rpm courtsey of the high flowing exhaust manifold and remapped ECU. Power goes through its 6 speed transaxle with the limited slip diiferential. The R26 has stiffer springs, uprated dampers and a 10% stiffer rear anti-roll bar and has 4 disc brakes with front Brembo calipers behind the Oz 12 spoke 18 inch Alloy wheels. The colours the Megane R26 come with are Black or Pearlescent Yellow.
Megane R26.R
The 2008 London Motor Show played host to the unveiling of Renault's new 450 unit limited edition track-ready variant of the Megane (and road-legal version of the Megane RS 230 F1 Team R26), the Megane R26.R. Motivation comes from the race car's 230 Hp 2.0-liter turbocharged engine, however, mated to a 6-speed gearbox with a short-shift gear linkage, a limited slip differential and a weight reduction of 271 lbs. This means the R26.R can accelerate from naught to 100 kph in 6 seconds and, impressively, turn out 27.7 mpg (8.5 lt/100km or 33.2 UK mpg). However, the R26.R's party piece is its official Nürburgring lap time of 8 minutes and 17 seconds. While not as impressive as the Nissan GT-R or Porsche 911 Turbo's low 7 min 20-something second times, this makes the R26.R comfortably the fastest Front-engined, FWD car round the fearsome German circuit. Prices begin at £22,990 OTR ($46,000 or €29,000) and will only be available in select western European countries. [12]
First Generation/Origins (YYYY–YYYY)
Worldwide
If the vehicle is sold in other markets worldwide, then this is the section to mention that information. Also, mention if the <MODEL> goes by another name in these other markets.
Megane In Pop Culture
In 2004, the Renault Megane has been named the Most Beautiful Car in the World under Medium Sedan.
The second generation Megane hatchback has the most distinctive back end known as a 'bum'. Some people referred it as a 'J.Lo butt' because it looks similar to the back-side belonging to Jennifer Lopez. Also, women in the Georges Seurat painting La Grande Jatte [13] appear to have the similar 'bum' compared to the car.
In the first series of The Worst Week of My Life, Mel owns a blue Megane.
The Megane has appeared in many video games including Forza Motorsport 4. In another game, Blur, one of the top racer's. Shannon, owned a tuned Megane F1.
The retractable roof of the Megane CC is the fastest with the time of 22 seconds.
Awards
2004 African Car Of The Year
2002 European Car Of The Year
2003 winner of Most Beautiful Medium Sedan in the World.
2010 Drive Best Performance Car Under $60,000 (RS250)
2010 Drive Best Small Car (Nominee)
See Also
External Links