Porsche Cayenne
Porsche AG
aka
Production
2002 - present
Class
Mid-size Luxury crossover SUV
Body Style
5-door SUV
Length

4,846 mm (190.8 in) (2010-14)

4,855 mm (191.1 in)(2014-)

Width

1,938 mm (76.3 in) (2010-14)

1,939 mm (76.3 in) (2014-)

Height

1,705 mm (67.1 in)

Wheelbase

2,895 mm (114.0 in)

Weight

2085 kg to 2215 kg (DIN)

Transmission
6-speed Manual
8-speed Automatic
Engine

petrol

3.0 S/C V6 333PS

3.6 VR6 300PS

4.8 V8 400PS/ 420PS

4.8 T V8 500PS/ 550PS

diesel

3.0 V6 250PS

4.2 V8 385PS

Power
250 hp @ 6000 RPM
229 lb-ft @ 2500-5500 RPM

340 hp @ 6000 RPM
310 lb-ft @ 2500-5500 RPM

450 hp @ 6000 RPM
460 lb-ft @ 2250-4750 RPM

520 hp @ 5500 RPM
530 lb-ft @ 2750-3750 RPM
Similar
BMW X5
Mercedes-Benz ML-Class
Volkswagen Touareg
Volvo XC90
Land Rover Range Rover Sport
Lexus RX
Infiniti FX
Designer
Michael Mauer
The Porsche Cayenne is an SUV automobile made by Porsche since 2002. It is the first V8-engined vehicle built by Porsche since 1995, when the Porsche 928 was discontinued.It is also the first four door car and the first SUV made by Porsche Sales of the Cayenne have been strong, with 100,000 sold as of June, 2005, becoming Porsche's bestselling vehicle in North America. 40% of Cayenne sales are in North America.It is the first 4 door car that Porsche ever made and it is the the company's first SUV.
See Autopedia's comprehensive Porsche Cayenne Review.
Recent Changes
On February 25, 2010, Porsche released official images of its second generation Cayenne one week ahead of its official debut at the 2010 Geneva Motor Show. Officially, the next Cayenne will go on sale in Europe on May 8 after its North American debut at the New York Auto Show at the end of March. U.S. customers wanting to pick up the S or the Turbo will have to wait until July. The Cayenne and Cayenne S Hybrid will not hit the North American market until the fall. In Europe, the Cayenne is expected to start at €46,400. The diesel will retail for €49,900, the S for €60,900, S Hybrid for €65,900, and the Turbo for €96,900. Under the bonnet, the base model utilizes a 3.6-liter V6 developing 296 hp (221 kW) while the S sports 395 hp 4.8 litre V8. The Turbo has the same engine as the latter albeit, breathed on by twin turbos to churn out 493 hp. This is while the V8 is 23% more economical than before while the V6, 20%.
On March 25, 2009, Porsche's industrial design arm unveiled the exclusive 1000 unit Porsche Cayenne GTS Design Edition 3. In the vein of the Porsche Cayman S Design Edition 1 and Boxster S Design Edition 2 that preceeded it, the GTS Design 3 gives the SUV a sporty appearance worthy of its road handling. Laying on heaps of dark hue hard, the body is painted in Lava Grey Metallic paint offset by very subtle black racing stripes and the rims have been replaced with black 21-inch multi-spoke SportPlus wheels. Overall, however, the appearance is not sinister so much as it's more a cool, subtle and industrial approach to racing. Of 1000 units, only 100 will make it to the US. Pricing starts at $89,900 and €79,100 for the rest of the world.[1]
For 2010, Porsche will finally offer a Diesel option for the Cayenne. The oil-burning mill, a 240 hp 3.0 litre TDI V6, is sourced from the subsidiary of Porsche latest acquisition (Volkswagen), Audi. The engine also produces 405 lb-ft. (550 Nm) of torque while returning 9.3L/100km (25mpg) and emitting 244g/km of CO2. The Cayenne Diesel will come equipped with Porsche's Tiptronic-S Automatic as standard and start at €47,250 (€56,436 for the German market incl. 19 percent VAT). [2][3]
For the 2008 model year the cayenne gets a moderate face-lift, giving it a more agressive look. Other than a new nose, nothing has been changed appearance wise on the Cayenne for 2008. The 2008 Cayenne will have new engines and suspension offers. The new line of V-6 and V-8 engines all feature direct fuel injection for greater power and efficiency.
For the 2007 IAA, Porsche launched the 2008 Cayenne GTS. Essentially a Cayenne S with a tuned 4.8-liter V8 and a Cayenne Turbo bodykit featuring Porsche's PASM system, the SUV now pumps out 405bhp (298 kW) @ 6,500 rpm (despite torque remaining untouched at 500Nm @ 3,500 rpm). Power is transmitted via Tiptronic or six-speed manual gearbox - now with a shorter axle drive ratio (4.1:1 in contrast to the S' 3.55:1) that make the GTS good for 0 to 100km/h times of 6.1 sec. Pricing starts at 76,725 Euros or $ 105,900 in Germany and $69,300 or 50,595 Euros in the US.[4]
For 2021, Porsche add a Coupe version of the Cayenne. It basically a normal Cayenne, but witha better look for some people and less space in the back
Styles and Major Options
The 2006 Cayenne is available in 5 trims: the Base model, S, S Titanium Edition, Turbo, and Turbo S. 5 different engines are available, depending on trim, and while a 6-speed manual transmission is standard on the Base model, the other four utilize a 6-speed Tiptronic S automatic transmission. Full-time all wheel drive is standard on all models. For the new, facelifted model, the Turbo S has been discontinued, as Porsche believe that there is no need for it to exist - the Turbo has increased in power. Some of the features which set the trims apart include:
Base Model
6-speed manual transmission w/OD
17" silver alloy wheels
8-way power front bucket seats
Leather seating and door trim
Manual front air conditioning
12-speaker AM/FM/CD audio system
Cruise control
Power windows, locks, mirros, trunk, and fuel hatch
HomeLink Wireless Control System
Cayenne S
Adds to or replaces Base features with:
6-speed Tiptronic S automatic transmission
18" silver alloy wheels
Dual zone automatic climate control
14-speaker Bose AM/FM/CD audio system
S Titanium Edition
Adds to or replaces S features with:
19" painted alloy wheels
Carpeted front/rear floor mats
Express open/close sunroof
14-speaker Bose AM/FM/MP3/CD audio system
Navigation system
Turbo
Adds to or replaces S Titanium Edition features with:
Automatic ride with driver control
4-corner auto-levelling adaptive suspension
18" silver alloy wheels
8-way power heated front bucket seats w/ memory
Power telescopic tilt steering wheel
Turbo S
Adds to or replaces Turbo features with:
Pricing
Today's actual prices for the Porsche Cayenne can be found at CarsDirect.
MODEL Trims
Cayenne Base
Cayenne S
Cayenne Turbo
Cayenne Hybrid
MSRP
$46,700
$63,700
$Price3
$67,700
Invoice
$Price1
$Price2
$Price3
$Price4
Gas Mileage
Add more fields as necessary.
As seen on the FuelEconomy.gov website, the City/Highway MPG averages are as follows:
Trim
Trim1
Trim2
Trim3
Trim4
MPG
c/h
c/h
c/h
c/h
Engine and Transmission
Specifications, details, graphs, pictures and other information regarding the powertrain is placed in this section.
Performance
Please make sure to write information of the vehicle's performance in a third-person point of view. This section should include information about the car's acceleration figures, handling, braking, etc.
If using information gathered from Road Test articles from a reputable automotive source, then please make sure to cite the quote.
Reliability
Automotive Information Systems assessed the Cayenne and found that it experienced minimal problems in all major categories. This earned the 2003 and 2004 Cayennes an overall Green rating.
RECALL ALERT: On Feb 18th 2008, Porsche issued a recall affecting 5,573 2008 MY US-Market and 392 Canadian-market Cayenne SUVs equipped with the V6 engine due to a problem with the fuel line. In particular, the fuel line in the plenum panel area may make contact with the rear engine compartment cover. Relative movements of the engine may cause knocking noises and chafing on the fuel line that could leak and result to a fire in the presence of an ignition source.[5]
Safety
Although the NHTSA does not list any safety test information for the Cayenne on its website, Autos.com ranks the Cayenne as tied for 5th with a handful of others in the Luxury SUV category for Safety. However, due to ties in the higher ranks, this actually places the Cayenne behind 21 other vehicles. Some of the standard safety equipment found on the Cayenne includes:
Photos
Colors
Colors will vary by trim, but a full list is available for viewing at CarsDirect.com.
| | | |
| --- | --- | --- |
| Metallic Colors | Standard Colors | Special Colors |
| | | | | | |
| --- | --- | --- | --- | --- | --- |
| Titanium |   | Black |   | Dark Olive |   |
| | | | |
| --- | --- | --- | --- |
| Jarama Beige |   | Dark Sea Blue |   |
Hybrid Models
See also

Porsche Cayenne Hybrid

for more details
The second generation Cayenne Hybrid is expected to debut at the along with its conventionally powered siblings at the 2010 Geneva Motor Show. However, that being said, sales for the hybrid model starts later in the fall. The Cayenne S Hybrid makes use of a supercharged 333 PS (245 kW / 328 hp) 3.0-liter V6 engine and a 34 kW electric motor, to boost output to 380 PS (279 kW / 375 hp) and up to 580 Nm (428 lb-ft) of torque at 1,000 rpm. The hybrid is capable of short all-electric drives at speeds up to 40mph (64 km/h). Fuel economy was not revealed, though it produces just 193 grams of CO2 per kilometer. This makes the Cayenne S Hybrid the cleanest Porsche ever.
Unique Attributes
The amazing Porsche performance, combined with an outstanding off road capability, makes this car effective in any condition.
Interior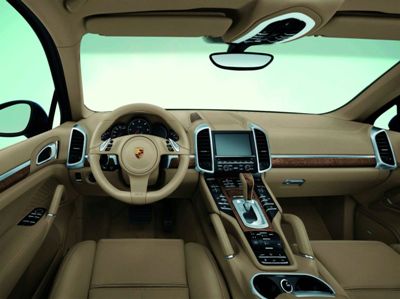 This section should include information on the interior's design, build quality, ergonomics, space (head and legroom, front and rear), features, stowage compartments and overall comfort and livability. Add pictures wherever applicable and keep information in a third-person point of view.
Resale Values
According to Kelley Blue Book, "as with all Porsche vehicles, the Cayenne retains its value well, with five-year projected residual values equal to the BMW X5, Infiniti FX45 and Land Rover Range Rover."
Criticisms
"The front bucket seats are very supportive during sporty driving, but the traditional Porsche ignition switch location to the left of the steering wheel is annoying for right-handed persons." - MSN Autos
"Beyond its rather hefty price tag, the Cayenne may overwhelm some owners with its long list of sophisticated (and sometimes complicated) electronic mechanisms. Those seeking seven-passenger accommodations will have to look to Cadillac, Lexus or Land Rover for their luxury off-road needs." - Kelley Blue Book
"There's good room for four tall adults. Five such persons can fit for short trips, but the center of the rear seat is too stiff for longer journeys." - MSN Autos
Current Generation: (2011–Present)
  The second-generation Porsche Cayenne went on sale in April–May 2010 as a 2011 model, with an official debut at the 2010 Geneva Motor Show. In preparation for the unveiling, the Cayenne production facility in Leipzig, Germany, closed in December 2009 to commence factory retooling for the new model, a process that took 2–3 months.
The 2011 Porsche Cayenne is larger than its predecessors, but features a more slanted rear window, less upright windshield, a more sloping roofline, door-mounted mirrors, smaller windows at the rear of the vehicle, headlights inspired by the Carrera GT, taillights that extend onto the car's tailgate, LEDdaytime running lights and a vastly redesigned interior modeled after the Panamera. The 2011 Cayenne is almost 250 kg (550 lb) lighter than the previous models due to extensive use of aluminum and magnesium, making it more fuel efficient than the previous lineup. Despite its lower stance, the new vehicle's off-road capabilities have been retained without compromising the street performance-oriented layout and design. In addition to a diesel offering, a hybrid version is available. Also, the 2015 diesel Porsche Cayenne was in the Volkswagen emissions scandal.
Standard features of the 2011 Porsche Cayenne include air conditioning with dual-zone climate controls, interior air filter, tilt/telescopic leather-wrapped steering wheel with radio controls, cruise control, leather upholstery, eight-way power front seats, outside-temperature indicator, and universal garage door opener in the base model. The Cayenne S adds a power sunroof and memory for the driver's seat. The Cayenne GTS added an optional rearview camera, keyless access and start, and memory system. Finally, the most upscale Cayenne Turbo and Turbo S added a navigation system with voice recognition, premium sound system, optional four-zone climate controls, heated rear seats, and six-disc CD changer.
The Cayenne's naturally aspirated and turbocharged V8 engines are shared with the Panamera and have been upgraded for faster acceleration times with more horsepower and torque, as well as more powerful direct-injection technology to improve efficiency. The base Cayenne model Cayenne is tuned to offer 300 hp.
The Cayenne comes powered by a 3.6-L VR6 engine producing 300 PS (221 kW; 296 hp), the Cayenne S features the same 4.8-L V8 in the Panamera S models producing 400 PS (294 kW; 395 hp) and the Cayenne Turbo comes with Panamera Turbo's 4.8-L twin turbo V8 producing 500 PS (368 kW; 493 hp). The Cayenne S Hybrid uses an Volkswagen-sourced 3.0-L V6 engine producing 333 PS (245 kW; 328 hp) paired with a nickel metal hydride battery capable of 47 PS (35 kW; 46 hp) for a total of 380 PS (279 kW; 375 hp). A manual gearbox serves as the standard transmission system on the base Cayenne, with all other models featuring an eight-speed Tiptronic as standard equipment. The low-range transfer case found in the previous generation has been removed. All vehicles will feature about 10% less weight than their predecessors, 70 kg worth of standard equipment in excess of that found on the current model and a more heavily contoured rear bench.
In September 2012 Porsche announced the Cayenne S Diesel. This model is fitted with the Volkswagen 4.1-L V8 TDI engine. In October 2012, Porsche confirmed the addition of a new Cayenne Turbo S.
In July 2014, Porsche launched a facelifted Cayenne range, with minor exterior alterations and new power-train options, including a plug-in E-Hybrid and downsizing of the S model's 4.8-L V8 to a turbocharged 3.6-L V6.
Hybrid
At the IAA 2005, Porsche announced it would produce a hybrid version of the Cayenne before 2010 (Porsche Cayenne Hybrid). Two years later, at the IAA 2007, Porsche presented a functioning Cayenne Hybrid and demonstration model of the drivetrain.
Notable modifications to this car include an electric vacuum pump and hydraulic steering pump, allowing the car to function even when the engine is deactivated. A 288-volt nickel metal hydride battery is placed under the boot floor, occupying the space normally used for a spare tire.
The production version, called the S Hybrid, was launched in 2010, with a 3.0-L petrol V6 linked with an electric motor to achieve CO2 emissions of 193 g/km. The S Hybrid was launched in the U.S. market in November 2010.[24]
Plug-in hybrid
In July 2014, Porsche announced the launch of the Porsche Cayenne S E-Hybrid, a plug-in hybrid with an all-electric range between 18 and 36 km (11 and 22 mi) under the New European Driving Cycle (NEDC) standard. The plug-in model displaced the Cayenne S Hybrid from the line up, and it is part of the revised range. The Cayenne S E-Hybrid is the first plug-in hybrid in the premium SUV segment, allowing Porsche to become the first automaker with three production plug-in hybrid models. Deliveries in Germany were scheduled to begin in October 2014.[26] Sales in the U.S. began in November 2014.
EPA fuel economy ratings
The following are the official EPA ratings of the Cayenne S E-Hybrid compared with the others models of the 2015 line up available in the U.S.:
Vehicle
Model


year

Operating


mode
(AER)

EPA fuel economy ratings[28]
Combined
City
Highway
Porsche Cayenne S E-Hybrid
2015
Electricity


and gasoline
(14 mi)

47 mpg-e


(69 kWh/100 mi)

-
-
Gasoline only
22 mpg
-
-
Porsche Cayenne Diesel
2015
Diesel only
23 mpg
20 mpg
29 mpg
Porsche Cayenne S
2015
Gasoline only
20 mpg
17 mpg
24 mpg
Porsche Cayenne Turbo
2015
Gasoline only
17 mpg
14 mpg
21 mpg
Engines
| Model | Production period | Engine | Power (PS, torque)@rpm | Emissions CO2 |
| --- | --- | --- | --- | --- |
| Cayenne | 2010-2014 | 3,598 cc (3.6 L; 219.6 cu in) VR6 | 300 PS (220 kW; 300 hp)@6300, 400 N·m (300 lb·ft)@3000 | 236 g/km |
| Cayenne | 2014- | 3,598 cc (3.6 L; 219.6 cu in) VR6 | 300 PS (220 kW; 300 hp)@6300, 400 N·m (300 lb·ft)@3000 | 215 g/km |
| Cayenne S | 2010-2014 | 4,806 cc (4.8 L; 293.3 cu in) V8 | 400 PS (290 kW; 390 hp)@6500, 500 N·m (370 lb·ft)@3500 | 245 g/km |
| Cayenne S | 2014- | 3,604 cc (3.6 L; 219.9 cu in) twin turbo V6 | 420 PS (310 kW; 410 hp)@6000, 500 N·m (370 lb·ft)@1350 | 223 g/km |
| Cayenne S Hybrid | 2010-2014 | 2,995 cc (3.0 L; 182.8 cu in) V6 | 333 PS (245 kW; 328 hp)@5250, 440 N·m (320 lb·ft)@3000 | 193 g/km |
| Cayenne S E-Hybrid | 2014- | 2,995 cc (3.0 L; 182.8 cu in) V6 | 416 PS (306 kW; 410 hp)@5500, 590 N·m (440 lb·ft)@3000 | 79 g/km |
| Cayenne GTS | 2010-2014 | 4,806 cc (4.8 L; 293.3 cu in) V8 | 420 PS (310 kW; 410 hp)@6500, 515 N·m (380 lb·ft)@3500 | 251 g/km |
| Cayenne GTS | 2015- | 3,604 cc (3.6 L; 219.9 cu in) twin turbo V6 | 440 PS (320 kW; 430 hp)@6000, 600 N·m (440 lb·ft)@1600 | 228 g/km |
| Cayenne Turbo | 2010-2014 | 4,806 cc (4.8 L; 293.3 cu in) twin turbo V8 | 500 PS (370 kW; 490 hp)@6000, 700 N·m (520 lb·ft)@2250 | 270 g/km |
| Cayenne Turbo | 2014- | 4,806 cc (4.8 L; 293.3 cu in) twin turbo V8 | 520 PS (380 kW; 510 hp)@6000, 750 N·m (550 lb·ft)@2250 | 261 g/km |
| Cayenne Turbo S | 2010-2014 | 4,806 cc (4.8 L; 293.3 cu in) twin turbo V8 | 550 PS (400 kW; 540 hp)@6000, 750 N·m (550 lb·ft)@2250 | 270 g/km |
| Cayenne Turbo S | 2015- | 4,806 cc (4.8 L; 293.3 cu in) twin turbo V8 | 570 PS (420 kW; 560 hp)@6000, 800 N·m (590 lb·ft)@2500 | 267 g/km |
| Cayenne Diesel | 2010-2011 | 2,967 cc (3.0 L; 181.1 cu in) V6 | 240 PS (180 kW; 240 hp)@4000, 550 N·m (410 lb·ft)@2000 | |
| Cayenne Diesel | 2011-2014 | 2,967 cc (3.0 L; 181.1 cu in) V6 | 245 PS (180 kW; 242 hp)@4000, 550 N·m (410 lb·ft)@1750 | 189 g/km |
| Cayenne Diesel | 2012- | 2,967 cc (3.0 L; 181.1 cu in) V6 | 262 PS (193 kW; 258 hp)@4000, 580 N·m (430 lb·ft)@1750 | 173 g/km |
| Cayenne S Diesel | 2014- | 4,134 cc (4.1 L; 252.3 cu in) V8 | 385 PS (283 kW; 380 hp)@3750, 850 N·m (630 lb·ft)@2000 | 209 g/km |
First Generation/Origins: (2002–2010)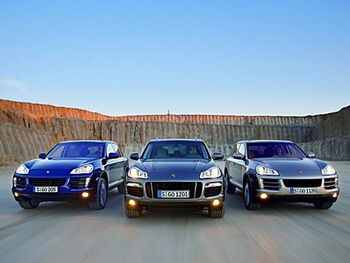 The Cayenne was co-developed with Volkswagen, who was also looking to add an SUV to their lineup, as a cost-sharing initiative. Volkswagen shares this chassis to underpin their Touareg sports utility vehicle, and Audi uses an extended version for their Q7. There are numerous styling, equipment and technical differences between the three vehicles. The Cayenne shares only its base engine with the Touareg, and Porsche's version is substantially modified. There are currently 4 engines available in the Cayenne:
Performance
The turbocharged model has extremely high performance for an SUV. It is roughly as fast to 60 miles per hour as the company's Boxster S (about 5.2 seconds), and the new Tequipment special version will be faster still. Reviews indicate that the Cayenne handles remarkably well for a heavy SUV —  better than the BMW X5 — whilst having a comfortable ride and, by some sources better off-road ability than BMW X5, Mercedes and Infiniti. Those cars are unlike native off-road vehicles not meant to climb rock mountains and pass deep rivers (due to the price and comfort they offer) but are fully capable to drive "where man need". Many users of SUV/SAV cars reporting that car's ability to reach any skiing or recreational center and being comfortable during general winter drive is all they need. Other reasons for buying such cars are for increased safety, street overview and independancy on "planed route" - which is why many US based SUVs and pickups lack even 4-wheel drive or self-locking diferentials.
The competence however comes at a cost, with the "S" V8 model being more expensive than a comparably-specified BMW X5 and the turbocharged model costing nearly $90,200 before adding options, about as much as a fully equipped, V8 powered Mercedes-Benz S-Class. The Cayenne's closest rivals in terms of cost and prestige are the Land Rover Range Rover and Mercedes-Benz ML-Class. The success of the Cayenne has prompted Land Rover to develop the smaller, sportier, and less off-road capable Range Rover Sport as well as to offer a supercharged version of their top-range model.
The Cayenne comes standard with alloy rims from 17"-20" sizes and a vareity of styles. The least-expensive Cayenne model comes standard with the 17" rims, but has the cability to upgrade to any of the four 18"-20" rims. An all-season tire is standard on the 17" rim, and available as a no-cost option for 18" rims. These are the wheels that are most suitable for off-road/snow use. Lower-profile, high performance wheels are standard for wheels above 19". These wheels would not be suitable for off-road/snow use. Porsche/Volkswagen jointly did extensive off-road testing with the Cayenne and Touraeg and both are in actuality extremely capable off-road. Both vehicles are standard with 4-wheel drive, a manually lockable center differential and a "low range" setting. Options to make the vehicles more capable off-road include an available air suspension system which can raise the car's ride height on command and an interior switch allowing the rear differential to be manually locked along with the center unit. At maximum ride height, the air suspension system gives the Cayenne 10.7 inches (272mm) of ground clearence.
Porsche introduced a higher-output Turbo S version at the 2006 Los Angeles Auto Show to compete with the Mercedes-Benz ML63 AMG. It produces 520 hp (389 kW) and 531 ft·lbf (720 N·m), making it the second most powerful vehicle Porsche has ever built for the road, after the Carrera GT. It is able to accelerate to 60 mph quicker than the Cayman S at 4.8 seconds (mfg. claim).
The Turbo S also has a recalibrated suspension, 20 inch wheels, and larger brake discs. It lowers 27 mm above 125 km/h and 11 mm more above 210 km/h.
Worldwide
The UK market Cayenne, option code C16, has a much more refined model range than that of the USA - only three models are available. These are the V6, S and Turbo. The recently departed Turbo S leaves a very small hole in UK sales - it has been said that as little as 500 of these were sold during their year-and-a-bit production run.
Specification of individual models is similar to the USA, however one striking ommission is the lack of Pure Red on the options lists - and there have been reports that Porsche GB will not even paint a Cayenne in red as a colour-match-to-sample.
Unfortunately, prices for the British Cayenne are much higher than those in the USA :
Cayenne V6 - £37,100, equating to $74,277.
Cayenne S - £46,610, equating to $93,317.
Cayenne Turbo - £74,650, equating to $149,456.
Design quirks and oddities
Some Porsche enthusiasts are unhappy with the company for producing an SUV, seeing it as diluting the meaning of the brand. According to Wheels, a well-regarded Australian car magazine, the decision to develop the Cayenne was a contentious one for the company for this reason. Management reportedly felt, however, that the company needed a more dependable source of revenue than the fickle sports car market. Much of the disapproval from Porsche owners came from the joint development of the car with Volkswagen. Although both the Cayenne and Touareg are solid SUVs in the market today, many believe the Cayenne would be superior in many departments if developed solely by Porsche. Some believe the Touareg is a better executed car for significantly less amount of money.
In May 2004, Porsche issued a recall on the Cayennes for seatbelts that do not function properly during a collison.

The Cayenne S came second place in RACV's Vehicle Security Rating in 2004 with a score of 111 points.
The invention of the Cayenne inspires Ferrari and Aston Martin to make an SUV model in the future.
Awards
2010 Drive Best SUV Over $40K (Nominee)
See also
External links
News and References
Enthusiast Sites and Discussion Forums