The Porsche Carrera GT is a high performance mid-engine sports car produced by Porsche between 2004-2006. The race-bred 5.7l V10 had been a development of an engine Porsche had designed for LMP racing and the rest of the car featured advanced technology, such as it's Silicon Carbon Composite brake discs and carbon fibre monocoque. It's race bred 5733cc 68-degree V10 produces 612bhp (604hp) at 8000rpm and 435lb ft@5750rpm. It has a bore and stroke of 98mm x 76mm and Nikasil lined cylinders. The engine is fitted with variable valve timing on both the intake and exhaust camshafts, and 4 valves per cylinder. The engine is mounted to a Porsche Carbon Composite Clutch, and a 6-speed manual gearbox which has a wooden gear knob as a homage to 917 Le Mans racers.
History
Porsche began developing this car in 2000 as a successor to the 911 GT1 car they had discontinued in late 1998, but the project was abandoned. Porsche maintained that the vehicle was dropped because of FIA rule changes, although speculation has indicated that Porsche discontinued development at the behest of VW/Audi chairman Ferdinand Piëch; Piëch was reportedly concerned over the prospect of a Porsche vehicle competing against the Audi R8 race car, which had just been introduced. As a member of the Porsche family, Piëch holds a seat on the company's board of directors and owns a percentage of the firm, so his influence could be exacted from inside. In addition, Porsche needed to free up capital and manpower for development work on the Cayenne, and dropping development of the race car made it possible.
Porsche did however produce one unit, and showed it at the 2000 Geneva Motor Show, mainly in an attempt to draw attention to their display. Surprising interest in the vehicle and an influx of revenue being provided by the Cayenne helped Porsche decide to make use of the car, and development started on a road-legal version that would be produced in small numbers at Porsche's new manufacturing facility in Leipzig. Porsche started a production run of Carrera GTs in 2004, shipping the units with an MSRP of US$440,000 and a dealer invoice price of approximately US$414,800. In addition, the delivery charge could be as much as US$15,000.
Originally, a production run of 1,500 cars was slated. But Porsche announced in August, 2005 that it would not continue production of the Carrera GT throughout 2006, reducing the total production estimate to 1,250 units. Porsche announced that this discontinuation was due to changing airbag regulations in the US. However,reports of diminishing sales volumes, relatively high dealer inventory levels, and dealer discounts below MSRP were reported by the automotive press as being the true factors driving an early end to the production run. Despite the early end to production, sales of the Carrera GT were a huge success, with worldwide sales volumes surpassing the combined totals of Ferrari's Enzo, Mercedes' McLaren SLR, and Pagani's Zonda models.
340 Carrera GTs were sold in the United States in 2005. Production of the Carrera GT stopped on May 6, 2006 after more than 1270 units had been manufactured. Approximately half of the vehicles were sold in North America.
Design
The Carrera GT is powered by an all-new 5.7 litre V10 engine producing 612 SAE horsepower (450 kW). Porsche claims it will accelerate from 0 to 100 km/h (62.5 mph) in 3.9 seconds and has a maximum speed of 330 km/h (206 mph), although road tests indicated that in actuality the car could accelerate from 0-60 in under 3.5 seconds and to 0-100 in 6.8 seconds and has a top speed of 335-340km/h (209-212.5mph). The Carrera GT has a basic 5 colour paint schemes which include: Black, Guards Red, Fayence Yellow, Basalt Black, GT Silver and Seal Grey. A six-speed manual transmission is the only available transmission, in contrast to its rival the Ferrari Enzo which is only offered with sequential manual transmission. With the Ferrari Enzo priced around $660,000, the Carrera GT base price of $448,400 makes the dream of owning a piece of Le Mans inspired technology somewhat more attainable. The Carrera GT is also priced at $559,000 in Canadian dollars, and at 390,000 in Euros.
The Carrera GT has large side inlets and airdams that help cool the large V-10 that lies framed by the carbon fibre rear hood. Fitted with Porsche's latest brake system, the 15 inch ceramic pad brakes make a stunning appearance underneath the 19 inch front and 20 inch rear tires. Similar to other Porsche Models, the GT includes an automated rear wing spoiler which deploys in the higher ranges of speed (circa 60 mph to 70 mph).
Technology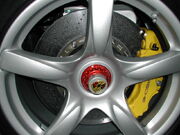 Technology of note includes a pure carbon fiber monocoque and subframe, dry-sump lubrication and inboard suspension. The carbon fibre monocoque and subframe were produced and assembled by the ATR Composites Group of Italy. The main innovation on this vehicle however is the use of a ceramic clutch. This is the first appearance of this race car technology in a road car. The clutch, although difficult to master, allows the engine to sit lower in the chassis than in any other super car, both improving its aerodynamics and lowering its center of gravity.
Despite a seemingly difficult clutch, Porsche incorporated computer management of the clutch when the car is on an incline. Drivers are able to lift completely off the clutch and not stall the car.
Unlike some of its rivals, the Carrera GT does not use the same electronic driving aids such as dynamic stability control, but it does have traction control. Porsche engineers have designed a communicative chassis and rely on the ability of the driver.
Owners
Famous Carrera GT owners include:
Michael Dell - founder Dell Computer
Jay Leno - Tonight Show Host
Ralph Lauren - Fashion Designer
Jerry Seinfeld - Comedian / Actor
Tiger Woods - Professional Golfer
Thierry Henry - professionall footballer
Samuel Bayer - Award Winning Video Producer
Christijan Albers - Formula 1 Racing Driver (Team Spyker)
Gemballa Mirage Carrera GT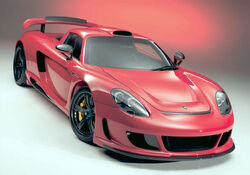 The Gemballa Mirage GT is a pumped up, customized version of the Carrera GT. Gemballa have eeked out another 40bhp from the Carrera GT's V10, via some engine management electrickery and the addition of a freer breathing exhaust - with tips coated in plasma. Such power upgrades culminate in a 0-60 mph sprint which is 0.1 seconds quicker than the standard car.
But engine upgrades are not the furthest extent of Gemballa's fettling. The bodywork has been modified - to questionable results - and features new front and rear splitters, new hood, new roof with an air vent, a large spoiler, new side skirts and quad exhaust, all of Gemballa's own design. Wheels, again of Gemballa's design, complete the look. The cost of the comprehensive conversion, which can only be carried out by Gemballa, starts from EUR 229,800 - which is roughly $312,000.
Gallery
External links