Porsche Boxster
Porsche AG
aka
718 Boxster
Production
1996 - Present
Class
Sportscar
Body Style
2-door Convertible Roadster
Length
Boxster: 4,374 mm (172.2 in)

4,404 mm (173.4 in) (GTS)

Width
1,801 mm (70.9 in)
Height
Boxster: 1,282 mm (50.5 in)

1,273 mm (50.1 in) (GTS)

Wheelbase
2,475 mm (97.4 in)
Weight
Boxster:3,035 lb (1,377 kg) (2.7 manual)

BoxsterS:3,070 lb (1,390 kg)(manual) BoxsterS:3,139 lb (1,424 kg)(PDK) BoxsterGTS:3,163 lb (1,435 kg)(PDK)

Transmission
7-speed PDK

6-speed manual

Engine
2.0 L flat-4

2.5 L flat-4 2.7 L flat-6 3.4 L flat-6 3.8 L flat-6

Power
255 hp (188 kW) @ 6400 rpm
214 lb-ft. of torque @ N/A rpm

310 hp (228 kW) @ 6400 rpm
266 lb-ft. of torque @ N/A rpm

320hp (235kW) @ 7200 rpm
273 lb-ft. of torque @ N/A rpm
Similar
BMW Z4
Mercedes-Benz SLK-Class
Honda S2000
Audi TT
Nissan 350Z
Designer
Harm Lagaay (1st gen)
Michael Mauer (2nd gen)
The Porsche Boxster Speedster is a convertible sports car released in late 1996 by German Automotive manufacturer Porsche. The Boxster has a mid-mounted engine, two doors, two seats, and a folding cloth roof. Throughout its production it has been Porsche's smallest and least expensive sports car model.
The Boxster's name plays on the words, 'boxer' (after its horizontally-opposed engine configuration, called the boxer engine which was patented by Karl Benz in 1896) and 'roadster'. Boxster production began at the former Porsche 928 facility at Stuttgart after the 928 was discontinued due to poor sales. Boxsters are also manufactured in Uusikaupunki, Finland by Valmet under contract to Porsche.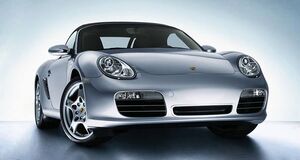 Recent Changes
The 2009 Los Angeles Auto Show will play host to the unveiling of the Porsche Boxster Spyder, a chopped-top roadster version of the Boxster (and homage to the iconic 550 Spyder). The Spyder is the lightest Porsche in its current lineup with a weight of just 2811 lb (1275 kg, and only 11 lb more than the 986 Boxster). To make it the "...purest form of the Porsche sports car...", they also gave it an all-new sport suspension that lowers it by 20 mm providing a lower center of gravity and a standard limited slip differential. The Spyder is motivated by the familiar 3.4-liter boxing 6 found in the regular car but massaged to give 10 more hp than the S for a total of 320 and harnessed by Porsche's PDK transmission. The result is a naught-to-60 mph (100 km/h) sprint of 4.8 seconds, all while returning 30.4 mpg (9.3L/100km) in the New European Driving Cycle (NEDC). It is set to go on sale in February of 2010 carrying a pricetag of €53,100 (US$61,200) / €63,404 in Germany, after a 19% VAT.
For 2010, Porsche unveils the first significant mid-cycle facelift and drivetrain update for the Boxster and the Cayman. Besides revised styling, the new cars will benefit from new 2.9 and 3.4 litre engines that pumps out more power while being more efficient as well as Porsche's PDK double-clutch gearbox that also helps cut down fuel consumption while changing gears in fraction seconds quick. The new cars will come online in Europe on February 2009 with prices set at €38,600 for the Boxster and €41,700 for the Cayman. The Boxster S starts at €46,700 while the Cayman S €51,500.
For 2009, Porsche rolls out another special edition variant of the Boxster, in tandem with the release of the Cayman S Sport, called the Boxster Porsche Design Edition 2. It is available only in a Carrara White and gray racing stripe color scheme and fitted with 19" SportDesign wheels. Only 500 examples of this would ever be produced.
Engine tweaks are the only changes for the 2007 Boxster and Boxster S.
2.7 liter engine produces 5 hp and 2 lb-ft more than 2006 model

VarioCam Plus variable camshaft timing and intake velocity
lighter crankshaft
larger voids in hollow piston pins for reduced weight
improved coolant flow
On November 27, 2007, Porsche unveiled a 1,960 unit limited edition of the Boxster dubbed, Boxster RS 60 Spyder. The vehicle is in homage of the Porsche Type 718 RS which won the 12 Hours of Sebring in 1960. The biggest change for this Boxster, besides the shiny new silver livery and Carrera Red interior, is a modified sports exhaust which increases engine output to 303 bhp. Other unique touches include revised front spoiler, 19 inch Porsche SportDesign alloy wheels and Porsche Active Suspension Management (PASM) system. Each unit will feature a numbered silver plaque on the glovebox. The mid-engined Porsche Boxster RS 60 Spyder will start at 53,000 Euros ($79,500).
Styles and Major Options
The Boxster is available in Base and S guises. The S model is more upscale, in features, performance and price.
Base Standard Features
2.7 liter flat-6, 245 hp, 201 lb-ft
5-speed close ratio manual transmission
Power Windows, Door Locks and Heated Mirrors
AM/FM Single-CD Stereo with 4 speakers
On-Board Computer
Full Leather Upholstery
6-way adjustable, 2-way power front seats
17" allow wheels
S Standard Features
3.4 liter flat-6, 295 hp, 251 lb-ft
6-speed close ratio manual transmission
AM/FM Single-CD Stereo with 7 speakers
18" alloy wheels
Pricing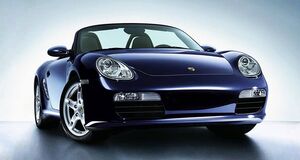 Add more fields as necessary.
MODEL Trims
Base Manual
Base PDK
S Manual
S PDK
Spyder
MSRP
$47,600 (€38,600)
$ 51,020
$58,000 (€46,700)
$61,420
$61,200 (€53,100 EU/€63,404 GER)
Invoice
$Price1
$Price2
$Price3
$Price4
$Price5
Gas Mileage
As seen on the FuelEconomy.gov website, the City/Highway MPG averages are as follows:
Add more fields as necessary.
Trim
Base Manual
Base PDK
S Manual
S PDK
Spyder
MPG
19/27
20/29
19/26
20/29
c/h
Reliability
Safety
Standard Safety Features
Driver and Front Passenger Frontal, Head and Side Airbags
Stability Control
Anti-Lock Brakes
Three Point Seatbelts with Pretensioners and Force-Limiters
Reinforced Windshield Frame
Rollover Hoops behind Passengers heads
The NHTSA has not conducted crash tests of the 2007 Boxster.
Photos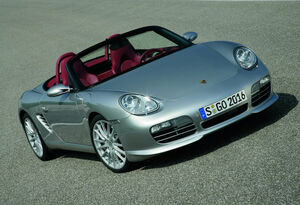 Boxster Spyder
Colors
| | | |
| --- | --- | --- |
| Metallic Colors | Special Colors | Standard Colors |
| | | | | | |
| --- | --- | --- | --- | --- | --- |
| Carmon Red |   | Dark Teal |   | Black |   |
| | | | | | |
| --- | --- | --- | --- | --- | --- |
| Atlas Grey |   | Lapis Blue |   | Carrera White |   |
| | | | | | |
| --- | --- | --- | --- | --- | --- |
| Midnight Blue |   | GT Silver |   | Guards Red |   |
| | | | | | |
| --- | --- | --- | --- | --- | --- |
| Arctic Silver |   | Slate Grey |   | Speed Yellow |   |
| | | | |
| --- | --- | --- | --- |
| Standard Colors | Special Leather | Natural Leather | Two-Tone |
| | | | | | | | | |
| --- | --- | --- | --- | --- | --- | --- | --- | --- |
| Black |   | Terracotta |   | Grey |   | Black/Stone Grey |   |   |
===Main Competitors===
Porsche has no plans to release a hybrid model of the Boxster.
Unique Attributes
Like all Posches, the ignition key is mounted on the outboard side of the steering wheel. This tradition recalls the LeMans time-saving feature that gave Porsche's a slight advantage over the competition.
Resale Values
As a rule of thumb, the Porsche Boxster typically depreciates at 10% of it's value year on year
<MODEL> Year
Year X
Year X-2
Year X-3
Year X-4
Resale Value
$
$
$
$
Criticisms
"It couldn't pull a greased stick out of a pig's bottom." Jeremy Clarkson, Top Gear
Cuerent generation (2012-Present)
The third generation Boxster was introduced in 2012 under the 981 internal working code. In 2016, it received a facelift under the working code of 982 that saw some chassis modifications, cosmetic changes and a major shift in engines. The engine update consisted of the introduction of four-cylinder, single-turbo boxer engines instead of the six-cylinder naturally-aspirated engines used by the 981 Boxster family up to that point. As part of this strategy, Porsche reintroduced the 718 name in homage to the 4-cylinder Porsche 718 sports car from the 50s and 60s, with the Boxster becoming the 718 Boxster.
981 Boxster (2012-2015
The third-generation Boxster was announced on 13 March 2012 at the
Geneva Auto Show
with sales starting early summer 2012. The new Boxster reflects the new design language from the 
911 (991)
 and 918, and features new and revised engine and transmission specifications. Together with a new body, the type 981 Boxster features a new chassis; 40 per cent more torsionally rigid, the front track is 40mm wider, the rear 18mm wider and the wheelbase extended by 60mm, but with a small weight reduction of up to 35 kilograms (77 lb) compared to the previous type 987 Boxster.The standard Boxster is fitted with a new 2.7-litre flat-6 engines, and the Boxster S is fitted with the existing 3.4-litre engine but with revised performanùce. Both engines are equipped with a 6-speed manual gearbox and an optional 7-speed reworked PDK. Both manual and automatic models are available with several technical options including Porsche Torque Vectoring (PTV) and a Sport Chrono Package that includes active transmission mounts, and makes the PDK-equipped model even faster. Porsche claims that the new generation Boxster provides fuel savings of 15% over the outgoing model.The range was expanded in March 2014 with the addition of the GTS derivative, with slightly altered front and rear bumpers and an additional 15 bhp from the 3.4-litre engine.Porsche revealed the latest Spyder model in April 2015 at the 
New York Auto Show
. The styling of the car is similar to the previous generation Spyder, continuing the twin hump rear deck and manually operated canvas top. It also shares some styling with the Cayman GT4, using the same front and rear fascia. The engine is also shared with the Cayman GT4, a 3.8l flat-6, making this the largest capacity and most powerful engine used in a Boxster with 276 kilowatts (370 bhp). It is also the lightest current Porsche, weighing 1,315 kilograms (2,899 lb). This was achieved through the use of aluminum doors and rear lid, the manually operated roof and unique light weight 20 inch wheels. The air conditioning and audio system are also removed, although can be added as no cost options. Braking is via larger brakes than used on the Boxster S, being 340mm front and 330mm rear units taken from the 911 Carrera S. It also shares from the GT4 a limited slip differential combined with Porsche Torque Vectoring and features a 30mm lower ride height. Additionally it also borrows the steering rack from the 911 Turbo S along with the same reduced diameter GT steering wheel as used in both the GT3 and GT4. The only gearbox available is a 6 speed manual. The Spyder has a base price of US$82,100.
The 2.7 has a drag coefficient of Cd=0.30, the S Cd=0.31, the GTS Cd=0.32 and the Spyder Cd=0.33
718 Boxster (2016-)
The Porsche 718 Boxster/Boxster S was released in 2016, with first model availability scheduled for June 2016. The 718 features two new horizontally-opposed flat-4 turbocharged engines at 2.0L and 2.5L displacement with increased torque and horsepower, higher rpm limit, and lower fuel consumption. The S model turbocharger utilizes Variable Turbine Geometry (VTG) technology. The official performance figures for the 718 Boxster are:
Second Generation: (2005–2011)
The second generation of the Boxster is the 987 which made its debut at the 2004 Paris Motor Show alongside the 997 911. The car became available for model year 2005.
The appearance of the car remains very similar to the previous generation. The most obvious styling change is the headlights which moved towards a more classic round style, much like the current generation 911. There has also been a significant update to the intake vents on the sides of the car, which are now larger. Overall, the styling of the car has been updated to match that of its hard top stable mate, the Cayman. The base engine is a 2.7 L 176 kW (240 PS) flat-6, with the Boxster S getting a 3.2 L 206 kW (280 PS) engine. The 987 grneration boxster ended in 2011.
Previous Generations
First Generation/Origins: (1996-2004)
The styling of the Boxster is owed to former "Style Porsche" department head Harm Lagaay. His Boxster design study and the production Boxster stimulated a commercial turnaround for Porsche after several difficult years of falling sales. The first generation of the Boxster was the 986 whose visual appearance was heavily inspired by the Porsche Spyder and Speedster. The Boxster features two models; the standard model with a 200 bhp (149 kW), 2.5 L flat six cylinder engine (enlarged to 2.7 L and 225 bhp (168 kW) in later model years), and the model "S" with an enlarged 3.2 L engine producing 258 bhp (192 kW).
A unique styling feature on both the 986 and 987 is the automatically extending rear spoiler that extends at 75mph and retracts at 56mph, pushing down on the back end to increase steering control and stability. With styling reminiscent of the larger 911 (to the point where buyers of the 911 complained that their car looked too similar to the Boxster), the car has been popular both with car industry journalists and with buyers. It was Porsche's biggest volume seller from its introduction in model year 1997 until the company introduced the Cayenne SUV in model year 2003.
Worldwide
Design quirks and oddities
The ignition is located to the outboard side of the steering wheel, a Porsche tradition.
There is a parody version of the Boxster in 'The Sims Bustin' Out'. It's very similar to the Boxster but is named Spitzenfunken and is unlocked after a user sim gets married.
A silver Boxster appeared in a British sitcom, 'My Hero'.
Awards
In 1998, after a year of marketplace acceptance in the United States, the original Boxster was the recipient of many awards, including those listed:
Car & Driver / One of the 10 Best Cars of 1997
Automobile / Automobile of the Year
Motor / 1997 Performance Car of the Year
Autocar / Best Roadster in the World
Motorweek / 1997 Drivers Choice for Best Sports Car
Philadelphia Inquirer / Best Sports Car of the Decade
Newsweek / One of the Best New Products of 1997
Business Week / One of the Best New Products of 1997
American Marketing Association / Best New Product of 1997
Automobile Journalists of Canada / 1997 Car of the Year
Automobile Journalists of Canada / Best Design of 1997

The Boxster has been on Car and Driver magazine's annual Ten Best list seven times, from 1998 through 2003 and in 2006.
The Boxster S (986s) was rated as one of the top ten Porsches of all time by Excellence magazine.
The Boxster won Best Convertible by Australian auto reviewer Drive in 2010.
See also
References
"Into the Sunshine: 2005 Porsche Boxster Revealed", an article in the "News" section on page four of the 10 May 2004 issue of AutoWeek
External links