Porsche 911 Turbo
Porsche
aka
Type aka here, not up there
Production
2008-present
Class
Supercar
Body Style
2-door, 2-seat Coupe
2-door, 2-seat Cabriolet
Length
4450 mm / 175.2 in
Width
1852 mm / 72.9 in
Height
1300 mm / 51.2 in
Wheelbase
2350 mm / 92.5 in
Weight
1588 kg / 3500 lbs (curb, Coupe) 3726 lb. (curb, Cabrio)
Transmission
6-Speed Manual or 7-Speed PDK Dual Clutch, AWD
Engine
3.8 litre twin-turbocharged FlatHead-6 Cylinder, 24 valves
Power
540 PS (397 kW; 533 bhp) @ 6,400 rpm

Turbo S

580 PS (427 kW; 572 bhp) @ 6,750 rpm

Similar
Nissan GT-R
Designer
Designer (lead designer if it was a team effort)
The Porsche 911 Turbo is a turbo variation of the 911. As of 2016 the only 911 Turbo to reach 200 mph is the facelifted 991 Turbo S.
See Autopedia's comprehensive Porsche 911 Turbo Review.
Recent Changes
The 2010 Geneva Motor Show plays host to the unveiling of a new range-topping 911 dubbed Turbo S. The new alpha dog 911 takes the volume up to 11 by churning our 530 hp and 700Nm (516 lb-ft) of torque via the help of two exhaust gas turbochargers with variable turbine geometry. The engine is attached exclusively to Porsche's 7-speed double-clutch PDK gearbox sending the power to all four wheels. Prices in Germany begin at €173,241 for the Coupe and €184,546 for the Cabrio. [1]
2010 sees an extensive refresh for the 911 Turbo. Outside, it's still the same 997 body (albeit with new headlamps) but the big story is what's underneath. First, the 3.6 litre Flat-Six is given the boot in favor of the new 3.8 litre directed injected unit from the Carrera S fitted with two variable-vane turbos and producing 500 hp. Attached to the 6-speed Manual, the powertrain returns 24.1 mpg, attached to Porsche's 7-speed Doppelkupplungsgetriebe (dual-clutch) gearbox, however, and you get 24.8 mpg. Second, the paddle shifters have also been replaced with dual-action units to F1-style ones. Third, the new Turbo carries around less weight and more RWD bias. Finally, Porsche has fettled with its Porsche Traction Management system that distributes torque between the front and rear differentials via an electric multi-plate clutch. The same goes for the PSM (Porsche Stability Management), re-calibrated to be more lively and New RS Spyder rims are also available to decrease unsprung weight. Prices start at $132,800 for the Coupe and $143,800 for the Cabrio. [2]
Styles and Major Options
Certain vehicles come in different trim levels or body styles. Features and major options should be mentioned here.
Pricing
Add more fields as necessary.
MODEL Trims
Coupe
Cabriolet
MSRP
$132,800
$143,800
Invoice
$Price1
$Price2
Gas Mileage
Add more fields as necessary.
As seen on the FuelEconomy.gov website, the City/Highway MPG averages are as follows:
Trim
Trim1
Trim2
Trim3
Trim4
MPG
c/h
c/h
c/h
c/h
Engine and Transmission
Specifications, details, graphs, pictures and other information regarding the powertrain is placed in this section.
Performance
0-100 km/h: 3.8 seconds
100-200 km/h: 8.8 seconds
Top speed: 310 km/h
Reliability
Warranty options and scheduled maintainence information should be mentioned here.
Safety
This section should reference points on safety ratings and features of the vehicle.
Photos

2010 911 Turbo
Add Photos of the vehicle here.
Please make sure not to use copyrighted photos.
Colors
List the colors that the particular <MODEL> is offered in.
Main Competitors
Hybrid Models
none as of yet.
Unique Attributes
If there are any features of this vehicle that sets it apart from other vehicles in its class, then mention those unique attributes here.
Interior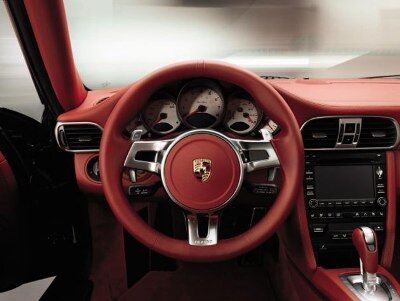 This section should include information on the interior's design, build quality, ergonomics, space (head and legroom, front and rear), features, stowage compartments and overall comfortability and livability. Add pictures wherever applicable and keep information in a third-person point of view.
Resale Values
Add more fields as necessary.
<MODEL> Year
Year X
Year X-2
Year X-3
Year X-4
Resale Value
$
$
$
$
Criticisms
Please make sure to keep critiques in a third-person point of view. If using criticisms from a reputable automotive source, then please make sure to cite the quote.
Generations
Fill in as many as appropriate. Add more if necessary and pictures wherever applicable.
Please make sure NOT to use copyrighted pictures.
Current Generation: (2013–present)
the 991 turbo comes with twin-turbo 3.8L engine. The facelifted 991 turbo has a possible top speed of 199 mph while the facelifted turbo s has a possible top speed of 205 mph.
997 generation (2006–2012)
The 997 turbo was introduced at the 2006 Geneva Motor Show. The facelifted 997 turbo was introduced for 2010 and ended production in 2012.
996 generation (2000–2004)
The 996 Turbo debuted at the Frankfurt Auto Show in September 1999. It went on sale in the US in summer of 2000 as a 2001 model. The turbo was powered by a water-cooled twin turbocharged/intercooled 3.6L H-6 engine. During the final year of the 996 turbo porsche included the turbo s as a coupé or convertible.
993 generation (1995–1998)
The 993 Turbo coupe was released in 1995. It featured a new turbochargedengine displacing 3.6 liters and producing 408 PS (300 kW; 402 hp). Twinturbochargers and air-to-air intercoolers, electronic engine management, redesigned cylinder heads and other modified engine internals were used. The 993 Turbo was the first Porsche Turbo with all wheel drive. The electronic engine management helped the Turbo to achieve fuel efficiency far superior to any of the previous production Turbos. In connection with twocatalytic converters and an on-board-diagnostics-system including four oxygen-sensors, it also made the 993 Turbo the cleanest sports car at its time. The Turbo's bodywork differs from the Carrera body by widened rear wheel arches (approximately 6 cm), redesigned front and rear bumper moldings, and a fixed rear wing housing the intercoolers. New 18-inch (460 mm) alloy wheels with weight-reducing hollow spokes were standard.
This was one of the first production cars in the world to have OBDII diagnostics (the 3.8-liter and track versions didn't have it, and the normally aspirated 993s didn't get it until 1996). All turbos since have had water-cooled heads. The car also had brakes that were larger than those on the base Carrera model.
During the second to the last year of production of the 993 (1997), Porsche offered the 993 Turbo S. Ultimately 183 cars were sold. The Turbo S is a high-spec Turbo including a power upgrade to 450 hp (DIN) (424 hp (SAE) for theAmerican market). The inclusion of extras including carbonfibre decoration in the interior makes it different from the earlier lightweight, spartan 964 Turbo S. The 993 Turbo S is recognized by yellow brake calipers, a slightly larger rear wing, a 4-pipe exhaust and air scoops behind the doors. This was the last of the air-cooled Turbos. 12 Turbo S cars were delivered to Australia.
964 generation (1990–1994)
The 964 turbo was introduced in 1990 as the replacement for the 930. In 1992 the turbo s model was introduced. Porsche also released the 964 turbo 3.6 in January 1993. At the end of the 964 turbos production there was about 90 turbo chasis left.
First Generation/Origins (1975–1989)
The first generation 911 turbo was introduced in 1975. A total of 21,589 first generation turbos were made.
Worldwide
If the vehicle is sold in other markets worldwide, then this is the section to mention that information. Also, mention if the <MODEL> goes by another name in these other markets.
Design quirks and oddities
Refer to any pop-culture tidbits about the vehicle in this section.
Awards
2010 Drive Best Performance Car Over $60K (Nominee)
See Also
External Links