Porsche 911 Speedster
Porsche
aka

Carrera 3.2


Porsche 964
Porsche 993 (2 units)
Porsche 997 (356 units)
Porsche 991.2 (1948 units)
Production
1989
1992-1993
2011
2019
Class
Sports Car
Body Style
2-door, 2-seat RR layout Roadster
Length
length - type here
Width
Width - type here
Height
Height - type here
Wheelbase
wheelbase - type here
Weight
Weight - you get the point
Transmission
7-speed dual-clutch PDK, RWD
Engine
3.8 litre Flat-6
Power
408 hp @ N/A rpm
N/A lb-ft of torque @ N/A rpm
Similar
similar (competition)
Designer
Michael Mauer (4th gen)
The Porsche 911 Speedster is a speedster variantion of the 911. The speddster name first appeared on the 964 and most recently appeared on the 997.
See Autopedia's comprehensive Porsche 911 Speedster Review.
Recent Changes
Mention any minor facelifts or major changes made to the vehicle here.
Styles and Major Options
Certain vehicles come in different trim levels or body styles. Features and major options should be mentioned here.
Pricing
Add more fields as necessary.
MODEL Trims
Trim1
Trim2
Trim3
Trim4
MSRP
$Price1
$Price2
$Price3
$Price4
Invoice
$Price1
$Price2
$Price3
$Price4
Gas Mileage
Add more fields as necessary.
As seen on the FuelEconomy.gov website, the City/Highway MPG averages are as follows:
Trim
Trim1
Trim2
Trim3
Trim4
MPG
c/h
c/h
c/h
c/h
Engine and Transmission
Specifications, details, graphs, pictures and other information regarding the powertrain is placed in this section.
Performance
Please make sure to write information of the vehicle's performance in a third-person point of view. This section should include information about the car's acceleration figures, handling, braking, etc.
If using information gathered from Road Test articles from a reputable automotive source, then please make sure to cite the quote.
Reliability
Warranty options and scheduled maintenance information should be mentioned here.
Safety
This section should reference points on safety ratings and features of the vehicle.
Photos
Add Photos of the vehicle here.
Please make sure not to use copyrighted photos.
Colors
List the colors that the particular <MODEL> is offered in.
Main Competitors
Create links to other <MAKE> <MODEL> pages in this section.
Hybrid Models
N/A
Unique Attributes
If there are any features of this vehicle that sets it apart from other vehicles in its class, then mention those unique attributes here.
Interior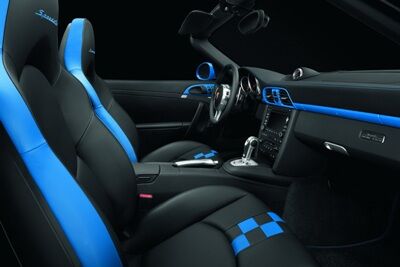 This section should include information on the interior's design, build quality, ergonomics, space (head and legroom, front and rear), features, stowage compartments and overall comfort and livability. Add pictures wherever applicable and keep information in a third-person point of view.
Resale Values
Add more fields as necessary.
<MODEL> Year
Year X
Year X-2
Year X-3
Year X-4
Resale Value
$
$
$
$
Criticisms
Please make sure to keep critiques in a third-person point of view. If using criticisms from a reputable automotive source, then please make sure to cite the quote.
Generations
Fill in as many as appropriate. Add more if necessary and pictures wherever applicable.
Please make sure NOT to use copyrighted pictures.
Current Generation: 2017?
In late 2016 Total 911 predicted that the 911 Speedster would return for 2017. As of June 2017 the 991 Speedster is likely expected to be launched in either 2017 or 2018.
Third Generation 2011
In 2011, Porsche made a new 911 Speedster in a limited series of only 356, the production number coming from the iconic car of the 1950s. It was the third 911 Speedster made, the other two being from the 930 and 964 generations. The Speedster was powered by the same engine of the Carrera GTS, and produced 408 horsepower (304 kW). It accelerated from 0 to 60 mph (97 km/h) in 4.2 seconds and reached a top speed of around 190 mph (310 km/h). Only two colours were offered, Pure Blue (which was developed specifically for the Speedster) and Carrara White. (Paint To Sample versions were produced in very limited numbers).
The Speedster featured a windscreen 70mm shorter than the standard 997 cabrio while maintaining the same rake angle.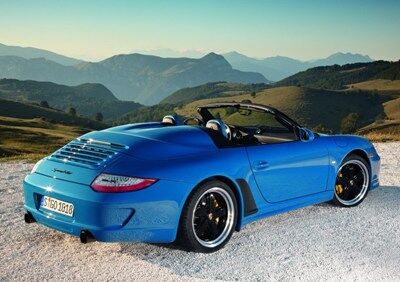 Second generation 1995
The Speedster model, was a variant of the 993, with a lowered roof, and a redesigned interior.
In contrast to the G-model and the 964, Porsche never officially released a 993 Speedster. However, two were built by the factory: a dark green Speedster equipped with Tiptronic S and 17-inch (430 mm) wheels for Ferdinand Alexander Porsche (for his 60th anniversary) in 1995 and another wide-body, silver Speedster with manual transmission and 18-inch (460 mm) wheels for American TV star Jerry Seinfeld in 1998. The Seinfeld speedster was originally delivered as either a cabriolet or targa model and later sent back to the factory "Exclusive" department to be "rebuilt" as a speedster.

First Generation/Origins (1989-1993)
There were two distinct incarnations of the air-cooled 911 Speedster. The first was the 1989 model year Speedster. Shown at the 1988 Frankfurt autoshow beside the upcoming Carrera 4, the 1989 Speedster actually shared more in common with the 930 turbo than with the upcoming 964 generation 911s, causing it to be looked upon, in retrospect, as a much inferior "driver's car" to the later 1994 Speedster. More than three quarters (641) of the 800 built had the "Turbo look" wide-body option.
The 1994 Porsche 911 Speedster was available either in standard or lightweight trim called "clubsport." Unlike the 1989 model, the 1994 Speedster was based on the new Carrera 2 platform and was not initially available with the "Turbo look" wide-body style. The 1994 Speedster was designed to be a more focused "driver's car" and served as a hybrid between a 964 Carrera 2 Cabriolet and a 964 RS. While it featured a softer suspension set up than the 964 RS, it offered almost none of the comforts of a normal 964 Carrera 2 Cabriolet, though power windows were standard and it was available with air conditioning and a stereo. Porsche planned to build 3000 examples of the 1994 Speedsters in 1992, but only 936 examples were built and sold during the two years of production. Once again, the United States was the most important market with 427 Speedsters heading Stateside. Right hand drive versions were exceptionally rare this time, with only 14 cars having the steering wheel on the 'proper' side compared to 139 examples in right hand drive of the pre-964 911 Speedster. In addition, 20 special examples were finished at Porsche Exclusive's workshop at Werk 1 (Factory 1) with the optional "Turbo look" wide-bodies.
Worldwide
If the vehicle is sold in other markets worldwide, then this is the section to mention that information. Also, mention if the <MODEL> goes by another name in these other markets.
Design quirks and oddities
Refer to any pop-culture tidbits about the vehicle in this section.
Awards
List out notable awards that the model has received while in production. Boldface the company or organization that gives out the award, and Italicize the name of the award.
See Also
External Links
Please include any external sites that were used in collaborating this data, including manufacturer sites, in this section.
News and References
Enthusiast Sites and Discussion Forums