Porsche 911 GT3
Porsche
aka
Type aka here, not up there
Production
1999- Present
Class
Supercar
Body Style
2-door, 2-seat Rear-Engined Coupe
Length
178.94 in (4,545 mm)
Width
72.91 in (1,852 mm)
Height
49.96 in (1,269 mm)
Wheelbase
2355 mm / 92.7 in
Weight
1451 kg / 3200 lbs
Transmission
6-speed manual or 7-speed dual-clutch gearbox RWD
Engine
3.8 litre Flat-6
Power
415 hp (309.5 KW) @ 7600 rpm
299 lb-ft. (405.39 Nm) of torque @ 5500 rpm
Similar
Chevrolet Camaro Z28
Designer
Designer (lead designer if it was a team effort)
The Porsche 911 GT3 was introduced in 1999 as a high performance version of Porsche's first water-cooled version of the 911, the 996, to continue the quarter-century tradition of low-weight RS models that ended with the 993 RS. The GT3, named after the FIA GT class it was intended for, did not use the rather simple engine of the regular production versions of the 996, but a naturally-aspirated version of the turbo-charged Porsche 962 and Porsche 911 GT1 race cars. Later, the turbo-charged Porsche 911 GT2 was added to the maker's lineup, but unlike its predecessor 993 GT2, did not fit into GT racing regulations. The racing versions of the GT3 have won several major 24h races outright, and mainly dominated their class at Le Mans.
Recent Changes
For 2010, Porsche updated the GT3 with a facelift and a power increase from the 3.8 litre flat-six to 435 hp and 317 lb-ft of torque. This is good for a 0-60 mph jaunt in 4.1 seconds and a top speed of 193 mph. Handling is improved as well, with a modified stability management system that allows for graduated settings for both stability and traction controls, along with enlarged carbon ceramic brakes that improve stopping distances. Prices start at €98,100 for most of Europe, €116,947 for Germany (incl VAT), $112,200 for USA and £81,914 for UK.[1]
Styles and Major Options
Certain vehicles come in different trim levels or body styles. Features and major options should be mentioned here.
Pricing
Add more fields as necessary.
MODEL Trims
Trim1
Trim2
Trim3
Trim4
MSRP
$Price1
$Price2
$Price3
$Price4
Invoice
$Price1
$Price2
$Price3
$Price4
Gas Mileage
Add more fields as necessary.
As seen on the FuelEconomy.gov website, the City/Highway MPG averages are as follows:
Trim
Trim1
Trim2
Trim3
Trim4
MPG
c/h
c/h
c/h
c/h
Engine and Transmission
Specifications, details, graphs, pictures and other information regarding the powertrain is placed in this section.
Performance
Please make sure to write information of the vehicle's performance in a third-person point of view. This section should include information about the car's acceleration figures, handling, braking, etc.
If using information gathered from Road Test articles from a reputable automotive source, then please make sure to cite the quote.
Reliability
Warranty options and scheduled maintainence information should be mentioned here.
Safety
This section should reference points on safety ratings and features of the vehicle.
Photos

Add Photos of the vehicle here.
Please make sure not to use copyrighted photos.
Colors
List the colors that the particular <MODEL> is offered in.
Main Competitors
-Chevrolet Corvette ZR1 -Nissan GT-R
Hybrid Models
None
Unique Attributes
If there are any features of this vehicle that sets it apart from other vehicles in its class, then mention those unique attributes here.
Interior
This section should include information on the interior's design, build quality, ergonomics, space (head and legroom, front and rear), features, stowage compartments and overall comfortability and livability. Add pictures wherever applicable and keep information in a third-person point of view.
Resale Values
Add more fields as necessary.
<MODEL> Year
Year X
Year X-2
Year X-3
Year X-4
Resale Value
$
$
$
$
Criticisms
-"The Turbo may look better on paper, but it's hard to match the feel and precision of Porsche's naturally aspirated 911s, especially considering the GT3's" -Car and Driver
Generations
Fill in as many as appropriate. Add more if necessary and pictures wherever applicable.
Please make sure NOT to use copyrighted pictures.
Current Generation: (2017–present)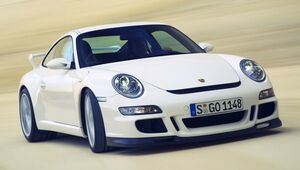 Porsche released its facelifted 991.2 GT3 at the 2017 Geneva Motor Show in 2017. Changes made from the 991 are the engine and the spoiler, which is 20% taller. The engine unit is a "Carbon Copy" of the 911RSR engine, producing 500 horsepower. Another change from the 991 is the introduction of a manual transmission option, along with the PDK version. The 991.2 GT3 lapped the Nürburgring in 7:12.7 seconds.

Fifth

generation (2013-2016)
Porsche introduced the 991 GT3 at the Geneva Motor Show in 2013. The 991 GT3 features a new 3.8 litre direct fuel injection (DFI) flat-six engine developing 475 hp (354 kW; 482 PS) at 8,250 rpm, a Porsche Doppelkupplung (PDK) double-clutch gearbox and rear-wheel steering. The engine is based on the unit fitted in the 991 Carrera S, but shares only a few common parts. All other components, particularly the crankshaft and valve train, were specially adapted or developed for the 991 GT3. For example, the 991 GT3's engine uses titanium connecting rods attached to forged piston, in order to allow the engine to reach up to 9,000 rpm. The dual-clutch gearbox is another feature specially developed for the 991 GT3, based on sequential manual transmissions used in racing cars.
After a number of engine failures, it was discovered that the supplier of the connecting rod bolts had made a production error in the alloy of the bolt. Subsequently, all 785 of the GT3s that had been produced up to that point were recalled to the dealership organisations and fitted with new engines, and all owners were issued with an extra year's warranty.
The 991 GT3 is claimed to be able to accelerate from 0-60 mph (97 km/h) in 3.1 seconds or less, and the quarter mile in 11.2 seconds at 126 mph (203 km/h). The GT3 has a claimed top speed of 195 mph (314 km/h). The lap time on the Nürburgring Nordschleife is 7 minutes and 25 seconds.
Fourth generation (2009-2011)
In 2009, Porsche launched the 2nd Generation 997 GT3 (commonly now known as the 997.2 GT3), with an enlarged 3.8 litre engine producing 435 PS (320 kW). It also featured a number of new options including dynamic engine mounts and a pneumatically lifting front axle to compensate for the low ground clearance. The rear spoiler was also modified along with other parts of the bodywork. Deliveries in Europe commenced in October the same year. A total of 657 units were sold in the United States and 58 units in Canada.
Third generation (2006–2008)
In February 2006, Porsche revealed the first generation 997 GT3, commonly now known as the 997.1 GT3. In addition to a new 415 PS (305 kW) 3.6 litreflat-six engine, the vehicle featured "zero lift" aerodynamics, meaning the car creates only aerodynamic downforce and no grip-diminishing "lift" upwards and away from the road surface. The vehicle made use of a modified, track oriented version of Porsche's active PASM suspension making it the first of Porsche's RS or GT3 versions to feature an electronically adjustable suspension system. Also available was a navigation system and Porsche's "sports chrono" gauge package. The car went to sale in summer of 2006 and had a starting price of $106,000 USD. A total of 917 units were sold in the United States and 46 units in Canada.
The vehicle has a rated 0-60 mph (97 km/h) time of 4.1 seconds and has a top speed of 193 mph (311 km/h). Road and Track was able to achieve a 0-60 mph run in 3.8 seconds.  Porsche's official test-driver Walter Röhrl completed the Nürburgring Nordschleife in 7 minutes 42 seconds with the 997 GT3 in 2006.
Second generation (2003–2005)
Porsche made significant updates to the GT3 for 2004 (the first year the car was offered to US customers), using the 2002 996 facelift including headlights that were differentiated from the Porsche Boxster. The 2004 version is commonly known as the 996.2 GT3. Horsepower was raised to 381 PS (280 kW) and torque to 284 lb·ft (385 N·m), 80% of which was available from 2,000 rpm. The braking setup was upgraded, now featuring 6-piston calipers on the front (rears remained 4-piston), and the Porsche Ceramic Composite Brake system was offered as an option.
In track testing by American automotive journals, the GT3 managed a 0-60 mph (97 km/h) time of 4.5 seconds and a quarter mile time of 12.0 seconds at 118 miles per hour (190 km/h). During skidpad testing the vehicle posted 1.03g.
Porsche's official test-driver Walter Röhrl completed the NürburgringNordschleife with the 996 GT3 in 7 minutes 56 seconds, a feat which was used by Porsche to promote the car.
First Generation/Origins (1999-2002)
The "GT3" nameplate was introduced in 1999 as part of the first generation of the Porsche 996 model range (commonly known as 996.1). As with Porsche's previous 911 RS models, the 996 GT3 was focused on racing, and so was devoid of items that added unnecessary weight to the car. Sound deadening was almost completely removed, as were the rear seats, rear loud speakers, sunroof, and air conditioning, although automatic air conditioning and CD/radio became no-cost optional add-ons.
The engine of the 996 GT3 set it apart from most of the other Porsche 996 models, although it shared the same basic design of the standard so-called "integrated dry sump" flat-six engine. The engine is naturally aspirated and based on the unit used in the Porsche 962 and Porsche 911 GT1 race cars. That engine was known as the 'Mezger' engine, after its designer Hans Mezger. The engine uses the original air-cooled 911's versatile dry-sump crankcase, with an external oil reservoir. The 996 GT3 has 360 PS (265 kW; 355 hp), compared to the 300 PS (221 kW; 296 hp) of the regular Porsche 996. In GT3 configuration, this so-called "split" crankcase (meaning the parting line of crankcase is on the crankshaft centreline) uses, instead of a fan and finnedcylinders, separate water jackets added onto each side of the crankcase to cool banks of three cylinders with water pumped through a radiator. Thus, the GT3 engine is very similar to the completely water-cooled Porsche 962 racing car's engine, which is based on the same crankcase. The 962 differs, however, by using six individual cylinder heads while the GT1/GT3, like the air and water-cooled Porsche 959, uses two cylinder heads, each covering a bank of three cylinders. The GT3 engine could thus also be thought of as similar to a 959 engine, but with water-cooled cylinders. Up to early model year 2004 996 GT3 production, the basic casting used for the crankcase of the GT3 was the same as the air-cooled engine. The "964" casting number was visible on the bottom of the crankcase, and on areas normally machined in air-cooled applications, but not in water-cooled ones. The crankcase casting was changed in mid-2004 to a "996" casting number crankcase to eliminate these external air-cooled remnants, but internally it was the same.
Because the 911 air-cooled crankcase uses the Porsche 356 engine to transmission mounting flange configuration, the 996 GT3 used a manual gearbox also of air-cooled 911 heritage. This gearbox has interchangeable gear ratios and is more durable making it more suitable for racing than the standard 911 type 996 gearbox.
To bring the vehicle's track-prowess to the maximum level, Porsche endowed the GT3 with enlarged brakes, a lowered, re-tuned suspension system, lighter-weight wheels and a new front bumper with matched rear spoiler to help increase downforce, thereby increasing grip.
Porsche offered a no-cost option for the GT3 called the 'Clubsport' package. This option replaced the standard electrically adjustable leather front seats with manually adjustable racing buckets finished in fire-retardant fabric, single mass flywheel, bolt-in half-roll cage, 6-point drivers racing harness (also replacing the standard side airbags), fire extinguisher (mounted in the front passenger footwell) and preparation for a battery master switch. The Clubsport option was never offered to US customers, ostensibly due to the additional DOT crash testing that would have been required to allow US sales.
Worldwide
If the vehicle is sold in other markets worldwide, then this is the section to mention that information. Also, mention if the <MODEL> goes by another name in these other markets.
Design quirks and oddities
Refer to any pop-culture tidbits about the vehicle in this section.
Awards
List out notable awards that the model has recieved while in production. Boldface the company or orgainization that gives out the award, and Italicize the name of the award.
See Also
External Links