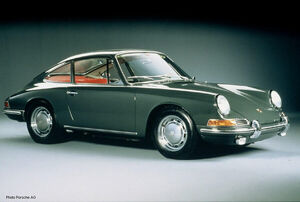 Porsche 901 was the name originally intended of the Porsche 911.
In previous models like the Porsche 356, Porsche had used parts from Volkswagen, and also the VW part numbers, which reached the 800s in the early 1960s. Porsche's 1962 F1 model was called Porsche 804.
For the new road car which had few in common anymore with VW, Porsche wanted to start a new range of numbers. At the Internationale Automobil-Ausstellung in Frankfurt in September 1963, Porsche presented the 901. Yet, French car maker Peugeot objected to Porsche using any three digit number where the middle number was 0, having already sold many models with that scheme, and owning the naming rights.
So, Porsche simply replaced the middle 0 with a 1, and called the new car Porsche 911 before the first cars were delivered.
Also, other Porsche models were affected, which were primarily intended for racing but also sold as road legal cars. Here Porsche kept the internal part number of 90x, but sold the car with a name, like
Later Porsche were pure racing cars which were not sold for road use, so not competing with any road-going Peugeot:
Nearly three decades later, a 905 was entered in the 1991 24 Hours of Le Mans, but not by Porsche (which then had won over a dozen times already), but by Peugeot: The Peugeot 905 won twice, in 1992 24 Hours of Le Mans and in 1993 24 Hours of Le Mans. A Peugeot 908 Diesel is announced for 2007.
Gallery
External links