Doctor Strange in The Multiverse o Madness - The Loop
Play Sound
Search By Model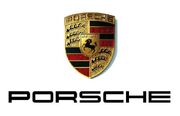 2016 Current Models
Sports Car
Boxster
Cayman
911
Luxury Sports Sedan
Panamera Gran Turismo
Luxury SUV
Cayenne
Porsche Automobil Holding SE (shortened to Porsche or Porsche AG), is a German manufacturer of automobiles, founded in 1931 by Austrian, Ferdinand Porsche. The first car he built was electric and the 2nd was the world's first hybrid. He also developed the first Volkswagen Beetle which went on to become the 2nd all time best selling car after Toyota's Corolla. The company was handed to his son early on and is now located in Zuffenhausen, a city district of Stuttgart. The company slogan is: Porsche. There Is No Substitute.
Porsche has a reputation for producing high-end 2 door sports vehicles (but now it has changed,since the arrival of the Cayenne and the Panamera. In addition to high performance, they are reliable and tractable enough to be used for daily driving, and of high manufacturing quality and durability. In a May 2006 survey, Porsche was awarded first place as the most prestigious luxury automobile brand by Luxury Institute, New York; it questioned more than 500 households with a gross annual income of at least $200,000 and a net worth of at least $750,000. The current Porsche lineup includes everything from an entry-level roadster (the Boxster) to a supercar (the Carrera GT). Their most famous product is the 911. Future plans include a high performance luxury saloon/sedan, the Panamera.
As a company, Porsche is known for weathering changing market conditions with great financial stability, while retaining most production in Germany during an age when most other German car manufacturers have moved at least partly to Eastern Europe or overseas. The headquarters and main factory are still at Stuttgart-Zuffenhausen, but for the Cayenne and Carrera GT there is a new plant at Leipzig, in the eastern portion of Germany. Some Boxster and Cayman production is outsourced to Valmet Automotive in Finland. The company has been highly successful in recent times, and indeed claims to be the most profitable car company in the world (in terms of profit margin per unit sold; its absolute profits would be dwarfed by Toyota).
Porsche designed the Tiptronic transmission. Tiptronic is basically an automatic transmission that can be over-ridden with manual shifts. The unit was first used in the Porsche 964, and has been the automatic variant for every Porsche since. In 1998, the gearbox was updated to Tiptronic S, which featured refined shifts and a better fully-automated mode. The Tiptronic system inspired many similar systems, and is the precursor to many modern paddle-shift gearboxes.
Porsche has for many years offered consultancy services to various other car manufacturers. Studebaker, SEAT, Daewoo, Subaru and Yugo have consulted Porsche on engineering for their cars or engines. Porsche also helped Harley-Davidson design their new engine in their newer V-Rod motorcycle.
Porsche's main competition is arguably from Italian specialty automaker Ferrari, though traditionally their vehicles appeal to quite different personalities, if similar demographics. Other rivals include coupes from Lamborghini, Aston Martin, Mercedes-Benz, Maserati, and BMW. The Cayenne is an altogether different proposition, with competition coming from Germany's Volkswagen Touareg, Audi Q5 and BMW X5, along with the Lexus RX and Range Rover.
History
The first Porsche, the Porsche 64 from 1938, used many components from the Volkswagen Beetle. The second Porsche model and first production car, the Porsche 356 sports car of 1948, was initially built in Gmünd, Austria, where the company was evacuated to during war times, but after building 49 cars the company relocated back to Zuffenhausen. Many people regard the 356 as the first Porsche simply because it was the first model sold by the fledgling company. Ferdinand Porsche worked with his son Ferry Porsche in designing the 356 but died soon after the first prototype was built. Again, the car used components from the Beetle including its engine, gearbox and suspension. However, the 356 had several evolutions while in production and many VW parts were replaced byPorsche-made parts. The last 356s were powered by 100% Porsche designed engines. The sleek bodywork was designed by Erwin Komenda who had also designed the body of the Beetle.
In 1963, after some success in motor-racing (namely with the Porsche 550 Spyder), the company launched the Porsche 911, another air-cooled, rear-engined sports car, this time with a 6-cylinder "boxer" engine. The team to lay out the bodyshell design was led by Ferry Porsche's eldest son Ferdinand Alexander Porsche (F.A.). The design phase for the 911 caused internal problems with Erwin Komenda who led the body design department until then. F.A. Porsche complained Komenda made changes to the design not being approved by him. Company leader Ferry Porsche took his son's drawings to neighbouring bodyshell manufacturer Reuter bringing the design to the 1963 state. Reuter's workshop was later acquired by Porsche (so-called Werk II). Afterwards Reuter became a seat manufacturer, today known as Keiper-Recaro. The 911 has become Porsche's most well-known model, successful on the race-track, in rallies, and in terms of sales. Far more than any other model, the Porsche brand is defined by the 911. It remains in production; however, after several generations of revision, current-model 911s share only the basic mechanical concept of a rear-engined, six-cylinder coupe, and basic styling cues with the original car. A cost-reduced model with the same body but 356-derived running gear (including its four-cylinder engine) was sold as the 912.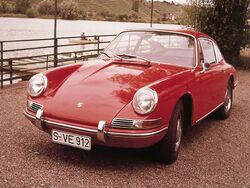 The company has always had a close relationship with Volkswagen, and as already mentioned, the first Porsche cars used many Volkswagen components. The two companies collaborated in 1969 to make the VW-Porsche 914 and 914-6, in 1976 with the Porsche 912E (USA only) and the Porsche 924, which used many Audi components and was built at the defunct NSU factory. Most 944s were also built at this facility even though they used many fewer VW components. The Porsche Cayenne, introduced in 2002, shares its entire chassis with VW Touareg, which are built at the Škoda factory in Bratislava. Both Audi and Škoda are wholly-owned subsidiaries of VW. In late 2005, Porsche took an 18.65% stake in VW, further cementing their relationship and preventing a takeover of VW, which was rumored at the time. Speculated suitors included DaimlerChrysler, BMW and Renault. Porsche has since upped its stake in VW, which can only be seen as beneficial - the buying power wielded by VW means that mundane components such as satellite navigation systems will become cheaper for Porsche to buy - although whether this saving will be passed onto the customer is debatable.
In 1972 the company's legal form was changed from limited partnership to private limited company (german AG), because Ferry Porsche and his sister Louise Piëch felt their succeeding generation did not team up well. This led to the foundation of an executive board whose members came from outside the Porsche family, and a supervisory board consisting mostly of family members. With this change, no family members were in operational charge of the company. F.A. Porsche founded his own design company, Porsche Design, which is renowned for exclusive sunglasses, watches, furniture and many other luxury articles. Ferdinand Piëch who was responsible for mechanical development of Porsche's serial and racing cars before founded his own engineering bureau and developed a 5-cylinder-inline Diesel engine for Mercedes-Benz. Short time later he changed to Audi and made his career through the whole company including the Volkswagen Group boards.
First CEO of Porsche AG was Dr. Ernst Fuhrmann who had been working at Porsche's engine development before. Fuhrmann (being responsible for the so-called Fuhrmann-engine used in the 356 Carrera models and the 550 Spyder having four ohc-camshafts instead of a central camshaft in the Volkswagen-derived serial engines) planned to cease the 911 during the 70s and replace it with the V8-front engined grand sportswagon 928. As we know today the 911 outlived the 928 by far. Fuhrmann was replaced in the early 80s by Peter W. Schutz, an American manager and self-proclaimed 911 aficionado. He was replaced in 1988 by the former manager manager of German computer company Nixdorf, Arno Bohn, who made some expensive misdecisions leading to his dismissal soon after along with that of development director Dr. Ulrich Bez, formely responsible for BMW's Z1 model and today CEO of Aston Martin. The interim CEO was longtime Porsche employee Heinz Branitzki before Dr. Wendelin Wiedeking became CEO in 1993. Wiedeking took over the board's chair at a point in time when Porsche appeared vulnerable to a takeover by a bigger company. During his nearly 14-year tenure, Wiedeking has remade Porsche into a very efficient and profitable company.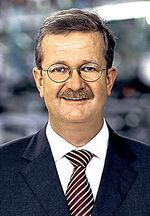 In 1990, Porsche had a memorandum of understanding with Toyota to learn and benefit from lean Japanese production methods, and currently, Toyota is assisting Porsche with Hybrid technology, rumored to find its way into a Hybrid Cayenne SUV - a possibility which Porsche has all but confirmed.
Ferdinand Porsche's grandson, Ferdinand Piëch, was chairman and CEO of the Volkswagen Group from 1993 to 2002. Today he is chairman of the supervisory board. With 12.8 per cent of the Porsche voting shares, he also remains the second largest individual shareholder of Porsche AG after his cousin F.A. Porsche (13.6 per cent).
Porsche's 2002 introduction of the Cayenne also marked the unveiling of a new production facility in Leipzig, Saxony, which today accounts for nearly half of Porsche's annual output. The new Cayenne Turbo S has the second most powerful production engine in Porsche's history (with the most powerful belonging to the Carrera GT).
In 2004, production of the Porsche Carrera GT commenced in Leipzig, and at EUR 450,000 ($440,000) it is the most expensive production model Porsche ever built. Production of the CGT ended in 2006, with no word from Porsche as to the possibility of a successor.
As of 2005, the extended Porsche and Piech families controlled all of Porsche AG's voting shares. In early October 2005 the company announced acquisition of an 18.53% stake in Volkswagen AG and disclosed intentions to acquire additional VW shares in the future. On March 28, 2007, Porsche AG acquired an additional 3.65% stake in Volkswagen, raising the total stake to 30.93% - this equates to 88,874,462 voting rights in Volkswagen AG, making Porsche the controlling member of Volkswagen's shareholders. By German law, Porsche AG must launch a takeover bid of Volkswagen AG, which is in construction now.
Relationship with Volkswagen
The company has always had a close relationship with Volkswagen Group because the first Volkswagen Beetle was designed by Ferdinand Porsche. The two companies collaborated in 1969 to make the VW-Porsche 914 and 914-6, whereby the 914-6 had a Porsche engine, and the 914 had a Volkswagen engine, in 1976 with the Porsche 912E (USA only) and the Porsche 924, which used many Audi components and was built at Audi's Neckarsulm factory. Most Porsche 944s also were built there although they used far fewer VW components. In other words, Volkswagen was a cheap Porsche, but since 1924 they have risen up to be a leading car power. The Cayenne, introduced in 2002, shares its entire chassis with Volkswagen Touareg, which is built at the factory in Bratislava. Audi is a wholly owned subsidiary of Volkswagen. In late 2005, Porsche took an 18.65% stake in the Volkswagen Group, further cementing their relationship, and preventing a takeover of Volkswagen, which was rumored at the time. Speculated suitors included DaimlerChrysler AG, BMW, and Renault.
On 26 March 2007, Porsche took its holding of Volkswagen shares to 30.9%, triggering a takeover bid under German law. Porsche formally announced in a press statement that it did not intend to take over Volkswagen (it would set its offer price at the lowest possible legal value), but intended the move to avoid a competitor taking a large stake or to stop hedge funds dismantling VW, which is Porsche's most important partner.[1] Porsche's move comes after the European Union moved against a German law that protected VW from takeovers. Under the so-called "Volkswagen Law", any shareholder in VW cannot exercise more than 20% of the firm's voting rights, regardless of their level of stock holding. The European Court of Justice struck the law down on 23 October 2007, potentially paving the way for a takeover.[2]
Corporate Restructure
With the Volkswagen stake acquisition, Porsche intends on reforming the company's format, with Dr Ing. h. c. F. Porsche AG becoming a subsidiary of a newly formed holding company called Porsche Automobil Holding SE, so as to separate the operating activities from holding activities of the company. There was an Extraordinary General Meeting for Porsche AG shareholders which took place on June 26, 2007 at the Porsche Arena in Stuttgart, Germany to discuss the change to the company structure. [3]
On 3 March 2008 Porsche set the stage for obtaining a majority stake in the fellow Volkswagen. Porsche sought on 4 March 2008 to allay fears it would attempt to force a merger with Volkswagen. By September of that year, Porsche owned a 35.14% majority stake in Volkswagen effectively giving it control over the company[4].
On July 2009, longtime Porsche CEO Wendelin Wiedeking resigned from Porsche.
Merger with Volkswagen
In light of rumours of a Volkswagen-Porsche merger and a return of the "Auto Union" name to christen the marriage, the State of Qatar has purchased 10% of the Porsche SE holding group, Porsche AG's parent company, as well as the options that Porsche held on 20% of VW shares, drawing to a close the iron grip held by the Porsche and Piech families on the German sports car maker. This news also comes as Volkswagen and Porsche agreed on Volkswagen obtaining 42% of Porsche AG for the amount of €3.3 billion. The transaction is now waiting approval from Porsche SE. Both entities hope to have engineered a full merger by 2011 if such a move is approved by the regulatory authorities. If not then VW will exercise an option in their agreement to buy out the remaining shares in Porsche AG for a complete takeover. The State of Lower Saxony will reserve the right to appoint two members of the supervisory board as well as to maintain an ordinary shareholding of at least 15% in Volkswagen.
On December 07, 2009, Volkswagen announced that it has acquired a 49.9% stake in Porsche AG's car operations for €3.9 billion (US$5.8 billion). "The acquisition of the trading business of Porsche Holding Salzburg is planned for 2011. The creation of the integrated automotive group is then to conclude with the merger of Volkswagen AG and Porsche SE during the course of the same year," Volkswagen said in a prepared statement for the media on Monday. The German automaker said that it expects Porsche's integration will lead to an increase of the VW group's annual operating profit by around €700 million in the long term.
Motor-racing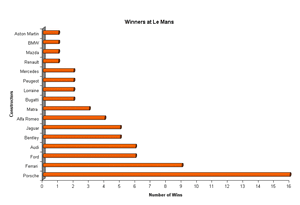 Porsche has been successful in many branches of motor-racing, scoring a total of more than 23,000 victories. As Porsche offered only small capacity cars in the 1950s and 1960s, they scored many wins in their classes, and occasionally also overall victories against bigger cars.Most notably winning the 1964 Road America 500 in an under 2 litre rs-60 driven by Bill Wuesthoff and Augie Pabst Particular success has been in sports car racing, notably the Carrera Panamericana and Targa Florio, races which were later used in the naming of street cars. Also, they did well in the Mille Miglia and especially 24 hours of Le Mans where they have won 16 times overall (more than any other company), plus many class wins. The Porsche 917 is considered one of the most iconic sports racing cars of all time and gave Porsche their first Le Mans win while the Group C Porsche 956/962C is one of the most successful sports prototype racers ever produced. Many Porsche race cars are run successfully by customer teams, financed and run without any factory support - often they have beaten the factory itself. Recently, 996-generation 911 GT3s have dominated their class at Le Mans and similar endurance and GT races.
The various version versions of the 911 also proved to be serious competitor in Rally as long as the regulations allowed them to compete. Porsche official team was only present in seldom occasion in Rally, but the best private 911s were often close to other brand works cars. Jean-Pierre Nicolas even managed to win the 1978 Monte Carlo Rally with a private 911 SC. The Paris Dakar Rally was won twice, too using the 911 derived Porsche 959 Group B supercar.
Porsche has also participated in Formula One racing, with mixed results; its first foray (as a constructor) from 1961 to 1962 produced just one win in a championship race, claimed by Dan Gurney at the 1962 French Grand Prix. One week later, he repeated the success in front of Porsche's home crowd on Stuttgart's Solitude in a non-championship race. At the end of the season, Porsche retired from F1 due to the high costs. Privateers continued to enter out-dated Porsche 718 in F1 until 1964.
Porsche returned in 1983 after nearly two decades away, supplying engines badged as Techniques d'Avant Garde (TAG) units for the McLaren Team. Porsche-powered cars took two constructor championships in 1984 and 1985 and three driver crowns in 1984, 1985 and 1986. Porsche returned to F1 again in 1991 as an engine supplier, however this time with disastrous results: Porsche-powered Footwork cars failed to score a single point, and failed to even qualify for over half the races that year; Porsche has not participated in Formula One since.
Porsche has sponsored the Carrera Cup and Supercup racing series by providing cars and support since 1990. The roots for these championships were sown by Porsche in the mid 80s, when the Turbo Cup was unveiled - this used lightly modified 944 Turbo S cars, and supported each round of the Formula One world championship.
Stock and lightly-modified Porsches are raced in many competitions around the world; some of these are primarily amateur classes for enthusiasts, but the Porsche Michelin Supercup is a wholly professional category raced as a support category for European Formula One rounds.
Porsche dropped its factory motorsports programs during the turn of the century (preferring to support privateers) for financial reasons and has only recently made a comeback with the new RS Spyder prototype. Based on LMP2 homologation regulations, the RS Spyder made its debut at Laguna Seca during the final race of the 2005 ALMS season and immediately garnering a class win in the LMP2 class and finishing 5th overall.
Major Victories and Championships
Porsche cars :
14 Makes and Team World Championship (1964, 1969, 1970, 1971, 1976, 1977, 1978, 1979, 1982, 1983, 1984, 1985, 1986, 1994)
8 Long Distance World Championship
3 IMSA Supercar-Series (1991, 1992, 1993)
6 Deutsche Rennsport Meisterschaft (German Racing Championship) (1977, 1979, 1982, 1983, 1984, 1985)
20 European Hill Climbing Championship
20 Daytona 24 Hour (1968, 1970, 1971, 1973, 1975, 1977, 1978, 1979, 1980, 1981, 1982, 1983, 1984, 1985, 1986, 1987, 1989, 1991, 1995, 2003)
15 IMSA Supercar-Race (USA)
16 Le Mans 24 Hour (1970, 1971, 1976, 1977, 1979, 1981, 1982, 1983, 1984, 1985, 1986, 1987, 1994, 1996, 1997, 1998)
17 Sebring 12 Hour (1960, 1968, 1971, 1973, 1976, 1977, 1978, 1979, 1980, 1981, 1982, 1983, 1984, 1985, 1986, 1987, 1988)
11 Targa Florio (1956, 1959, 1960, 1963, 1964, 1966, 1967, 1968, 1969, 1970, 1973)
4 Rallye Monte Carlo (1968, 1969, 1970, 1978)
2 Paris-Dakar Rallye (1984, 1986)
1 Formula 1 victories (1962)
TAG-Porsche engine in McLaren cars :
3 Formula 1 Driver World Championship (1984, 1985, 1986)
2 Formula 1 Constructor World Championship (1984, 1985)
25 Formula 1 victories (1984, 12 wins; 1985, 6 wins; 1986, 4 wins; 1987, 3 wins)
Famous owners
James Dean - died on the way to a hospital after a crash in his pearl-grey Porsche 550 Spyder, caused when he was cut off by another driver, in September 1955 near Cholame, California
Bill Gates - briefly was jailed in Albuquerque for racing his Porsche 911 in the New Mexico desert; imported a Porsche 959 which was impounded by U.S. Customs due to it not complying with US traffic laws
Janis Joplin - owned a Porsche 356-C Cabriolet that was extravagantly and psychedelically painted for her by Dave Richards to match her public persona
Steve McQueen - raced Porsche prototypes, owned a Porsche 356 Speedster, a Porsche 908, a Porsche 917, and made a movie dedicated to the 24 Hours of Le Mans
Carl Sagan - astronomer, astrobiologist, scientist, and a highly successful science popularizer—remembered for his articulate explanations of astronomical and cosmological research while commenting upon space exploration to the public—whose Porsche license plate bore the name of a moon of another planet in our solar system
Jerry Seinfeld - rumoured to own one of the largest collections of Porsche automobiles in the world
Lake Underwood - Porsche's Quiet Giant according to Excellence magazine (the magazine about Porsche) has several historic Porsches among his collection
Pronunciation of "Porsche"
"Porsche" is pronounced as, PORSH-uh. Porsche is a German surname and most Germans usually pronounce the final "e" of a word or name.
Some people tend toward over-compensating the e, which results in their pronouncing it, as Por-SCHA. Outside of this group however, the one-syllable pronunciation porsh is common.
Models
Consumer models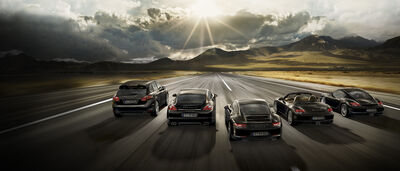 NOTE: models in bold are current models
Racing models
NOTE: models in bold are current models
Prototypes and concept cars
Military
Porsche Leopard

Porsche Maus
See also
Ferdinand Porsche (founder)
Ferry Porsche (Ferdinand Anton Ernst Porsche, 2nd generation, creator of the 356)
F.A. Porsche (Ferdinand Alexander Porsche, 3rd generation, designer of the 911)

List of Porsche engines

CTS Car Top Systems
References
External links
Official
Associates
Clubs
Enthusiast Sites
News