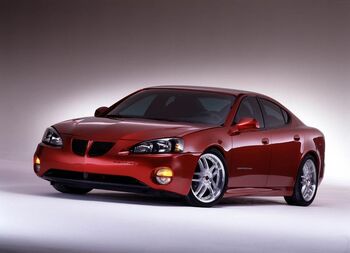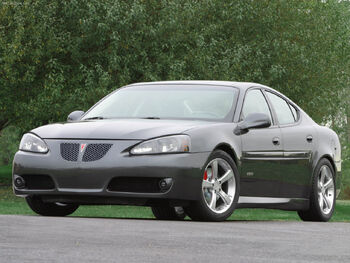 The Pontiac Grand Prix is an automobile produced by the Pontiac division of General Motors Corporation. First introduced as part of Pontiac's full-size model offering for the 1962 model year, the Grand Prix name has also been applied to cars in the personal luxury car market segment and the mid-size offering, slotting below the large Bonneville in the company's lineup. As of mid-model year 2006, the Grand Prix was Pontiac's largest automotive offering in production, superceeding the discontinued Pontiac Bonneville.
Recent Changes
Edit
Mention any minor facelifts or major changes made to the vehicle here.
Styles and Major Options
Edit
Certain vehicles come in different trim levels or body styles. Features and major options should be mentioned here.
Add more fields as necessary.
MODEL Trims
Trim1
Trim2
Trim3
Trim4
MSRP
$Price1
$Price2
$Price3
$Price4
Invoice
$Price1
$Price2
$Price3
$Price4
Gas Mileage
Edit
Add more fields as necessary.
As seen on the FuelEconomy.gov website, the City/Highway MPG averages are as follows:
Trim
Trim1
Trim2
Trim3
Trim4
MPG
c/h
c/h
c/h
c/h
Engine and Transmission
Edit
Specifications, details, graphs, pictures and other information regarding the powertrain is placed in this section.
Performance
Edit
Please make sure to write information of the vehicle's performance in a third-person point of view. This section should include information about the car's acceleration figures, handling, braking, etc.
If using information gathered from Road Test articles from a reputable automotive source, then please make sure to cite the quote.
Reliability
Edit
Warranty options and scheduled maintainence information should be mentioned here.
This section should reference points on safety ratings and features of the vehicle.
Add Photos of the vehicle here.
Please make sure not to use copyrighted photos.
The current version of the Grand Prix comes in many colors. This year three new colors were introduced. They are Dark Slate Metallic, Dark Mocha Metallic, and Gold Mist Metallic.
Main Competitors
Edit
Create links to other <MAKE> <MODEL> pages in this section.
Hybrid Models
Edit
The Grand Prix was never sold with a hybrid variant.
Unique Attributes
Edit
If there are any features of this vehicle that sets it apart from other vehicles in its class, then mention those unique attributes here.
This section should include information on the interior's design, build quality, ergonomics, space (head and legroom, front and rear), features, stowage compartments and overall comfortability and livability. Add pictures wherever applicable and keep information in a third-person point of view.
Resale Values
Edit
Add more fields as necessary.
<MODEL> Year
Year X
Year X-2
Year X-3
Year X-4
Resale Value
$
$
$
$
Criticisms
Edit
Front Wheels have trouble putting those 303-horses to the ground
Generations
Edit
Fill in as many as appropriate. Add more if necessary and pictures wherever applicable.
Please make sure NOT to use copyrighted pictures.
2004-2008
Edit
The Grand Prix was updated for 2004 on a revised version of the GM W platform. The first 2004 Grand Prix was built on May 5, 2003. A notable addition to the 2005 line is the GXP's small-block 5.3 L V8, the Grand Prix's first V8 since 1987. The GXP features Bilstine monotube shocks, a staggered tire fitment of 255 front and 225 rear, 18" aluminum forged Alcoa wheels through mid 2007 which were replaced by Korean manufactured similar looking wheels, upgraded sway bars and upgraded cross drilled and directionally veined rotors. During production the engineers at GM noted a sizable difference in torque steer when using different tires. They approached Brigestone and requested a custom tire be made to further eliminate torque steer. The resulting tire is a variant of the Potenza RE050A. TPC Spec 1269 front and 1270 rear. In this spec the tires are rated as all season tires and are accepted for use in snow and on ice. In addition to the the V8 the V6 Supercharged GTP models now feature a Generation 5 Eaton M90 Supercharger and stronger internals. The result is a boost to 260 HP and 280 LBFT of torque. With the closing of the Oshawa plant that produces the car in 2008, the Grand Prix ended production, and for 2009 it was replaced by the Zeta-based G8.
1997-2003
Edit
In 1997, the W-bodies got a major redesign. The first 1997 Grand Prix was built on August 12, 1996. Promoted widely for its "wide track" appearance, the second generation W-body Grand Prix sold well. There were 3 trim levels available in 1997; the SE, GT, and GTP. Also beginning in 1997 was the inclusion of a supercharger for the GTP, boosting power to 240 hp. This generation saw the introduction of a heads up display as well as performance shift which increased shift pressures for faster engagement. The Grand Prix was made in the Fairfax plant in Kansas City, Kansas until 2003, when production was shifted to Oshawa, Ontario, Canada. The Fairfax plant was then retooled to build the current Chevrolet Malibu. The last Grand Prix coupe rolled off the assembly line on July 19, 2002, and the coupe was replaced by the Pontiac GTO for 2004.
3.4L DOHC V6 gains 5HP with intake and exhaust improvements. All Grand Prix coupes get a sport package with five-spoke alloy wheels and dual exhaust. This is the last year for the first-generation W-body Grand Prix.
Brake/transmission shift interlock is added. GT coupe dropped in favor of GTP Package. GT sedan continues. Variable-effort steering is added to GTP and GT. New aluminum wheels debut on GT and GTP. Coupes can be equipped with a White Appearance Package, which includes color-keyed alloys and special pinstriping. Floor consoles are redesigned on models with bucket seats.
Grand Prix gets redesigned front/rear fascias and ground effects, as well as a new instrument panel with dual airbags, new gauges, and controls. STE, LE, and GT designations are gone. GT and GTP become option packages on SE coupe. A GT package is available on SE sedan, and includes 3.4 L V6, alloys, low-profile tires, ABS, and sport suspension. Front seatbelts are anchored to pillars instead of doors on sedan; coupe retains door-mounted belts. Twin-cam 3.4 L V6 is up 10 hp. Five-speed manual and three-speed automatic transmissions are dropped in favor of four-speed automatic. Coupes gain standard equipment, including 16-inch alloys, cruise, and leather-wrapped steering wheel with integral radio controls. A completely new 160 hp 3.1 L V6, Gen III, replaces old 3.1 L V6.
In 1991, the turbo models were dropped in favor of a new GTP model. This included the new 3.4 L Twin Dual Cam engine along with all available options and a modified version of the B4M body package. It had 210 hp with the standard 5-speed manual and 200 hp with the optional 4-speed automatic. The 2.3L Quad-4 engine was dropped this year, leaving the 140 hp 3.1 V6 as the standard engine. The composite headlights were replaced with mini-quads and the package was renamed B4U. An SE sedan also became available that year.
In 1990, a 4-door sedan version was available for the first time in the Grand Prix line, entering production on September 12, 1989. LE and SE models were available with the 2.3L Quad 4 and 3.1L V6, either with manual or automatic trannys. The new Grand Prix STE (Special Touring Edition) had special seats, audio systems, and Driver Information Centers. The seats were 8-way pneumatic with adjustable lumbar supports. The audio systems were 8-speaker with full graphic equalizer and a "gain" slider to control bass. The Driver Information Centers were quite a step up from the more basic ones available in the SE and Turbo. In addition to the basic information that the SE LCD counterparts displayed, the STE vacuum fluorescent display DICs had a full light and door monitor with icons for all the major vehicle systems. The STE also had a front and rear lightbar in addition to a trunk-panel. The Turbo 2-door model carried on this year, again available in red or black only. A turbocharged STE sedan was also available for this year, in white or maroon only.
In 1989, air conditioning became standard on all models, and a 3.1 L multi-port fuel injected V6 replaced the 2.8 L engine. Another model designation to appear in 1989 was the Turbo Grand Prix. This version started as an SE minus three available options: leather seats, a sunroof, and in 1990, a CD player. These were shipped to McLaren/ASC to get a "B4M" body kit with special molding and hood louvers, and a modified 3.1 L V6 with a Garrett T-25 turbocharger and intercooler and available only with a modified THM 440-T4 4-speed automatic transmission. The Turbo also included a full-analog instrument cluster that would soon become the base of the 1990–1993 sport cluster.
The first front-wheel drive W-body Grand Prix coupe was built on January 12, 1988. This generation Grand Prix was built in Kansas City, Kansas. Three model designations were available: base, LE, and SE. The Grand Prix LE had standard air conditioning, power windows, and power locks. SE models got the 2.8 L V6 engine along with other amenities, such as "AQ9" 14-way pneumatic power seats, a driver information computer in the center console, and a sport gauge cluster. The Grand Prix was Motor Trend magazine's Car of the Year for 1988.
1982-1987
Edit
When most A-bodies were moved to a new front-wheel drive platform in 1982, the Grand Prix remained on the same rear-wheel drive platform, now under the name "G-body". The Grand Prix remained as a coupe, with its sedan version being the short-lived mid-size Bonneville. The Bonneville went back to full-size on the GM H platform in 1987, and the Grand Prix continued as a rear wheel drive vehicle until that year.
New grille inserts and minor revisions to the tail section marked the 1984 Grand Prix. The base and Brougham models continued as before but the LJ was replaced by a new LE model. Same engines continued as before including the Buick 3.8 liter (231 cu.-in.) V6, Chevy 5.0 liter (305 cu.-in.) V8 and Olds 5.7 liter (350 cu.-in.) Diesel V8. A new option this year was the Turbo Hydra-Matic 200-4R four-speed overdrive automatic available with the 305 V8 for improved highway gas mileage.
No appearance changes for the 1983 GP. Only significant change to note was the 4.1L 252 cid V6 was discontinued and the gas-powered V8 returned after a one-year absence in the form of a 150 horsepower Chevy 305.
The 1982 Grand Prix was a virtual re-run of the 1981 model with no appearance changes to note. No gasoline-powered V8 engines were offered this year, leaving only the standard 231 cubic-inch Buick V6, a larger Buick 252 cubic-inch V6 and the Olds 350 Diesel V8.
A minor reskinning of the sheetmetal for improved aerdynamics marked the 1981 Grand Prix along with a new grille design and revised tail section. The sporty SJ model was dropped and a new ultra-luxurious Brougham series was now the flagship of the Grand Prix line featuring a plush cloth interior similar to the full-sized Bonneville Brougham and standard power windows and other amenities. The base and LJ models continued as before. All models now came standard with the Buick 231 V6 with the 265 cubic-inch Pontiac V8 available as an extra cost option (Chevy 305 V8 in California). The 301 V8 was discontinued and a new option this year was the Oldsmobile-built 350 cubic-inch Diesel V8, which was not often ordered due to high cost of around $700 and poor reliability. The year 1981 was also the last for Pontiac Motor Division to offer its own V8 engine due to an emerging GM corporate engine policy that determined Pontiac would build only four-cylinder engines and Buick only V6 engines, leaving Chevrolet and Oldsmobile to build V8 engines for most GM cars and trucks, while Cadillac would produce its own aluminum-block V8 that debuted in 1982. From 1982-on, all V8-equipped Pontiacs were equipped with Chevrolet or Olds engines.
The 1980 Grand Prix returned to a vertical bar grille and featured new taillight lenses with "GP" logos. Automatic transmission was standard equipment on all models and the two-barrel 301 Pontiac V8 was replaced by a new 265 cubic-inch V8 rated at 125 hp. The Buick 231 V6 and the four-barrel version of the Pontiac 301 V8 were carried over from the previous year as was the Chevy 305 V8 offered in California.
A new crosshatch grille and revised taillight lenses were the only appearance changes made to the 1979 Grand Prix. The same models, base, LJ and SJ continued as before as did the basic engine lineup including the 231 cubic-inch Buick V6 standard on base and LJ models, the 135-horsepower 301 cubic-inch Pontiac V8 with two-barrel carburetor that was optional on both of those models, and the 150-horsepower 301 V8 with four-barrel carburetion that was standard on the SJ and optional on the other models. Transmissions remained the same as before with the three-speed manual standard with the V6 engine on the base model and automatic transmission optional. The automatic transmission was standard on LJ and SJ models and all models when a V8 engine was ordered. Again, the Pontiac V8s were not available in California, where they were replaced by Chevy 305s rated at 140 and 160 hp. A new and one-year-only option this year was a four-speed manual transmission available with the 301 four-barrel V8 on all models.
1978 brought a downsizing of the Grand Prix and the other A-bodies. This version of the A-body also received some sheetmetal revisions in 1981. The 1978 GP was about a foot shorter and 600 pounds lighter than the 1977 model with an overall length of 200 inches and a 108-inch wheelbase.
For the first time in Grand Prix history, a V8 engine was not standard equipment. In order to meet Corporate Average Fuel Economy (CAFE) mandates set after 1973-74 energy crisis, a Buick-built 231 in³ V6 was standard equipment on the base model (formerly the Model J) and two versions of the Pontiac 301 in³ V8 (Chevy 305 V8 in California) were optional. The luxury LJ model came standard with the 135 hp 301 V8 with two-barrel carburetor while the sporty SJ was powered by a 150 hp 301 V8 with four-barrel carburetor. A floor-mounted three-speed manual transmission was standard equipment with the V6 on the base model and the three-speed Turbo Hydra-Matic automatic was optional. Turbo Hydra-Matic was standard on LJ and SJ models and base models with either of the optional V8 engines. Standard seating choices by model included a notchback bench seat with cloth or Morrokide vinyl in the base GP, a pillowed velour cloth notchback bench seat in the LJ or Strato bucket seats in cloth or Morrokide in the SJ. The Strato buckets were optional on the base GP and a 60/40 split bench was optional on both base and LJ models. Viscount leather upholstery was available with bucket seats on SJ models.
Steve McQueen's final film, The Hunter (1980), featured a 1979 Trans Am which was carjacked by a fleeing felon.
Revised grille work with fewer vertical bars, a stand-up hood ornament and revised taillight lenses with "GP" logos highlighted the 1977 Grand Prix, which was the final year for the 1973-vintage bodyshell which was set to be replaced by a downsized GP for 1978. The same three models (J, LJ and SJ) were carried over with engine revisions. The base Model J got Pontiac's new 135 hp 301 in³ V8 as standard equipment, which was a bit too small and underpowered to propel a 4,000-pound car. Optional engines included a 160 hp 350 in³ V8 or 180 hp 400 in³ V8; those two engines standard on the LJ and SJ models, respectively.
Each of those engines were Pontiac-built units as in previous years, but offered in 49 of the 50 states. Due to the fact that Pontiac's own V8 engines could not meet the more stringent California emission standards set for 1977, all Grand Prixs (and other Pontiac models) sold in California were powered by Oldsmobile-built engines including Lansing's 350 in³ Rocket V8 for J and LJ, and the 403 in³ Rocket V8 standard on the SJ and optional on the other two GPs in California. Due to a shortage of Olds 350 engines resulting from record sales of Cutlasses and reduced production of that engine due to a plant conversion to build a Diesel V8 beginning in 1978, a few '77 Grand Prixs destined for California reportedly came off the line with a Chevrolet-built 350 in³ V8.
Grand Prix sales soared to an all-time high of over 270,000 units for 1977, the last year for this bodystyle, despite competition from a newly-downsized and lower-priced Ford Thunderbird introduced this year and a restyled Mercury Cougar XR-7 whose bodyshell switched to the T-Bird this year from the discontinued Ford Torino/Mercury Montego.
Vertical grille inserts replacing the horizontal bars of the 1969, movement of "Grand Prix" nameplates from the lower cowls to the rear C-pillars and the vertical hashmarks from the C-pillars down to the lower cowls. The optional 428 in³ V8 rated at 370 and 390 hp in 1969 was replaced by a new 370 hp 455 in³ V8. Interior trim also received minor revisions, and a bench seat with center armrest returned as a no-cost option to the standard Strato bucket seats and console. Bench seat-equipped Grand Prixs got a steering column-mounted shifter with the automatic transmission along with a dashboard-mounted glovebox, replacing the console-mounted shifter and glovebox of bucket-seat cars. Power front disc brakes became standard equipment this year.
For 1969, DeLorean's team introduced all-new Grand Prix based on a slightly stretched version of the intermediate GM A platform. This smaller, lighter car at last had its own body, and brought a new level style and luxury into the intermediate class. It also refocused attention on performance, with increased installation percentages for manual transmissions and engine options up to the 390 hp (290 kW) 428 HO. It was both a marketing and an engineering landmark, being hailed at the time as "an Eldorado for the masses" and also in retrospect as the first successful downsizing of an American car.
Inside, the 1969 Grand Prix featured a sporty and luxurious interior with a wraparound cockpit-style instrument panel that placed virtually all controls and gauges within easy reach of the driver. The "Strato" bucket seats were separated by a console slanted toward the driver which included the customary floor shifter, storage compartment and ashtray, integrated into the instrument panel. Upholstery choices included standard all-vinyl or cloth and vinyl or an extra-cost leather trim.
Innovations introduced on the 1969 Grand Prix included a concealed radio antenna, which amounted to two wires in the windshield; an optional built-in rear window defogger and side-impact beams inside the doors.
The 1969 Grand Prix also created a new market segment—the intermediate personal luxury car with sales ending up at over 112,000 units, well above the 32,000 full-sized Grand Prixs built in 1968. The similar Chevrolet Monte Carlo followed the next year. Ford and Chrysler responded by producing plusher versions of their Ford Torino and Dodge Charger intermediates, but both eventually created new models to enter the battle—the Ford Elite and Mercury Cougar XR-7 in 1974 and Chrysler Cordoba in 1975.
The basic 1969 bodyshell continued until the 1972 model year with a major facelift in 1971 but only minor detail revisions in 1970 and 1972.
A new split vertical bar "waterfall" grille and quad rectangular headlights in front and revised taillight lenses out back highlighted the 1976 Grand Prix. The same three model designations continued (J, LJ and SJ) with the LJ and SJ offering the same trim and equipment levels as in 1975 with the exception being the SJ downgraded to a standard 400 in³ V8.
The base Model J underwent a number of content changes to cut the base price by around $500 to be more competitive with other mid-sized personal luxury cars. Those changes for the "J" included a smaller 160 hp 350 in³ V8 as the base powerplant and some downgrading of interior trim that included a new notchback bench seat made standard equipment and the Strato bucket seats/console moved to the "option" list. Also, custom features such as a cushioned steering wheel and custom pedal trim plates were moved to the option list on Model J, but remained standard on LJ and SJ, both of which also continued to include Strato bucket seats as standard equipment. All models got a new simulated rosewood trim for the dash, door panels and console (with bucket seats) that replaced the African Crossfire Mahogany trim of previous years. Upholstery choices included cloth or Morrokide vinyl bench or bucket seats on the Model J, velour buckets on the LJ or Morrokide buckets on the SJ. Leather interior trim was a new extra-cost option available with the Strato bucket seats and LJ and SJ models. Both the "LJ" and "SJ" models came standard with a 180 hp 400 in³ V8 that was optional on the Model J. The 200 hp 455 in³ V8 was optional on all models. In celebration of Pontiac's 50th anniversary in 1976, a number of special edition Grand Prix painted gold were produced. These models featured removable Hurst T-tops, Rally II wheels and other distinctions but were mechanically similar to the regular models.
Grand Prix production set a new record of over 226,000 units during this Bicentennial year, making the GP only second in sales in its market segment to Chevy's Monte Carlo.
A revised grille with fewer vertical bars and revised taillight lenses marked the 1975 Grand Prix. Mechanical changes this year included the addition of GM's High Energy electronic ignition and a catalytic coverter that mandated the use of unleaded gasoline. Radial tires became standard on all models.
A new luxury LJ model was added the lineup, positioned between the base Model J and the sporty SJ series. The LJ included pinstriping and a luxurious velour interior trim. Otherwise, interior trim was revised with the real African Crossfire Mahogany trim on the instrument panel replaced by a simulated material though the "real stuff" continued on the door panels and center console. Speedometers were revised with numerals now topping at 100 mph rather than the 120 or 140 mph readings found in previous years and speed readings in kilometers were added.
The addition of the catalytic converter spelled the end of dual exhaust pipes for 1975 and detuning of engines. The 400 in³ V8 (standard on J and LJ models) dropped from 230 to 180 hp while the 455 in³ V8 (standard on SJ, optional on J and LJ) was detuned from 250 to 200 hp.
The 1974 Grand Prix received a revised split grille with vertical bars that was entirely above the bumper. Out back, the boattail effect was softened somewhat thanks to a new federally-mandated 5 mph bumper added to the similar mandated front bumper introduced in 1973. The license plate and fuel filler were moved above the bumper and taillight lenses were revised. Interior trim remained virtually unchanged from 1973 with standard seating choices including Strato bucket seats with center console or notchback bench seat with armrest and cloth or Morrokide upholstery. The bucket seats were available with optional recliners and adjustable lumbar support.
Engines were carried over from 1973 including the 400 in³ V8 (standard on the Model J) and 455 in³ V8 (standard on the Model SJ, optional on the Model J). Turbo Hydra-Matic transmission, variable-ratio power steering and power brakes were standard equipment on both models. In addition to the 455 V8, the Model SJ also added a Rally Gauge Cluster, "SJ" identification and a radial-tuned suspension similar to Pontiac's Grand Am. Radial tires were also a new option on the Model J this year.
Sales of Grand Prixs for the 1974 model year dropped from 1973's record of around 150,000 units to just under 100,000 units primarily due to new competition in the intermediate personal-luxury car market from a new upsized Mercury Cougar XR-7 coupe. Still 1974 was the third-best selling year to date for the Pontiac Grand Prix.
All A-bodies, including the Grand Prix, were redesigned for 1973. This generation was larger and heavier, due partly to the federally-mandated 5 mph (8 km/h) crash bumpers. Although large V8s were still available, performance was on the decline due to another federal standard—a new emissions control system. The most notable styling feature of this generation was the appearance of the fixed opera window, replacing the previous disappearing rear side glass. This year's Grand Prix switched from pillarless hardtop design to a pillared "Colonnade" hardtop with frameless door glass as did all GM intermediates in response to proposed federal safety standards regarding roll-over protection that would have ultimately spelled the end of pillarless and convertible bodystyles, a mandate that fortunately never materialized. The 1973-77 GM intermediates with their pillared hardtop design were often referred to as "Colonnade hardtop coupes" or "Colonnade hardtop sedans".
Front and rear styling of the 1973 Grand Prix turned out be an evolution of the 1971 to 1972 models with a vertical-bar V-nose grille and single headlamps along with the new federally-mandated 5 mph (8 km/h) front bumper. The rear featured a revised boattail-like trim with square-taillights above the bumper.
Inside, a new instrument panel continued the wraparound cockpit theme of previous models with new African Crossfire Mahogany facing on the dashboard, console and door panels. The Strato bucket seats were completely new with higher seatbacks and integrated headrests in Morrokide or scivvy cloth trims, and optional recliners and adjustable lumbar support, with a notchback bench seat offered as a no-cost option.
The standard drivetrain consisted of the four-barrel 400 in³ V8 rated at 230 hp and the Turbo Hydra-Matic transmission. Also standard were power steering and power brakes. A four-barrel 455 in³ V8 was optional and included with the "SJ" option that also added a rally gauge cluster and a radial tuned suspension with front and rear sway bars, Pliacell shock absorbers and radial-ply tires.
Minor styling revisions included a new cross-hatch grille up front and triple cluster taillights in back. Inside, the burled-elm trim was replaced by a new teakwood design and upholstery trim patterns for vinyl and cloth selections were revised for both bucket and bench seat offerings. Engine offerings remained the same as before with the major change being the change in horsepower measurements from the previous gross method on a dynamometer to the new net ratings as installed in a vehicle with accessories and emission equipment which made the horsepower ratings of 1972 models much lower "on paper" than their 1971 counterparts though actual performance didn't change much between the two years. Under the new net horsepower system, the standard 400 in³ V8 with four-barrel carburetor was rated at 250 hp while the optional 455 in³ V8 with four-barrel carb was rated at 300 hp.
At mid-year, Pontiac released a radial tire option for the Grand Prix, which increased the wheel diameter from the standard 14-inch to 15-inchers. The radial donuts, provided by the division's usual tire suppliers, included Firestone 500s and B.F. Goodrich Lifesaver T/As. This was the first time that Pontiac offered a radial tire option which actually became a reality. In 1968, Pontiac announced a radial tire option for the GTO that was quickly discontinued due to production problems.
An all-new Grand Prix was scheduled for 1972. However, a 67-day corporate-wide strike at GM in late 1970 that hobbled the 1971 model introduction set back 1972 model production plans and the new A and G-body cars planned for 1972 were delayed for introduction by one year to the 1973 model year.
A new integrated bumper/grille and larger single headlights replacing the quad lights of 1969 to 1970 models marked the introduction of the 1971 Grand Prix along with a new slanted boattail-style rear with taillights built into the bumper. Interior revisions amounted to new trim patterns for cloth and vinyl upholstery patterns for both the bench and bucket seats, but the leather interior option was discontinued.
Engine choices included the standard 400 in³ V8 with four-barrel carburetor and dual exhausts, rated at 300 hp; and the optional four-barrel 455 in³ V8 rated at 325 hp. Both engines received substantially lower compression ratios (8.4 to 1 for 1971 compared to 10.25 to 1 in 1970) as part of a GM-corporate edict that required engines to use lower-octane regular leaded, low lead or unleaded gasoline beginning with the 1971 model year. Transmission offerings initially were carried over from previous years, including the standard three-speed manual, or optional four-speed stick or Turbo Hydra-Matic. However, at mid-year, Turbo Hydra-Matic automatic became standard equipment and the manual shifters were dropped. Variable-ratio power steering was made standard equipment as well. At mid-year, the SJ model received a sealed Delco X battery that no longer needed water refills.
1962 - 1967
Edit
The Grand Prix appeared in the Pontiac line in 1962. It was essentially a standard Pontiac Catalina coupe with minimal outside chrome trim and sportier trim (bucket seats and a center console) inside. The performance-minded John De Lorean, head of Advanced Engineering at Pontiac, contributed greatly to the development of both the Grand Prix and the GTO. Early models had full access to the Pontiac performance option list, including the factory-race Super Duty 421 powertrain installed in a handful of 1962 and 1963 cars.
The full-size Catalina-based Grand Prix did very well through the 1960s, and is often credited with the move towards minimal exterior trim seen in the 1960s. Yet its clear resemblance to the other full-size Pontiacs caused some to consider it a lesser model than the other personal luxury cars. At the same time, the Grand Prix had a much stronger performance image than its competitors.
For 1963, the Grand Prix received revised sheetmetal shared with other full-size Pontiacs, but with its own squared-off roofline with a concave rear window that contrasted with the convertible-like roofline of the 1962 Grand Prix and continued on the 1963 to 1964 Catalina and Bonneville. Other distinctive styling cues found on Grand Prixs of this era included "hidden" taillight lenses and exclusive grillework up front. Inside, Grand Prixs had luxurious interiors featuring all-vinyl bucket seats separated by a center console with a floor shifter, storage compartment, courtesy light and optional tachometer or vacuum gauge. Starting in 1965, the Grand Prix was offered with a no-cost option bench seat with folding armrest as an alternative to the bucket seats and console.
Standard engines included a 303 hp 389 in³ V8 with four-barrel carburetor and dual exhausts from 1962 to 1964 and a 325 hp version of same engine from 1965 to 1966. Optional engines included higher output four-barrel and Tri Power versions of the 389 and larger 421 in³ V8s with up to 376 hp. In 1967, the 389 was replaced by a 400 in³ V8 rated at 350 hp as the base engine while the larger 421 was replaced by a 428 in³ V8 with up to 390 hp.
Transmissions included a standard three-speed manual and optional four-speed manual or a Hydra-Matic transmission. The three-speed Roto Hydra-Matic was offered from 1962 to 1964 and replaced by a new three-speed Turbo Hydra-Matic for 1965 and later years.
A two-door hardtop was the sole bodystyle available on the Grand Prix for all years except 1967, when a convertible was also offered as a one-year offering.
Worldwide
Edit
While Pontiac was marketed in North America only, the Grand Prix was never sold in Canada during its 46 year production run.
Design quirks and oddities
Edit
Refer to any pop-culture tidbits about the vehicle in this section.
List out notable awards that the model has recieved while in production. Boldface the company or organization that gives out the award, and Italicize the name of the award.
External links
Edit
Community content is available under
CC-BY-SA
unless otherwise noted.