Pontiac Aztek Concept
Pontiac
aka
Pontiac Aztek
Introduction
1999 + which auto show
Class
Concept Car
Body Style
4 door, 5 seats crossover SUV
Length
66.7 in
Width
73.7 in
Height
66.7 in
Wheelbase
108.3 in
Weight
3779–4043 lb
Transmission
4 Speed + driv
Engine
3.4 litre V6
Power
200 hp @ N/A rpm
225 lb-ft of torque @ N/A rpm
Similar
Buick Rendezvous
Designer
N/A
The well received Pontiac Aztek Concept first shown in 1999 featured new "Xtreme" styling and rugged versatility to appeal to the adventurous youth And to show the world a glimpse of the sporty crossovers of the 21st century.
See Autopedia's comprehensive Pontiac Aztek Concept Review.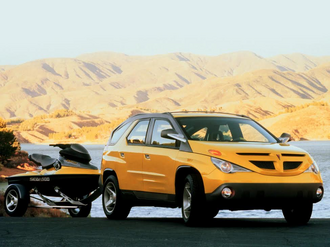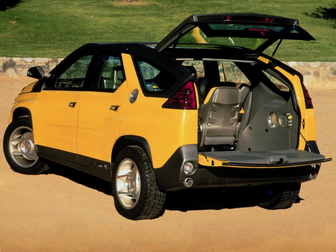 The Pontiac Aztek included features such as an air mattress, and expendable tent, a movable floor consle, and unique overhead consle, Pioneer Stereo with tailgating mode, and a remote control, Grab-and-go saddle bags for storing items like maps, flashlight, compass and snacks stow in the integrated front door pockets when not being used tailgate chairs, Four built-in outdoor activity lamps, etc..
Some felt that the Aztek's radical styling made it garish and bloated looking GM forecast sales of up to 75,000 Azteks per year, and needed to produce 30,000 per year to break even. Just 27,322 were sold in 2001[14] with more than 50% being sold to captive rental company fleets or used by General Motors executives. The Aztek had some of the the highest Customer Satisfaction Index scores in its class, and won the appellation of "Most Appealing Entry Sport Utility Vehicle" in 2001 from J.D. Power and Associates, an independent consumer survey organization who noted: "The Aztek scores highest or second highest in every APEAL component measure except exterior styling.".
Design quirks and oddities
[
edit
|
edit source
]
The Pontiac Aztek Production car was featured on an episode of LOST. The Aztek's controversial design led the production version to be cancelled in 2005.
The Pontiac Aztek production car ranked on "Time Magazine's 50 Worst Cars Of all Time".
Community content is available under
CC-BY-SA
unless otherwise noted.