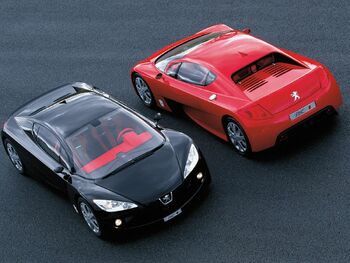 The Peugeot RC are a pair of Peugeot concept cars unveiled in 2002. They are identical save for their paint scheme, their names, and their powerplants (Diamonds is gasoline-powered while Spades uses diesel). The red vehicle was known as the RC Diamonds while the black vehicle, the RC Spades.

:This is a Disambiguation page — a navigational aid which lists other pages that might otherwise share the same title. If an article link referred you here, you might want to go back and fix it to point directly to the intended page.
Community content is available under
CC-BY-SA
unless otherwise noted.