The Nissan GT-R is a sports car created by Nissan and first sold in the Japanese Domestic Market as early as late November of 2007 and the US market in July 2008. The car was released to Europe and the world in March 2009. The car offers a very reasonable value of money with an outstanding handling and acceleration for a car at this price. The GT-R is assembled in Tochigi, Tochigi Prefecture, Japan. It is the successor of the legendary Nissan Skyline GT-R R34. Unlike its predecessors, the GT-R is simply called "GT-R" , rather than a faster version of Nissan Skyline. The GT-R has been a Japanese dream since the popularity of the Skyline GT-R R32. Every GT-R models are marked by its GT-R badge and the traditional four round rear lights.
See Autopedia's comprehensive Nissan GT-R Review.
Recent Changes
2012 sees the GT-R gain some new updates for this model year. The most obvious of which are the restyled front fascia with integrated LED foglamps, new rear diffuser and other aerodynamic mods that reduce Cd from 0.272 to 0.268 while improving rear downforce by 10%, new Rays forged aluminium wheels that shave 12kg (26.4 lbs) and two new exterior colors (blue and black). Less obvious are the various modest interior upgrades, as well as chassis and engine modifications. Acceleration to 60 mph also drops to an Ariel Atom-matching 2.9 seconds.[1][2]
Nissan's continuous efforts at refining the GT-R have resulted in the 2011 "New-Spec" GT-R". These changes include a revised navigation system, recalibrated suspension settings and an improved-flow catalyst system. [3]
Nissan introduced the GT-R Spec-V on January 7, 2009 at the 2009 Tokyo Auto Salon. The limited edition car improves on the base model through a series of modifications. Exterior changes from the base GT-R consist of a carbon fiber rear spoiler, grille, and brake ducts, along with an exclusive Ultimate Black Opal paint job. Interior changes include a set of carbon fiber Recaro front seats with the rear seats being complete removed. Carbon fiber covers the center storage box, instrument panel, and replaces the majority of the interior trim. Under the hood, the standard twin-turbo V6 remains but a new high gear boost controller temporarily increases the air induction and deliver more torque in mid to high-range revs. Other mechanical changes include a titanium-coated exhaust, reworked suspension, carbon ceramic brakes, and 20-inch NISMO wheels. JDM sales begin on February 2, 2009 at seven pre-selected dealers who are staffed by mechanics with special GT-R SpecV training and are knowledgeable of racing circuit driving. Pricing is set at ¥15,750,000 (over US$160,000). Nissan has not announced any plans to sell the SpecV outside of Japan.[4][5][6][7]
For MY2009, Nissan's performance arm, NISMO, sinks their fangs into Nissan's GT-R. The result is a host of tweaks and upgrades collectively called the Club Sport Package and, sadly will only be available in the JDM. What it brings to the table is an even tauter handling care of race-tuned Bilstein Damptronic adjustable dampers, rock hard coils and springs and 20 in custom aluminum wheels wrapped in Bridgestone RE070R run-flats and a 24 pound weight loss thanks to a "carbon fibre everything" philosophy. Prices start at ¥5,460,000, however, don't be dismayed that it will only be available in Japan as the rest of the world will soon be getting the giant-slaying Spec-V.[8]
Styles and Major Options
Certain vehicles come in different trim levels or body styles. Features and major options should be mentioned here.
Pricing
Surprisingly, the price of this car is very cheap although it's a very fast car. Most cost around $ 81.790. That is way cheaper than Porsche 911 Turbo which is slower than the GT-R in the circuit.
MODEL Trims
GT-R Premium
GT-R Club Sport
GT-R Spec-V
GT-R EGOIST
GT-R Black Edition
MSRP
US$89,950
$Price2
$Price3
JP¥15,000,300
US$95,100
Invoice
$Price1
$Price2
$Price3
$Price4
$Price5
Gas Mileage
Add more fields as necessary.
As seen on the FuelEconomy.gov website, the City/Highway MPG averages are as follows:
Trim
GT-R Premium
Trim2
Trim3
Trim4
MPG
16/21
c/h
c/h
c/h
Engine and Transmission
Engine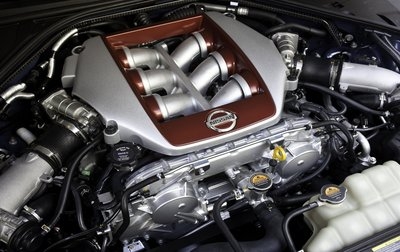 VR38DETT twin-turbocharged 3.8-liter V6.
480 hp @ 6,800 rpm. 430 lb-ft torque @ 3,200 - 5,200 rpm.
Dual overhead camshafts with variable intake-valve timing.
Cast aluminum cylinder block with high-endurance/low-friction plasma-sprayed bores.
IHI twin turbochargers, one per cylinder bank.
Pressurized lubrication system with thermostatically controlled cooling.
Drivetrain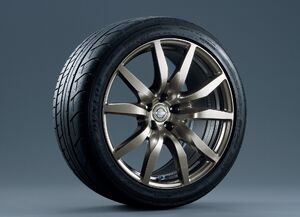 ATTESA ET-S All-Wheel Drive (AWD) with independent rear-mounted transaxle integrating transmission, differential and AWD transfer case.
Rigid, lightweight carbon-composite driveshaft between engine and transaxle.
Electronic traction control plus 1.5-way mechanically locking rear differential.
Vehicle Dynamics Control (VDC-R) with three driver-selectable settings: Normal (for daily driving, controls brakes and engine output), R-Mode (for ultimate performance, utilizes AWD torque distribution for additional vehicle stability) and Off (driver does not want the help of the system).
Hill Start Assist prevents rollback when starting on an incline. Disclaimer: VDC-R cannot prevent accidents due to abrupt steering, carelessness, or dangerous driving techniques. Always drive safely.
Transmission
6-speed Dual Clutch Transmission with three driver-selectable modes: Normal (for maximum smoothness and efficiency), Snow (for gentler starting and shifting on slippery surfaces), and R mode (for maximum performance with fastest shifts).
Fully automatic shifting or full sequential manual control via gearshift or steering wheel-mounted paddle shifters.
Dual clutch design changes gears in less than 0.5 second (0.2 second in R mode).
Downshift Rev Matching (DRM).
Predictive pre-shift control (in R mode) based on throttle position, vehicle speed, braking and other information.
Performance
O-60 mph (100 kph) in 3.2 seconds.
A top speed of 311 kph (193 mph).
Steering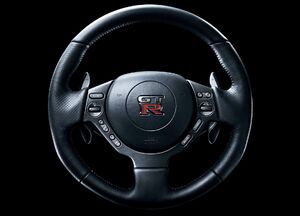 Rack-and-pinion steering with vehicle-speed-sensitive power assist.
2.6 steering-wheel turns lock-to-lock.
Suspension
4-wheel independent suspension with Bilstein DampTronic system with three driver-selectable modes: Normal/Sport (for automatic electronic control of damping), Comfort (for maximum ride comfort), and R mode (engages maximum damping rate for high-performance cornering).
Electronically controlled variable-rate shock absorbers. High-accuracy progressive-rate coil springs.
Front double-wishbone/rear multi-link configuration with aluminum members and rigid aluminum subframes.
Hollow front and rear stabilizer bars.
Brakes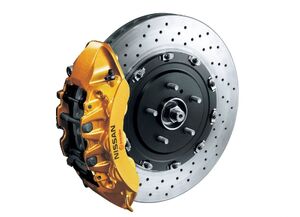 Brembo 4-wheel disc brakes with 4-wheel Antilock Braking System (ABS), Brake Assist, Electronic Brakeforce Distribution and Preview Braking.
Two-piece floating-rotor 15-inch front and rear discs with diamond-pattern internal ventilation.
6-piston front/4-piston rear monoblock calipers.
Reliability
Reliability concerns about the Nissan GT-R's drivetrain surfaced prior to its release date – enthusiasts were worried about the complications that could arise out of the new and highly-intricate all-wheel drive ATTESA E-TS dual-clutch semi-automatic transmission, versus the simpler rear-wheel drive setups found in other supercars. After the GT-R went on sale in Japan in late 2007 and the U.S. in July 2008, these concerns were partially proved valid, as numerous owners with barely a few thousand miles on their odometer started reporting transmission problems and failures. The most famous of these occurrences is chronicled by member septskyline on the message boards of North American GT-R Owners Club, where he writes about the experience, and more importantly, mentions how Nissan voided his warranty and won't cover the broken transmission (which costs around $20,000). [9]
The issue stems from Nissan's ambiguous inclusion of an unofficial "launch control" feature in the GT-R, whereby drivers can program the car's computer to maximize acceleration from a stop. The owner's manual, however warns drivers not to use the function except when stuck in snow or mud, and states misuse of the feature will void the warranty. Since then, the feature has been removed from all 2010 models, and a free recall for all 2009 models has been issued. When servicing the car, Nissan dealers can check to see whether the feature was used or not via the GT-R's "blackbox" computer recorder. [10]
Warranty options and scheduled maintenance information should be mentioned here.
Sixth generation (2007-present)
Nissan planned to revive the return of the GT-R. The production version of the sixth generation GT-R debuted at the 2007 Tokyo Motor Show, launching in the Japanese market on December 6, 2007. The U.S. official launch was 7 months later on July 7, 2008. Universal Nissan in Los Angeles provided a customer with the delivery of a new GT-R, fresh from the production line at 12:01 a.m., on July 7, 2008. The Canadian launch was also in July 2008. Europe became the third consumer market, where it launched in March 2009. The large disparity in initial marketing between these regional releases is due to Nissan having to build GT-R performance centers where the car is serviced. Also the engine and rear-mounted dual-clutch gearbox are built by hand, thus limiting production to around 1000 cars a month.
The revised GT-R (2012 model year for the US) will feature an engine with revised mapping, changes to valve timing, larger inlets and a revised exhaust system to boost rated power to 530 bhp and 612NM of torque from 3200 to 6000rpm. Changes also include a new more rigid front strut bar made from carbon composite, larger front brake rotors, new lighter and stiffer wheels, and revised Dunlop tires. Cosmetic changes include a new front bumper with integrated LEDs which adds cooling to the radiator and front brakes while reducing drag, a new rear diffuser which improves downforce, additional rear cooling ducts, and improved interior quality. The revised GT-R is scheduled to begin retail in Japan from mid November 2010 and be released in North America, Europe and other regions after February 2011.
The GT-R received a facelift for the 2017 model year. The 2017 GT-R was unveiled at the 2016 New York Auto Show. Changes for the 2017 GT-R include a twin-turbo v6 is up 15kW and torque up 4nm to 419kW and 632Nm.
This is the first GT-R that is not based on the Nissan Skyline.
Fifth generation (1999–2002)
The GT-BNR34 (R34) Skyline GT-R and GT-R V-spec models were released in January 1999. The R34 GT-R was also made to be shorter (from front to rear), and the front overhang was reduced. The valve covers were also painted glossy red, rather than dull black. A new feature on the R34 GT-R is a 5.8" LCD multifunction display on the center of the dashboard, which shows seven different live readings of engine and vehicle statistics such as turbocharger pressure (1.2 bar max), oil and water temperature, among others. The GT-R V-spec model added two extra features to the display: intake and exhaust gas temperatures. Nismo Multi-function Displays (MFD) can be bought at an extra cost, they include a lap timer, G-Force meter and an increase in boost pressure measurement to 2 bar. The R34 GT-R was made shorter in response to customer concerns who thought the R33 was too bulky. Like the R33, the new R34 GT-R V-Spec (Victory Specification) models come equipped with the ATTESA E-TS Pro system and an Active LSD at the rear, while standard GT-R models come with the non-Pro system and a conventional mechanical differential. The V-spec model also had firmer suspension and lower ground clearance, thanks to front and side splitters, as well as a rear carbon fiber air diffuser, designed to keep air flowing smoothly under the car. Another special model of the R34 GT-R is the M-spec. It was similar to the V-spec, but had special "Ripple control" dampers, revised suspension set up, stiffer rear sway bar and a leather interior with heated front seats. The 'M' on the M-Spec stood for Mizuno who is the chief engineer of Nissan. At the time of the R34's release, like the R32 and R33, Nissan released an R34 N1 model. The R34 GT-R N1 was equipped similar to the R32 and R33 N1 models — a homologation special. It was sold without ABS, air conditioning, audio equipment, rear wiper, or trunk lining. The new R34 N1 was also given the new R34 N1 engine. Only 45 R34 N1 models were produced from the factory, 12 of which were used by Nismo for Super Taikyu racing. The rest were sold to various customers, mostly racing teams and tuning garages. The V-Spec versions was also imported into the UK, a number of modifications was carried out to the car, these were 3 additional oil coolers, revised ECU map, full Connelly leather interior, underbody diffusers, stiffer suspension, active rear limited slip differential, extra display feature on the in car display.
In August 2000, Nissan released the V-Spec II, replacing the V-Spec. The V-Spec II has increased stiffness in the suspension (even stiffer than the original V-spec) and had larger rear brake rotors. It also comes equipped with a carbon fiber hood equipped with a NACA duct, which is lighter than the aluminum that all other GT-R hoods are made from. Also different on the V-Spec II was an iridium center console and aluminum pedals. The seats were upholstered with black cloth rather than the gray cloth used on previous R34 GT-R models, and the amber turn lenses were replaced with white versions. With the exception of the carbon fiber bonnet, the standard trim level GT-R also received these updates. In August 2000, Nissan released the V-Spec II, replacing the V-Spec. The V-Spec II has increased stiffness in the suspension (even stiffer than the original V-spec) and had larger rear brake rotors. It also comes equipped with a carbon fiber hood equipped with a NACA duct, which is lighter than the aluminum that all other GT-R hoods are made from. Also different on the V-Spec II was an iridium center console and aluminum pedals. The seats were upholstered with black cloth rather than the gray cloth used on previous R34 GT-R models, and the amber turn lenses were replaced with white versions. With the exception of the carbon fiber bonnet, the standard trim level GT-R also received these updates. In February 2002 Nissan released a final production model of the R34 GT-R called the Skyline GT-R V-spec II Nür and the Skyline GT-R M-spec Nür. The Nür was named after the famous German Nürburgring racetrack, where the Skyline was developed. In total 1000 R34 GT-R Nür(s) were made, 750 were V-Spec II Nürs' and 250 M-Spec Nürs'. The Nür model featured an improved RB26DETT based on the N1 racing engine. The standard turbochargers were upgraded to larger versions with a slight increase in boost and the ceramic blades were replaced with steel versions. This has increased lag, but to compensate the turbo's durability was improved while being able to handle a bigger boost increase. This allowed tuners to increase the boost safely with standard turbos up to 450 hp at the crank. The V-spec II Nür is based on the regular V-spec II model, and the M-spec Nür was based on the regular M-spec model. Other than the addition of the Nür engine, the Nür models also included a different color of stitching on the interior trim, as well as a speedometer reading up to 300 km/h (186 mph). Due to then-current Japanese law the car was advertised as having 276 hp but it actually had over 330 hp when it left factory.
Production figures Standard Cars = 3,964 V-Spec = 1,308 N1 Race Version = 45 Total = 5,317
Fourth generation (1995–1998)
The E-BCNR33 (R33) was developed in 1995 as a successor to the venerable R32 model. The engine in the R33 was nearly identical to the R32. It used the same turbochargers and the same specification for the manual gearbox, although the syncros were made to be stronger. The engine corrected the R32's weak oil pump drive collar, which tended to fail in higher power applications, with a wider collar. The base model R33 GT-R weighs 1,540 kg (3,400 lb).
The R33 GT-R launched in January 1995 with the base model GT-R and the V-spec model. The V-spec model weighed in 10 kg (22 lb) heavier, and had sportier suspension resulting in lower ground clearance. The V-spec also featured the newer ATTESA E-TS Pro all wheel drive system, which included an Active Limited Slip differential. The V-spec model also included a four wheel independent channel anti-lock braking system.
At the same time as the release of the R33 GT-R and GT-R V-spec, Nissan released the R33 GT-R V-spec N1 model. Changes made in the R33 N1 are similar to those in the R32 N1. The car was made lighter by removing the ABS, air conditioning, sound system, rear wiper and trunk carpet. The R33 GT-R V-spec N1 received the slightly revised R33 N1 engine.
Production figures
Standard cars = 9,871
V-Spec = 6,551
Total = 16,422
(Figures include N1 and LM Limited Versions)
Third generation (1989–1994)
This new 2.6 L all wheel drive concept was put into production as the R32 Nissan Skyline GT-R. The R32 developed 206 kW (276 hp) and 266 lb·ft (361 N·m) of torque, it had a curb weight of 1,430 kg (3,146 lbs). Initial production of the car was the required 510 to allow for homologation starting on May 22, 1989. Its successful debut along with critical acclaim by the motoring press created a heavy demand for the car. Nissan officially started an unlimited production run August 1989, and began its Group A campaign in 1990. Due to strict Group A homologation rules, Nissan was required to also sell a series of the Skyline GT-R which more accurately reflected the car they use in Group A racing. This series was called the Skyline GT-R 'Nismo' edition.
The Skyline GT-R 'Nismo', introduced on February 22, 1990, has a total production of 560 units as required for the "Evolution" models regulation (over 500). Its purpose is to homologate a number of aerodynamic changes used in Group A racing. Changes include additional ducts in the front bumper to improve airflow to the intercooler, a bonnet lip spoiler to direct more air into the engine bay, and an additional boot lip spoiler to provide more downforce. The 'Nismo' GT-R was only available in Gunmetal Grey.
The Skyline GT-R 'N1' model, introduced on July 19, 1991, was designed for home-market N1 racing with a total of 228 units produced. The most notable change was in the engine, which was upgraded to the R32-N1 specification. The car was also lightened by the removal of the ABS, air conditioning, sound system, rear wiper, trunk carpet, and the use of light-weight headlights. No color options were available and all 'N1' cars were delivered with a thin layer of Crystal White paint. The result was a 30 kg weight savings for a curb weight of 1,400 kg.
To celebrate the success of the GT-R in both Group N and Group A racing, Nissan introduced the Skyline GT-R V-Spec ("Victory SPECification") car on February 3, 1993. The V-Spec added Brembo brakes and a retuned ATTESA E-TS system to the Nismo and N1 packages, as well as 17" BBS wheels with 225/45/17 tires. The V-Spec has a list price of ¥ 5.260 million.
To celebrate the success of the GT-R in both Group N and Group A racing, Nissan introduced the Skyline GT-R V-Spec ("Victory SPECification") car on February 3, 1993. The V-Spec added Brembo brakes and a retuned ATTESA E-TS system to the Nismo and N1 packages, as well as 17" BBS wheels with 225/45/17 tires. The V-Spec has a list price of ¥ 5.260 million.
Second generation (1972-1977)
The KPGC10's successor, the KPGC110, was released in 1973 after its introduction at the 1972 Tokyo motor show. Powered by a 1989 cc I6 S20 engine, the second generation GT-R delivered power to the rear wheels through a 5-speed manual gearbox. The suspension was a semi-trailing ring arm setup and minor aerodynamic parts were added. This edition of the GT-R was also known as the "Ken & Mary" Skyline, due to a popular advertisement featuring a young couple (Ken and Mary) enjoying the Hokkaido countryside. The advertisement later spawned a hit song by Buzz, and the tree featured in the advertisement later became a minor star itself. Unfortunately, the second generation GT-R was unsuccessful, for a gas crisis hit in the early 1970s, drying out any demand for high-performance sports cars. A total of 197 cars were built by the end of its short production run. For the next decade, this would be the last GT-R until the production of the R32 in 1989.
First generation (1969-1972)
The first Skyline GT-R, known by the internal Nissan designation PGC10, was released on February 4, 1969. It was available originally as a four-door sedan after a public debut at the 15th annual Tokyo Motor Show. It was advertised alongside the Nissan R380A racecar to showcase its racing heraldry. It was equipped with the 2.0 L DOHC S20 I6 producing 160 hp (120 kW) at 7000 rpm and 118 N·m (87 ft·lbf) of torque. Power was delivered to the rear wheels by a 5-speed manual transmission. The first Skyline GT-R rode on a semi-trailing arm strut suspension. It was available as a coupe in March 1971 with the chassis code KPGC10.
A popular name for the PGC and KPGC10 Skyline GT-R was "Hakosuka," which is a combination of the Japanese word for box ("hako" or ハコ) and the pronounced abbreviation of skyline ("Suka" or スカ as in スカイライン or "sukairain"). A total of 1,945 PGC and KPGC10 Skyline GT-Rs were produced.
Safety
According to Edmunds.com, the safety features are:
4-wheel ABS
Child seat anchors
Remote anti-theft alarm system
Emergency braking assist
Front and rear ventilated disc brakes
Engine immobilizer
Xenon high intensity discharge headlamp
2 front headrests
Passenger airbag occupant sensing deactivation
Front seatbelt pretensioners
Stability control
Traction control
Electronic brakeforce distribution
Emergency interior trunk release
Front integrated headrests
Tire pressure monitoring
Photos
2011 Base
2011 EGOIST
2011 US-Spec
Base
Spec-V
Add Photos of the vehicle here.
Please make sure not to use copyrighted photos.
Colors
Vibrant Red link
Dark metal gray link
Super black link
Ultimate metal silver link
Deep Blue Pearl
Jet Black
Special Colors
Main Competitors
Create links to other <MAKE> <MODEL> pages in this section.
Unique Attributes
The JDM GT-R, in compliance with a gentleman's agreement between Japanese automotive manufacturers limiting power output to 276 bhp, features an a GPS-based override feature that removes all speed governors (limiters) when the system detects that it is in a racetrack, in Japan or anywhere else in the world.
Interior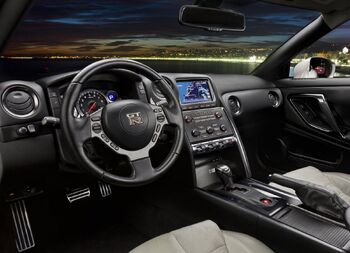 Automatic Temperature Control (ATC).
Electronic analog instrument cluster with multi-function trip computer and digital gear indicator.
Power front windows with one-touch auto-up/down feature.
Intelligent Key system with pushbutton start. Power door locks.
Cruise control.
Tilt/telescoping steering column.
Bluetooth Hands-free phone system with voice recognition. Seating/Appointments
Leather upholstered front seats with perforated Alcantara inserts.
8-way power front seats with entry/exit switch for rear-seat passengers.
Driver-shaped bucket seat.
Dual individual rear seats.
Heated front seats.
Leather-wrapped steering wheel and shift knob.
Drilled aluminum pedals. Safety/Security
Nissan Advanced Air Bag System (AABS) with dual-stage supplemental front air bags, seat belt sensors and occupant-classification sensor.
Driver and front-passenger side-impact supplemental air bags and roof-mounted curtain supplemental air bags.
Front seat belts with pretensioners and load limiters
Nissan Vehicle Immobilizer System.
Vehicle Security System.
Resale Values
Add more fields as necessary.
<MODEL> Year
Year X
Year X-2
Year X-3
Year X-4
Resale Value
$
$
$
$
Criticisms
Porsche has accused Nissan of falsifying the GT-R's 911 destroying laptime of 7m 29s around the Nurburgring. According to Porsche, the GT-R used, despite claims of having done no modifications, were fitted with semi-slick race-style tires. The German car maker has even purchased a sample w/ regular road tires and then handed it over to former world rally champion Walter Rohrl who posted a considerably slower 7m 54s time against the 911 Turbo's 7m 38s and the GT2's 7m 34s. [11][12]
Generations
Fill in as many as appropriate. Add more if necessary and pictures wherever applicable.
Please make sure NOT to use copyrighted pictures.
Current Generation: (2017-Present)
Nissan unveiled the new 2017 GT-R at the New York International Auto Show, highlighted by an exciting new look both inside and out, as well as major driving-performance enhancements and key new features.
The new GT-R's exterior gets a complete makeover across the front end. The new chrome matte finish "V-motion" grille represents one of Nissan's latest design signatures. It has been enlarged to provide better engine cooling and features an updated mesh pattern. A new hood, which flows flawlessly from the grille, has been significantly reinforced, contributing to stability during high-speed driving. A freshly-designed front spoiler lip and front bumpers with finishers situated immediately below the headlamps give the new GT-R the look of a pure-bred racecar, while generating high levels of front downforce.
The center dashboard layout has also been improved and simplified. Integrated navigation and audio controls reduce the number of switches from 27 in the previous model to only 11 in the 2017 model. An enlarged 8-inch touch-panel monitor features large icons on the display screen to make it easy to operate. A new Display command control on the carbon-fiber center console allows easy operation.
The shift paddles are now mounted to the new steering wheel, allowing drivers to change gears in mid-turn without having to take their hands off the wheel. The paddles themselves, along with the ventilation controls, have improved feel and better sound when engaged or adjusted.
The GT-R has always been regarded as one of the world's best handling machines, and for 2017, its cornering abilities have become even better. A more rigid body structure and new suspension result in better stability through quick lateral transitions and higher overall cornering speed. Providing the grip are sticky 20 inch tires, wrapped around new "Y-spoke" machine-finished forged aluminum wheels.
Despite all the performance enhancements, the 2017 GT-R is the most comfortable model to date, with a new sense of elegance and civility that one would rarely find in such a high-performance supercar. The new GT-R exhibits a smoother ride quality than the outgoing model, and its cabin remains much quieter at all speeds and new sound absorption materials.
New for the 2017 GT-R are fresh colors inside and out that complement the car's sophisticated character. A "Blaze Metallic" with multi layered painting has been added to the exterior paint palate, while the interior of the Premium Edition, which features semi-aniline leather, offers customers four different options: the newly added Black/Rakuda and Samurai Black, as well as the always popular Black/Amber Red and Black/Ivory.
The 2017 Nissan GT-R NISMO is available in five different exterior colors. It is assembled in Tochigi, Japan, with the engines hand-assembled in Yokohama, Japan.
First Generation: (2008–2016)
The production version of the Nissan GT-R was released in Japan on 6 December 2007, United States July 7, 2008, and in Europe and the rest of the world in March 2009. The primary reason for the large time gap between releases is due to Nissan having to build performance centers where the car is built and to implement new infrastructure at dealers where the car is serviced. Also, the engine and rear-mounted Dual Clutch gearbox are built by hand, limiting production to around 1000 cars a month.The European spec has a softer suspension according to Top Gear.[1]
It has already been driven by Autoweek in Germany in the new Nürburgring, in the autobahn and in small roads [2]. Also, photos of the production vehicle were published early[3] since Motor Trend broke the embargo.
Spec V
It has been confirmed that Nissan is planning to introduce a lighter and more powerful GT-R called the GT-R Spec V. Little else has been revealed about the GT-R Spec V except that it will be available in the United States as a 2010 model.[4][5]
Performance and Specifications
Specifications
Performance
Top speed: 193 mph
Acceleration: 0-60 in 3.2 seconds (with VDC off, AKA using "launch control")
Standing ¼-mile: 11.2 sec @ 124 mph (with VDC off, AKA using "launch control")
GT-R Test mules have been spotted on the Nürburgring, frequently alongside a 2006 Porsche 911 Turbo; speculated as being used by Nissan as a benchmark car. Sources have expressed that the car is capable of lapping the Nürburgring in the 7 minute range[11] [13] . Nissan has confirmed a Nurburgring lap time of 7 minutes 38.54 seconds, and have released a video of the lap[12][13].The tire is Bridgstone RE070. or, the run flat tire[14][15].Nissan is reportedly going after the lap record of the Porsche Carrera GT.[16] The GT-R has undergone road testing around the southwest United States, with sightings in New Mexico[17] and California. As was the case in the Nurburgring, the car was followed by a 911 Turbo. The GT-R has also been sighted doing laps at Infineon Raceway and Laguna Seca. At Laguna Seca, the GT-R posted an unofficial lap time of 1 minute 39.62 seconds, a time marginally faster than the 911 Turbo following it which was timed at 1 minute 39.89 seconds[18]
Previous generations:
See Nissan Skyline
Between 1969 and 1974, and again between 1989 and 2002, Nissan produced a high performance version of its Skyline range called the Nissan Skyline GT-R. This car proved to be iconic for Nissan and achieved much fame and success on road and track. The Nissan GT-R, although no longer carrying the "Skyline" badge, has heritage in the Nissan Skyline GT-R. Like the Skyline GT-Rs R32 through R34, the Nissan GT-R is all-wheel drive with a twin-turbo 6 cylinder engine; however, the evolutionary, incremental changes between Skyline models R32 through R34 have been done away with. The four-wheel-steering HICAS system has been removed, and the former straight-6 RB26DETT engine has been replaced with a new V6 VR38DETT. Because of the GT-R's heritage, the chassis code for the all-new version has been called CBA-R35, or 'R35' for short (where CBA is the prefix for emission standard), carrying on the naming trend from previous Skyline GT-R generations. The GT-R has also retained its Skyline predecessor's nickname "Godzilla".
Motorsport
see also Nissan GT500 GT-R for more details
see also Nissan GT-R GT1 for more details
The GT-R has also been selected as safety car in the 2010 and 2011 seasons of the British Superbike Championship (BSB).
Worldwide
If the vehicle is sold in other markets worldwide, then this is the section to mention that information. Also, mention if the <MODEL> goes by another name in these other markets.
Design quirks and oddities
The Nissan GT-R (in different variations) appears in the following videogames:
The GT-R Concept from the 2001 Tokyo Motor Show is featured in Project Gotham Racing 3, Gran Turismo Concept, Gran Turismo 4 Prologue and Gran Turismo 4. The 2005 GT-R Proto is currently set to appear in at least two video games:
Need for Speed: ProStreet - the GT-R Proto was revealed on the first car list, and is also the poster car for the game.
Gran Turismo 5 Prologue - the GT-R Proto '05 has been seen in a number of videos promoting the game and is featured in the free playable demo, but only as an AI (opponent) car. The GT-R '07 "Black Mask" version (with black tape on the bumpers, the only parts drastically changed from the Proto) was playable in the demo, until it was veiled a day before the wraps officially came off at the 2007 Tokyo Motor Show, at which time the production version became playable instead. Gran Turismo creators Polyphony Digital were themselves involved in the development of the GT-R, having been contracted to design the GT-R's multifunction display[19].
Additionally, both games debuted the production GT-R in-game (via downloadable demos) on the same day the real vehicle debuted.[20][21]
Blendtec engineer Tom Dickson had recently bought himself a Nissan GT-R and he wanted to see if his car can compare with the speed of a Blendtec blender. He put in toy cars with distinct attributes of the GT-R such as a Corvette because of the power and speed, a Porsche for its agility and braking and finally, a Ferrari Enzo for its sexy styling. The blades of the blender travelled at 340 mph, faster than the maximum speed (180 mph) Tom managed to do in his GT-R. [14]
The GT-R SpecV also appears in Forza Motorsport 3 and 4.
YouTuber AR12 Gaming now owns a Nissan GT-R after selling his Subaru Impreza STI as of April 27 2018
Awards
Automobile Magazine - 2009 Automobile of the Year [15]
Evo Magazine - Car of the Year 2008 [16]
Edmunds - 2009 Edmunds' Inside Line Editors' Most Wanted Awards: Instant Classic [17]
Motor Trend - 2009 Motor Trend Car of the Year [18]
Popular Mechanics - Automotive Excellence Awards 2008 (Design) [19]
List out notable awards that the model has received while in production. Boldface the company or organization that gives out the award, and Italicize the name of the award.
See Also
References
External Links
News & References
Enthusiast Sites and Discussion Forums
Community content is available under
CC-BY-SA
unless otherwise noted.