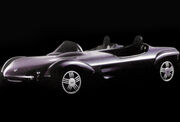 The Nissan Duad is a concept car unveiled in 1991 which attempted to reinvent the Lotus 7.
It weighed a very light 1,035 lbs (470 kgs), and had an unusual layout which was dictated bay the engine position. The driver sat alongside the engine which meant that the sole passenger seat was located 15 inches further back.
Powering the Nissan Duad concept was a 1.0 litre 4-cylinder engine. However the low weight of the vehicle would have meant this engine would be more than powerful enough for htis .
Community content is available under
CC-BY-SA
unless otherwise noted.