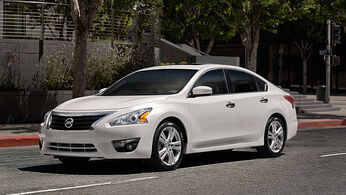 The Nissan Altima is a mid-size car currently being manufactured by the Japanese automaker Nissan, and is arguably a continuation of the "bloodline" that began with the Nissan Bluebird in 1957. It is larger, has more features, and is more expensive than the Nissan Sentra compact car; but is cheaper, less luxuriously appointed, and offers less powerful engines than the Nissan Maxima sports sedan. It competes with the Honda Accord, Toyota Camry and Mazda Mazda6.
See Autopedia's comprehensive Nissan Altima Review.
Recent Changes
Edit
The 2010 MY will see the arrival of a new generation Altima. Nissan has since released a teaser image. [1]
The Nissan Altima gets a completely new look for 2007; one that bears a closer resemblance to the Nissan Maxima. From push-button ignition, CVT transmission, touch-screen navigation, and Bluetooth hands-free phone systems, the Altima is not only exhibits sleeker designs on the outside, but an innovative interior, as well. Nissan just previewed the Altima Coupe at the 2006 LA Auto Show. Being released as a 2008 model the Altima Coupe is set to compete with the Toyota Camry Solara, the Honda Accord coupe and the Pontiac G6 Coupe.
Styles and Major Options
Edit
The Nissan Altima comes in four styles:
2.5 S: offers a 2.5 Liter 175-hp engine, 16 inch wheels, CD stereo, 6 speed manual transmission, and 6 standard airbags.
2.5 SL: offers a 2.5 Liter 175-hp engine, CVT transmission, power heated leather seats, automatic headlights, sunroof, 16 inch alloy wheels, and a CD changer.
3.5 SE: offers a 3.5 Liter 270-hp V6 engine, sport tuned suspension, traction control, ABS, 17" alloy wheels, leather wrapped steering wheel, automatic headlights and power drivers seat.
3.5 SL: adds the amenities above with standard CVT, Xenon headlights, sunroof, Bluetooth, Bose premium sound, XM or Sirius satellite radio, power heated leather seats, and dual zone automatic climate control.
An SE-R high performance model is expected sometime in the near future.
Current pricing on the Altimas can be found at the Nissan Website.[2]]
Sedan Trims
Altima Sedan 2.5 S CVT
Altima Sedan 2.5 S CVT
Altima Sedan 3.5 SR CVT
MSRP
$19,000 USD
$21,840 USD
$24,520 USD
Invoice
$Price1
$Price2
$Price3
Coupe Trims
Altima Coupe 2.5 S 6MT
Altima Coupe 2.5 S CVT
Altima Coupe 3.5 SR 6MT
Altima Coupe 3.5 SR CVT
MSRP
$22,440 USD
$22,940 USD
$29,600 USD
$27,270 USD
Invoice
$Price1
$Price2
$Price3
$Price4
Hybrid Trims
Altima HEV 2.5L eCVT
MSRP
$26,780 USD
Invoice
$Price1
Gas Mileage
Edit
EPA estimates for the 2007 Altima can be seen below.
Trim
Trim1
Trim2
Trim3
Trim4
MPG
c/h
c/h
c/h
c/h
Reliabilty
Edit
Consumer Reports gave the 2007 Altima an above-average rating in reliability for the 4-cylinder engine, and an average rating for the V6.
Automotive Information Systems (AIS) gives the 2006 Altima a 5 out of 5 rating on reliability.
AIS flags moderate to significant problems with the engines in the 2002-2003 Altimas (Third Generation Altimas). The Mass Air Flow Sensor, Crankshaft Position Sensor and Camshaft Position Sensor occasionally fail, which can result in drivability problems. The respective cost of replacement is roughly $500, $100 and $50. AIS otherwise reports infrequent problems with low repair costs for the Altima.
RECALL ALERT: On Oct 15 2008, Nissan issued a recall affecting 200,000 Nissans including 140,000 2007 and 2008 Altimas due to a faulty front passenger side airbag sensor that could fail to detect the presence of a passenger, thus, preventing the deployment of the airbag. Owners are urged to contact 1-800-647-7261 or their nearest dealer to get the system replace free of charge. [3]
RECALL ALERT: On Sep 22 2009, the National Highway Traffic Safety Administration (NHTSA) has issued a recall campaign (ID #09V358000) involving 26,398 MY 2009 - 2010 Nissan Altima and Maximas due to out-of-spec suspension components that may cause an accident. Specifically, the upper front strut insulators may crack, allowing the struts to move out of position. The recall is scheduled to start on October 5 2009 and Nissan dealerships will be replacing both left and right side strut insulators at no charge to the customer. [4]
The 2007 Altima has many safety features available, including Anti-Lock Brakes (ABS), Side Airbags and Side Curtain Airbags.
Crash test ratings are currently unavailable.
2010 Sedan
2010 Coupe
2007-2009
Altimas come in over 10 exterior colors and have 3 interior colors:
Exterior colors
Code Red
Coral Sand
Majestic Blue
Mystic Emerald
Polished Pewter
Satin White
Sheer Silver
Smoke
Sonoma Sunset
Super Black
Interior Colors
See complete color coordinations here. [5]
Main Competitors
Edit
Nissan has entered an agreement with rival Toyota to use some of its Hybrid technology to create a Hybrid Cars 2007 Altima Hybrid]] model. Up to 40,000 per year will by built at Nissan's Smyrna, Tennessee plant. Sales of the Hybrid Cars Altima]] will be limited to the U.S. states of California, Connecticut, Maine, Massachusetts, New Jersey, New York, Rhode Island, and Vermont.The Hybrid Altima features a 2.5 L engine QR25DE, CVT transmission, and electric motor/generator.
For more information, see: Nissan Altima Hybrid
Resale Values
Edit
Nissan Altima is ranked first among all mid-size cars for resale value on Autos.com. Values for used Altimas can be found on CarsDirect.
Altima Model Year

2006

2005

2004

2003

2002

2001

2000

1999

1998

1997

1996

1995

1994

1993

Resale Values

$17,750 - $29,650

$16,825 - $25,200

$16,125 - $19,825

$14,950 - $18,050

$13,800 - $16,475

$9,100 - $10,150

$7,725 - $8,600

$6,175 - $6,950

$5,050 - $5,575

$3,700 - $4,000

$3,225 - $3,475

$2,850 - $3,125

$2,550 - $2,800

$2,300 - $2,475
Criticisms
Edit
At high speeds the Altima is noisier than its competitors, both with regard to engine noise and wind noise. Some reviewers find the interior finishes to be inferior and cheaper looking/feeling than the Altima's competitors, as well.
The turning radius is poor on the Altima. U-turns in Los Angeles traffic are almost impossible for the Altima to handle without having to maneuver a 3 point turn.
In 1993, Nissan discontinued its much-criticized Stanza compact car, replacing it with the US-made Maxima, making it Nissan's entry-level mid-size car. The very first Altima rolled off the assembly line on June 15, 1992 as a 1993 model. Until June 2004, all Altimas had been built in Smyrna, Tennessee. However, in June 2004, Nissan's Canton, Mississippi, plant began producing additional Altimas to meet high demand.
The Altima has had four design generations: 1993-1997, 1998-2001, and 2002-2006, and now the 2007 model due out Summer 2006.
Fourth Generation (2006-present)
Edit
The fourth-generation Altima was announced at the 2006 New York Auto Show on April 12th, 2006. It is the first vehicle to use the smaller Nissan D platform, with a new front and upgraded rear suspension. The wheelbase is 1 inch shorter than the third-generation Altima, but interior space is said to be unchanged. The Maxima and Murano will continue on the larger FF-L platform.
The 2007 Altima will be the first to use Nissan's new 3.5 L V6 engine, and will also offer a continuously variable transmission. A 6-speed manual will be standard. The 2007 Altima will sport some more recent innovations in the market including, but not limited to, "Push-button start", Bluetooth capability for cell phones and a parking camera.
Third Generation (2001-2005)
Edit
The third generation Altima, codenamed L31, first sold in 2002, has been well received by the press because of its design, power, and style. It was the first mass-market product built on Nissan's larger sedan platform. It is unique to North America and has no equivalent model in Japan, where smaller vehicles tend to be favored by buyers. The Japanese Nissan Teana is similar, but not identical and slots between the Altima and Maxima in size.
It comes with either a QR25DE engine - 2.5 L straight-4 DOHC engine with a power of 175 hp (130 kW) or a more powerful VQ35DE engine (the one used in the Infiniti G35, Infiniti FX35, Infiniti M35, Nissan Maxima and Nissan 350Z) - 3.5 L V6 DOHC engine with a power of 240 hp (186 kW). 2003-2004 models received power boost and power went up to 245-hp
2005 saw the addition of a 5-hp increase and power increased to 250-hp and a sporty SE-R model making 260 hp (194 kW). The Altima SE-R became the first sports model for the lineup sporting 18" Forged Aluminum wheels, along with upgraded brake system, suspension, performance exhaust, lower body sculpting and more.
It was designed by Nissan's design chief Shiro Nakamura.
Second Generation (1997-2000)
Edit
The second generation, codenamed L30, was an American market only version. It was designed in Nissan's California design center.
It came with the same KA24DE I4 DOHC engine as the first generation Altima. In 2000, the engine was upgraded to produce 155 hp. That year, the car also received a minor facelift: modified facia, one-piece head lamps with turn signals and new seats.
The GXE 2001 model has a powerful engine for a 4-cylinder. It's very comparable to the V6 engine, but with better gas mileage. It has better acceleration than the Honda Civic of the same year.
With the 2001 model, there have been reports of the factory-made hubcaps making a clanging noise when driving at reduced speeds.
First Generation (1992-1996)
Edit
The original 1992 Altima was a rebadged Japanese-market Nissan Bluebird (U13 series). The official name of the car was the Nissan "Stanza Altima", and the trunk lid had a sticker reading "Stanza" in stylized lettering.
The 1992 Altima had a single airbag on the driver's side, and used automatic shoulder belts for the front seats.
It came with the KA24DE I4 DOHC engine capable of developing 150 hp. The Altima replaced the Stanza.
This car also had advanced technology like cornering lights and a Heads up Display (1993-1994 GLE models only). Some models had keyless entry and alarm, sunroof and automatic climate control. The Nissan Bluebird U13 SSS had some extras the US spec Altima doesn't have like a rear windshield wiper (on models with spoiler only) and powerfold mirrors and ATESSA AWD.
Worldwide
Edit
In addition to North America, the Altima is available in the Middle East. In other markets, Nissan sells a related midsize sedan called the Nissan Teana built on the same FF-L platform.
Design Quirks and Oddities
Edit
Some feel that the interior finishes, including the dashboard, lining, and seat materials are sub-par in comparison to the quality of engine and exterior design, that is associated with the Altima.
The Altima won the North American Car of the Year award for 2002 by a select panel of 49 independent journalists organized by NewCarTestDrive.
The Nissan Altima won the Edmunds Editor's Choice for Mid-Size Sedan under $30,000 and also for Sports Sedan under $30,000.
References
Edit
Nissan ups MSRP on 2008 Altima Sedan [6]
External Links
Edit
This page uses content from Wikipedia; see Nissan Altima, which includes these contributors.
Community content is available under
CC-BY-SA
unless otherwise noted.