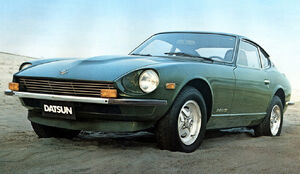 This model was sold in the United States for the 1974 model year only, but was available in other countries until 1978. The engine was enlarged over that of the 240Z with a longer stroke to 2.6 L. In the U.S., federal emissions regulations forced a reduction in ignition timing and compression ratio, resulting in a lower power output (140 hp) for the 260Z's despite the additional displacement, whereas in other countries the power output increased to 165 bhp (123 kW; 167 PS). A 3-speed automatic transmission was an option, and the 4-speed manual remained standard.
1974 brought for the first time to the S30 line a new 2/2 (2+2) seating option, which offered room for 4 passengers and an extra 11.9 in (302 mm) of wheelbase. These cars have a notably different roofline from the 2-seat coupes, incorporating larger opening quarter panel windows.
The 260Z claimed a few updates or improvements over the 240Z . The climate controls were more sensibly laid out and easier to work, and those cars with air conditioning now had the A/C system integrated into the main climate control panel. There was also additional stiffness in the chassis due to a redesign of the chassis rails which were larger and extended further back than previous models. A Rear sway bar was added as well. The 260Z debuted a redesigned dashboard and console, as well as new seat trim, and door panels for the interior. The rear tail lights were updated, moving the reverse lights from the main tail light housing to the back panel. Early 1974 U.S. 260Z models had bumpers that resembled those of the earlier 240Z, though increased slightly in size, pushed away from the body somewhat, and wearing black rubber bumper guards rather that the previous chrome bumper guards with rubber strips. These early cars still had the front turn signals located below the bumpers. Late 1974 U.S. 260Z models (often referred to as 1974.5 models) carried the heavier bumpers that would remain on the 1975-76 model years of the 280Z . These late cars had the front turn signals relocated to the outer edges of the front grill, above the bumper.
Community content is available under
CC-BY-SA
unless otherwise noted.