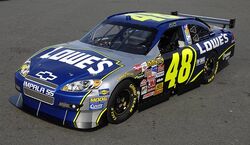 The NASCAR Sprint Cup Car Of Tomorrow. was a Race Car designed for the NASCAR Sprint Cup Series.
The car's concept was started in 2005 after NASCAR wanted to make new safty improvements to its cars. After months of designing, the car was ready for testing. Some of the drivers of the NASCAR Sprint Cup Series including Jeff Gordon and Jimmie Johnson, took the car and tested it out at Daytona Superspeedway.
The car features included a Rear Wing which replaced the original Spoiler. A Front Splitter and a larger body was also added. The Interior was very similar to the older car except there were multiple new safty improvements.
In 2005, NASCAR wanted to create a new safter car after more drivers were injured in 2004. Concept was created and no testing was conducted.
Concept is complete and the car is teseted at Daytona Speedway . NASCAR Anouncess the car we compete in thirteen 2007 NASCAR Races.
After successful testing, the NASCAR Sprint Cup Car Of Tomorrow, would make thirteen starts in the 2007 NASCAR Sprint Cup Season. The car competed in some of NASCAR's most famous tracks including Phinox and Bristol.
With success in the 2007 season, NASCAR decided they will run The Car Of Tomorrow in the full 2008 NASCAR Sprint Cup Season. Though the car had minor problems on some tracks, the drivers said the car was still great and they would like to continue using it.
The Car Of Tomorrow, would make a return in 2009 and would continue to be a success. This would be the last year the Car Of Tomorrow would run a full season of NASCAR Racing.
2010 would be the last season the Car Of Tomorrow would be raced. The reason was because a new safer car was being designed and NASCAR would rather have the safer car ran more.
Popular Versions
Edit
1. 48 Lowe's Chevy Impala SS
2. 24 Dupont Chevy Impala SS
3. 88 Amp Chevy Impala SS
4. 88 National Guard Chevy Impala SS
5. 14 Old Spice Chevy Impala SS
Jimmie Johnson won every Championship every year the Car Of Tomorrow was raced.
The NASCAR Nationwide Series has their own version of the Car Of Tomorrow
This is probably considered the "best" looking car.
This is the only NASCAR Race Car to feature a Wing. The only other was the Dodge Daytona.
Most NASCAR fans now call the Car Of Tommarrow "Car Of Yesterday."
NASCAR Car Of Tomarrow In Gaming
Edit
Below is a list of games the car has been featured in:
NASCAR 08 (First Apperence)
NASCAR 09
iRacing
NASCAR Racing: 2003 Season (Mod)
Community content is available under
CC-BY-SA
unless otherwise noted.