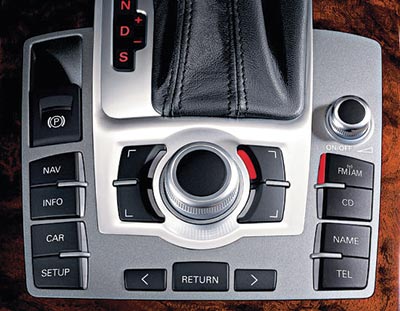 MMI or Multi Media Interface is an in-car interface system developed by Audi and implemented in its latest series of vehicles since 2004. It is similar to BMW's iDrive system, though MMI has generally been better received by the motoring press.
Concept
MMI consists of a single interface which controls a variety of devices and functions, thus minimizing the vast array of buttons and dials normally found on a dashboard. The system consists of the MMI terminal and the MMI display. The central element of the MMI terminal is the control dial. This dial can be rotated to navigate up and down through menus and pressed to activate a highlighted function. Eight function buttons surround the control dial which can be used to call up a corresponding on-screen menu. The MMI screen is available as a 5-inch monochrome black & red or 7-inch full colour display, depending on the variation of MMI featured in the car. MMI uses Media Oriented Systems Transport (MOST) technology to interconnect the system.
Variations
MMI comes in a choice of 3 systems, MMI Basic, MMI Basic Plus and MMI . The features of the 3 varieties are as follows:
MMI Basic
5-inch monochrome display (red and black)
Optionable CD-based navigation
Radio tuner
Single CD Player
MMI Basic Plus - All features of MMI Basic with:
DSP 10-speaker sound system
Ability to store traffic messages
MMI
7-inch full-colour display
6 CD Changer
Optional full colour DVD-based satellite navigation
Optional TV Tuner
Functions
MMI operates a large number of car electronics and functions. These can include (depending on version) but are not limited to:
Satellite Navigation

Radio tuner
CD Player
TV Tuner
Telephone & Directory
Air Conditioning /

Climate control

Car Setup (e.g.

Central locking

options, audio settings etc.)
Driver Information (e.g. Fuel economy statistics, battery level etc.)
User Manual (full on-board car user manual, displayed on screen)
Screen Shots
Label and reorganize as necessary.
Knobs
Label and reorganize as necessary.
Cars
Audi models featuring MMI are:
Criticisms
While intuitive and user-friendly, MMI can be difficult to operate when driving. A sequence of menus may need to be accessed in order to change a particular setting, such as radio station rather than having a dedicated button designated to such a function. This can make changing a setting both time-consuming and arguably hazardous under certain circumstances, where the driver is distracted from the road. It must be said, however, that this can also apply to other dashboard interfaces and even conventional dashboards.
Other Information
The MMI system's firmware can be updated either by a dealer or by a more recent release of navigation software. Bug-fixes and enhancements can be added in this process and on installing a new navigation DVD, the firmware version is updated and system altered.
MMI featuring DVD based navigation has a DVD disc drive located in the boot/trunk. This is used exclusively for navigation and contains the navigation software DVD.
Competing Technologies
Other car manufacturers use similar technologies in their car, including BMW with its iDrive system and Mercedes-Benz with its COMAND system.
See also
External links